Here's a fun way to approach photographing in busy tourist attractions like Walt Disney World. Be creative! Easier said than done I can hear you saying. Really, when confronted with people everywhere, start looking from different angles, get low, get high or just tilt your camera.
A couple of weeks ago, I showed you how I used guests watching a show in front of Cinderella Castle to create a good travel photograph. The photo today was taken a little before that one. I tilted my camera to eliminate most of the people and included the Partners Statue with the castle as a backdrop.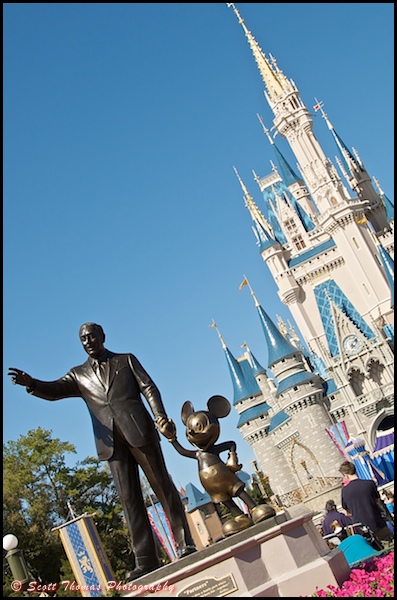 A creative view of the Partners Statue.
Nikon D70/18-200VR, 1/400s, f/10, ISO 200, EV +0.3, 28mm focal length.
There is almost no such thing as an unique photo taken at Walt Disney World anymore. Many people told me this was until I told them I had seen this idea done by another photographer. I got down on my stomach in front of Spaceship Earth and, using Aperture Priority mode, dialed in an f/18 aperture to get lots of depth of field. I know those are people's legs and feet in the photo. Can you recognize any of them?
A low view of people walking towards Spaceship Earth.
Nikon D70/18-200VR, 1/80s, f/18, ISO 200, EV +0.3, 18mm focal length, tripod.
Disney park fans have a saying, "Look up, look down". I have an addition for Disney park photographers, get LOW, get HIGH and look ALL around. Let your creativity go and enjoy the magic!
I will conclude this series next week with something Disney has always been famous for. Can you guess?