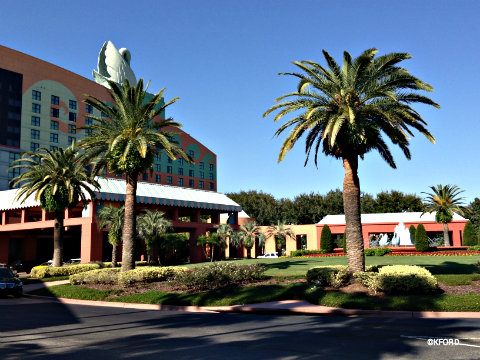 Walt Disney World Swan
Walt Disney World Dolphin
Parents visiting the Walt Disney World Swan and Dolphin can enjoy an evening to themselves while their children have their own special kind of fun. Camp Dolphin, located on the lower level of the Dolphin building, is designed just for kids ages 4 to 12.
The concept of a kids club in a large resort is not foreign to my own kids, who have enjoyed themselves at The Sandcastle Club at Disney's Beach Club on several occasions. Until recently, they had yet to visit Camp Dolphin, though. Their opportunity came last weekend when my husband and I attended the Food and Wine Classic at the resort.
Camp Dolphin operates a little differently than kids clubs in other Disney World hotels. That's because the Swan and Dolphin belongs to the Westin hotel chain, even though it is located on Walt Disney World property.
There are similarities, though. Both experiences begin with parents making reservations for their children, though the clubs will take walk-ups if space is available. Camp Dolphin opens at 5:30 p.m. each day, an hour later than the Disney World clubs, but they all close when Cinderella's coach turns into a pumpkin (which we all know is midnight).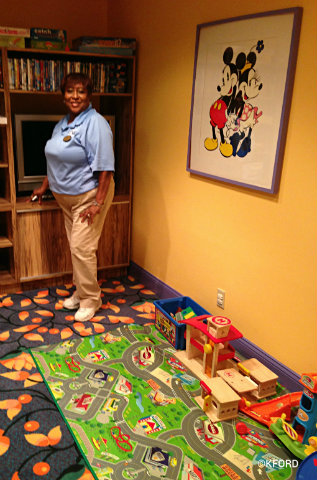 Miss Thelma
Perhaps the most obvious comparison comes when families see the physical size of Camp Dolphin — it's quite small compared to The Sandcastle Club. Camp Dolphin can accommodate up to 18 children with two counselors present. Thelma, who has been a camp coordinator at the Dolphin for 19 years, explained that during busy periods, such as holidays, the camp moves to one of the ballrooms.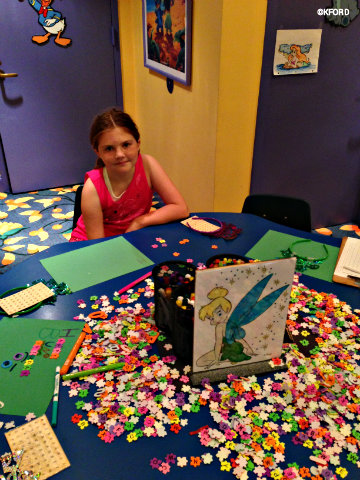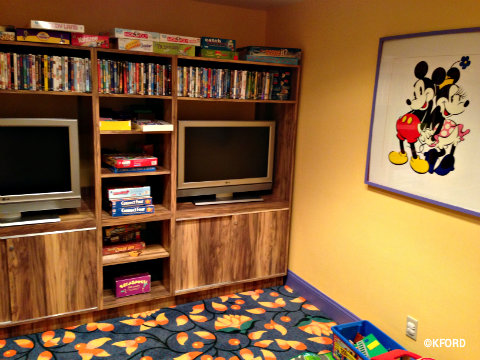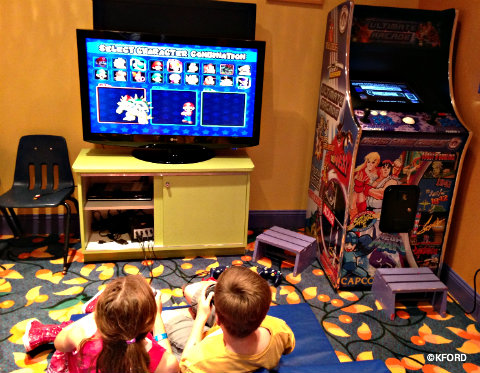 Still, Camp Dolphin has all the basic components for kid fun: Video games, movies, crafts and counselors who will supervise and entertain youngsters in an environment where parents will not worry about their well-being. On the night my children visited, the theme for the crafts was "A Very Merry Unbirthday," which included card-making and birthday tiaras for the participants. Blackout Bingo was played for prizes, and when we arrived to pick up our children, they were just settling down with a mound of pillows for movie time.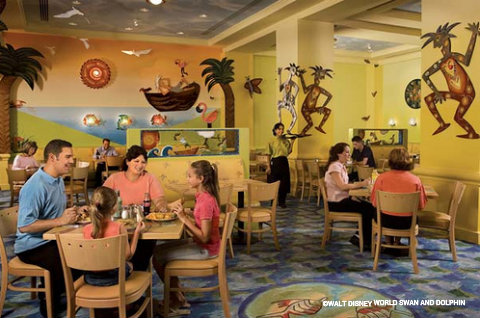 Dinner at Picabu
Dinner is included for children who are in Camp Dolphin from 7 to 8 p.m. Counselors take the kids to nearby Picabu (Peek-A-Boo) restaurant, where the meals they have pre-selected from a menu of traditional kid favorites, such as cheeseburgers, mac and cheese, chicken fingers and hot dogs, are served. Then, they are treated to ice cream from The Fountain ice cream shop. (At The Sandcastle Club, parents help children place dinner orders when they are dropped off and the meals are served in the club. They are served cookies and milk later in the evening.)
Ice cream from The Fountain
Pricing varies slightly between the five Disney World kids clubs and Camp Dolphin, as well. At The Sandcastle Club, parents pay $11.50 per child per hour, with a two-hour minimum. At Camp Dolphin, the price is $10 per child per hour with no minimum. Plus, each adult who orders an entree at Shula's Steak House, Todd English's bluezoo or Il Mulino New York Trattoria in the hotel earns two complimentary hours for a child at Camp Dolphin. This offers also applies to an adult who purchases a spa service at Mandara Spa.
Our children enjoyed Camp Dolphin, and my husband and I appreciated the ease of checking them into a safe environment so nearby as we enjoyed what the resort had to offer. It's not hard to imagine that we will return, giving the kids a night out and enjoying the same ourselves.