Cloudy days at Walt Disney World can be a disappointment. I mean, we go there for the Florida sunshine, right? On my last trip, I was lucky enough to get a few cloudy days. Lucky? Yes, lucky. For when the sun is above a large cloud bank overhead, it creates a huge softbox. A softbox is used by photographers to put their flashes in and it spreads out and "softens" the light of the flash. Cloudy days do the same thing. They spread out and soften the bright light from the Sun. Shadows are not as dark and colors brighten. This kind of outdoor light is good for making photos of your family and friends. They won't squint and the dark shadows under their eyes and noses go away.
I do have a caution for you. Like any softbox in a studio. Try and keep it out of your viewfinder as the contrast will cause overexposed areas or blowouts. Aim your camera down or across but not up at the sky. Let me demonstrate with a couple of examples.
The first one is Jessie from Toy Story II in the Magic Kingdom's Move It! Shake It! Celebrate It! Parade. It was a very cloudy day and the colors in this parade was popping. Jessie glowed in her red hat, hair and green eyes. I zoomed in to remove the sky above..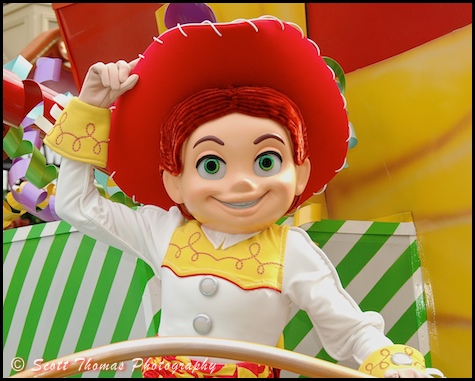 Jessie waving during the Move It! Shake It! Celebrate It! Parade.
Nikon D70/18-200VR, 1/200s, f/8, ISO 200, EV +1.0, 165mm focal length
Later in the day, I watched the afternoon Celebrate a Dream Come True Parade, which has tall floats to deal with. I needed to get some princess and prince photos even with the bright cloudy sky. To counter the sky, I tried to eliminate it as best I could with backgrounds and cropping (the photo below has a lot of sky cropped out) in the photos. I used fill flash to help balance the light coming from the sky to photograph the proud Prince Eric with Princess Ariel from The Little Mermaid in one of the tall floats.
Prince Eric with Princess Ariel in the Celebrate a Dream Come True Parade.
Nikon D70/18-200VR, 1/60s, f/5.6, ISO 1250, EV +0.7, 200mm focal length, fill flash at -1 power
A little fun bonus for you. Can you spot what is wrong with Eric? Leave a comment!
For more information about how to take advantage of a cloudy day for photography, here are a couple of excellent links on the subject:
It's Cloudy – Don't Put that Camera Away