Back to Day 2 of the Expo.
One thing I didn't mention…except for the Arena, most of the rooms for the presentations are pretty small – seating maybe 500 people at most, so it's hard to get into most of the sessions without lining up at least 30 minutes in advance.
After lunch we wanted to see Steven Davison's World of Color presentation, but the line was very long,,,fortunately we did get in, though we were towards the back of the room.
Now, some of you might say: "You've already seen Steven Davison do two presentations of World of Color…why are you going again?" Because he is just so amazing to watch – he throws himself into these things and he comes out exhausted afterwards. And then there's the fact that there are some new pieces of information each time – this session was no different.
The main things that I hadn't heard before:
A laser light show will open the show.
There are two projection screens to provide depth: a 400′ wide one in the back, and a 300′ wide one i front.
They are *still* installing fountains in the park – he wouldn't tell us the exact number, but said they are about 75% complete.
Amy Grant will be the "voice" for the World of Color.
At the end of the presentation, Mr. Davison acted out the Spring Sprite/Pocahontas sequence, which you can see here:
This looks like a more amazing show every time I see more of it.
Deb Wills and I attended the press conference afterwards, featuring Steven Davison and World of Color's show producer, Sayre Wiseman. Even there I learned some things that weren't in his presentation…I have video of it, but haven't been able to get it to upload yet. A couple of things: At the end of the show, the fountains (who are the actors in the show) will take their bows. And there are going to be different encores available – likely when a new movie has been released there will be an encore available.
Lee and I went to the Tron Legacy presentation. But he's the one with all of the notes on that. It is pretty amazing how so many of the things we saw in Tron in 1982 are things that we live with daily now – we live a lot of our lives in a virtual world!
He stayed to watch the original Tron movie while I went to the Disney Rarities session. This was hosted by Don Hahn and Dave Bossert, and featured a number of short films that have rarely been shown, or haven't been seen in a long time. They several times called them "oddities" rather than rarities – and some of them were decidedly odd!!!
During World War II, the Disney Studios made over 200 training/propaganda films for the U.S. War Department and the Canadian National Film Bord. We saw the opening for a training film made for the Canadians, on an anti-tank gun. It was definitely NOT politically correct, and featured a belching cartoon Hitler popping up out of a tank and jeering at the opposing army – until they blasted him and his tank to Hell (literally!) with their guns. At the end, Hitler ranted and raved in Hell while an amused devil looked on.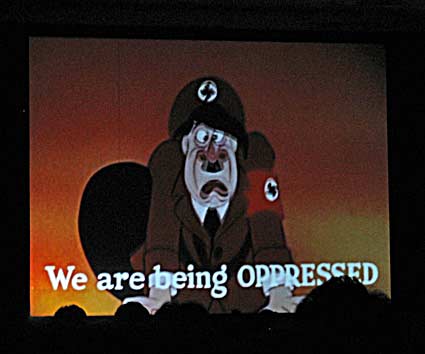 The next film was called Winged Scourge, about combating malaria, and featured a giant bigger-than-a-house-sized mosquito. Demonstrating mosquito-control techniques were the Seven Dwarfs, and what makes this film unusual is that rather than using stock animation, animators developed new footage just for this movie. But don't try these techniques at home – some of them involve known carcinogens.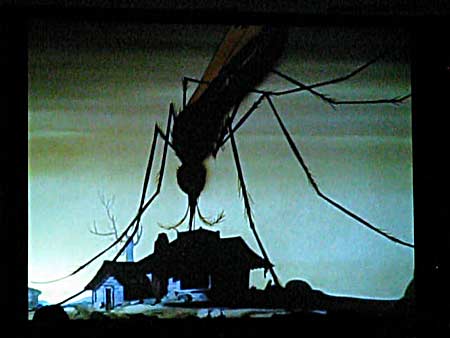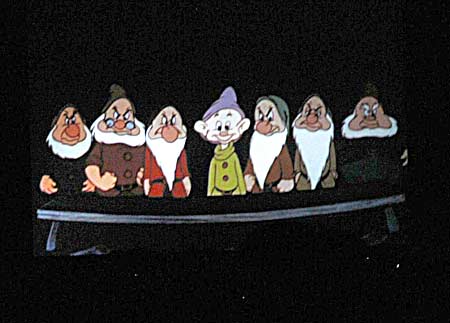 Another odd film was begun in 1946 as a collaboration between Walt Disney and Salvador Dali, but it was not finished until 50 years later. It was called Destino, and featured a female dancer, her lover, and a baseball bat, among other decidedly surrealistic images.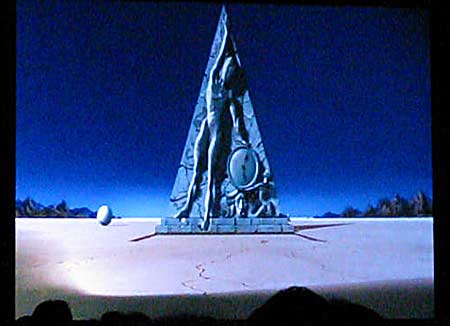 There was also a sequence called "One-by-One", which was developed as part of a concept for a new Fantasia movie based on World music. Also a short called Lorenzo, about a cat whose tail was cursed, and is driving him crazy because it (the tail) wants to tango constantly. That was truly weird. Last was an unfinished Mickey cartoon from the 1950s called "Plight of the Bumblebee". This one was all pencil sketches and pretty rough still.
It was getting close to 7:00 by then, but I took a quick turn through the Treasures of the Disney Archives, since it was right there. Lots of costumes – like Annette's and Cubby's Western Day costumes from the Mickey Mouse Club, Mary Poppins' "nanny" costume, ball gowns from Broadway's Beauty and the Beast and the Princess Diaries, and, one of my favorites, Guy Williams' Zorro costume.
The be-jeweled Sleeping Beauty storybook was there, as well as Fess Parker's coonsking cap. And there was a dislay case of crowns…from Princess Diaries there was Queen Clarice's and Mia's crowns, plus Fat Louie's (Mia's cat) little crown! Too cute. There was a case of swords, too – Excalibur, Peter's Narnia sword, Prince Caspian's sword, Will Turner's and Barbossa's sword, and even Barnaby's twisty sword from Babes in Toyland. No pictures allowed in there, unfortunately.
So that was our first day – it was pretty overwhelming and busy. I have to say that for the most part the Expo has exceeded my expectations – there is a lot of content available. I am disappointed in the size of a lot of the venues, though – they don't come close to meeting the demand for many of the presentations. I haven't had much of a chance to get to the exhibits, so I hope to do more of that (and meet Lucky the Dinosaur and the larger version of Wall-E) later in the weekend.