Emerald Isle – Day 3 – Celtic Kingdoms – Continued
You just visited a 12th century castle, now what are you going to do?
Why, eat lunch of course!
We hopped back on the coach and traveled into the town of Cashel where we were free to scatter and find our own little slice of Irish foodie heaven.
Ok.. I must admit, my first thought when it came to this particular adventure itinerary was that I wasn't going for any real culinary experiences. I mean, when you think if Ireland you don't exactly think too far beyond potatoes and sheppard's pie. However, we have found the dining selections have been far beyond our expectations especially when you find a small local spot that really takes pride in its heritage and community. In Cashel, we found such a place.
As we pulled into town the guides pointed out a few of their favorite spots. They are very knowledgeable and will go out of their way to suggest a spot that will fit your taste and budget.
There were lots of options but several of us ended up at Henry's Fine Foods. It's a small storefront with plenty of seating in the back. They offer soup, sandwiches and very generous portions of fish and chips. Both Chris and I ordered the club sandwich which was terrific.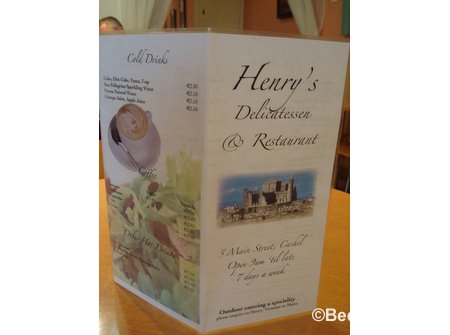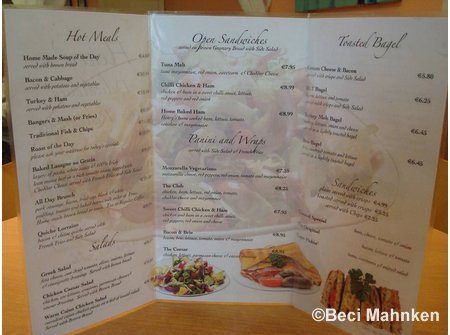 Tip: Be sure to have a fair amount of euro handy by stopping at an ATM every once in a while. Many of the smaller shops do not accept credit cards. If you are not sure, be sure to ask before you order.
After lunch we had some time to wander through the shops and explore the area a bit.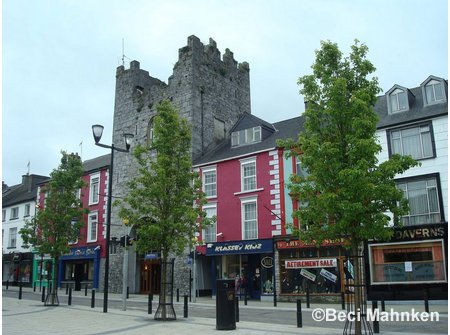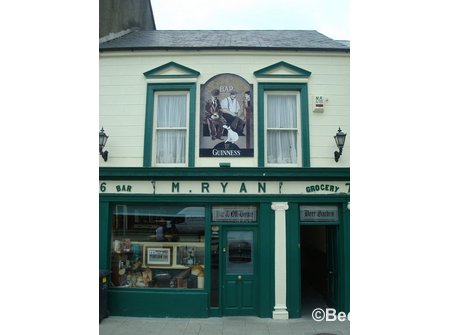 Even finding a map of the local area including a town specifically named for South Park fans. (ok only part of that is true)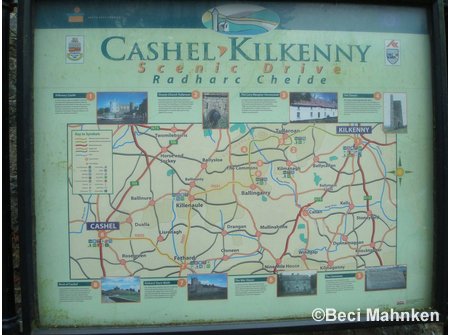 Killareny Plaza Hotel
We arrived in Killarney about an hour later and pulled right up to the front of our hotel. Our home for the next two nights is the Killarney Plaza Hotel right in the heart of town and within steps of shopping, pubs and Murphy's. (I'm getting to it Jennae.. I promise)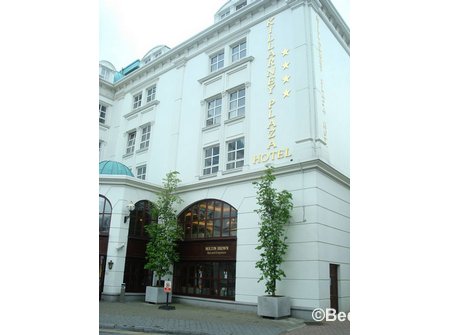 We entered the lobby and our room keys were laid out on the center table and we received a very warm welcome from the town crier.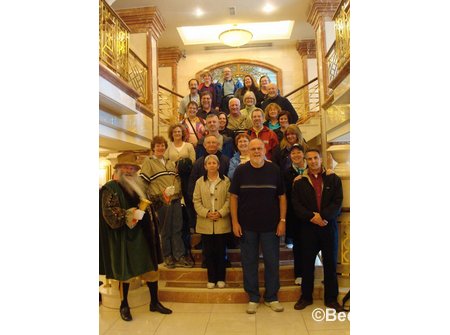 The next stop was our room to settle in a bit and then head back down to the lobby for an optional meet meant for those of us with an overactive sweet tooth. (just one more paragraph and I will get to Murphy's.)
Being in the travel biz, I spend a lot of time in hotels, and I can say this one isn't exactly what I would expect for an upscale property. Its true that European standards and star ratings are much more generous then the US equivalent, but this particular hotel was more of a moderate then deluxe in terms of the room amenity quality.
It did offer some welcomed amenities like a flat screen tv, in-room tea maker, and a partial view of the Killarney National Park. But the mattresses were very hard and the bedding could definitely stand a heavenly bed upgrade. Maybe a pillow top, duvet and 600 count sheets would be a nice improvement.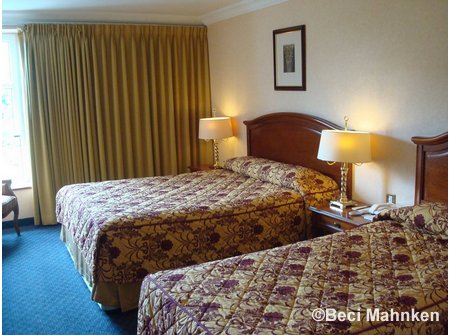 But on the flip side, you can't beat the location. This is a situation I have seen with other adventures in the past. Sometimes they will forgo a resort that might be considered more upscale for a primo location. And this one certainly fits the bill for convenience.
Ok.. Now on to Murphy's. Our guide Jennae had been talking about what was reported to be THE BEST ice cream spot in Ireland. And Chris and I were just curious enough to see if she could prove it. A group of us walked the block and a half to the small shop that features several unique choices including: Guinness (was there a question?), caramel/honeycomb, chocolate whisky truffle, and pink champagne. I tried the Baileys (yummm!) and Chris went with the chocolate whiskey.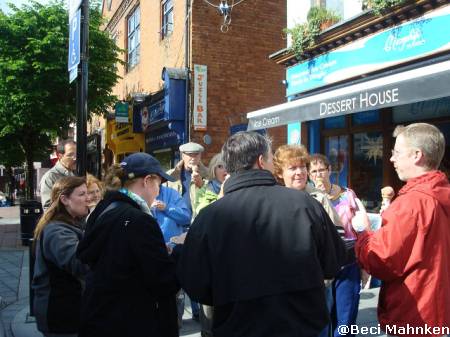 The schedule gave us a couple of hours off before dinner, so we returned to the hotel to unpack and relax a bit before the group dinner that night in the hotel.
After dinner, Chris and I called it an early night for some much needed rest to prepare for tomorrow and exploring Killarney National Park.
Missed an entry? Here's the link to the entire Emerald Isle Blog to date!
MouseFanTravel President Beci Mahnken is a veteran of 4 Adventures By Disney trips, more then 50 cruises including 18 with Disney and countless Walt Disney World and Disneyland adventures. Read her blog on the London and Paris Adventure by Disney. Here is her blog on the Backstage Magic Adventure!