My vacation only had three days left, including this one. With our camera equipment, snacks, and lists packed up and ready to go, Yoli and I headed back to Disneyland one last time for the week. Our mission was to run around like lunatics (that's our norm), hit the attractions and get work done for AllEars.Net.
Since we'd been staying at Paradise Pier Hotel the past few nights, this was the first time we had to park in the Mickey & Friends Parking structure vs the hotel parking garage. We were directed to Minnie's level, the roof. Uh-oh this could mean the parks were swamped. Down the escalators and left to wait for the tram it became apparent that it could, in fact, be very crowded. Phooey! I hadn't been able to do my "there's no one here" spin in front of Pirates of the Caribbean yet.
It was better to get the CA Adventure list done first so that we could easily end the night at Disneyland and not have to criss-cross parks. First we headed into Hollywood Pictures Backlot so I could gather what I wanted from the Animation building. There was an a capella group performing out front but I was watching the clock so we headed on inside.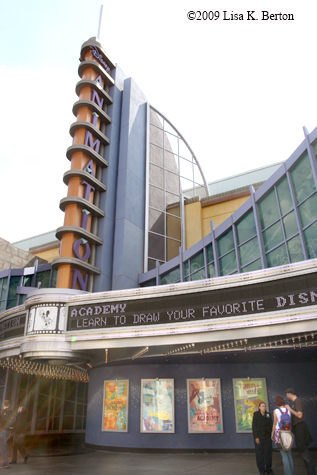 The art deco design is cool and there will be more of it after California Adventure's facelift.
Here you'll find Turtle Talk with Crush, Animation Academy, the Sorcerer's Workshop, and Art of Animation Gallery. Both Crush and the Academy were showing at the same time and I was going to send Yoli to one while I hit the other, however, after taking a photo or two of the zoetrope in the Gallery, her battery croaked. Learn from my friend's situation and check your batteries the day/night before you go out shooting. The poor thing was completely saddened by her oversight and punished herself by carrying my tripod around all day. OK, it wasn't a punishment, she's just an awesome friend & is always helpful.

It looks even cooler when it's spinning!
I decided to skip both shows and head into the Sorcerer's Workshop where Lumiere and Cogsworth help you to find out which Disney character you are most like. In the Workshop you can also lend your voice to a Disney cartoon before that 8-tentacled, devious Ursula swipes it from you. In another room you may bestow your eyes upon Magic Mirror on the wall.
The next thing scribbled in my notes says "characters." I uh, suppose that this, uh, means we uh, saw characters. Ooh! We did, we saw Donald Duck and Minnie Mouse in Sunshine Plaza. I have a visual now.
Well, let's move onto Flik's Fun Fair, a section of the park created specifically for little grubs by Flik and his insect pals. The funniest thing that happened here was when I casually and kiddingly tried to convince a Cast Member to run through the sprinklers in Princess Dot Puddle Park so I could take an action shot. Hopefully, he didn't give himself whiplash by shaking his head "no" back and forth so rapidly.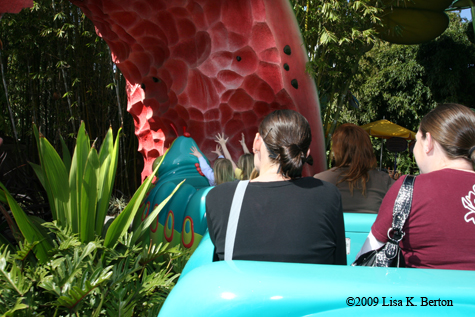 Put your hands up in the air cuz we're going through a watermelon and it has seeds!
Time for a lunch break. I grabbed an order of fish and chips at Farmer's Market & Yoli ate whatever it is that she brought from home. Me thinks it was peanut butter and jelly but I might be thinking ahead to Tuesday. From here we crawled over to Pacific Wharf to grab menu pics. Yoli and I were kinda pooped out from running around with our friends and she had put in double time at work for over a week before my arrival. But we perservered in the name of magic, dreams, wishes, and all of the other words that Disney repeats.
Content with what we were able to do, we marched over to Disneyland, albeit, after stopping at the kennel to get some photos and info. That's when it dawned on me that I could hand my point and shoot over to Yoli and we could get back to the original plan of divide and conquer. Hooray! My brain was functioning again!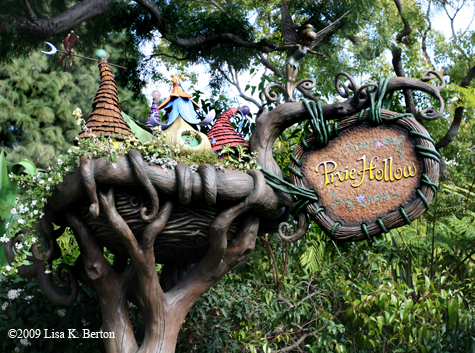 How many fairies does it take to create and install a sign larger than their homes?
Pixie Hollow was of the highest priority but the wait said it would take an hour. I was trying to make a Billy Hill and the Hillbillies show and gather what I needed from Toontown as well. Divide and conquer! Yoli waited in line to meet Tinker Bell and Iridessa while I tried to see what was going on by looking through the blades of grass. That didn't work so I sped off to Toontown and grabbed most of the photos I needed. Meeting Mickey Mouse while he was filming a movie was going to take too long so I bailed.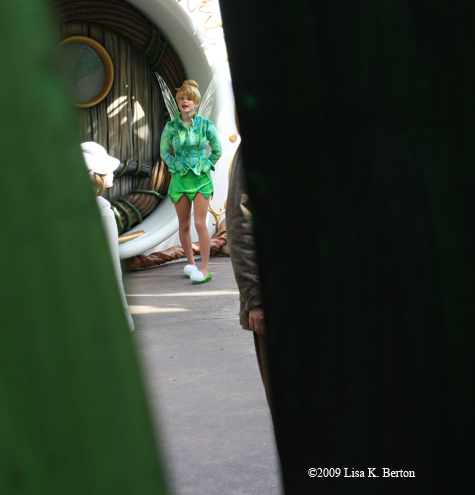 Tinker Bell caught me and a few others peering through the grass. We split before she got upset. She's got quite the temper, you know.
When I returned to the line I excused myself all the way to the front where I asked the CM where Yoli was. She'd just finished meeting the fairies. Now, you're thinking that it took me about an hour to do what I had to do but the truth is the wait for Tinker Bell was only 40 minutes at best. The CM let me go through the meet and greet and I did so very quickly. When I exited Yoli and I were calling each other to see where the other one was. I suggested to the CM at the entrance that the wait time be changed and was astounded by his response of, we post it longer than it really is so that only the people who really want to meet Tinker Bell get to. Excuse me?
No visit to my park is complete without a riveting performance by Billy Hill and the Hillbillies. She found a perfect table at the far right end of the 2nd row. For the first time, I videotaped their show and I wished I had multiple cameras set up around the Golden Horseshoe for various angles. Now I can watch them any time I want. Yeehaw! To top it off, Billy Elvis did a medley of hits.
Having spent 3 consecutive days in the parks you'd think I would have done most of the attractions or at least my favorites but alas, that didn't happen until today or the day I'm writing about. Making a u-turn into Adventureland the first item was the Enchanted Tiki Room. We sat below Jose, in the front row. It's always a great show and one that both my mom and I favor. Have you ever heard of Maynard, a cast member? Sometimes he works in this attraction as Tiki Boy. He cracks me up. I'm laughing right now.
Note: The original Jose is retired but is perched in the room. As you walk in, go straight, staying to the left, and he's kind of in the corner.
Raise your hand if you LOVE Jungle Cruise. Good, now raise your hand if you know all or at least most of the jokes. You are my people. Take a bow.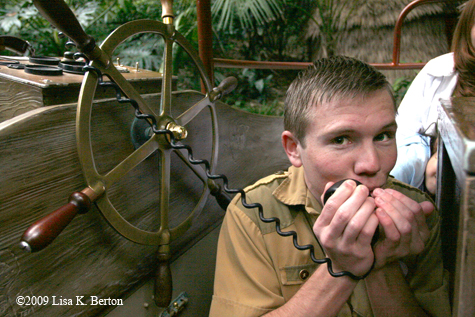 Tim does the best sound effects out of any other skipper on our boat.
We embarked on a river tour led by Tim. He fought off hippos, steared us away from piranhas, and had to deal with me mouthing punchlines. I can't help it. Just give me the outfit and put me in a boat.
Yoli and I wisely chose to use the Single Rider offer at Indiana Jones Adventure. We got to our jeep in less than 10 minutes. If you've never ridden this, you've got to, it's one of the best attractions in any Disney park even if you might get squashed by a gigantic boulder or pierced by poisonous arrows.
Determined to photograph Remember…Dreams Come True, we went to stake out a spot in front of the castle. People had already grabbed seats on the benches and on the curb but there was still plenty of room to set up a tripod. I kid you not when I say I offered $5.00 to a family to hold a spot for me. Too bad they thought I was joking.
Since we had time and I felt confident that I could still get the location I wanted, we went to Rancho Zocalo for dinner. I can't eat anything spicy but it was close by and Yoli was happy with it, plus I was buying. I don't recall what she had but I got a bag of cinnamon chips. I'm trying to remember if I ate anything else later but I'm drawing a blank.
When we got back to the Hub I grabbed a space next to a bench and had plenty of room to set up. I wanted to make sure I got both Sleeping Beauty's Castle and Matterhorn in the frame. Why the Matterhorn? Because it fires back, baby! Remember…Dreams Come True is truly like no other. I won't give it all away but fireworks are only a part of this spectacular show of choreographed sights and sounds.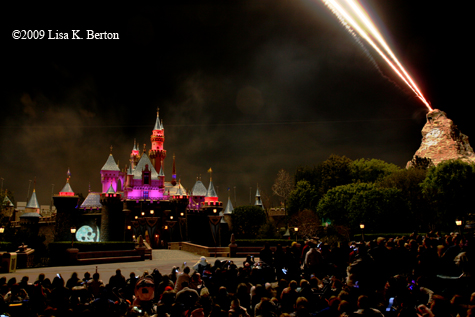 See, I told you it was awesome!
Leaving Disneyland until my next vacation is a real downer. That's why Main St stays open an additional hour, right, to elongate the happiness I'm feeling just a bit more. Fine, it's so that I'll spend money and guess what? It worked!
There was a $69 Birthday Fun Card burning a hole in my pocket. Yoli and I checked out a few shops before I settled on getting everything at the Emporium. I picked up a pin to represent the trip, a hooded zippered sweatshirt, a small tray, postcards (which I have yet to mail), and a set of coasters with pop art from the 50th anniversary series. Combined that added up to almost $69.00 but my friend Lisa had given me a coupon. Annual Passholders received 20% off their total purchase at certain locations. Neither the coupon nor the Birthday Fun Card stated they couldn't be used together so I saved about $13.00 and that moolah is still sitting on my card which doesn't expire. Tadaaaaaa!
Little Yoli was so wiped out that I drove us back to her house. It felt great to drive the roads I navigated for several years.
In the morning we packed ourselves up again and met up with Lisa and Logan at San Diego's Wild Animal Park. There's lots of walking and plenty of animals to see as well as gorgeous views of the mountains.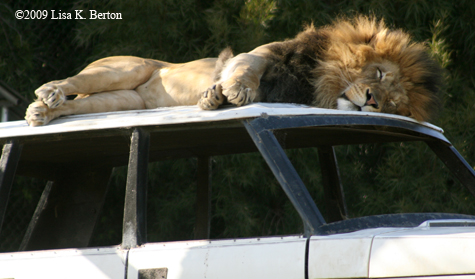 We parked in Lion, row 11.
Wednesday we were going to meet up with our friend Jenn (another Jennifer, we know several. Yo, Figgy!). Well, Yoli did something bad to her back and could barely move. After her hubby and I taunted her, stretched her out, and he tried to fix her, we decided to see if Jenn would come to us. Luckily, she did and she drove me to the airport later. Thanks Jenn!
This my faithful readers, is the end of my trip report. As you can see I had a wicked awesome time with my totally radical friends.
Are you going to Disneyland? Be sure to read up on it and CA Adventure here at AllEars.Net If you've never been, go. Go now! You'll love it. My friends and I do.
Would you go to Disneyland if AllEars.Net hosted a meet or two?