When I was a kid, Tomorrowland at Disneyland, California was my favorite land. For me, Walt's vision of the future was fantastic. Space-aged architecture and vast amounts of concrete created an exciting world for an impressionable mind.
In the early years, I could pilot a flying saucer, ride in a monorail, and visit the House of the Future. As Disneyland grew and changed I could blast off to the moon and then Mars or be shrunk to the size of an atom. For a young teenager, this was cool stuff. But as I grew older, my tastes changed and I started to appreciate the less sterile, and more graceful charms of New Orleans Square or the rustic characteristics of Frontierland.
Don't get me wrong, I still enjoyed the attractions Tomorrowland had to offer. But this was no longer a place I wanted to "hang out." Tomorrowland was "cold."
One of the continual problems Disney has faced over the years is that Tomorrowland keeps becoming Todayland. Technology changes so rapidly that it was/is a constant battle to keep the realm of the future futuristic.
When the Imagineers started to design Disneyland Paris, this problem was forefront in their minds. How do you design a Tomorrowland that won't need to be ripped out and reconstructed every ten or fifteen years?
The answer to their problem"¦ don't build Tomorrowland. Instead, build Discoveryland. This would be a vision of the future as seen through the eyes of such visionaries as Leonardo da Vinci, Jules Verne, and H.G. Wells. In other words, what the men of the past thought the 20th and 21st century would look like.
The architecture in Discoveryland is stunning, imaginative, and warm. Giant pavilions built with Iron girders, an airship, a submarine, and a massive cannon populate the area. And a vibrant color palate brings life to everything. This is a place that as an adult, I feel very comfortable. I like to "hang out" in Discoveryland.
The Imagineers have tried to retrofit Disneyland, California and the Magic Kingdom in Florida with this Discoveryland theming. They have had modest success, but neither comes close to the wonderful atmosphere achieved in Paris.
Like Frontierland and Adventureland, Discoveryland is set back from The Hub. An intricate armillary sphere marks the land's beginning and volcanic rocks thrusting from the earth point inward toward the "future."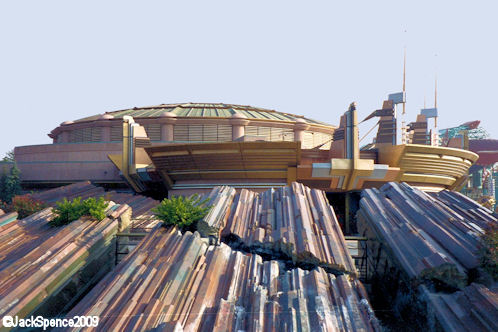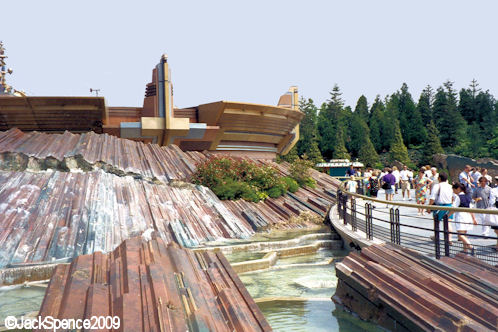 Once you enter Discoveryland, a park-like memorial sets the mood for the adventures to come. On a plaque, the following phrase is engraved:
Tout ce qui est dans la limite du possible doit etre et sera accompli.
Which translates:
All that is within the limit of possibility must be and will be accomplished.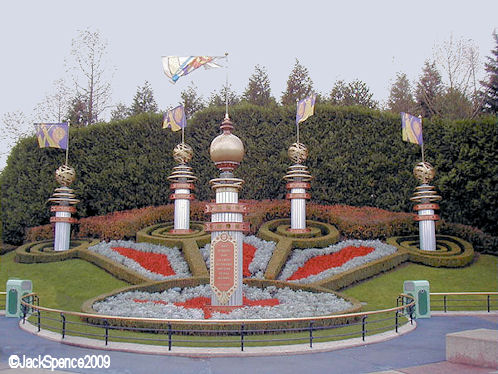 At all Disney parks, attractions are constantly being updated or replaced completely and Disneyland Paris is no exception.
"Le Visionarium" in Discoveryland was an opening day attraction. This 360-degree movie was filmed for Disneyland Paris and was later adapted for the Magic Kingdom in Florida and Tokyo Disneyland. We know this attraction better as "The Timekeeper" (or "From Time to Time" as it was originally titled in the U.S.)
"Le Visionarium" was narrated by an audioanimatronic robot named The Timekeeper. With the help of his assistant 9-Eye and his time machine, we were spirited all over Europe from the age of the dinosaurs to the year 2189. The European version featured a hot-air balloon ride over Red Square in Moscow. This was cut from the American version and a flight over Manhattan was substituted.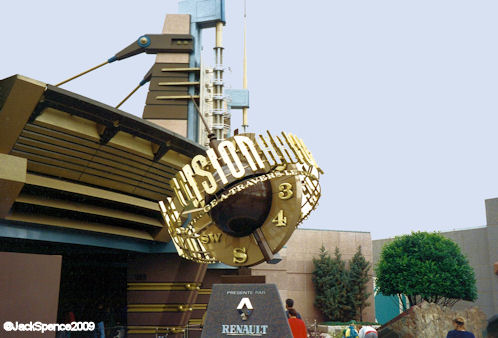 "Le Visionarium" (and The Timekeeper) has closed in all three parks. In Florida it was replaced by "Monsters, Inc. Laugh Floor" and in Tokyo it was been replaced by "Buzz Lightyear's Astro Blasters." In Paris, it was replaced by "Buzz Lightyear Laser Blast."
Buzz Lightyear Laser Blast
This attraction was still under construction on my last visit to Disneyland Paris. But thanks to my friend TDLFAN, I have a few pictures to share with you. Like its overseas cousins, this is a "dark" ride shooting gallery where you use laser guns to hit various targets and rack up points.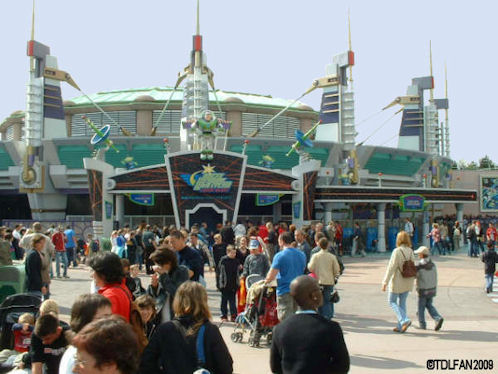 The California, Tokyo, and Hong Kong versions of this ride are practically identical. TDLFAN tells me that the Paris version is same as the other three. Florida, being the first incarnation of this ride, has a different track layout. Also, in Florida the laser guns are attached directly to the ride vehicle. In the other four parks the laser gun is attached to the vehicle via a cable. This allows for much better control and aiming.
This is a great ride that all ages can enjoy. Fastpass is available for this attraction.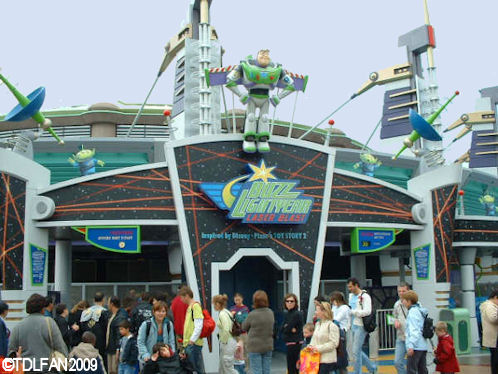 There is a cute shop near the entrance of Discoveryland called Constellations. For the most part, this is just another souvenir shop selling appropriately themed merchandise. But what makes this shop special for me is the decorative ceiling.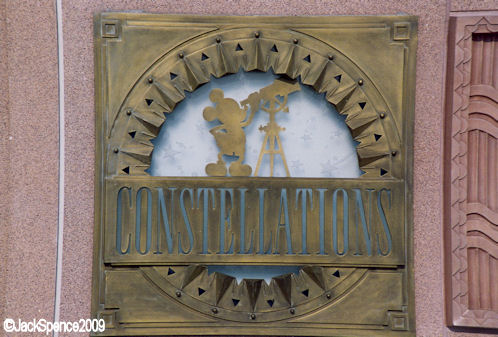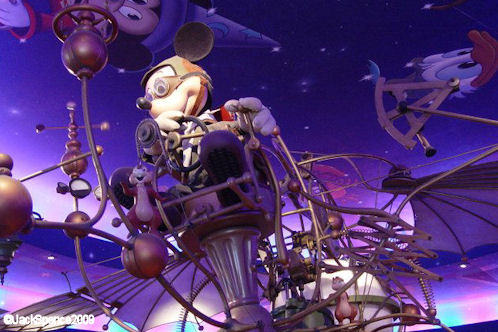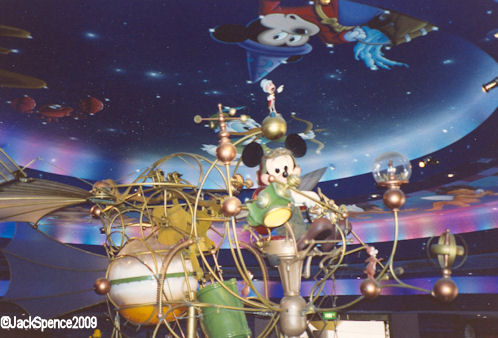 In my next blog I'll be discussing Orbitron and Videopolis.