"The Toy Story *what?*" is what I'm sure you're all asking! At least,
that's that *I* said when I saw the sign outside the Animation Gallery
inside DCA's Animation Building.
According to a Pixar press release, the zoetrope is a "kinetic
installation… an early cinema device that created the optical
illusion of static images in motion. The 7′ (high) x 12′ (diameter)
zoetrope, which is cycled to synchronize with the artscape
installation, features characters from both Toy Story films and
uses a series of strobe lights to make the Toy Story characters
Buzz, Woody, Wheezy, and others revolve around a central spindle,
out of which hordes of toy soldiers parachute down."
And from a Disney press release: "Originally created for the '20 Years
of Pixar Production Art Show' at the Museum of Modern Art in New York,
the Zoetrope creates the illusion of movement by presenting a rapidly
changing sequence of images – actual three-dimensional models – of
characters from both Toy Story films: Woody, Buzz Lightyear, cowgirl
Jessie, horse Bullseye and even the little green Aliens. The figures are
mounted on a spinning disk and lit with a strobe which creates a sense
of continuous motion, as if the characters have actually come to life
before your eyes."
Initially I thought it looked like a carousel – only with Toy Story
characters instead of horses. But when you take a closer look, you can
see that the characters' poses vary.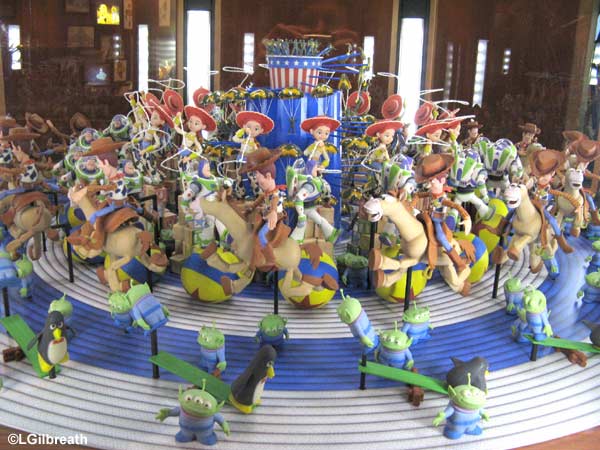 We stood in the room for a couple of minutes, then all of a sudden the
room lights dimmed and the lights inside the zoetrope became brighter.
It started to spin, and music started to play. At first everything was
just a blur, but then the strobe light effect began and the characters
appeared to be moving in an animated sequence – Woody rode a bucking
Bullseye, Jessie spun a rope up and down, Buzz walked on top of a ball,
the green army men parachuted down,
and my favorite, the penguins and the little green guys
collaborated in a stunt where the penguins catapulted a green guy into
the air and then he dove into a hole in the floor. One really
interesting thing – the display was spinning counter-clockwise, but all
of the action, except Buzz on his ball, appeared to be moving clockwise.
The "show" is a couple of minutes long, and it's really very cool to
watch.
I took a video with my digital camera and put it on YouTube – unfortunately the quality suffered in converting it to something YouTube could handle, and the video frame rate doesn't match up with the strobe rate so the animation isn't as smooth, but it'll still give you the idea.