Walt Disney World News
Disney Cruise Line
Disneyland Resort
SeaWorld Orlando
Site News
News Flash!
Live Reports
from May '04
Press Event
PHOTOS OF THE PRESS EVENT HERE!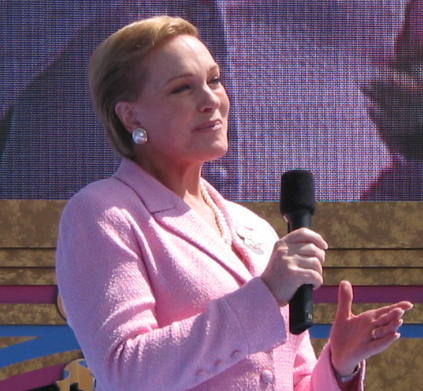 MAY 5, 2004 -- AllEarsNet® founder Deb Wills is attending the May '04 Disneyland/California Adventure Press Event as a guest of Beci Mahnken of MouseEarVacations.com. Her up-to-the-minute reports as the day unfolds are below:
2:30 p.m. PST -- Deb reports that she snagged an impromptu interview with Imagineer Barry Bravermann who is heavily involved with Disneyland's 50th Anniversary plans. Look for more details in the May 11th issue of All Ears®.
11 a.m. PST -- Well, the 10 a.m. press conference was quite the spectacle, with lots of celebrities to help announce Disneyland's grand plans for its 50th birthday. Calling the anniversary plans the "Happiest Celebration on Earth," Disney notables, including Michael Eisner, Jay Rasulo and Bob Iger, described how each of Disney's 10 theme parks would mark the occasion. Here are some highlights:
--Walt Disney World in Orlando is going to import the "Cinderellabration" musical show from Tokyo Disneyland to the Magic Kingdom. The remaining Orlando theme parks will debut the previously announced new attractions in the parks (Soarin' in Epcot, the Motor Stunt Show in Disney-MGM Studios, and Expedition Everest in Animal Kingdom). In addition, Animal Kingdom will have a walk-around Audio-animatronic dinosaur, named Lucky, who will interact with guests and sign autographs!
--Disneyland Paris will get its own version of the "Wishes" fireworks
--Tokyo Disneyland will debut a special summer salute.
--Tokyo Disneysea will announce a new high-speed roller coaster.
--Disney's California Adventure will debut the Block Party Bash, featuring Pixar characters.
--Disneyland itself will have its own "Happiest Homecoming on Earth," and will unveil the retooled Space Mountain, as well as a special exhibit on its first 50 years, including a film with Walt Disney. The Sleeping Beauty Castle will be made even more regal, decked out with crowns on its turrets. There will also be a new Parade of Dreams, led by Tinker Bell and featuring other Disney characters, and a new fireworks show called Remember... Dreams Come True, which will spotlight Disneyland's E-Ticket attractions.
In addition to the theme parks, the Disney Cruise Line will participate in the birthday celebration by sending the Disney Magic to the West Coast for 12 weeks next summer. Bookings for these cruises began today.
Also on hand for these big announcements were Art Linkletter, the now-93-year-old former TV host who helped open Disneyland in 1955, and singer/actress Julie Andrews, who starred as Mary Poppins in the Disney feature of the same name.
After much fanfare, it was finally announced that the official Disneyland celebration would kick off one year from today, May 5, 2005.
---
Tower of Terror Grand Opening - May 4, 2004
9:50 p.m. PST -- Beci Mahnken (MouseEarVacations.com) reports: The ride is cool! Very cool, but different. It's the same premise, the same story and atmosphere, but the motion is different. Instead of moving up, like you do in WDW, your first sensation is of moving backwards, and then you enter the shaft. There are some great special effects -- at one point you're looking into a mirror, then everything turns into a ghost, then suddenly, it all disappears! We understand that there are different sequences, but we've only had the chance to ride once -- they're experiencing some technical problems right now.
Deb Wills adds: This ride is different from WDW's, but it is really neat! The queue is actually bi-level. To go to the upper level, you have to climb stairs. There are three different shafts, with the one on the upper level. I think it's as long as WDW's Tower of Terror -- I think initial reports said it seemed to be shorter, but it feels like it's the same length. Going for another ride now...!
Look for more details in the May 11th issue of All Ears®.
MAY 4, 2004 --
8:35 p.m. PST -- Deb phones in this report from the Tower of Terror Grand Opening: They welcomed us with huge balloons and "Rod Serling" himself greeted us. Michael Eisner was on hand to kick off the event, saying, "We are always looking to create new technology to dazzle our guests as never before!" Also present was Carol Serling, Rod's widow, who said: "Thank you for bringing this to California. Rod would be delighted to know his Fifth Dimension brought such joy." There were then fireworks shot from the middle of the Hollywood Tower Hotel itself! The whole introduction took about five to 10 minutes, followed by a walk around the attraction. There's a band playing music of that long-ago era, and a ton of celebrities on hand, including David Hasselhoff, Nia Vardalos, Tyra Banks and Melissa Joan Hart! We're in the queue now for the ride -- more to come, including lots of photos, later!