Miller Family Four-Park Birthday Challenge Update
by Alice McNutt Miller
AllEars® Feature Writer
Feature Article
This article appeared in the August 12, 2014 Issue #777 of ALL EARS® (ISSN: 1533-0753)
Editor's Note: This story/information was accurate when it was published. Please be sure to confirm all current rates, information and other details before planning your trip.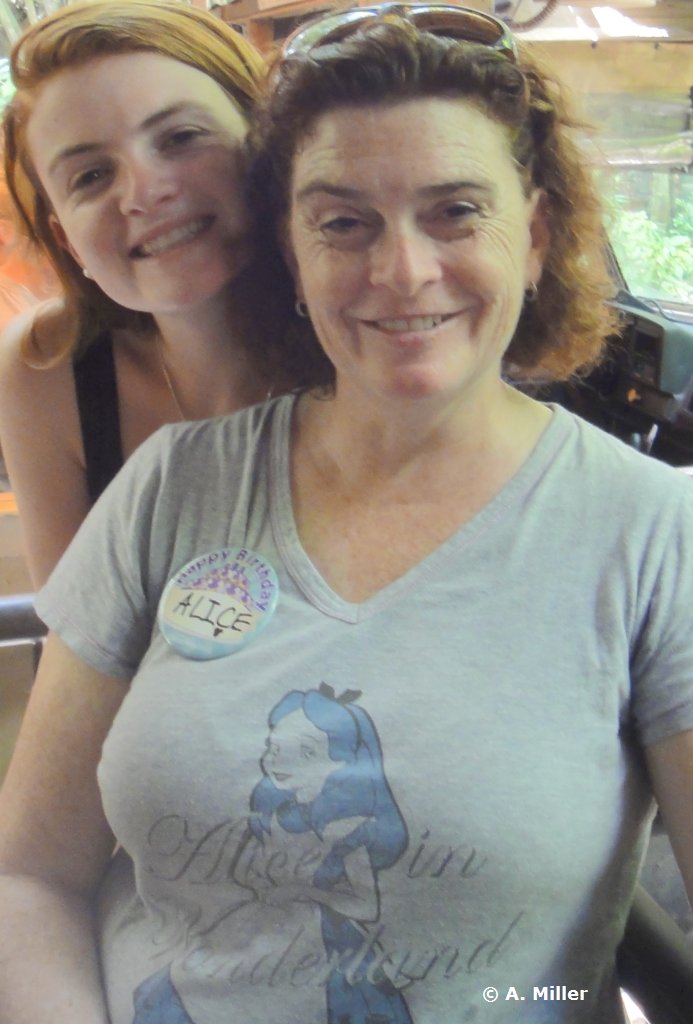 Time for the Miller Family Four-Park Birthday Challenge Update!
You may remember that about a month ago, I wrote about my impending "big birthday" and explained that I was planning to spend it at Walt Disney World with my family (AllEars® Issue #771, July 1, 2014). To recap, my husband and two daughters had agreed to indulge my desire to spend my birthday visiting all four parks at Walt Disney World, while following a few simple rules:
— We would visit all four major theme parks in the course of one day.
— We had to use Disney transportation.
— We had to ride or experience at least three major attractions in each park.
— Every member of the family needed to take part in the attraction.
— FastPass+ could be used, and reservations could be made in advance for one of the parks.
— We needed to eat one meal in each park.
— No member of the family would be able to carry a bag during the day in order to avoid "Guest with Bag" delays. (We actually ended up violating that rule, and Daughter #2 agreed to carry all of our necessary stuff in her bag. It was nice for me not to have to be the one to do it for a change.)
So how did it go?
On the Big Day, I got everyone up before 7 a.m. and made coffee for my husband and myself. We needed some initial fuel to power through the first park of the day — Disney's Hollywood Studios! Bus stop was crowded when we arrived at 7:25, with everyone lined up for… Disney's Hollywood Studios! The only park with Extra Magic Hours that day. We counted about six other buses that went by going to other destinations. I am never sure why Disney doesn't run more buses on EMH mornings to the only open park. We did finally get on a bus, and were at the entrance to the Studios at about 7:50 a.m.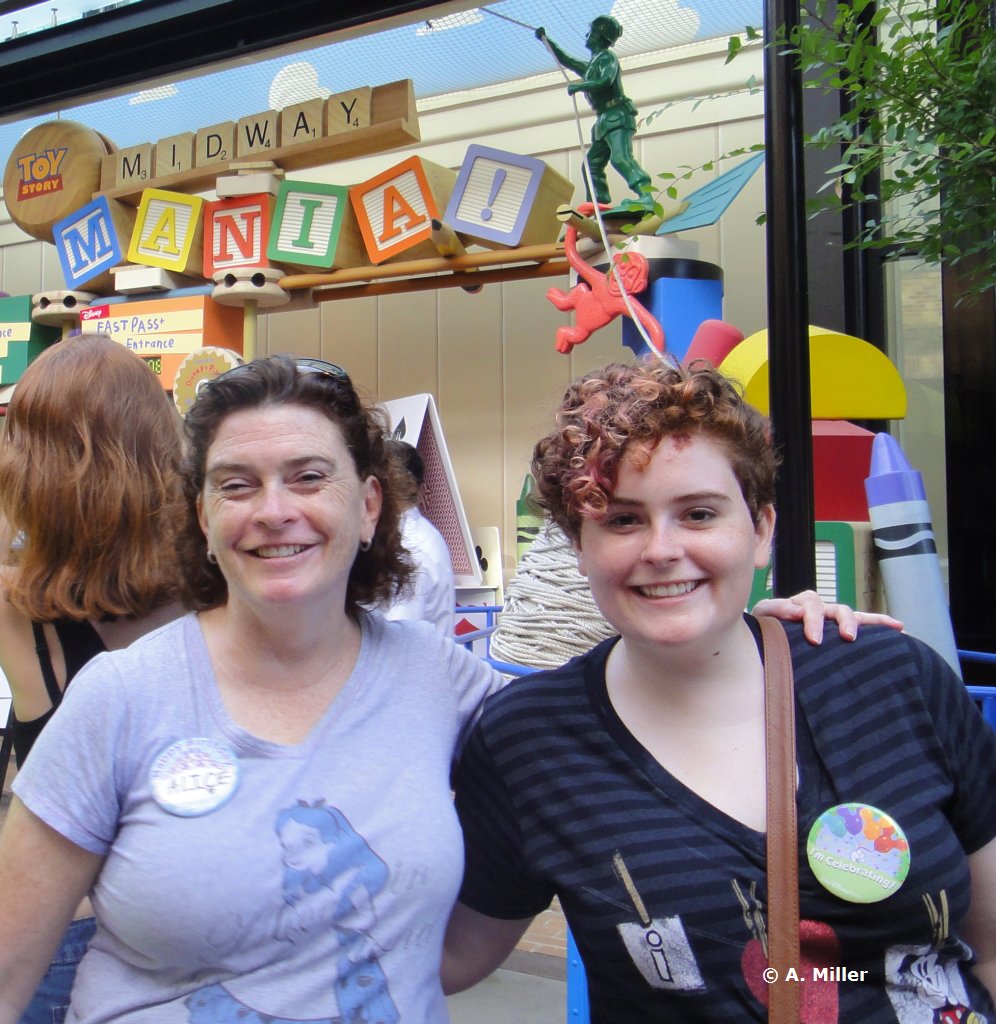 The plan was to hit Toy Story, Rock 'n' Roller Coaster, then the Great Movie Ride, before moving to the next park. All started well, as we were in line for Toy Story for about 25 minutes before boarding the ride. As usual, my family killed me on the scoring, and I came in last place! We left Toy Story and headed to the Rock 'n' Roller Coaster.
The single rider line was not open yet, and the posted wait time was 20 minutes for the regular line. We hopped in line and waited, and waited, and waited. Finally, an announcement came over the loud speaker saying that the ride was experiencing technical difficulties. Everyone was asked to get out of line and come back later. What?! My plan was already falling apart. At this point, it was almost 9 a.m., and we had lost any advantage we had because of EMH.
As we regrouped and tried to figure out a change in strategy, the family announced that they were hungry and we needed to stop for breakfast. Since the meal WAS part of the plan, we stopped at Fairfax Fare and ordered a couple of breakfast sandwiches, some fruit cups and more coffee for the grown-ups.
We considered our next steps as we ate. We needed to do rides that every member of the family was willing to ride. Tower of Terror was out. My husband, bless his soul, then offered to ride Star Tours. He does not like this ride, as it generally throws his stomach out of whack, but I was happy to take him up on the offer. He said he would keep his eyes closed. Star Tours had a 10-minute posted wait time, but was actually a walk-on. We rode, the girls and I loved it, as usual, and my husband exited with a queasy, green look about him. Thanks for taking one for the team, Hon!
We then sauntered over to the Great Movie Ride, which never has a very long wait this early in the morning. Except for THIS morning. Posted wait time was 25 minutes, and the line was out the door, snaking around the back of the building. With that wait, plus the long time of the ride, itself, we would be way behind our plan. Time to rethink, again. We turned around, and were off to… MuppetVision 3D!
We entered the waiting area just as the pre-show was starting, watched that (I really don't think that the inserts for the recent "Muppets Most Wanted Movie" fit with the flow, but whatever). After the show ("a tribute to all nations, but mostly to America!"), we headed toward the front of the park, and the exit. We must not have been the only family doing a four-park challenge that day, because at 10:27 a.m. we were not the only folks already heading out of the park.
We saw the bus to our next destination idling at the designated bus stop, but it did not idle long enough, and we missed it! Nothing appeared to be going right. Arrgghh. We found a bench in the shade, and waited about 20 minutes for the next bus to arrive.
At 11 a.m., we exited the bus, and arrived at our second park of the day — Disney's Animal Kingdom. I was happy that we had FastPass+ reserved for our three rides in this park. We headed to the first attraction, Kilimanjaro Safari. Our FastPass+ was good until 11:25, so we did not need to hurry, although when we arrived, the posted wait time was only 10 minutes, so we would have been OK in any case. (I guess everyone was over at the Studios!)
After a really nice "two-week journey," during which we saw lots of animals, we exited the ride, stopped at the Harambe Fruit Market, and bought some fruit for all of us weary travelers. (This counted as our required "meal" for this park.) We munched as we walked over to Expedition Everest for our second ride in this park.
We were still within our FastPass+ window, so we entered that line and waited for about 10 minutes in the queue before boarding the ride vehicle. Unfortunately, the Yeti was still not working to his full potential, but he put in a good effort, and we had a great ride! My husband looked a bit queasy again. Usually he can do this ride without too many problems, but I think he was still having a Star Tours hangover.
On the way to our final ride — Dinosaur! — we stopped in the Chester and Hester's Dino-Rama arcade area, and played the game where you roll the wooden balls into targets, and make the elephants go. Daughter #1 won the game, and then we hung out a bit until she found a little kid who was willing to tote around the small lime-green stuffed something-or-other that she had won for the rest of the day. We found a happy kid (sorry, Mom and Dad).
Off to Dinosaur! Even in the FastPass+ line, we had to wait for about 10 minutes. There never used to be a wait for this ride. What has happened? It appears that Disney has done a good job of using the new system to spread people out to the less popular rides. Well, after the obligatory screams and eye covering while we went after our dino, we headed toward the park exit.
By 1 p.m., we were on yet another bus, on our way to the third park of the day, Epcot. Our arrival at Epcot was uneventful. We checked wait times, and headed to the Seas With Nemo and Friends, as it had a fairly short wait time. After Nemo, we sauntered over to Living With the Land, a perennial Miller family favorite, and Epcot attraction number 2.
Next, we decided to stop for lunch, as we were all exhausted and hungry. We made our way around the World Showcase to Morocco, where we stopped at the relatively new Spice Road Table, which I have been wanting to try since it opened. It was really hot outside, so we opted for an inside table. It was about 2 p.m., so there weren't many folks there, and we were served immediately. We ordered drinks and a bunch of small plates, and settled into the lovely dining room. All of us really liked the food and the atmosphere, and we will definitely return.
While sitting at the table, I got a note through Facebook that a friend and devoted AllEars® fan, Kathleen P., was following our exploits of the morning through the photos I had posted, and happened to also be in Epcot that afternoon. After lunch, we met Kathleen and her mom over at Test Track for our second ride at Epcot. We went in the single rider line, and were finished in about half an hour. It was so fun to catch up with a Disney friend on my special day. Thanks, Kathleen!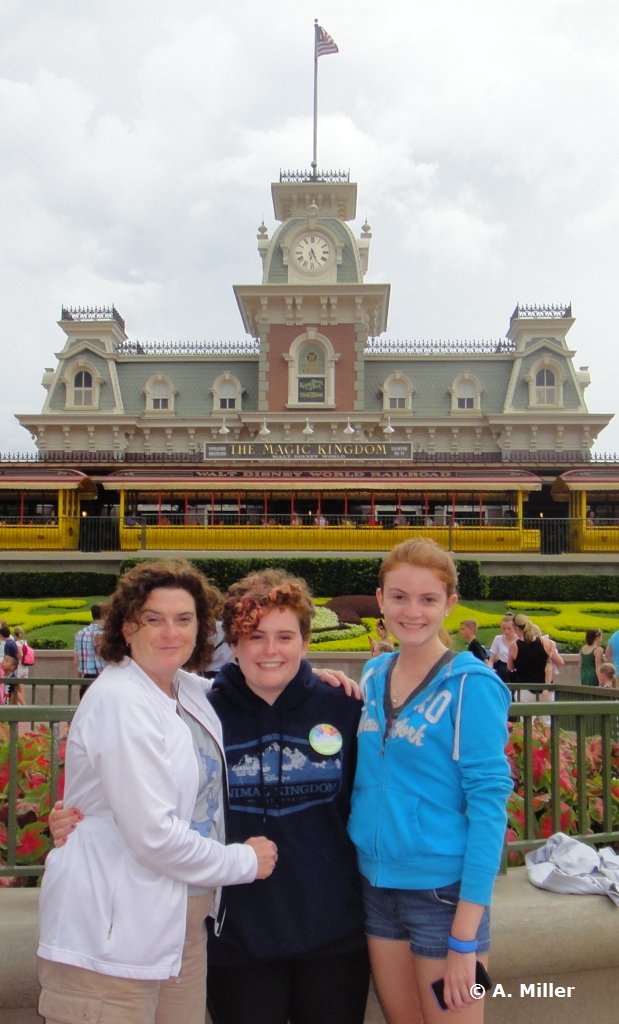 "What time is dinner?" Daughter #2 asked. "8 o'clock." "Mom, I can't make it to 8 o'clock without a rest." Okayyyyyy. Here is where we strayed from the plan. Not wanting to jeopardize the entire challenge, I agreed to head back to our hotel for a brief rest stop. Kids in front of the TV, Husband and I off to cool off in the resort pool for a bit. After the disastrous start at Hollywood Studios, the rest of the day had proceeded in exemplary fashion. I began wondering if I hadn't made this hard enough.
After the unscheduled rest stop, we boarded the monorail for the Magic Kingdom. We skipped trying to pick up any additional FastPasses, and just looked at our My Disney Experience app for attractions with the shortest wait times. We went to Tomorrowland and got in line for Buzz Lightyear's Space Ranger Spin, which had a posted wait time of 20 minutes. Twenty minutes later, the rest of my family once again humiliated me, as I got the lowest score of all four of us.
The park had gotten pretty busy, and it was raining, so we bolted out of Buzz and ran across the way to the Carousel of Progress. We got right in, and had a fascinating visit with a typical American family of the past and the future. It's a great, big, beautiful tomorrow! Nice to see you again, Uncle Orville!
Next, we dashed off through the rain for our final attraction of the Challenge — "it's a small world." We sang along, and drove everyone else in our boat crazy.
Finally time for our 8 p.m. reservation at Be Our Guest Restaurant! This was the last item to be checked off of the Challenge list, other than the monorail ride back to the resort. After about a 15-minute wait, we were escorted into the restaurant to our table in the very back of the Rose Gallery. I was a bit disappointed, as I was hoping for something more in the center of things. I must say that after dining at BoG for dinner twice and for lunch once, I don't think that this place quite lives up to its potential. The surroundings are beautiful, but the food is just — meh. I did enjoy my glass of wine, however.
We departed the restaurant, ready to throw in the towel and head back to a well-deserved night of sleep. However, we were thwarted by the Main Street Electrical Parade. When we couldn't exit Fantasyland through the castle, I made the mistake of trying to go around through Liberty Square. No luck. We were stuck for the duration. And in a spot where we really couldn't see much of the parade. I did enjoy the tops of the floats that I could see however, and we were happy to follow the parade out of the park.
Well, there it is! We survived, and even enjoyed, the Miller Family Four-Park Birthday Challenge. I hope this has inspired you and your family to come up with your own fun-filled ways to spend your Disney vacations! We'd love to hear YOUR ideas.
= = = = = = = = = = = = = =
RELATED LINKS
= = = = = = = = = = = = = =
The Ultimate Disney Day: Six Parks, Two Coasts:
http://allears.net/ae/issue720.htm
Also, see some of enthusiastic planner Alice's other features for AllEars®:
The Tyranny of the Spreadsheet:
http://allears.net/ae/issue504.htm
Planning a Trip Using My Disney Experience
http://allears.net/ae/issue738.htm
Why I'm Grumpy:
http://allears.net/ae/issue759.htm
-=-=-=-=-=-=-=-=-=-=-
ABOUT THE AUTHOR:
Alice McNutt Miller is a lifelong Disney fan whose fondest childhood memories include "The Wonderful World of Disney" on Sunday nights and her first trip to Disneyland when she was 10 years old. Alice and her family are Disney Vacation Club members, and have now visited every one of the Disney parks throughout the world. They live in Vienna, Virginia.
-o-o-o-o-o-o-o-o-o-o-o-
Editor's Note: This story/information was accurate when it was published. Please be sure to confirm all current rates, information and other details before planning your trip.