December 2014 Walt Disney World Bits and Bites
Feature Article
This article appeared in the November 25, 2014 Issue #792 of ALL EARS® (ISSN: 1533-0753)
Editor's Note: This story/information was accurate when it was published. Please be sure to confirm all current rates, information and other details before planning your trip.
= = = = = = = = = = = = = = = = =


STEP BACK IN TIME
= = = = = = = = = = = = = = = = =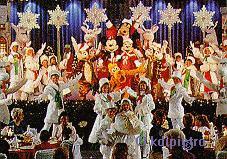 Each month, we rummage around in our archives for this featurette, which indulges in a bit of nostalgia, taking you back in history for a glimpse of Walt Disney World and The Walt Disney Company through the ages. This month, we go back to the Decembers of Walt Disney World's past, and revisit a few things that aren't there any more.
Many years ago, Walt Disney World used to host a popular dinner show at the Contemporary Resort. Dubbed the Jolly Holidays Dinner Show, the event was held twice nightly during the holiday season in the resort's Fantasia Ballroom. Guests relived the family traditions and magic of the holiday season during an all-you-can-eat feast of Yuletide fare and a heartwarming show featuring popular Disney characters and entertainers decked out for the holidays. The Jolly Holidays Dinner Show was discontinued in 1998.
The Lights of Winter Arch, which spanned the walkway connecting Epcot's Future World with World Showcase, served as a focal point of that theme park's annual holiday decorations. Starting in 1994, its 30,000 lights twinkled in time to a 20-minute loop of inspirational holiday music. Alas, maintenance of this beloved showpiece proved to be too expensive (at least, according to a message put out by the official Disney Twitter account), so the last year for the Lights of Winter was 2008. (The official announcement of the Arch's retirement was made in November 2009.)
These are just a few of the old holiday traditions that we're nostalgic for — what about you? What are some of your favorite Disney holiday memories? Drop us a note at allearsnet@yahoo.com and be sure to put "HOLIDAYS" in the subject line.
=-=-=-=-=-=-=-=-=-=-=
RELATED LINKS
= = = = = = = = = = = = = = = = =


HIDDEN MICKEYS ALERT
= = = = = = = = = = = = = = = = =
Steve Barrett, author of the Hidden Mickeys books and webmaster of www.HiddenMickeyGuy.com, points out a few Hidden Mickey gems to search for at Disney California Adventure. While you're searching for Hidden Mickeys, enjoy the beautiful park, too!
1. Along the exit of the Tower of Terror, check out the cameras on display. Circles on the front of some of the cameras form classic (three-circle) Hidden Mickeys. One of these cameras is behind the photo purchase counter on the second shelf to the right of the recessed area display. It's at the lower middle of the photograph, next to a framed picture. (Thanks to Kevin, Gordon K., and April Beisser.)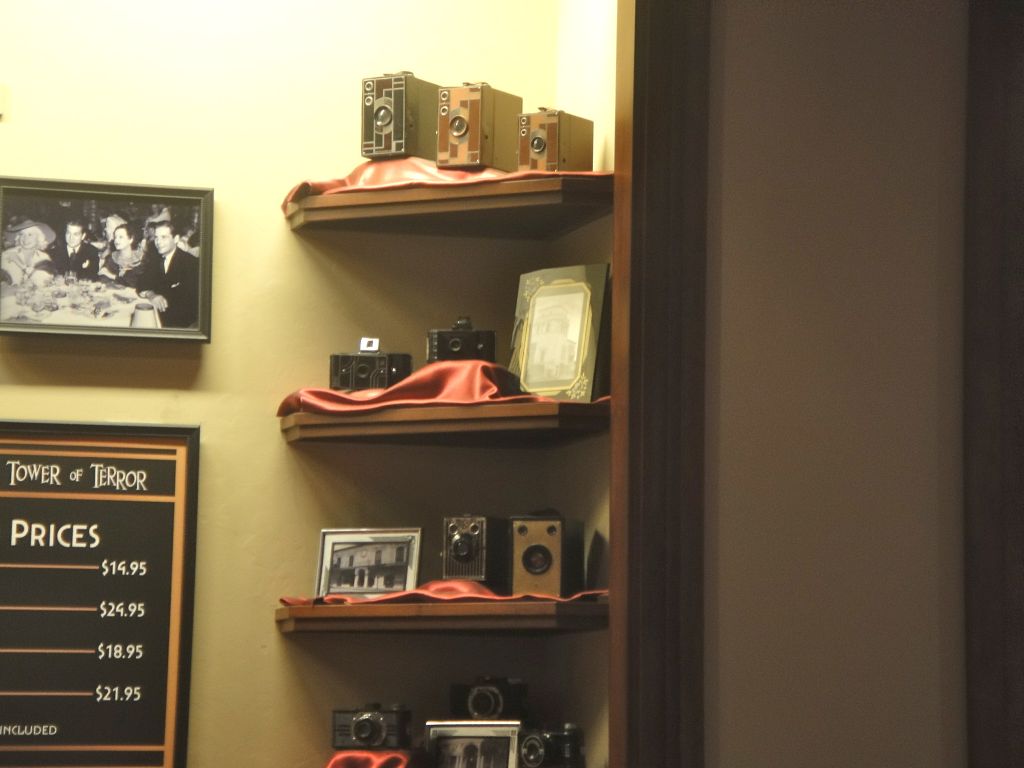 2. As you ride along on The Little Mermaid – Ariel's Undersea Adventure, look for the spinning purple octopus in the room where you hear the "Under the Sea" song. Three pink spots near the middle of the octopus' head come close enough to form a classic Hidden Mickey. In the photo, the spots at the left middle of the head may be the image we see while on the ride, but it's a difficult photo to get! (Thanks to Josh and Cassi Cox, and Ryan Kehoe.)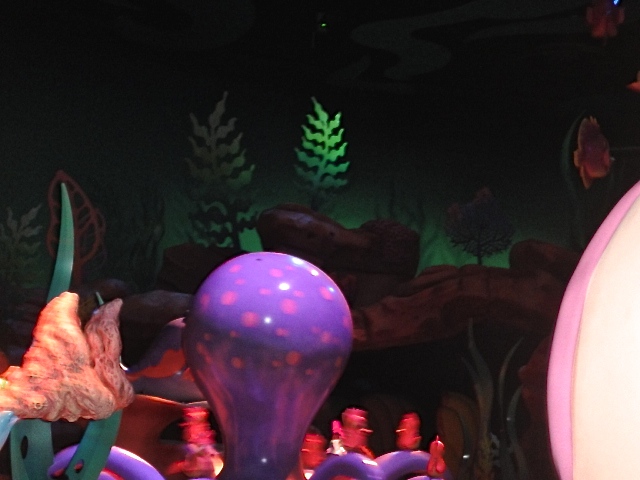 3. On Radiator Springs Racers, if you go through Luigi's Tire Shop (one of two possible random routes you'll take in this section of the ride), watch on your right for a red toolbox that sits behind a rack of tires. Three inner white circles in a design on the side of the box form a classic Mickey. It's another tricky image to photograph! (Thanks to Sam Vanderspek, Jeremiah Good, Carlos A. de Alba, Austin Weber, Sherrie Cotton, Sharise Jaso, Rich Sylvester, and Brian Z. Lucas.)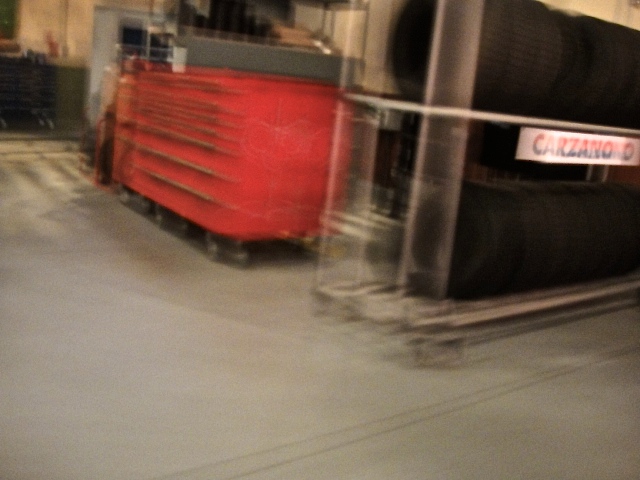 =-=-=-=-=-=-=-=-=-=-=-=-=-=-=-=
You can find a selection of past Hidden Mickey Alerts HERE.
And check out our latest Searching Disney with Steve blog.
= = = = = = = = = = = = = = = = =

RATE AND REVIEW
= = = = = = = = = = = = = = = = =
In this monthly featurette, we take a look at comments made in the AllEars.Net Rate & Review section about a particular restaurant, resort, event, etc. This month, we highlight what AllEars® readers are saying about the Candlelight Processional and the Candlelight Processional Dinner Package. We don't have many reviews on this annual event, and hope that you'll contribute yours the next time you attend!
The Candlelight Processional, which starts this Friday, November 28, is recommended by 100 percent AllEars.Net reviewers and has received an overall rating of 9.5 out of a possible 10. Here are some of the comments:
— This is our third year attending the processional… the star of the show is the music. It is just so beautiful and moving. Waiting to get my tickets for next year!
— The program is lovely — singers are talented… gives good meaning to the real purpose of Christmas. Had a rather loooong line to get in but moved quickly (as part of the paid meal package). Paid package was a real time saver — saw others in standby line waiting more than two hours to get in. We only waited a short time… Good to do if you have the money and want to eat at one of the restaurants anyway, but if watching your money, just sit outside the pavilion and listen. You go for the music and reading; the singers and orchestra don't "do" anything – no dancing, etc.
— The whole show was phenomenal: the conductor, the orchestra, the trumpeters, the choirs, the ASL translator, and our narrator for the evening.
— This was our third Candlelight Processional. We have done the dining package twice. This trip, we ate at Via Napoli at 12:45 for the 5 p.m. show… When we got in line, we were all the way past the Japan Pavilion, yet when we got into the theater, we were able to sit right in the center, in first row that is the walkway (plenty of leg room). Any closer would have been overwhelming to the kids in our party. The show is always a treat… If you have a chance to see the CP, you should do it. The dining package is a good option to cut your wait time. The standby line was forming at 2 p.m. for the 5 p.m. show and there are a lot better ways to spend your time at Epcot than standing in line for three hours.
— Overall the show was spectacular (as with nearly all Disney productions). Generally, the crowds seemed heavy for early December.
Want to read more? Check out other Candlelight Processional Reviews HERE.
And don't forget to check out the rest of our Rate & Review boards!
= = = = = = = = = = = = = = = = =


MONTHLY REMIND-EARS
= = = = = = = = = = = = = = = = =
EVENTS
Mickey's Very Merry Christmas Party – December 2, 4, 7, 9, 11, 12, 14, 16, 18, and 19. Advance Purchase Prices: All Dates: Ages 10+: $67.00 + tax/Ages 3-9 $62.00 + tax. Some discounted prices available.
Holidays Around the World in Epcot – through December 30, 2014.
Epcot's 2014 Candlelight Processional, the annual retelling of the story of Christmas that features a mass choir and a full orchestra, will take place November 28 through December 30. Candlelight Processional Dinner Packages start at $35 for lunch and $50 for dinner for adults, include a meal at an Epcot restaurant and a guaranteed seat for one of the Candlelight Processional performances. Call 407-WDW-DINE (407-939-3463) or book online at www.disneyworld.com/holidays.
Here is December's schedule of those who will appear as narrators for the Candlelight Processional:
— 12/1 – 12/2: Neil Patrick Harris
— 12/3 – 12/4: Jonathan Groff
— 12/5 – 12/6: Whoopi Goldberg
— 12/7 – 12/9: Levar Burton
— 12/10 – 12/11: Edward James Olmos
— 12/12 – 12/14: Joe Morton
— 12/15 – 12/17: Chita Rivera
— 12/18 – 12/20: Ana Gasteyer
— 12/21 – 12/23: Marlee Matlin
— 12/24 – 12/25: Isabella Rossellini
— 12/26 – 12/27: Blair Underwood
— 12/28 – 12/30: Steven Curtis Chapman
Narrators are subject to change without notice. Show Times are at 5, 6:45 and 8:15 p.m., except December 7, when show times are 6:45 and 8:15 p.m. only.
NEW YEAR'S EVE: The World ShowPlace pavilion will host a custom New Year's Eve dinner package called Fantasia 2014 — an enchanting celebration immersed in popular music and magical scenes from Disney's classic feature films, Fantasia and Fantasia 2000. General admission to New Year's Eve Dining at Epcot World ShowPlace costs $64.99 for adults; $41.99 for kids (per person, plus tax). Please note: Separate theme park admission is required. Advance reservations are highly recommended and can be made by calling (407) WDW-DINE or (407) WDW-3463.
Disney's Hollywood Studios
The Osborne Family Spectacle of Dancing Lights, which takes place annually at Disney's Hollywood Studios along the Streets of America, will run through January 4, 2015. Click HERE to see photos from last year's Osborne Lights.
Disney's Hollywood Studios has announced a new Frozen Holiday Premium package, available now through December 9 and December 11 – January 4, 2015. For $89 per adult plus tax ($59 per child plus tax) you will receive:
— reserved seating for the First Time in Forever: A Frozen Sing-Along Celebration at the Premiere Theatre
— reserved viewing of the Osborne Family Spectacle of Dancing Lights
— a Frozen-themed dessert party (including mini Anna and Elsa cupcakes)
— a holiday-themed lithograph
— a Frozen pin
You must have your own admission for Disney's Hollywood Studios (admission is not part of the package). Call 407-939-1854 to reserve your spot.
-=-=-=-=-=-=-=-=-=-
Don't forget to check our Events page for current news.
-=-=-=-=-=-=-=-=-=-=-=-=-=-=-=-=-=-=-
REHABS AND CLOSINGS
Effective September 1, 2014, Walt Disney World implemented changes to the operating schedule for its monorail system. Current operating hours for the three monorail lines are as follows:
Magic Kingdom Resorts line : 8:30 a.m. to 11 p.m. (extended to midnight on hard-ticket event nights)

Magic Kingdom Express line : 9:30 a.m. to one hour after Magic Kingdom fireworks

Epcot line : 9 a.m. to 11 p.m.
Bus and boat service are increased when monorail service is limited. No word on how long this schedule will remain in place.
The Haunted Mansion will be closed December 1-19 for refurbishment.
Several enhancements to the Central Plaza area between the end of Main Street and Cinderella Castle in Walt Disney World's Magic Kingdom are coming over the next few months. Among the changes being made: the addition of sculpted gardens and pathways, expanded restaurant seating and even a special viewing area for fireworks and other performances. In fact, the seating outside of Casey's Corner and The Plaza restaurant will nearly double in size. The project has already begun and is scheduled to be completed in 2015.
Once again this year, the Magic Kingdom's Jungle Cruise temporarily transforms into the "Jingle Cruise" for the holiday season. There is festive decor in the attraction queue and boathouse, holiday names for the Jungle Cruise boats and a slew of seasonal jokes from the Skippers.
The Maelstrom attraction and Spirit of Norway movie have closed to make way for a new attraction based on the animated film, "Frozen." The new attraction will take guests to the film's land of Arendelle and is expected to open in early 2016. The Norway pavilion will also again host a royal greeting location where the characters Anna and Elsa can meet guests.
Walt Disney World will remove the iconic Sorcerer Mickey Hat in early 2015. The Sorcerer's Hat "opened" September 2001 as part of the 100 Years of Magic Celebration at Walt Disney World. No word yet on what, if anything, will take the Hat's place, or what will become of the Hat.
The LA Prop and Cinema Storage Shop at the corner of Hollywood and Sunset Boulevards in Disney's Hollywood Studios will reopen in early 2015 as The Trolley Car Cafe, a new food and beverage location serving Starbucks coffee and Disney favorites. Cast members at this new location will wear costumes themed to blend with the classic look and feel of Hollywood Boulevard and its surroundings. The Trolley Car Cafe will serve Starbucks coffee and espresso beverages, frappuccino blended beverages and signature breakfast sandwiches and Starbucks La Boulange pastry items along with other Disney baked goods. The location will accept Starbucks gift cards.
Animal Kingdom Lodge
The Sunrise Safari at Disney's Animal Kingdom Lodge is scheduled to end as of December 28.
All-Star Music Resort
The Intermission Food Court at Disney's All-Star Music Resort is closed for a lengthy refurbishment through December 20, 2014. Grab 'n' Go food and beverages are available in the Note'able Games Arcade. Bus transportation is provided to neighboring resort hotels — All-Star Sports Resort and All-Star Movies Resort — where you can dine at the End Zone Food Court or World Premiere Food Court.
BoardWalk
Kouzzina by Cat Cora closed on September 30, 2014. A new Italian restaurant, Trattoria al Forno, will open on the site. Reservations are now being taken, and the restaurant is slated to open on December 18. You can see a tentative dinner menu for the new eatery HERE.
During the wait for the new restaurant, breakfast will be served at the Flying Fish Cafe.
Disney's Caribbean Beach Resort is currently undergoing refurbishment, scheduled to be completed in spring 2015. During this time, all rooms (with the exception of King Bed rooms and Pirate Rooms) will be upgrading to queen beds. Many rooms (but not all) will then have the ability to accommodate up to five, with the addition of a bunk-size fold down bed. These rooms will be located in all of the resort's villages.
Great Ceremonial House Lobby is being renovated through December 2014. The atrium is being reimagined to highlight the cultural elements of Polynesia and provide more expansive views. At certain times of day, there may be some noise and alternative paths of travel may be needed throughout the Great Ceremonial House.
The Nanea Volcano Pool closed July 26, 2014, and will not reopen until sometime in 2015. Several enhancements are scheduled, including a new aquatic playground with children's slides, a new hot tub, and a larger deck with more guest seating. As an alternative, resort guests are being notified that they will receive free, single-day admission to Disney's Blizzard Beach Water Park. Transportation will be provided to the water park, where a dedicated Polynesian guest check-in will be available, at which you can receive your complimentary tickets and towels. The Polynesian's leisure pool will remain open during the Nanea pool refurbishment.
The previously announced Trader Sam's Grog Grotto will not open until 2015.
The Disney Vacation Club's Polynesian Villas & Bungalows is set to open sometime in 2015. On his Tikimanpages.com website, Steve Seifert has uncovered a number of interesting tidbits about this latest addition to the Disney Vacation Club. The Moorea (formerly Tahiti) Longhouse is one of three longhouses at the Polynesian Village Resort that is being converted from hotel rooms to DVC studios. Steve has obtained a floor plan, which shows the studios will have a connecting door to the adjacent studio. The door will be near the studio's entrance door. The two-part bathroom is configured similar to the bathrooms in Disney Cruise Line cabins and at the Villas at Disney's Grand Floridian Resort & Spa. One part of the bathroom will have a tub/shower, sink, and toilet and the second part will have a sink and walk-in shower. A photo obtained by Steve shows the walk-in shower will continue the Polynesian theme using darker colors and designs. The Polynesian Village hotel rooms are some of the largest hotel rooms on Disney property. Steve estimates that the converted Polynesian studios will be about 465 square feet. Deluxe Studio villas at Disney's Old Key West Resort, currently the largest studios at any DVC resort, are only 390 square feet.
The Walt Disney World Swan and Dolphin is currently undergoing the largest renovation in its 25-year history. The Swan rooms will be completed in 2015. The first phase of the Dolphin Hotel room renovations will not begin until 2016, with the entire room project currently scheduled to be completed by the end of 2017.
Downtown Disney/Disney Springs
The multi-year transformation of Downtown Disney into Disney Springs will treat guests to more shopping, dining and entertainment amid open-air promenades, springs and waterfront charm. Disney Springs will feature an eclectic and contemporary mix from Disney and other noteworthy brands, from boutique shops to unique flagship anchor stores. The Landing section of Disney Springs will open and be rededicated in early 2015.
As the evolution of Downtown Disney into Disney Springs continues: The first of two parking garages, the West Garage, opened on November 20. The Springs Bottling Co. sign has been installed above the future location of Morimoto Asia restaurant and the Waterview Stage is now open and offering nightly entertainment. (Check the times guides for specifics.) Later this month the Food Trucks Exposition Park located on the West Side will open. The Food Trucks will serve a variety of items, from chicken waffles to tandoori spice shrimp. Look for additional seating in that area as well. In addition, in the area that will eventually be called The Landing, there is a new Pedestrian Walkway between the restaurants Portobello and Paradiso 37. The walkway will soon be complete and will provide direct access to the West Side.
Road work on Buena Vista Drive will continue in phases through Spring 2016. The roadway will be widened to 10 lanes, adding a dedicated bus lane. In addition, two pedestrian bridges will be constructed, which will allow guests to safely cross over Buena Vista Drive. Visitors to the Downtown Disney area should plan for extra travel time due to construction and lane closures.
Read HERE for more on Disney Springs.
Typhoon Lagoon Water Park is closed for its annual refurbishment through December 20, 2014.
-=-=-=-=-=-=-=-=-=-
A complete list of rehabs can be found HERE.
= = = = = = = = = = = = = = = = =


MAGICAL MOMENTS
= = = = = = = = = = = = = = = = =
John Sloboda: While waiting for the new 3 p.m. parade at Magic Kingdom recently, I met a young girl named Bella and her mom. Bella was proudly wearing a birthday button. A cast member, Cami (I hope the name is correct), saw this and sat down and talked with Bella and her mother for a bit and then got up and left. A few minutes later she came back with another cast member and took Bella into Main Street and had everyone around sing happy birthday to her. Bella was smiling from ear to ear. As this was happening I noticed Bella's mom was very emotional. After a several minutes had passed, her mother told me that she recently lost her husband to a sudden heart attack. She said it was tough being in the park without him, since this was a special place that the family shared and that she was overwhelmed by what that cast member had done for her and Bella. Sometimes cast members do awesome things for Disney guests, and they don't even know how much "more special" these things really are and what kind of impact they have on guests. I was touched and I know Bella and her mom were, too. Disney should be proud to have this cast member — I say, "job well done."
Angela Caviness from Mississippi: This summer, my family took a(nother) trip to Disney World, in part to celebrate my birthday. As we were passing the carousel I saw the Fairy Godmother, but she was several yards away. A true Disney lover, I got quite excited and told the kids (quite loudly) where she was. She turned our way and noticed I was in my wheelchair. She made quite a fuss about how wonderful my "carriage" was and how lucky I was to have a custom carriage in pink. That just made my year! Every time I need to use my chair now, instead of feeling sad that I'm unable to walk that day, I remember that encounter and actually DO feel a bit lucky to be riding in my pink carriage. Thank you, Fairy Godmother!
Melissa from Missouri: When my youngest was 3, he was in love with Cinderella. On our first trip to Disney World, he proposed to her at Cinderella's Royal Table, but she said she already had her prince. That didn't stop him. On our trip the next year, he saved his pennies and bought Cinderella a ring, figuring that the lack of a ring was the reason she said no. The ring he bought was a cherry-flavored Ring Pop. As he approached Cinderella, her handlers tried to hold him back, to protect her from the sticky mess. She pushed them aside and he got down on one knee and asked again. She said yes, and immediately placed the ring on her finger for all to behold. It made his life. When we went back the following year, he was "too big to be in love with a princess" and didn't even mention their broken engagement to her. Imagine our shock when Ariel came to the table and said, "Prince Owen! I remember you from last year when you proposed to Cinderella. How are the wedding plans going?" All of our jaws dropped because we hadn't said a thing about it. Even while waiting in line we had been calling him by his nickname instead of Owen. This is one of the multitude of reasons why we go to Disney every single year. It is magic!
We just bet you have a story to tell about an unforgettable moment during your Disney vacation! Please send your favorite memory for inclusion in a future AllEars® to: allearsnet@yahoo.com Thank you all for sharing!
-o-o-o-o-o-o-o-o-o-o-o-
Editor's Note: This story/information was accurate when it was published. Please be sure to confirm all current rates, information and other details before planning your trip.