Thanksgiving Day
Christmas
New Year's Eve
Animal Kingdom
Disney's Hollywood Studios
Epcot
Magic Kingdom
Guest Holiday Comments
Holiday Archives
Holiday Happenings at
Walt Disney World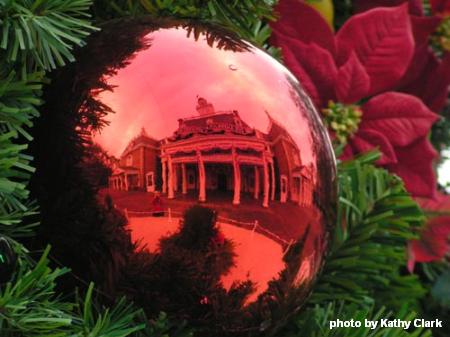 Walt Disney World has made the December holidays a Special Celebration throughout the parks and hotels. This is a grand time to visit WDW and get in the HOLIDAY Spirit!
Each of the main theme parks and all the resorts have their own special way of decorating and celebrating the Holidays.
EPCOT HOLIDAYS AROUND THE WORLD
Throughout World Showcase, storytellers share customs and lore from their heritage from November 23 – December 30. Strolling around the promenade during the Holidays Around the World celebration may put you face-to-face with the good-hearted witch La Befana, known in Italy for filling children's shoes with treats, or the jolly gift-bearer Father Christmas in the United Kingdom. There are meet and greets with Santa and Mrs. Claus in The American Adventure, plus other legendary icons who share messages of goodwill. The celebrations of Kwanzaa and Hanukkah are showcased as well.
The Candlelight Processional (November 23 - December 30, 2012): The poignant story of Christmas unfolds during this renowned event featuring celebrity narrators, a mass choir and 50-piece live orchestra at America Gardens Theatre. On November 26, Isabella Rossellini is scheduled to lead off the star-studded celebrity lineup that later in the season is scheduled to include Whoopi Goldberg and Jodi Benson among others (lineup of narrators is subject to change without notice). To ensure a seat for this joyous favorite, Candlelight Packages are available with dinner at select Epcot restaurants, a special spot for fireworks viewing and guaranteed seating for the heartfelt Candlelight Processional. For bookings call 407-WDW-DINE.
The evening is capped by the visual splendor of IllumiNations: Reflections of Earth, the mesmerizing Epcot spectacular featuring fireworks, laser and water all spruced up for the season with a spirited holiday finale.
2012 HOLIDAY SEASON:
November 9, 2012-January 6, 2013
Entering the Hollywood Studios backlot, guests discover a virtual city of lights. On, over and among the cityscape buildings are millions of dazzling bulbs, dancing lights and animated displays synchronized to high-energy holiday tunes at Disney's Hollywood Studios November 9 -January 6, 2013. It's truly a mega-watt spectacle for the eyes with colorful wreaths, twirling carousels, flying angels, Santa and his reindeer, swirling snow flurries, and amazing 3-D effects around every corner. The tradition began in 1986 in Arkansas, at the home of businessman Jennings Osborne, who strung 1,000 lights as a Christmas gift to his daughter. After the exhibit grew larger and brighter each year, it was transported to Disney in 1995 where the light exhibit now mesmerizes guests from all over the world each year.
There are a few changes to the Osborne Lights in 2012:
•Santa Goofy joins the fun and will make nightly appearances on Streets of America in Goofy's Winter Wonderland, a special area in Tri-City Square.
• The popular Nativity scene has been moved to a place of honor closer to the Premiere Theater.
• In addition to favorites like "Feliz Navidad" by José Feliciano and Barbra Streisand's version of "Jingle Bells", a special arrangement of the classic "Winter Wonderland" by Dan Stamper, music director, has been added to the show.
Read more about the Osborne Lights HERE!
MAGIC KINGDOM
Castle Dream Lights -- When daylight has passed during the holiday season, Magic Kingdom guests can behold a breathtaking transformation during the Castle Dream Lights ceremony. Each evening during the season, Cinderella and favorite characters decked out in holiday garb take to the stage and magically transform Cinderella Castle into an ice palace aglow with 200,000 white lights – a perfect centerpiece to a park all decked out with wreaths, bows, garland and towering Christmas trees. Click HERE for a video of the 2012 Castle Lighting Ceremony.
Mickey's Once upon a Christmastime Parade celebrates the many festive moods of the holiday season, showcasing a series of holiday themes including a Friends and Family Christmastime Party, a sleigh ride through a Winter Wonderland, a romantic Fairy Tale Christmastime, a scrumptious display of Christmastime sweets, and of course Santa and Mrs. Claus in a grand finale. And for longtime Disney Christmas parade fans: Soldiers, Snowflakes and dancing deer are all still in the parade. The parade features original music as well as both classic and current holiday tunes.
A special ticket is required! It's pure magic at the Magic Kingdom featuring a nighttime holiday parade, flurry of snow and seasonal entertainment. Highlights of the include: greetings by Santa Goofy on Main Street, U.S.A.; two showings of Once Upon a Christmastime Parade; a special edition of "Wishes" fireworks; holiday cookies and cocoa; a souvenir family photo and button; strolling carolers; and two holiday stage shows featuring many of the favorite Disney characters. And it's even been known to "snow" on Main Street, U.S.A.!
In addition to all the festive fun, guests to Mickey's Very Merry Christmas Party are able to enjoy unlimited use of the most popular Magic Kingdom attractions. For tickets or more information about Mickey's Very Merry Christmas Party, guests may call 407-W-DISNEY.
As part of Mickey's Very Merry Christmas Party, the Liberty Tree Tavern and Tony's Town Square restaurants may offer holiday meals. For more information about the dining experience, call 407-WDW-DINE.
2012 DATES:
November 9, 12, 15, 16, 25, 27, 29, 30;
December 2, 4, 6, 7, 9, 11, 13, 14, 16, 18, 20, 21
TICKETS ON SALE NOW
DISNEY'S ANIMAL KINGDOM
Disney's Animal Kingdom welcomes the holiday season with Mickey's Jingle Jungle Parade: Mickey's Jammin' Jungle Parade gets a holiday makeover, when it is magically transformed into Mickey's Jingle Jungle Parade. This whimsical spectacle runs at 3:45 p.m. daily and is a theatrical showcase of characters, floats and puppetry with a holiday world-beat twist.
In Camp Minnie-Mickey, Santa Goofy's Holiday Village is adorned with festive decor and perfectly trimmed Christmas trees. And Santa Goofy and spirited friends greet guests for photo opportunities.
DOWNTOWN DISNEY
Festival of the Seasons: Santa Claus is coming to town – to Downtown Disney, that is he'll be meeting kids, listening to wishes and posing for pictures daily from November 19 through December 24 at Santa's Chalet. Guests of all ages can visit with Santa at his chalet in the Downtown Disney Marketplace and enjoy a unique photo opportunity. Santa's Chalet hours are Friday-Saturday: noon-10 p.m.; Sunday-Thursday: 5-10 p.m. Santa Goofy will take Santa's place December 25-27.
Santa is at the center of Festival of the Seasons, during which school choirs and bands often perform at the dock stage to help ring in the season... and shoppers can enjoy holiday gift buying every day. With dozens of shops from boutiques to gigantic toy stores, there is something for every style and budget. Tren-D has hip fashions and accessories, D Street offers all the latest Vinylmations, the World of Disney store showcases character, princess and pirate merchandise, and lots more. And you could fill Santa's sleigh with all the games and goodies at Once Upon a Toy. There's also Ghirardelli chocolates, Basin (soaps and bath products), LEGO Imagination Center and much more.
2012 AT THE RESORTS
Disney resort hotels are dressed up for the holidays, offering an ideal home-away-from-home during the season. An intricate, life-size gingerbread house cooked up by Walt Disney World pastry chefs is a must-see at Disney's Grand Floridian Resort and Spa. The yummy sugar shack is baked with 1,050 pounds of honey, 600 pounds of powdered sugar, 35 pounds of spices and more. It even has a chimney that puffs out delicious cinnamon smoke.
A magnificent gingerbread carousel complete with chocolate and soft-candy ponies and oversized candy-cane poles takes center stage at Disney's Beach Club Resort. Other hotels are spruced up with wreaths and trees decorated with miles of garland, ribbon and glistening ornaments. Check each hotel for holiday dining offerings and special entertainment.
Besure to check with your resort for specific times and activities.
Please email us your Holiday Tips and Comments!