Thanksgiving Day
Christmas
New Year's Eve
Animal Kingdom
Disney's Hollywood Studios
Epcot
Magic Kingdom
Guest Holiday Comments
Holiday Happenings at
Walt Disney World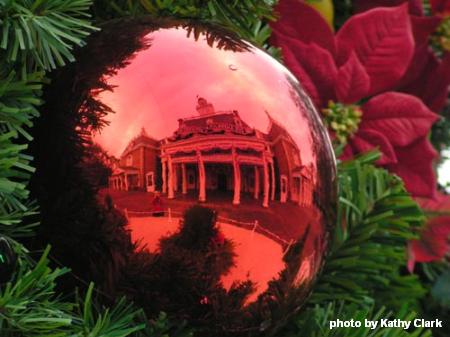 Walt Disney World has made the December holidays a Special Celebration throughout the parks and hotels. This is a grand time to visit WDW and get in the HOLIDAY Spirit!
Each of the main theme parks and all the resorts have their own special way of decorating and celebrating the Holidays.
EPCOT HOLIDAYS AROUND THE WORLD
Throughout World Showcase, storytellers share customs and lore from their heritage from November 29 – December 30. Strolling around the promenade during the Holidays Around the World celebration may put you face-to-face with the good-hearted witch La Befana, known in Italy for filling children's shoes with treats, or the jolly gift-bearer Father Christmas in the United Kingdom. There are meet and greets with Santa and Mrs. Claus in The American Adventure, plus other legendary icons who share messages of goodwill. The celebrations of Kwanzaa and Hanukkah are showcased as well.
The Candlelight Processional (November 29 - December 30, 2013): The poignant story of Christmas unfolds during this renowned event featuring celebrity narrators, a mass choir and 50-piece live orchestra at America Gardens Theatre. To ensure a seat for this joyous favorite, Candlelight Packages are available with dinner at select Epcot restaurants, a special spot for fireworks viewing and guaranteed seating for the heartfelt Candlelight Processional. For bookings call 407-WDW-DINE or book online with Disney HERE.
The evening is capped by the visual splendor of IllumiNations: Reflections of Earth, the mesmerizing Epcot spectacular featuring fireworks, laser and water all spruced up for the season with a spirited holiday finale.
Also in Epcot:
Mrs. Claus' Bake Shop
Not all sweets are used to build houses--peek about this Epcot bakery by the Promenade at The American Adventure to score a host of scrumptious snacks, including sugar cookies, peppermint bark, hot cocoa and cider!
Disney Parks Gingerbread Creations
Celebrate the amazing work of the Disney Pastry Chefs as you view The Land Pavilion at Epcot, and smile along at each of their tantalizing takes on popular icons from Disney Parks and Resorts around the world!
2013 HOLIDAY SEASON:
November 8, 2013-January 5, 2014
Entering the Hollywood Studios backlot, guests discover a virtual city of lights. On, over and among the cityscape buildings are millions of dazzling bulbs, dancing lights and animated displays synchronized to high-energy holiday tunes at Disney's Hollywood Studios November 8, 2013 -January 5, 2014. It's truly a mega-watt spectacle for the eyes with colorful wreaths, twirling carousels, flying angels, Santa and his reindeer, swirling snow flurries, and amazing 3-D effects around every corner. The tradition began in 1986 in Arkansas, at the home of businessman Jennings Osborne, who strung 1,000 lights as a Christmas gift to his daughter. After the exhibit grew larger and brighter each year, it was transported to Disney in 1995 where the light exhibit now mesmerizes guests from all over the world each year.
Read more about the Osborne Lights HERE!
MAGIC KINGDOM
Castle Dream Lights -- When daylight has passed during the holiday season, Magic Kingdom guests can behold a breathtaking transformation during the Castle Dream Lights ceremony. Each evening during the season, Cinderella and favorite characters decked out in holiday garb take to the stage and magically transform Cinderella Castle into an ice palace aglow with 200,000 white lights – a perfect centerpiece to a park all decked out with wreaths, bows, garland and towering Christmas trees. Click HERE for a video of the 2013 Castle Lighting Ceremony.
Mickey's Once upon a Christmastime Parade celebrates the many festive moods of the holiday season, showcasing a series of holiday themes including a Friends and Family Christmastime Party, a sleigh ride through a Winter Wonderland, a romantic Fairy Tale Christmastime, a scrumptious display of Christmastime sweets, and of course Santa and Mrs. Claus in a grand finale. And for longtime Disney Christmas parade fans: Soldiers, Snowflakes and dancing deer are all still in the parade. The parade features original music as well as both classic and current holiday tunes.
A special ticket is required! It's pure magic at the Magic Kingdom featuring a nighttime holiday parade, flurry of snow and seasonal entertainment. Highlights of the include: greetings by Santa Goofy on Main Street, U.S.A.; two showings of Once Upon a Christmastime Parade; a special edition of "Wishes" fireworks; holiday cookies and cocoa; a souvenir family photo and button; strolling carolers; and two holiday stage shows featuring many of the favorite Disney characters. And it's even been known to "snow" on Main Street, U.S.A.!
In addition to all the festive fun, guests to Mickey's Very Merry Christmas Party are able to enjoy unlimited use of the most popular Magic Kingdom attractions. For tickets or more information about Mickey's Very Merry Christmas Party, guests may call 407-W-DISNEY.
As part of Mickey's Very Merry Christmas Party, the Liberty Tree Tavern and Tony's Town Square restaurants may offer holiday meals. For more information about the dining experience, call 407-WDW-DINE.
2013 Dates
November 8, 11, 14, 15, 17, 21, and 22
December 1, 3, 5, 6, 8, 10, 12, 13, 15, 17, 19, and 20

TICKETS ON SALE NOW!
DISNEY'S ANIMAL KINGDOM
Disney's Animal Kingdom welcomes the holiday season with Mickey's Jingle Jungle Parade: Mickey's Jammin' Jungle Parade gets a holiday makeover, when it is magically transformed into Mickey's Jingle Jungle Parade. This whimsical spectacle runs at 3:45 p.m. daily, November 9, 2013 to January 2, 2014. It is a theatrical showcase of characters, floats and puppetry with a holiday world-beat twist.
DOWNTOWN DISNEY
Festival of the Seasons: November 15 through December 29. Celebrate the holidays with live entertainment, photo opportunity and so much more! The Downtown Disney area invites you to embrace the spirit of the season as you enjoy the twinkling lights, a grandiose tree and yuletide touches at every turn. Be sure to bring your little ones to see Santa Claus and then shop for unique gifts at the specialty shops.
Discover a variety of delightful diversions with plentiful holiday sights and sounds. Joyous live entertainment includes:
Holiday carolers
Latin, jazz and pop performances of cherished holiday songs
Costumed stilt walkers and street performers
A lively holiday dance party with deejay
Visit with Santa
You can even visit with Santa, share holiday wish lists and enjoy a unique photo opportunity!
2013 AT THE RESORTS
Disney resort hotels are dressed up for the holidays, offering an ideal home-away-from-home during the season. Check each hotel for holiday dining offerings and special entertainment.
Several resorts are also known for their yummy holiday gingerbread displays. From enchanting visual feasts created from all kinds of sweets to refreshing stops offering tasty beverages and treats you can eat, check out each exciting display--in addition to a few fun activities--as you enjoy the seasonal themes of their delightful holiday renditions.
Holiday Gazebo
Gaze up at this merry gazebo in the lobby at Disney's Boardwalk Resort and examine a scene made entirely out of gingerbread and chocolate. Don't forget to keep your eyes peeled for Hidden Mickeys just waiting to be discovered!
Stitch's Bakery Store Front
Explore a Stitch-sized replica of the BoardWalk Bakery's store front in the Disney's Boardwalk Resort lobby! Keep a lookout for Lilo as Cast Members create gingerbread houses right in front of your eyes--be sure to purchase a tasty treat of your own too.
Gingerbread Holiday Tree
Carol over to the Grand Canyon Concourse at Disney's Contemporary Resort to find a gigantic gingerbread holiday tree, complete with ornaments, candy canes and presents. Then, savor the tastes of the season, including chocolate peppermint cookies and Monorail shortbread.
Gingerbread House 15th Anniversary
Marvel at the mirth as you ogle at this life-size gingerbread house, built in the lobby at Disney's Grand Floridian Resort & Spa. Step right up and come across freshly baked, homemade items for purchase, such as stollen bread, gingerbread shingles and chocolate-peppermint bark.
Holiday Carousel
Spin around Disney's Yacht and Beach Club Resorts as you bask in the majesty of a life-size, edible spinning carousel. Commemorate this holiday tradition as you join in the anniversary fun--13 years and going strong--all while pointing out each magical surprise hiding in the carousel's décor.
Holiday Village
Take a break from the carousel near the lobby at Disney's Yacht and Beach Club Resorts, and chug along as you follow a miniature train making its way through a sugar rock mountain and a quaint village too.
Besure to check with your resort for specific times and activities.
Please email us your Holiday Tips and Comments!