To all who come to this photo trivia game, Welcome! Along the way, the photos can make us relive memories and see details that Walt's Imagineers put into everything we love in Walt Disney World!
I have to brag about my dog, Lizzie. My husband's car caught on fire in the middle of the night. Lizzie woke us up and even though we told her lie down and go back to sleep, she kept at us until my husband got up (especially with other dogs now barking) and she scratched at the front door until he looked. The flames were by the gas tank; if she hadn't gotten us up…

Now for Challenge #587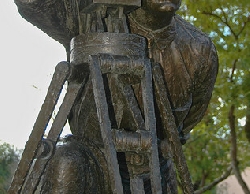 And here's the answer:
The Camera Man or Director's statue at the Disney Hollywood Studios dedication plaque! I'm taking both answers; Jack Spence said director and he knows, but I did see other people saying camera man.
Claire Gregory: you have your next mission.
The Gunnels Gang, I agree with you about the statue; makes me sad.
Margaret Convery was the first to send in the correct answer! Congratulations to Margaret and to all our winners this week! Adolph And Kimberly Timm, Larissa Huda, Axel Beer, Andreas Beer, Erin Hammer, Mike Haeberle, Richard Jeff Clark, Al & Kerry Ganter, Richard Long, Phyllis, Ken Savage, Joann Albrecht, The Gunnels Gang, Jim Finley, Kris Nixon, Leach Family, Hunter Armstrong, Josh Weiss, Bonnie Jean, Laura Walker, Michelle Fure, Deb Ragno, Victoria L Finnegan, Sue And Ed Adams, Glenn And Nan Motson, Beth Mcmeekin, Claire Gregory, Jeff Buller, Belicia, Scott C, Deb Alvord, Chris Kelly, Wendy T Faler, Maureen And Warren Handy, David Crockett, Emily Hudson, Martha & Justin Collins, Kerry A., Vera And Izzy Williams, Jim Thompson, Team Hill, Luis Rodriguez, Grumpys Groupies, Deanna, Gloria Martin, Lysandra Kuroly, Jeff Blank, Laura Sponaugle, Tammy Warmouth, Karen Ramirez, Ken Maikowski, Joseph M. Zafia, Bob Patterson, Herb Miller, Dallas Hamilton, Steve Knapp, Jeremy Reichelt, Kristi Jack, Sarah Kreps, Janet T Thorn, The Patterson Family, Lori Rienhardt, Stacy Sanders, Theresa Maradei, Jamie Steiner, Patrick Broaddus, Theresa Rucando, Carri Marotto, Timothy Johansen, Maddie Inman, Fred Leblanc, Vicki Britt, The Kertes Family, Pensacola Glenn, Shannon Benton, Shelly Borella, Cheryl Costello, Nan Amor, Mis Jamie Marie, Cathy Mullen, Bob Hendrix, Ace Halsted, Brian Mcwithey, Barry Sklenar, Matthew Cofone, Peter Prendergast, Sharon Powell, Eric Enli, George Mundy Jr, Monica, Beth Wolf, Susan Masotti, Karen Ford, Smitty, Donald Purney, David Ballard, Jennifer Masotti, Meghan Mckillop, Nancy Cole, Christy Schor, Jane Johnson, Bob Henriksen, Arlene Vicek, Jodie S., Vincent Degasperis, Shirley Garcowski, Jamie Poynton, Gallagher Family, Megan Krainski, Linda Hoffman, John Debow, Sandra Debow, Sue Bridges!
______________________________________________________
Challenge #588 Where in the world is this?
Switching parks. This no longer exists, but that happened very recently.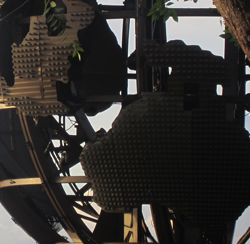 Do you know? Do you have a guess? Please send in your answer before the end of the day on Thursday, May 16th by clicking on the blue box below. Please do not post your answers on this blog post.
See you soon, Players!

_____________________________________________________________________
Everyone who sends in a correct answer to a Where in the World Challenge this month will be entered in a drawing at the end of the month for some special AllEars® goodies!
Be sure to follow @allearsnet on Instagram and Twitter!
Check out our YouTube Channel for reviews, news, information and more!
Click below to subscribe to the AllEars® newsletter so you don't miss any of the latest Disney news!