To all who come to this photo trivia game, Welcome! Along the way, the photos can make us relive memories and see details Walt's Imagineers put into everything we love in Walt Disney World!
Cara Evola, could you please contact AllEars? I can't find your email address; thanks!
Now for Challenge #565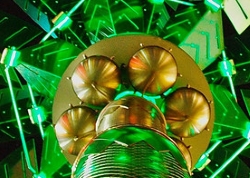 And here's the answer:
One of the mechanical palm trees in Tomorrowland! I had no idea the palm fronds opened and closed. Thanks for letting me know that, Players. 🙂
The Gunnels Gang were the first to send in the correct answer! Congratulations to The Gunnels Gang and to all our winners this week!  Larissa Huda, Adolph and Kimberly Timm, Bob @ Kathy McKim, Melissa Haeberle, Chris Kelly, Luis Rodriguez, Team Hill, Ken Savage, Emily Eldridge, Wendy T Faler, Belicia, Stacy Sanders, Scott C., Lori Rienhardt, Jeremy A Hardy, Joseph M. Zafia, Vicki Britt, Claire Gregory, Vera and Izzy Williams, Hunter Armstrong, Sands Family, Martha & Justin Collins, Chris Gretchen and Katie Barnes, Joe Bateman, Janet T Thorn, Grumpys Groupies, Arlene Vicek, Jim & Lorie Sonnen, The Kertes Family, Jodie S., Megan Krainski, Shelby Watson, Jeff Blank, The Patterson Family, Cathy Connors, Mark Hardy, Herb Miller, Kris Nixon, Pensacola Glenn, Shelly Borella, Jennifer Masotti, Susan Masotti, Jamie Poynton, Hillary Waldroop, Karen Aguiar, Gloria Martin, Donald Purney, Jane Johnson, Eric Enli, Leigh Mertz, Sherri Pell, Michael OBrien, Michaela OBrien, Karen O Brien, and Sue and Ed!
_______________________________________________________
Challenge #566 Where in the world is this?
Switching parks again! I probably should have done this one a week or two ago.
Do you know? Do you have a guess? Please send in your answer before the end of the day on Thursday, December 13th, by clicking on the blue box below.
Please do not post your answers on this blog post.
See you soon, Players!

_____________________________________________________________________
Everyone who sends in a correct answer to a Where in the World Challenge this month will be entered in a drawing at the end of the month for some special AllEars® goodies!