Disney-Pixar's newest animated film, "Coco," is a colorful interpretation of the Mexican tradition of celebrating El Dia de Los Muertos (The Day of the Dead). Directors Lee Unkrich and Adrian Molina successfully use the holiday as a way to explore the always-popular themes of following your dreams and being true to yourself while still celebrating Latino culture and giving audiences a fresh storyline. Along the way, "Coco," tugs at our heartstrings — and not always in scenes we anticipate.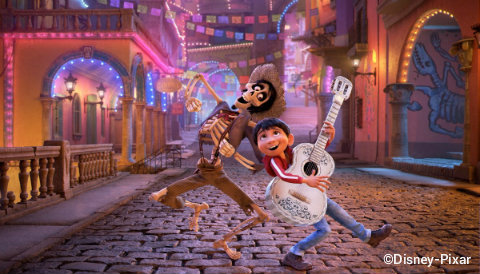 The movie begins by cleverly telling the back story of protagonist 12-year-old Miguel (voiced by Anthony Gonzalez) by imposing scenes on the signature intricate paper banners of Mexico. We learn that his great-great grandfather left his family to pursue his dream of performing on world stages. When he didn't return to his wife and young daughter, Mamá Coco (voiced by Ana Ofelia Murguía), they swore off music and banned it from future generations. And although Miguel was surrounded by a loving extended family who became shoemakers, he secretly dreams of singing and playing guitar professionally. He idolizes a famous musician, Ernesto de la Cruz (voiced by Benjamin Bratt), who came from his village.
Miguel sees his chance to jumpstart his career when a singing contest is held locally. Unfortunately, his family finds out and destroys his guitar, so Miguel takes the instrument that is on display in the mausoleum of de la Cruz. That triggers Miguel to be sent to the Land of the Dead, where he is stranded until he receives a blessing from a dead family member. The Land of the Dead is a beautiful fantasy world of skeletons and ghosts who enjoy huge parties and live music. This is where the Pixar animation really shines with the vivid backdrops and realistic skeletons, who walk with a hitch and click that is somehow exactly how a skeleton would walk, if skeletons walked. The dead can remain here until they are forgotten by the living, at which time they fade away during the Final Death, another magical bit of animation.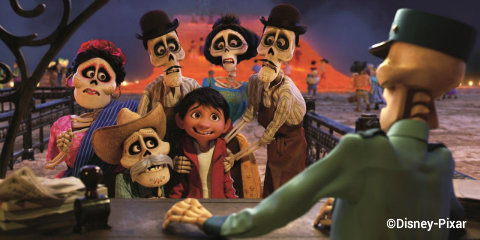 In his travels, Miguel meets a ghost named Héctor (voiced by Gael García Bernal), whose life in intertwined with that Miguel's and de la Cruz's. Miguel suspects that de la Cruz is his missing great-great-grandfather, and he discovers more than he expected. Miguel also is accompanied by his faithful dog, Dante, who provides a lot of comic relief to the many scenes that will have audiences reaching for their tissues.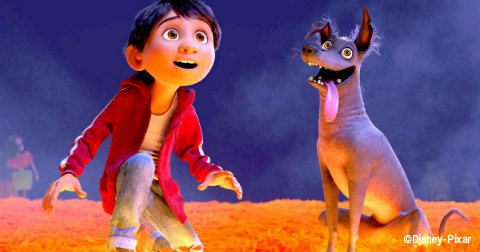 Although the first 20 minutes or so of the movie are somewhat slow-going as the back story is laid out, the pace of "Coco" does pick up and keeps audiences of all ages engaged. The soundtrack contributes to the story, as well, and is sure to spawn hits, especially the song, "Remember Me." This bolero ranchero-style song was written by the "Frozen" hit-makers by Robert Lopez and Kristen Anderson-Lopez.
My 13-year-old daughter said one of the things she liked best about this movie was the development of the characters. She said she really felt like she knew them. She found the sets to be just as colorful as the characters, and the music and the plot twist kept her entertained, too.
"Coco" is rated PG for "thematic elements," which mostly refers to the concepts of death and the actual deaths depicted in the film. There is a fatal accident shown and a murder uncovered during the movie, but even those are portrayed in ways that will not leave lasting negative impressions on children. Overall, despite the overriding focus on death, this is a warm and touching movie and not one that leave children will fears about death. With its emphasis on family, "Coco" is a wonderful movie to see during the Thanksgiving holiday.
DISCLAIMER: I viewed "Coco" at a media screening before its official release. This did not affect my review; my opinions are my own. Although "Olaf's Frozen Adventure" featurette is being shown before "Coco" in theaters, it was not shown to media at my screening.