I've tried a few new (to me) items at Disneyland fairly recently – some that I simply haven't tried before, some that are new offerings at established restaurants, and some that are limited time specials.
Flo's V-8 Cafe in Cars Land offers several dishes that feature REAL oven roasted and sliced turkey. I ordered the Kid's Turkey Sandwich meal. It was really good! Lots of moist, flavorful sliced turkey breast on a very tender bun. It was served with baby carrots, a small fruit cup, and a kid's beverage (I had a small bottled water. I was very happy with this, especially for the price of $6.99.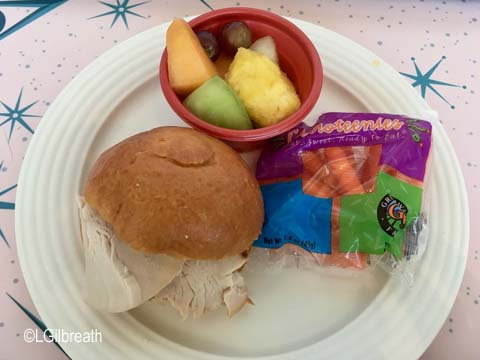 My dining companion ordered the Citrus Turkey Salad. Lots of slices of tender turkey breast along with lettuce, cucumbers, cherry tomatoes and dried cranberries with citrus-tarragon dressing. It came with a bread stick, also. It was a very generous serving – she wasn't able to finish it.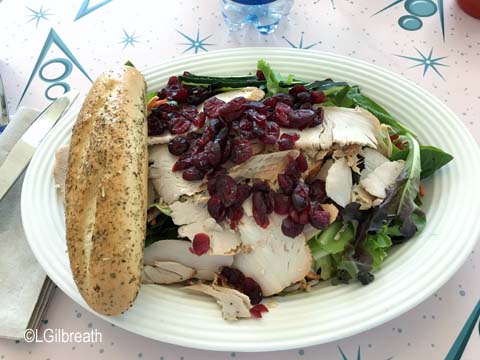 At Smokejumpers Grill, also in Disney California Adventure, I sampled the adult Chicken Breast Nuggets meal. It comes with choice of zesty slaw or French fries. Nothing exciting or different about it, but it was lots of nice white meat chicken, and was quite tasty. Smokejumpers has a toppings bar with lettuce, tomatoes, pickles, onions, etc., so you can build yourself a little salad if you care to – I've certainly done that in the past.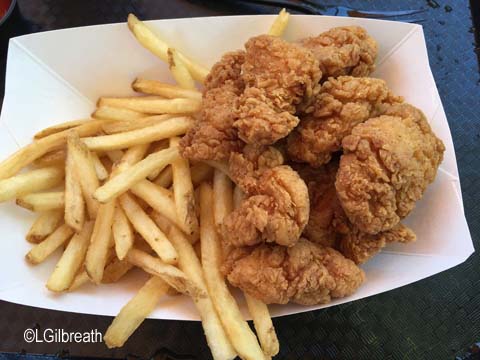 While I've been to the Carthay Circle Restaurant a number of times, I'd never eaten at the Carthay Circle Lounge. There are lots of interesting cocktails available there, though we didn't order any of them. (For several of them the bartender uses this device to create a sphere of ice from a large cube of ice. It's pretty "cool" to watch.)
My companion tried the Flatbread, with heirloom tomatoes, pepperoni, mushrooms, roasted garlic, and spinach. Lots of toppings, and it was good, but at $18 it's pricey.
I was in the mood for dessert, so I ordered the California Rocky Road, a chocolate brownie with marshmallow ice cream, caramel sauce and some crunchy graham-cracker like bits. Very chocolatey and good. And also pricey at $14.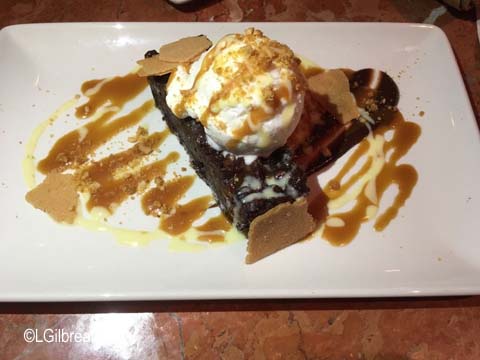 There are a lot of new menu items in the Hollywood Land area for the Summer of Heroes promotion. Most dining locations have completely new menus, like Schmoozies and the two bar locations. There's even a temporary food booth called Nowhere Eats, with different kinds of tacos and nachos.
The food truck, Studio Catering Co., also has a new menu, which includes a "Super Hero-Sized Sub" and a "Multiverse Parfait".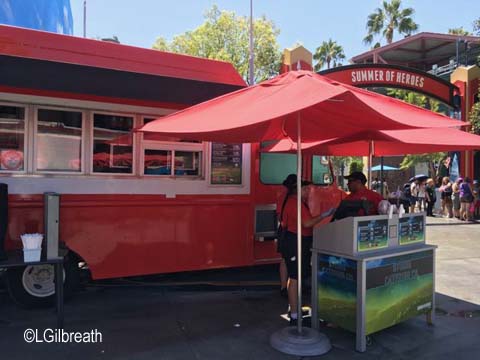 There are also two kinds of falafel pita offerings. The Savory Strength is chickpea fritters with spinach, cucumber-mint slaw, and yogurt sauce. I tried the Promising Future, which is fritters with pickled red cabbage, yellow peppers and charmoula sauce ($8.99). I think the fritters were a little overcooked, but the rest of it was good, and I particularly enjoyed the charmoula sauce. Slightly spicy, but a really good flavor.
The bar closest to the Backlot Stage is serving hero-themed shave ice, with names like Smash Ice, Spinal Fluid, Ice Reactor, and I am Shave Ice. I tried the Spider Venom, which is flavored with blue raspberry and cherry, and topped with condensed milk. Shave ice is $5; add an extra $2.75 if you want a scoop of vanilla ice cream. Mine was pretty good, but the ice was not packed together tightly (they should've sent them to Hawaii for proper training in handling shave ice). It fell apart quickly and I ended up wearing part of it on my white shirt. Good thing the tie-dye look is in again…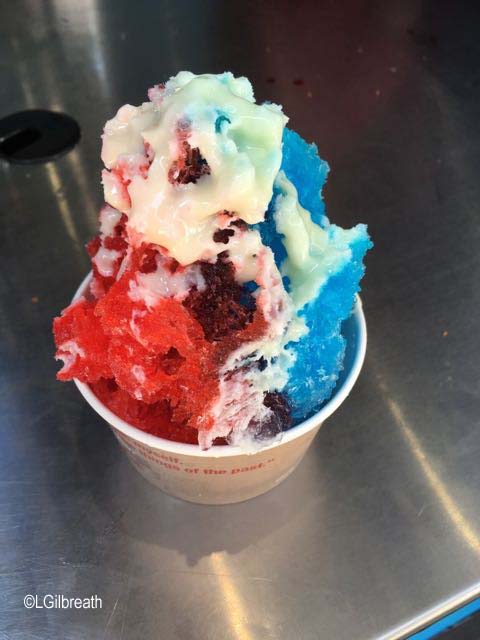 Award Weiners has a few items like a Galactic Dog and an Angry Little Pudding Cup. I tried the Quiver of Funnel Cake Fries ($5.99). I think they had been sitting around for a while, so they weren't warm, and they were kind of tough – not crisp and crunchy like I expected. At the bottom of the cup were both raspberry sauce and mango coulis, with whipped cream on top. If they had been fresh I think they would have been much better, but as they were I was disappointed in them.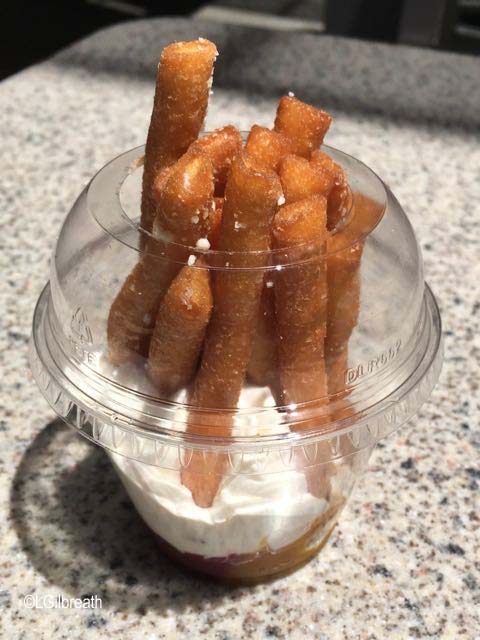 Bengal BBQ in Disneyland has undergone a few changes this summer. One most welcome change is that the merchandise shop next to it was turned into a dining area.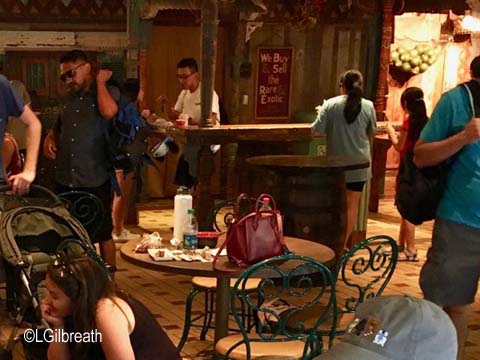 In addition to tables and chairs there are standing tables. There are also still a few tables right outside the restaurant.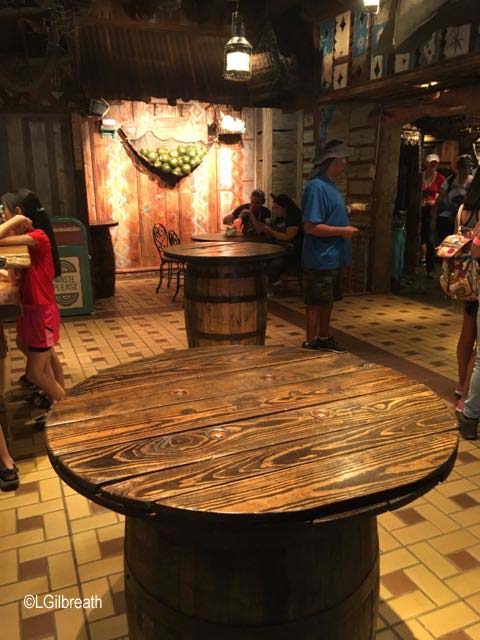 Some new menu items were also added, and Lee and I sampled all of them. The Specialty Skewer right now is BBQ Pork Belly served on a lettuce leaf with hoisin sauce, pickled carrots, daikon, and cilantro for $5.99. Yummy.
There's also a new Hummus Trio: black bean hummus, red pepper hummus and cilantro hummus served with lettuce, cucumbers, carrot chips, cherry tomatoes and broccoli. I thought it was a nice healthy option for $6.49.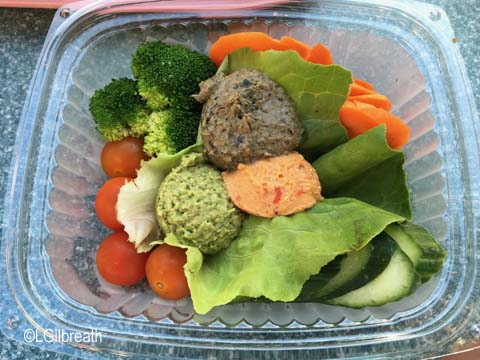 A Spring Roll ($6.99) is also new on the menu.
Ahi tuna, cilantro, shredded carrots, and cucumber in a rice wrapper. It was served with a dipping sauce. Very refreshing and I really enjoyed it.
Tiger Tails are not a new menu item, but I think this is a new version of them. Essentially a cheese breadstick. In the past I think they were lightly grilled. A sauce with it would have been nice. $3.99.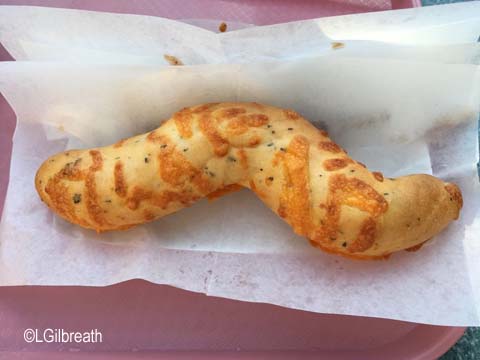 The new beverage is a Jungle Julep. No alcohol, but a frozen combination of juices like pineapple, orange, and grape. Pretty sweet, but a little bit of a tang. $4.39.