For "Kingdom Keepers" fans, the wait is over.
Today is the nationwide release date for author Ridley Pearson's latest installment in his popular "Kingdom Keepers" series and sequels, "The Return: Disney at Last." The "Kingdom Keepers" books take place inside Walt Disney World and Disneyland and aboard Disney Cruise Line ships. This newest young adult adventure novel is the final book in The Return trilogy.
Pearson was at Walt Disney World this past weekend to launch his national book tour for "The Return: Disney at Last," and he was kind enough to make time in his busy schedule to talk with me and my children, who are "Kingdom Keepers" fans. This is the first part of our interview about his new novel. On Thursday, I'll have exciting details about Pearson's next Disney-themed project.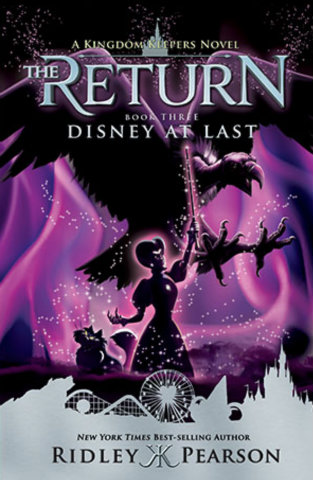 So, tell us about "The Return: Disney at Last." The boilerplate was shorter than in the past, so we don't know as much about the story ahead of time.
It's been a long road and this is the tenth book in the series — and the final book with the Kingdom Keepers in it. It was emotional for me in a lot of ways to wrap up the series, but it became clear as I was writing the second "The Return" that we were heading for a logical end to this whole thing.
The story is bifurcated. In other words, it's got two lanes. We're with one set of characters in the present time and one set of characters in 1955. And the set of characters in 1955 are trying to get back to the present time. The characters in present time are trying to stop a really horrible thing from happening. And those two worlds actually merge. They come together in a way. For me, it was an interesting writing process because I was really writing two stories at once.
You give some teasers on your website of things readers will find in "The Return: Disney at Last." Could you tell us a little more about them?
Yes! Let's take them one at a time. Graveyards after dark: Early in the novel we go back to 1955 and realize there was a real sort of voodoo-y kind of witch doctor involved with somebody who had left Disney in a bad situation and was plotting revenge. The third book really delves into the creation of the Overtakers. Where did they come from and why did they come from there? And it all involves Barracks 14, which is in the books about Jess and Amanda and Mattie and others. It's trying to bring all the worlds back together, and so the graveyards after dark get really creepy and eerie and they're inspired in large part by Jonathan Stroud, who is just brilliant. He has a really terrific series [Lockwood & Co.] so I wanted to pay homage to his series. So I have my characters using some of his techniques and technologies — with his permission — because they realize these dug up graves are part of what's going on to animate the Overtakers.
It's a really fun story for me because in Tower of Terror before it was Tower of Terror, we're finding out how somebody thought up and figured out how to make the Overtakers out of just animated characters. That's a huge part of the concept.
The spider comes from the Barracks and the fact that there is a method to the madness of the Barracks. That's probably all I should say. That's the present-time story. So, there are two interweaving stories through the novel, all the way to the end, but I think from the beginning you start to see how they are playing out. It isn't some big mystery, but you are starting to see the origins of everything and how we got to where we are.
At what point did you figure out this story was how you wanted the series to wrap up?
From the early days of the Barracks, I knew what was going on with them, but I wasn't sure how I would tell the story. Once the idea for "The Return" came, which came from a reader, I knew that was a three-book series. From the day that I got the email with the idea of going back, I started figuring out what the arc of the three books would be. I don't think I really knew until I was halfway through the third book that this was likely to end that series. And it came as something of a shock, but I realized that this was where it could end without feeling drawn out. I hope readers feel the way I do. I'm so excited about this book. I mean, I really am. I'm out of my mind about the book. I had so much fun writing it.
We're always fascinated by the special, behind-the-scenes experiences you get to have in the parks. What types of things did you get to do while researching "Disney at Last"?
For this novel, I got an amazing tour of Disneyland, including California Adventure. I spent many, many hours inside Tower of Terror with just one other person around. It was amazing. I got all the way up into the Tower and out onto those balconies, overlooking everywhere. That world really came to life for me, and so a big part of the third book is Mattie, who is one of the Barracks 14 gals and a Fairlie, is basically stuck inside the Tower of Terror and trying to get out. A part of the book is in there and a part is going in to rescue her, and so that ride became really fun for me. That's in present time and in the past in the same book they're inside the hotel that this was all done at. So, the two worlds are kind of married.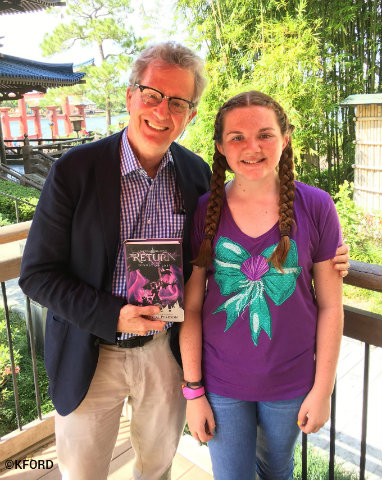 What else would you like readers to know about "The Return: Disney at Last"?
"Disney at Last" will excite you maybe more than any "Kingdom Keepers" novel and scare you more than any "Kingdom Keepers" novel. And, I hope, satisfy you because for me it's all about that. To me, at this point, we're a Kingdom Keepers family, and I hope it comes to the place where, like me, the reader goes, "A-ha" and is ready for the next adventure.