by Guest Blogger Kay Belin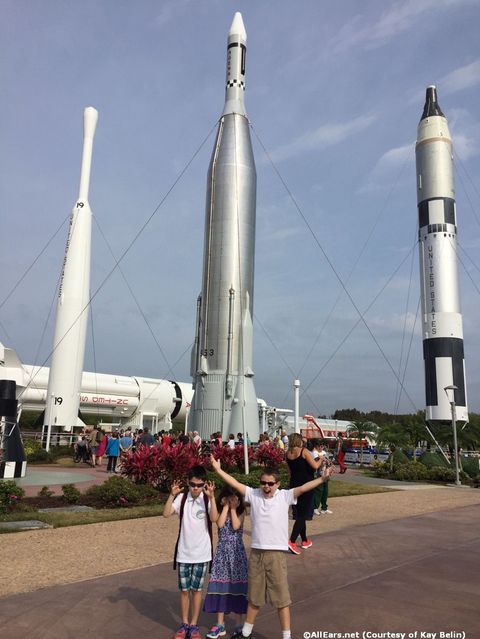 For many visitors, central Florida means a vacation of theme parks and crowds. For the last 40 years that is exactly what my family has enjoyed but this year we dared to change and we ventured out beyond the limits of theme park attractions. On this family trip we were 2 grandparents, our son and his wife in their 30s, and 3 grandchildren 10, 8, and 6.
We chose to visit the Kennedy Space Center even risking to explore it on the Saturday of Easter weekend. It is a short and easy drive from Orlando taking only about an hour to an hour and a half. Signage is good to find the Space Center Visitor Complex and parking is $10 per car. It is very convenient to the entrance and just a short walk. You can purchase your tickets upon arrival but I suggest you do it on line, www.kennedyspacecenter.com, and that way you bypass the ticket queues. Simply scan your bar code on your printed receipt and you are on your way to a day full of fun.
Daily admission is $50 per adult and $40 per child.
The first site you will see is the enormous "rocket yard" exhibit with the life size rockets and space capsules on display. Many of these were used throughout the early phases of the US manned space flight program. You can even try out what it would have felt like orbiting earth by sitting in a mockup of the original Mercury capsule that Alan Shepherd piloted on his first space flight.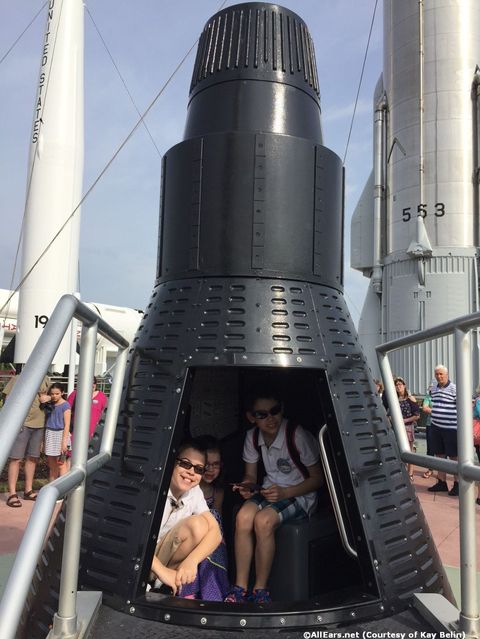 Our next stop was a quick visit to the Children's Play Dome where the grand-kids enjoyed climbing and exploring. Benches and tables are scattered around under the shade making this a great spot for the adults to rest and catch their breath. Also a great place for a quick snack for everyone.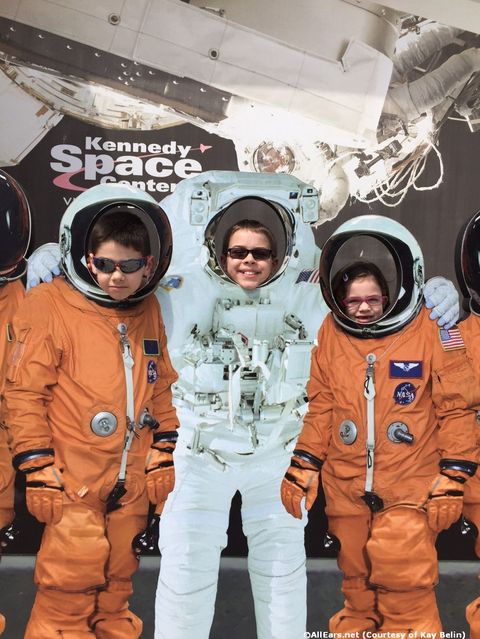 As we headed to the IMAX theater we stopped in to see the Journey to Mars exhibit. This was certainly one of our favorites as it was full of interactive exhibits for everyone to enjoy as well as a wonderful 15 minute show about the ambition to land on Mars. It was well done and kept all ages mesmerized about our future in space with the development of a Mars space vehicle. They reminded the children in the audience that it is likely one who is between 10-14 right now could be the first person to land on Mars.
We literally had to drag the kids away from Mars to head to the IMAX theater for the show, Journey to Space 3D. The movie is approximately 40 minutes long and well worth the wait. It is suggested you be in line about 30 minutes ahead of time as the theater is small and it was full during our visit. You can purchase simple movie type foods and drinks to enjoy during the show too. We all enjoyed the summary of the US space shuttle program from beginning to end.
Even though we all gobbled up the popcorn during the IMAX movie, it was time for lunch and the Kennedy Space Center has plenty of places to choose from. There are three cafes and a grill offering burgers, sandwiches, barbecue, salads and many more options for adults and kids. You can find seating inside or out and all locations seemed clean and kept up well. Try to avoid heading there when the IMAX movie ends as everyone seems to have the same idea and the lines will be longer.
After lunch we walked the short distance to the Astronaut Memorial. It is well done and very moving and educational. Separate areas are dedicated to those who gave their lives so we could explore beyond our boundaries. Many adults will stand and remember where they were when some of the tragedies took place. We all felt it was a must see part of our day.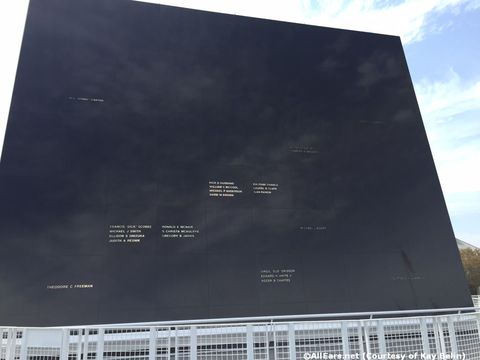 Probably the highlight of the day for us was the visit to see the actual space shuttle Atlantis. My husband and I were lucky enough to be there to watch the final journey into space of the Atlantis and to see this proud and grand shuttle displayed was overwhelming. You enter the building and go through a two stage pre show. At the end of the second show the back wall magically opens and there is the shuttle in all her glory. You can take as many photos as you wish and there are different levels to get different views. Again they have included many hands on exhibits so ultimately you could spend hours here if you wished.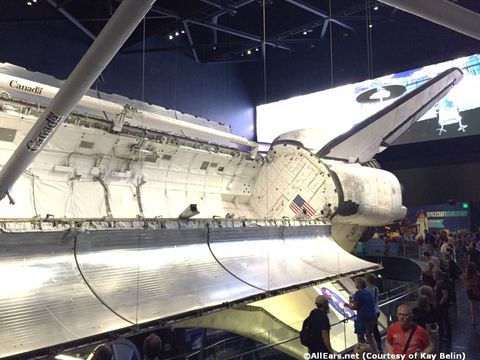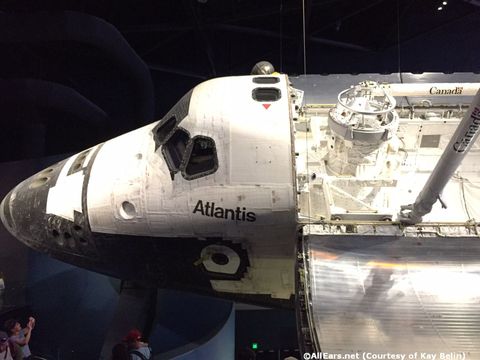 We did not have time to visit the Astronaut Encounters where you can talk and ask questions to a legendary or new astronaut. They also offer lunch with an astronaut but this books up quickly and we were not able to get a reservation for this as well. Next time!
Our last stop was to hop on a bus for the KSC Up-Close Guided Tour. This was $25 per adult and $19 per child (in addition to your regular admission). They offer two tours with one concentrating on the control center and the other more of a backstage visit to the launching pads, space vehicle assembly buildings and much more. These are extra costs but again worth the time and expense. They also offer short bus tours that take you directly to the Apollo/Saturn V Visitor Center. All tours end at this Center where you can again spend hours exploring. Buses run every 15 minutes to get back to the main Tourist Center.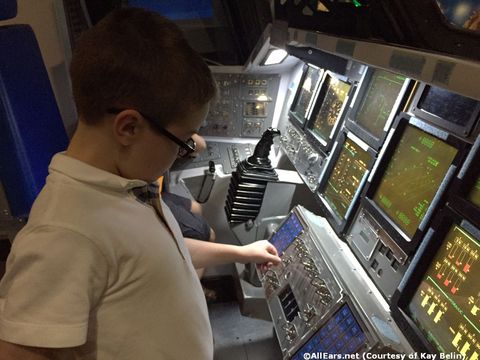 Our backstage tour was amazing and something most people never get a chance to do. We had several stops where we could get off the bus and take pictures and appreciate the magnitude of what we were seeing. Getting so close to a launch pad and learning what has to happen to get a rocket safely into space was amazing. And seeing the rocket vehicle that moves them to the launch pads was just as exciting. They move 1 mile and hour making this an all day event to go just 6 or 7 miles to the pad.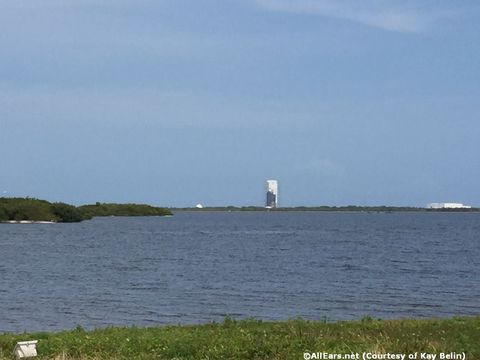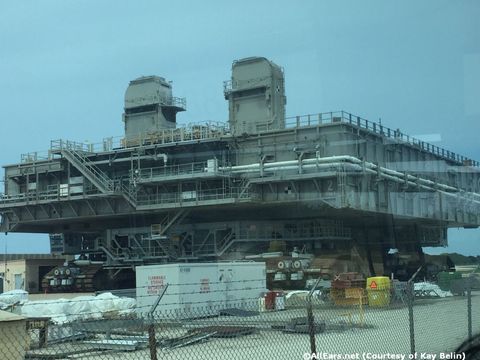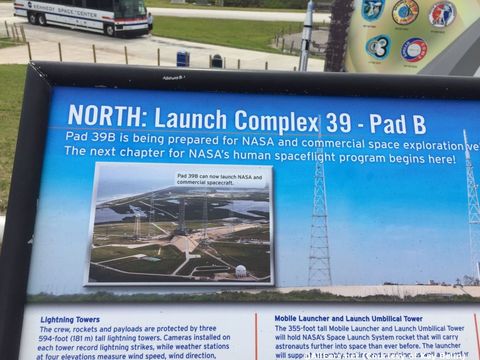 Another fascinating stop was the Vehicle Assembly Building. This is the massive building most see on tv that bears a large US flag down its side. In fact the stars are big enough for several people to stand in them and the stripes are large enough for a bus to fit inside the width. The kids (and adults) loved learning all these fun facts!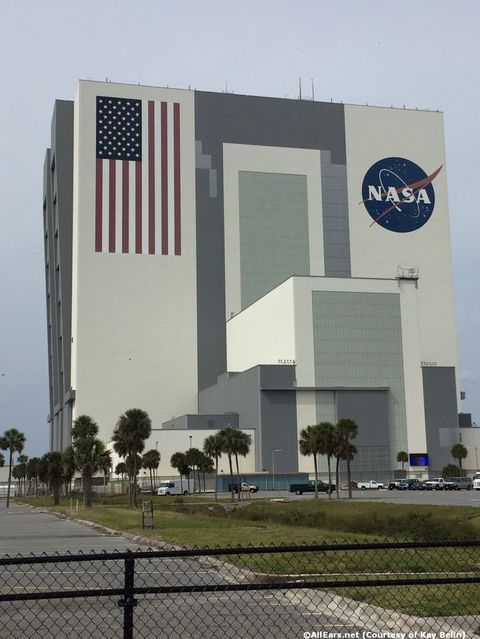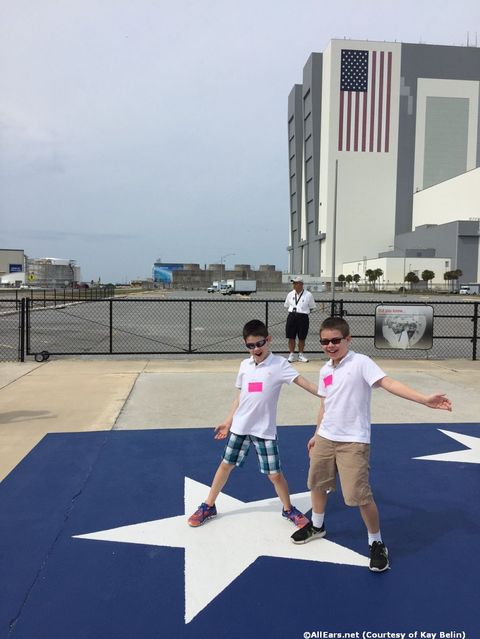 Our last stop was the Apollo/Saturn V center where you will see the Saturn V rocket lifted into the air on display. We did not have time for the pre show and instead headed to quickly see a few of the exhibits. This is where you will find moon rocks on display and also a moon rock you can touch although again we were not able to take the time. With that said this center is certainly on the itinerary for our next visit.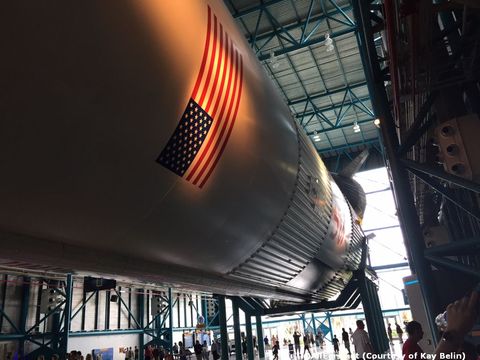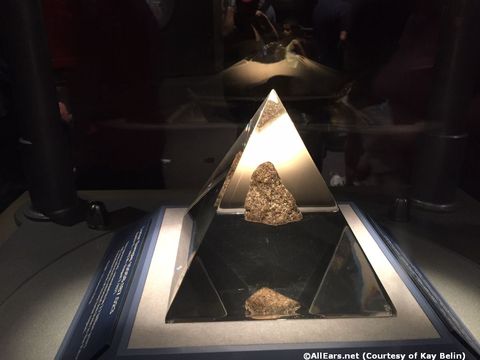 The NASA Kennedy Space Center proved to be an exciting day for all ages and a place we will return to again for another visit. The facility was clean and well kept and bathrooms were abundant and constantly being checked and supplied. The grounds are well appointed and other buildings are being refurbished so I am sure there will be new things for us to see and do the next time. The guides at the exhibits and tours were well informed and could answer all questions directed to them. They worked hard to not have levels above children's interest and patiently answered all of their questions.
I might also add that our day turned into a bit of a wildlife adventure as well. We saw many alligators and several massive ones along the sides of the roads we traveled. We had a bald eagle fly right in front of the bus at one point and the guide showed us a huge eagle nest. We saw many long legged birds and turtles and on the way there and back we had fun catching sight of dolphins and a wild boar.
Our journey away from the theme parks proved to be a thumbs up day from everyone and guaranteed to be on the repeat list in the future.