Jack Lindquist and Mickey Mouse appear at a function held at Chapman University in Orange, Calif., where Jack was a trustee. [Courtesy of Chapman University]
CHUCK SCHMIDT / Still Goofy About Disney
AllEars.Net Guest Blogger
In May of 2011, at Walt Disney World's 40th anniversary celebration, Jack Lindquist had this to say about fellow Disney Legend Marty Sklar:
"Marty was always a big troublemaker. He'd bring water guns to work and, right there in our offices above City Hall in Disneyland, we'd have shootouts! Either that, or he was always throwing footballs around the place."
Turns out, The Master of Fun was just getting started.
There followed another story, this one about Jack's used Cadillac, a series of blown head gaskets, an engine fire and Marty laughing so hard that he had to relieve himself in a nearby orange grove adjacent to Disneyland.
Long-time friends can do that — poke fun at one another in a good-natured way and tell hilarious stories about each other without hesitation — because they've experienced so much together and their bond is that strong, that enduring.
The friendship between Jack Lindquist and Marty Sklar began in 1955 when the two were members of Disneyland's first publicity department, and it lasted more than 60 years. Although the two followed different paths during their decades-long careers with the Walt Disney Company — after first making his mark dreaming up unique ways to market Disneyland, Jack would go on to become the first president of the park, while Marty would head up Walt Disney Imagineering — they remained close through it all.
"It's always fun to spend time with Marty," Jack told me last summer during a phone interview that Marty helped set up. "We've been good friends for 60 years. We had offices right next to each other above City Hall at Disneyland." It was in those offices where some of their most creative marketing strategies took root … and where the two often engaged in those spirited water-gun battles.
"He was a Bruin [Marty graduated from UCLA] and I was a Trojan [that would be bitter rival USC], but despite that, we've remained the best of friends."
Disneyland's public relations team posed for this photo in 1957. Pictured are, front row, seated, left to right: Phil Bauer, graphic artist; Dorothy Manes, in charge of group sales and children's groups; Marty Sklar, in his early 20s; Eleanor Heldt, group sales manager, and Milt Albright, promotions. Second row, standing, left to right: Charlie Nichols, head photographer; Jack Lindquist; Eddie Meck, publicity; Ed Ettinger, Division Director; Carl Frith, photographer; Lee Cake, publicity writer, Frank Forsyth, Vacationland Magazine distributor. [The Walt Disney Company]
Indeed, having fun while still keeping his eye on the prize made Jack Lindquist such a special person among his colleagues. "Jack really was one-of-a-kind," Marty said recently.
When Marty Sklar retired in 2009, he was given a window in his honor in Disneyland. It was placed on City Hall, appropriately, on the opposite side of the building where Jack Lindquist's window was placed. Marty's window lauds him as "Dean, Main Street College of Arts and Sciences," while Jack's proclaims him "Honorary Mayor of Disneyland" and calls him "The Master of Fun."
"Jack and I worked together when he was advertising manager at Disneyland," Marty said. "He's got the only other window on City Hall, so the two of us are kind of bracketed" … which is appropriate on so many levels. At Marty's window dedication on July 17, 2009, Jack kept the audience in stitches with several wonderful stories about experiences they both shared.
The placement of their windows insured that they will remain together, forever, at a place that was near and dear to both men.
Jack Lindquist passed away on Feb. 28 at the age of 88, leaving behind a legacy of accomplishments that few, if any, will match … as well as a loving family, many dear friends and former colleagues, and countless people who were influenced by his innovative marketing strategies.
In those early days at Disneyland, the success of the park "wasn't a slam dunk," Marty recalled. That's why the work of the marketing department — and Jack Lindquist in particular — was so crucial.
Jack was an outsider looking in when Disneyland was under construction in 1954. He was working in marketing for Kelvinator, one of Disneyland's many corporate sponsors, and was given access to the park during construction. He was in attendance when the park opened on July 17, 1955, and was witness to the chaos of that first day. Still, he was quickly enamored with The Happiest Place on Earth.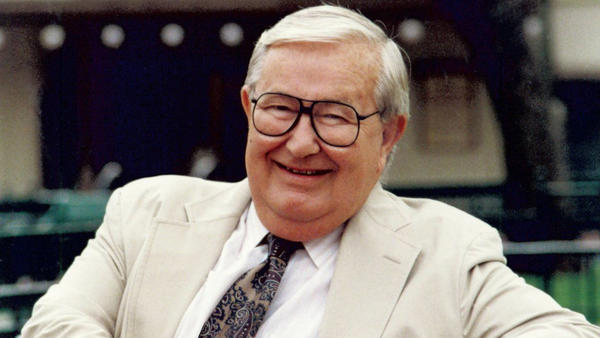 Jack Lindquist, who topped off his long and distinguished career by being named Disneyland's first president, was honored as a Disney Legend in 1994. [The Walt Disney Company]
A few weeks after the park opened, Jack was approached by a Disneyland representative and was asked if he could recommend someone for the position of marketing manager at Disneyland. "The job looked pretty good, so I recommended myself," he said. "Since there was no one else in marketing at the time, I was the manager of nothing. So I guess I did an excellent job!"
All kidding aside, he did do an excellent job. Out of that fledgling department came ideas like The Magic Kingdom Club, Disney Dollars, Grad Nites and the Disneyland Ambassador Program. The department would quickly grow and add many key people, all of whom played important roles in the long-term success of Disneyland.
Jack was a proponent of celebrating anniversaries and turning them into huge park promotions. His first — Disneyland's Tencennial — helped spur highly successful marketing promos at the other Disney properties over the years. He also dreamed up the now-iconic "I'm going to Disney World!" post-Super Bowl promotion.
In early 1957, members of the department gathered for a group photo. I was given a copy of that photo by the folks at Walt Disney Imagineering and both Marty and Jack helped supply the IDs for "the cast of characters," as Marty called them, in the picture, which was taken in Frontierland.
They were Phil Bauer, a graphic artist; Dorothy Manes, who was in charge of group sales and children's groups; Marty Sklar; Eleanor Heldt, group sales manager; Milt Albright, promotions; Charlie Nichols, head photographer; Jack Lindquist; Eddie Meck, publicity; Ed Ettinger, public relations Division Director; Carl Frith, photographer; Lee Cake, publicity writer, and Frank Forsyth, magazine distributor.
In addition to Marty and Jack, Eddie Meck and Milt Albright would go on to achieve Disney's highest accolade — Disney Legend status. Meck was a well-known figure in the movie industry before he came to work for Disneyland, while Albright worked in finance before being transferred to the PR department, where he made many significant contributions.
According to Marty, the people in the photo "were my close colleagues until 1961, when Walt moved me to WED [the forerunner of Walt Disney Imagineering] to work on the New York World's Fair. This was the group I worked with in the summer of 1955 and when I returned to Disneyland in September of 1956 after graduation from UCLA."
Although Marty was able to identify most of the people in the photo, it was Jack who provided me with the IDs of the two women seated to Marty's left and right. "Glad to help," Jack wrote in an email. "The women in the picture are Eleanor Heldt, group sales manager, and Dorothy Manes, group sales staff for youth programs. As for the other things you want to talk about, there's too much to write. Call me and we can talk."
I called Jack bright and early a week later and we chatted for about 45 minutes. He was an absolute pleasure to speak to, sharing warm memories and intricate details from his storied career.
During my interview with Jack, he expanded on women's roles in Disneyland. "Group sales probably had more women working in non-secretarial positions than any other jobs in the park," he said. "In the 1950s, that was rather unusual."
He went on the say that Dorothy Manes "worked at a kids' amusement park up in the Bay Area and Walt somehow happened to go to this park and met her and ended up hiring her to do youth programs at Disneyland."
Jack's accomplishments are legendary, not only within Disney's ranks, but in corporate America, as well.
Jack Lindquist rides with Walt Disney during a Christmas parade in Disneyland. [The Walt Disney Company]
It was Jack Lindquist who came up with the idea of selling tickets for special events in advance. In 1957, Disneyland decided to hold its first New Year's Eve celebration. Jack thought it would be a great idea to make the night a special ticketed event, but 5,000 tickets needed to be sold just to break even. Since there were no guarantees 5,000 people would show up that night, Jack directed that tickets be sold weeks ahead of time at a variety of businesses in Hollywood, Long Beach and Los Angeles.
The night was a big success and the idea of advance-sale tickets caught on throughout the entertainment industry. "In those days, nobody sold advanced tickets," Jack said. "If you wanted a ticket, you went to the venue the day of the event."
Vacationland Magazine was another of Jack's promotional gems that helped generate tremendous interest in Disneyland and, in turn, solidify the park's long-term success.
"When Marty and I created Vacationland Magazine, we wanted to use the theory of reaching people with something different," Jack said. "Most of the hotels and motels throughout California [in the mid- to late 1950s] used to have racks in their lobbies. On these racks, all of the attractions throughout the state were featured in pamphlets. We didn't want to do the same old thing. So Marty and I developed the magazine concept; Marty was the editor and I did the marketing."
Originally, the magazine was called Disneyland Holiday. "But the people at Holiday Magazine were not happy with us using that name," Jack said. Still, "the magazine was a tremendous tool for Disney, very unique. It had all the information on the park, but it also had all the things happening in the area, not just Disneyland … Knott's Berry Farm, Catalina Island and so on. At its height, in California, Nevada and Arizona, I think we distributed 300,000 magazines, four times a year."
As far as getting the product to the public, "we hired two guys [Bill Schwenn and Frank Forsyth] who delivered all the magazines," Jack said. "They were on the road most of the time and they built a tremendous rapport throughout the area. Everyone got to know them and like them.
"It was one of those ideas that worked beyond our wildest dreams."
Ideas that worked. That was the hallmark of Jack Lindquist's distinguished career. "We were willing to try anything, because there were no precedents," he said.
It didn't matter how or why he came up with those ideas … just as long as they got the desired result: Promoting Disney in a fun and imaginative way.
Case in point: The giant Mickey Mouse head crop circle carved out of cornfields in Iowa to celebrate Mickey's 60th birthday in 1988, visible to any and all aircraft flying overhead. His colleagues believed that Jack probably got the idea while flying cross-country in Walt's company plane.
Jack Lindquist proudly wears a pair of Mickey Mouse ears during Disneyland's 50th birthday celebration in 2005. [The Walt Disney Company]
Jack also played a key role in setting up the marketing strategies for Walt Disney World, Tokyo Disneyland and Disneyland Paris. He had a hand in signing up several countries' companies to join the World Showcase lineup at Epcot. During those endeavors, Jack was reunited with his old buddy from their Disneyland PR days, Marty Sklar.
"When Jack autographed a copy of his memoir, In Service to the Mouse, for me he wrote: 'It's been quite a ride!' We were great friends and colleagues for almost 60 years — we both 'grew up' in marketing and publicity in the early days of Disneyland, when [as Jack liked to say], 'we didn't know what wouldn't work, so we tried anything!'
"Jack pioneered marketing in the theme park industry around the world. One of my proudest accomplishments, together with a few others in the industry, was finally getting Jack inducted last November into the Hall of Fame of IAAPA (International Association of Amusement Parks & Attractions). He deserved it for many years!
"Jack was a mentor to countless marketing people in the theme park industry. Beyond that: other than Walt Disney himself, I think Jack Lindquist was 'Mr. Disneyland' in Orange County. He represented the values and highest standards that Walt Disney wanted Disneyland to stand for, and he did it with such dedication that it never felt as though he was selling — he believed 100 percent in the product."
After his retirement from Disney in 1993, Jack formed The Lindquist Group, a distinguished marketing consulting firm. He also became a trustee at Chapman University in Orange, Calif. Chapman's president, Jim Doti, spoke in glowing terms at a memorial service for Jack.
"Jack and I frequently had breakfast together, usually at Rockwells in Villa Park," Doti said. "He was my marketing guru, and I learned so much from him. Jack was also my friend, my mentor and my hero.
"In addition to becoming a Chapman trustee, Jack provided dedicated and exemplary leadership through his involvement with Orange County's professional sports teams and convention and visitor bureaus as well as organizations like the Boy Scouts and Bowers Museum."
Fittingly, Marty Sklar was a speaker at another memorial celebration held in Jack's honor. "A great event that Disney staged," Marty said. "I'm using what I said as the core of my column for the Disney Vacation Club's Fall Disney Files magazine."
To be sure, it's going to be a fun-filled tribute, chock-full of many great stories … and plenty of love, from one dear friend to another.