My 11-year-old daughter had been looking forward to "The Good Dinosaur" for quite some time and we talked about the movie a lot beforehand, so I had high hopes when we arrived at a screening this week. Unfortunately, I left the theater not feeling quite as entertained as I had hoped I would be. "The Good Dinosaur" has it moments, but overall, it left my children and I feeling like we had just seen a recycled version of another Pixar movie.
"The Good Dinosaur" is engaging at first. The premise of the movie is that an asteroid that made dinosaurs extinct never hit the Earth, and the species evolved and thrived. We meet Arlo (the film's namesake) and his brother and sister at birth and watch them discover the world around them. The baby dinosaurs are just adorable — all long, wobbly legs, much like colts. It would be difficult not to be drawn into their story of finding their way and "making their mark," as their father would say.
But then the plot reveals itself as familiar with a death that is intended to propel the protagonist, Arlo (voiced by Raymond Ochoa), into his journey of self-discovery and growth. My daughter and I groaned — out loud, I think — when we realized we were going to suffer through another Disney death at the beginning of a movie. Enough already! Of course, the plot device did serve its purpose, and Arlo ventures out into the world to learn the lessons he needs to. Among them, he learns to trust a young caveboy named Spot, and they form an unbreakable bond.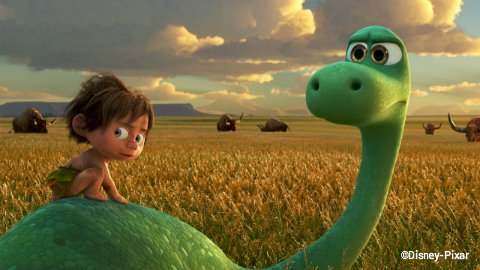 Along the way, Arlo and Spot give us some hilarious moments, such as the time they blasted groundhogs from their underground living quarters and another when they experience unexpected hallucinations together. But these scenes feel few and far between on the arduous journey Arlo must take to get home. Of course, he encounters life-threatening dangers at every twist and turn, but how many times can one character almost fall into the river and risk being swept away? The movie wraps up with a predictable conclusion.
Although the story is weak, "The Good Dinosaur" is visually stunning. Director Peter Sohn has made sure the landscapes — the river, the skies, the plains — are picture perfect. The details and clarity of the animation are simply amazing. If only the premise were.
Perhaps our disappointment feels more pointed because Pixar already released an animated movie this year, and it was warmly welcomed by critics and audiences alike. "Inside Out" too was a visual beauty, but it also had an inventive and original story. Exploring the emotions associated with growing up in "Inside Out" resonated universally, unlike the muddied coming-of-age story that "The Good Dinosaur" delivered. Perhaps Pixar should have stuck to focusing its efforts on just one movie per year.
DISCLAIMER: I viewed "The Good Dinosaur" at a media screening before its official release. This did not affect my review; my opinions are my own.