Photobombing has swept the nation, no, the world as a whole, and the funniest thing is, it's nothing new. Now it just has a name. If you're unfamiliar with the term, allow me to explain. You know how wen you're taking a photo of your kids and your husband leaps into the frame at the last second? That's photobombing. When you're riding in the caboose of Casey Jr at Disneyland and you notice the people sitting back-to-back with you are being photographed and you quickly turn around and smile knowing you are perfectly positioned between the guys, that's photobombing. Not that I have ever done that. :cough:
So there you have it. It's new old news and everyone needs a good chuckle to pictures are popping up all over the internet.
I want to see your photos of someone, human, animal, talking trash can, etc… sabotaging your shot. Send them to [email protected]
Fowl play.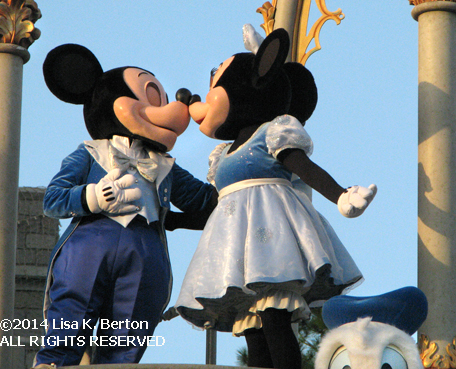 Donald Duck doesn't look amused with the nose-to-nose action between Minnie Mouse and Mickey Mouse.
Come on over and "Like" my Facebook page or follow me on Twitter, my handle is lisano1.