A fisheye lens is an ultra-ultra wide-angle lens that produces strong visual distortion intended to create a wide panoramic or hemispherical image. Fisheye lenses achieve extremely wide angles of view by forgoing producing images with straight lines of perspective (rectilinear images), opting instead for a special mapping (for example: equisolid angle), which gives images a characteristic convex non-rectilinear appearance (Source: Wikipedia).
Did you get all that? Fisheyes have been a favorite fun lens for Disney photographers for years. The lens, as the above definition says in a round about, distorts straight lines near the edges. That effect can ruin a photo unless used creatively. Earlier this year, I obtained a Sigma 15mm Fisheye lens for my Nikon D700 FX (full frame) dSLR camera. Last week, I used it at Walt Disney World for the first time. Let's see how I did.
I look for three conditions when I am shooting with a Fisheye lens:
1. Compositions with curved or circular objects which wrap around the image.
2. Put something of interest in the center and let straight lines get bent to lead people to the frame's center.
3. When a Fisheye is the only way to get far enough away from a subject to photograph it in cramped quarters (like a ride queue).
The huge red guitar outside of the building containing the Rock 'n' Roller Coaster in Disney's Hollywood Studios was a perfect subject for a Fisheye composition. The curves of the piano keys, guitar, palm trees and even the railing all work to create the uniqueness of a Fisheye photograph. You will also notice how close I got. I was learning over the railing to get as close to those piano keys as I could. Just like any wide angle lens, you want to get as close to the main subject as you can. It is easy to loose a subject in the extreme wide angle of a Fisheye and make a photo confusing.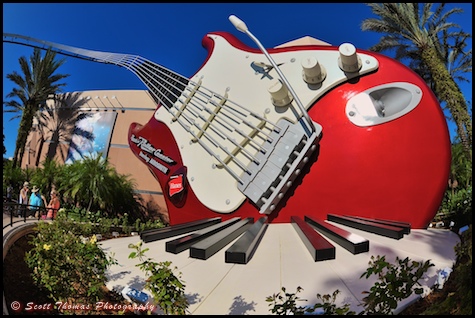 Rock 'n' Roller Coaster building in Disney's Hollywood Studio.
Nikon D700/Sigma 15mm, 1/640s, f/13, ISO 200, EV 0.
With the Bust of Walt Disney at the Academy of Television Arts and Sciences in Disney's Hollywood Studios, I got in real close and let the Fisheye distort all the straight lines of the nearby celebrity busts, palm trees, lines in the pavement and building. Notice how the bust itself is relatively distortion free.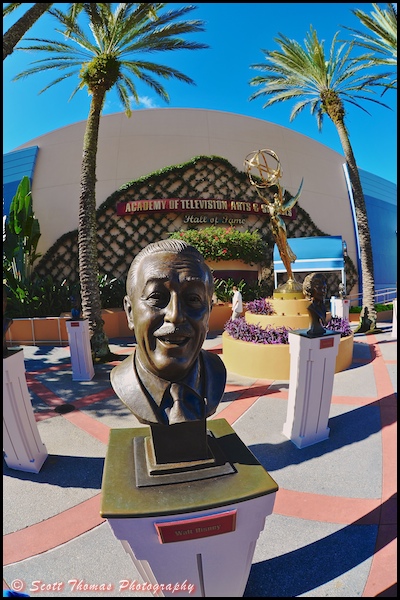 Bust of Walt Disney at the Academy of Television Arts and Sciences.
Nikon D700/Sigma 15mm, 1/250s, f/8, ISO 200, EV 0.
In the Test Track queue where you can use the giant touch screens to design cars, it is really tight quarters for even a wide angle lens. The Fisheye worked great to tell the story of how Disney entertains and educates even while waiting in line.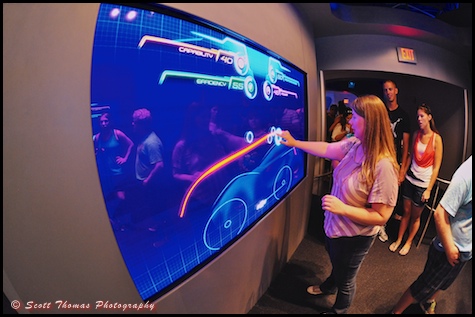 A young woman designing a car in the queue for Test Track.
Nikon D700/Sigma 15mm, 1/50s, f/2.8, ISO 3200, EV 0.
You will see more Fisheye photos in the future as I found it a fun and useful lens to have in Disney themeparks.