I've just returned from a preview screening of the upcoming stop-motion animated film, "Frankenweenie," directed — in black-and-white Disney Digital 3D! — by Tim Burton and set for release next Friday, October 5.
The free preview was one of more than a dozen taking place across the country this week, sponsored by D23, The Official Disney Fan Club. Lucky me, the screening was at a megaplex just a few miles down the road, and I was actually able to get the free tickets!
I'm sad to say that I'm old enough to remember the original "Frankenweenie," a half-hour short conceived and directed in 1984 by Burton, who was an animator for Disney at the time. It wasn't released as planned in '84, though — in fact, Disney didn't release the short until a decade later, on home video, after Burton had scored some success with feature films like "Beetlejuice" and "Batman." How sweet a validation it must be for the director, who was let go by Disney for "wasting resources" on what they considered family unfriendly themes, to be able to bring his idea to a more fully realized life all these years later — under the Disney Studios banner, no less.
And what a great version this new film is. If you've ever seen any of the Frankenstein movies, or read the book, you know the general premise of "Frankenweenie" — it's basically about bringing a dead creature to life, and what ramifications such controversial science brings with it.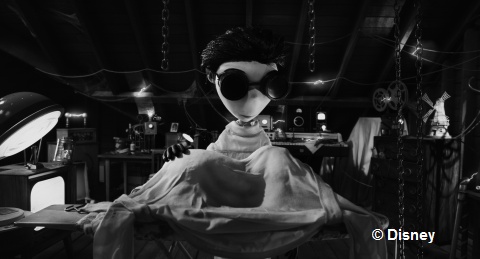 In this film, however, Victor Frankenstein is not a mad scientist, he's simply a grieving young boy who has tragically lost his best friend — his devoted dog, Sparky. Encouraged by the instruction of a rather eccentric science teacher, Victor decides to tackle the ultimate science fair project and devises a way to bring Sparky back to life.
Things start out well for the reunited young hero and his reanimated pal, until a classmate discovers Victor's secret, and in a rather literal way, all hell breaks loose.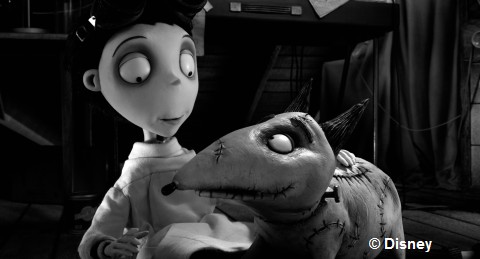 Without revealing too many spoilers for those of you who know nothing about the original short or this incarnation, I will say that the film is populated with the left-of-center characters and dark humorous touches that have become Burton trademarks. (Watch for the "Good-bye Kitty" tombstone in the pet cemetery, a little poke at the popular "Hello Kitty" character.) And while the movie itself is firmly rooted in the classic horror genre, with nods to films like "Frankenstein" and "Dracula," there is no shortage of heartstring-tugging. I mean, what dog-owner cannot relate to the sadness that the threat of losing a pet brings?
The film is voiced by a familiar group of actors, led by SCTV alums Martin Short (who tackles three roles, including that of Father Frankenstein) and Catherine O'Hara (also pulling triple duty, including the raucous gym teacher). You may also recognize Martin Landau as the science teacher, and Atticus Shaffer (better known as Brick on ABC-TV's "The Middle) as Victor's creepy classmate Edgar (or "E") Gore. (Say it out loud a few times if you don't get the pun right away.) The uncharacteristic restraint that both Short and O'Hara show in their roles as Victor's parents lends a much-needed quiet undertone to the film — but don't worry. They both are allowed to go a bit over the top in the other characters they voice.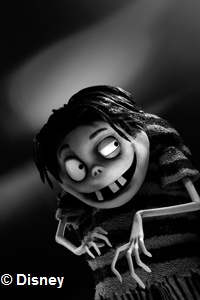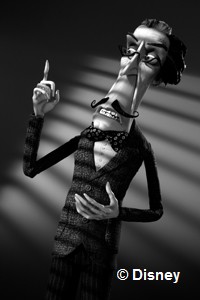 The story benefits from having been expanded to nearly three times its original length (this version is 87 minutes long), although many scenes actually seemed rushed, or cut short to me. (I would have loved to see Victor putting together his makeshift lab in a little more detail, for example.) Still, the scenes between the boy and his dog seemed to be just right — touching and bittersweet. The 3D effects were well-executed (once the projectionist made a few adjustments at the film's start!) and really added a dimension to the movie that I didn't think would be possible — especially considering the film was shot in black and white. As I watched, I marveled as I always do at stop-motion animation. I think that I'm a patient person, but I can't imagine the painstaking care that this art form must require. Even so, I must admit that it was easy to forget that I was watching an animated film of any sort — and more than once I found myself tearing up, thinking of my own little four-legged companion waiting for me at home.
There were many youngsters, and I'm talking about kids under 8, in the screening I attended, and I'm not so sure that this is really the film for them. While the humor in the movie's final 15 or 20 minutes may be enough to offset the earlier dark spookiness and implied violence for some, I have a suspicion that there will be several children having bad dreams tonight. Dying dogs, thunder and lightning, a cemetery at night, a snarling Godzilla-like creature and others brought back from the dead, and an angry mob — these images all could be the ingredients for a few nightmares, so I'd be cautious about taking very sensitive children (or adults!) to see "Frankenweenie."
But if you enjoy Tim Burton's work and can appreciate what amounts to a loving tribute/parody of the classic horror movie genre, then by all means, treat yourself to "Frankenweenie" when it comes to a theater near you.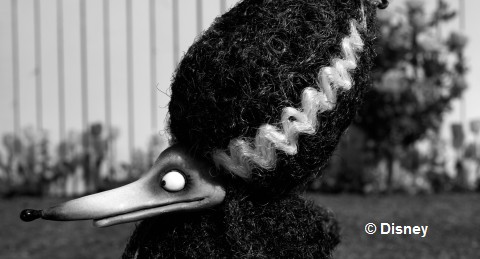 For more about "Frankenweenie," visit the official site:
http://disney.go.com/frankenweenie/