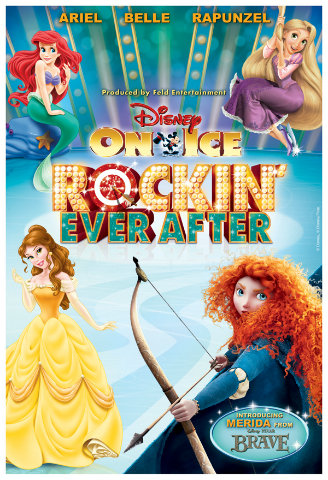 Disney On Ice is making its annual stop in Central Florida in September, and this time a new princess will be putting on her skates. Merida from Disney-Pixar's Brave joins other popular royalty in "Rockin' Ever After."
Feld Entertainment describes its latest show this way: "Jam to a Scottish jig as a group of royal contenders from the latest Disney-•Pixar film, Brave, competes for headstrong, sharp-shooting Merida, making her ice debut! Experience a show-stopping performance as Sebastian makes waves with Ariel. See a chorus of harmless hooligans from Tangled get a visit from the sassy and spirited Rapunzel and her charming ally Flynn. And, get your feet moving as the Beast and his enchanted entourage put on a spectacular show for Belle."
The show will be performed Aug. 31 and Sept. 1 in Lakeland at The Lakeland Center. Show times in Orlando at The Amway Center are 7:30 p.m. Sept. 7, 3:30 p.m. Sept. 8, 7:30 p.m. Sept. 8, 1 p.m. Sept. 9 and 5 p.m. Sept. 9.
Ticket prices range from $15 for balcony seats to $52 for front-row seats (taxes and fees not included). Pre-sales for returning customers are going on now, and tickets will go on sale to the general public on July 20 through Ticketmaster and the box office.
We took our kids to see a couple of Disney On Ice shows when they were younger, and we all really enjoyed the experiences. The producers and choreographers adeptly bring Disney stories to life, linking them together in one cohesive production. The sets are very realistic, too. In fact, one staple for many of the tours is Cinderella's carriage, which always prompts oohs and aahs from both the children and the adults.
The shows are designed to include audience participation, too. I'm certainly not talking about kids donning skates, though one show allowed a few lucky children to ride in a car of sorts on the ice. The performers do usually ask all the kids to help banish villains in different ways. For a show that included The Incredibles, children were given special red-and-black cuffs and asked to press a button on them at a key moment in the performance.
At the shows we attended, my children couldn't take their eyes off the performers because they didn't want to miss the next amazing skating stunt. In last year's "Dare to Dream" tour, the skaters even performed aerial acrobatics during the "Tangled" segment when Rapunzel lets down 2,000 feet of hair.
Disney On Ice stages about 1,200 performances annually in North America, and these shows truly offer kids a taste of the Disney magic.