Wiki, wiki. :slides hand forward and back pretending to scratch vinyl: Wiki, wiki. All you cool kats are in for some fun. I'm throwing down some old school verbage (aka reminding you by reposting 3 previous entries) to increase your know-how, how-to, and to-do. Fo' Sneezy, Sleepy, Dopey, Bashful, Doc, Grumpy, and Happy. Yo ho, yo ho, a pirate's life fo' me. Boyyyy.
Point and Shoot – A camera that is compact regardless as to whether it is digital, 35mm or APS. One may pick up the camera set to Auto, aim at the subject and depress the shutter release button, hence the term point and shoot. Examples: Canon PowerShot SD750 Digital Elph, Minolta Freedom Zoom 130, FujiFilm FinePix S5700.
Street reference: PHD – Push Here Dummy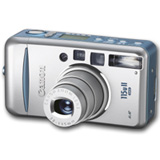 SLR (Single-lens Reflex)- A camera be it film or digital that accepts a variety of lenses enabling the user to create an endless variety of images. With an SLR one can take complete control over the camera. Through the lens viewing lets you see exactly what your photo will look like. Examples: Nikon N80, Pentax K1000, Canon Digital Rebel XSi

Disposable Camera – A compact plastic camera designed to be used once, developed, and disposed of or recycled. The camera may be 35mm or digital. A variety of 35mm offerings include: underwater, black and white, panoramic, and zoom.
Street references: One-time use and throw away.
One-time Use Camcorder – A low resolution camcorder with a LCD screen that allows you to film for 20 minutes. The camcorders are returned to a lab to have the footage transferred to a DVD. The camcorders are generally recycled and sold again. Street references: Disposable camcorder and throw away video camera.
Megapixels – Technically, it is a unit of graphic resolution. It's the number of image sensor elements in the digital camera's sensor. Each pixel is one million pixels. The more pixels in a camera, the larger the file size is, which assists in creating better quality photos and enables prints in bigger sizes.
Mistakenly called megaplexes and megapickles.
LCD (Liquid Crystal Display) – Each camcorder and digital camera has an LCD screen. On a camcorder, it flips out so you can watch what you are filming while walking. On a digital point and shoot and many DSLRs it is a live screen as well so you can watch what you're doing and see the photo right after you take it. Both film and digital SLR cameras' LCDs offer technical information such as the shutterspeed, aperature, metering and so forth.
Filters – Predominantly used on SLRs both film and digital, filters can create an amazing range of effects. The most commonly used is the UV, which protects the lenses' glass from being scratched as well as keeping a blue/purple tint out of your photos. You may also want to get a Circular Polarizer which cuts out glare found on reflective surfaces such as glass, sand, snow, and my dad's bald head.

Tripod – If you're interested in shooting at night or doing long exposures you'll want to get yourself a tripod. This three-legged stand will keep your camera perfectly still. All cameras and tripods connect via a universal screw found on the tripod's mount. Tripods come a wide range of heights, weights, and certainly durability.
Monopod – Going on a safari? Shooting from the sidelines? Monopods take up less space than tripods do and are designed for the photog who is shooting with a super telephoto or high power zoom lens. Monopods attach to cameras the same way tripods do and also come in various heights, weights, and durability.
Microfiber Cloth – Keep one handy to wipe fingers prints and nose grease off the LCD screen and particles from the lens. You can also use it on your glasses and sunglasses.
Neoprene Neck Strap – SLRs normally come with a neck strap that feels rough on your neck and doesn't help to support the weight of the camera. Neoprene neck straps are soft, sometimes textured, and help to alleviate stress on your neck.

Memory Card Wallet – Keep your memory cards safe and in a convenient location. You'll find both soft and hard cases available as well as waterproof ones.

I've compiled a list of words and phrases commonly used in photo labs.
Glossy – A photographic paper finish that is reflective and shiny. Glossy paper shows fingerprints.
Matte – A photographic paper finish that is dull and flat. Matte paper rarely shows fingerprints and is commonly used for enlargements being framed.
Enlargement – A photographic print that measures 5×7 or larger.
Full-bleed – An image printed edge to edge, also referred to as borderless.
Develop – The act of film going through a series of chemicals in order to make the latent images visible.
Negative – Film that has been developed
Cropping – Adjusting the proportions of an image (in a darkroom or with software) so as to eilimante part of it for printing purposes.
Index Print – Thumbnail size images from a roll of film, memory card or CD shown as a set.