by Debra Martin Koma
AllEars® Senior Editor
Well, Day 2 of the D23 Expo was quite a day, if not as hectic as Day 1.
I started the day with a session that was supposed to feature authors Dave Barry and Ridley Pearson, talking about the books that they write for Disney's subsidiary Hyperion — they collaborate on a series of books that are prequels to the Peter Pan story (the "Peter and the …" books) and Pearson writes a series of teen thrillers (the "Kingdom Keepers" series).
Unfortunately, Barry was not here in California, but he appeared live via a video link from his home in Miami. Though he was miles away, that did not decrease his humorous perspective on things. He was a delight to listen to, as was Pearson, whose work I was unfamiliar with — but I'll be seeking him out now! I thoroughly enjoyed this presentation, both as a writer, and as a Disney fan.
The Kingdom Keepers books, if you don't know, are not only thrillers for younger readers, but are set IN the Walt Disney World theme parks. To research for these books, Pearson has been given "unfettered" access to the parks. This means he's been there at all hours, behind the
scenes, with the chance to ride Expedition Everest multiple times at 5 a.m., or walk through It's a Small World in the dark… without "that song" playing over and over again. His anecdotes about his experiences in the World, along with Barry's stories, made for a very entertaining session.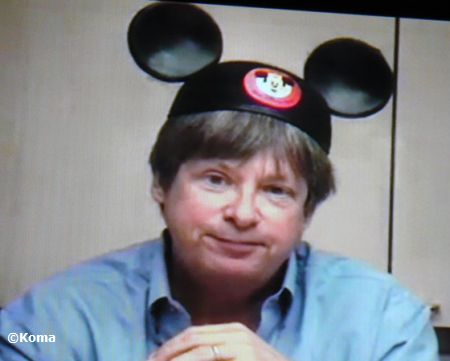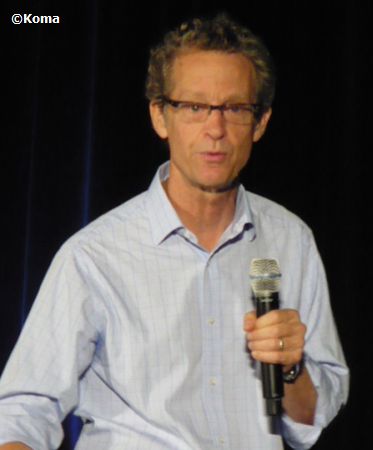 After this presentation, I walked around the main Expo floor, checking out some of the exhibits that I'd missed earlier.
I encountered PUSH, the walking (OK, rolling) and talking trash can: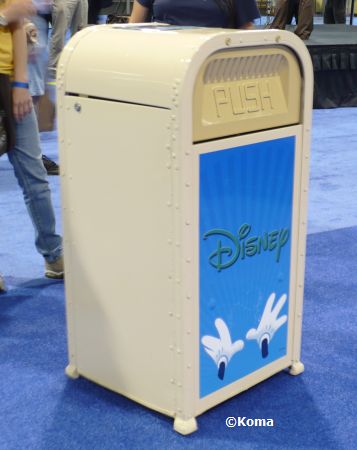 Took a stroll through the Disney Consumer Products area, which had a larger-than-life recreation of Andy's Room from Toy Story: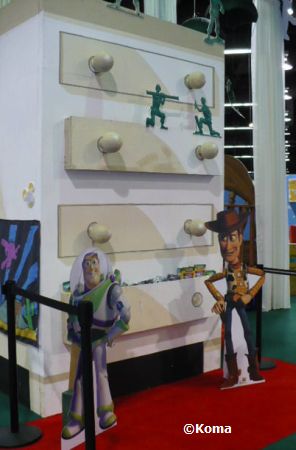 And I wandered past the Spectromagic turtle float again (Spectro Rules!):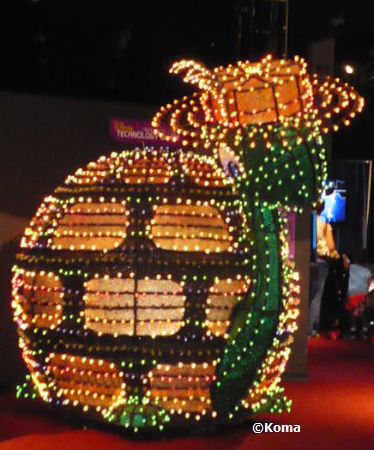 And then I made one of the most foolish decisions I've ever made — I decided to NOT go to the presentation on upcoming Disney films, Disney Movie Magic. I decided instead to go back to the room and work on a blog.
Why was this such a foolish choice? Because at that presentation, a whole slew of celebrities showed up to help promote their latest films! I missed the opportunity to see producer Jerry Bruckheimer, directors Robert Zemeckis and Tim Burton, singer Miley Cyrus, and actors Nicolas Cage, John Travolta and his wife Kelly Preston and… Johnny Depp. JOHNNY DEPP! I cannot believe I missed the chance to see Johnny Depp, in full Captain Jack Sparrow gear as they announced the fourth Pirates of the Caribbean movie, On Stranger Tides. What a disappointment. *sigh*
My afternoon was not such a disappointment, however. In fact, it was quite the opposite. Although I had to wait in line for nearly 90 minutes (the Storytellers Theater, in which many of the more notable presentations are being held, only holds about 500 people so lines and wait times are incredibly long — just like being at a Disney theme park!), the session "We Make the Music" was more than worth the wait. (I should also add that my wait was made a lot more enjoyable by my line-mate and AllEars reader Arturo — our conversation made the time almost fly by. Thanks!)
The program featured a number of composers who have been involved in developing music for theme park attractions, and it couldn't have been more interesting. I was expecting maybe three musicians, but instead we had the opportunity to listen to Bruce Broughton (who composed the new score for the updated Spaceship Earth, as well as the music for Ellen's Energy Adventure, among other things); Joel McNeely (who wrote the music for the Tower of Terror in Tokyo and the recent Hall of Presidents update); husband and wife team Valerie Vigoda and Brendan Milburn (responsible for the Toy Story musical that's performed on the Disney Cruise Line); Richard Bellis (the Indiana Jones Adventure in Disneyland, Reflections of China in Epcot); and Michael Giacchino (Space Mountain in Tokyo, and most recently, the score for the new Luxo Jr. show in Disney's Hollywood Studios). Each of these composers has a non-Disney resume that is unbelievable — many Emmy and Grammy awards among them — but when you factor in their contributions to the parks, you have to be impressed.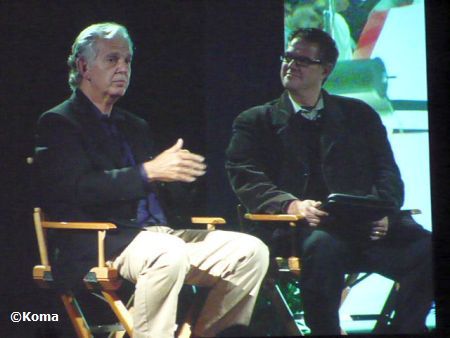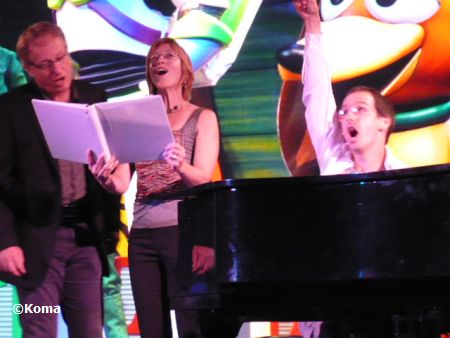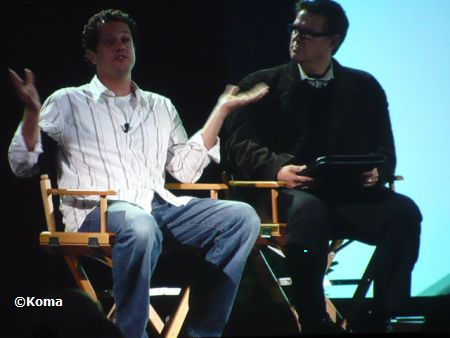 It was fascinating to listen to each of these composers discuss the challenges they've faced in developing music for the theme parks, as well as hearing snippets of those compositions. Many of them had extremely interesting anecdotes about traveling to Disney parks to get the sense of the space or attraction they were writing for — I absolutely loved Richard Bellis's story about riding the Indiana Jones Adventure repeatedly with stopwatches and legal pads, trying to get a sense of where the music should go. Host Jeff Kurti, who has authored several Disney-related books, did a good job of keeping the conversations flowing, and even though the program ran a half-hour longer than scheduled, I was never bored.
That was pretty much all I had time for on Day 2, but I'll be back with a report on Day 3 soon. (If you haven't already, though, be sure to read the news update I published from Day 3 HERE.)