All Ears Picture This! blogger Lisa Berton and I recently had dinner at the PCH Grill at the Paradise Pier Hotel – it was a first time for both of us.
We arrived at the restaurant at the same time as a large group of cheerleaders…uh oh. But the restaurant actually handled them very well – they were in their own part of the restaurant and were not terribly loud or distracting. The main difficulty is that they took ALL the menus, and we had to wait until some of them were done with them (about 10 minutes) before our server was able to bring us a couple of menus. Our server made sure that our meal orders got into the kitchen before theirs did, though. 🙂 But even so, the kitchen did a good job of getting the group's meals prepared and served in a reasonable amount of time.
Lisa has some dietary restrictions, and told the woman at the podium that she needed to talk to a chef. No problem – she quickly brought out a chef and our server, and they came up with a meal for Lisa.
The restaurant is casual with a beachy theme (which goes both with the theme of the hotel and the Lilo and Stitch character breakfast that is hosted at the restaurant), but the menu is more classic diner/comfort fare, with selections like patty melts, hamburgers, and a BLT, though they also serve pizzas and steak. On the kid's menu is a "build-your-own pizza" – a pizza crust, tomato sauce, cheese and pepperoni are brought on a Mickey head-shaped platter, and the child gets to sprinkle as much or as little as they like on the crust, then return it to the kitchen where it's baked in the wood-fired pizza oven. These seemed to be very popular. 🙂
I ordered the Grilled Chicken Breast Sandwich – topped with roasted chiles, lettuce, tomato, guacamole and jack cheese. It was a large chicken breast, nicely grilled and not dry, with a generous serving of guacamole on top. The roasted (mild) green chiles were very flavorful. I really enjoyed it – I couldn't eat all of the bun, but the rest of it disappeared. And I have to say that the french fries served with it were maybe the best fries I've ever had – they were peel-on, but were thin-cut and crisp and not at all greasy.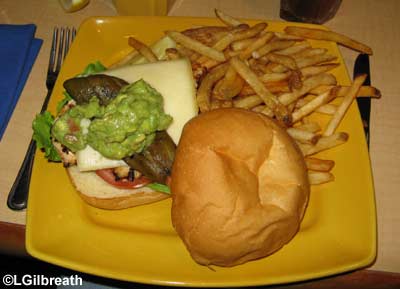 Lisa ordered the Grilled New York steak, which normally comes with green beans, but since she'd just had a big plate of green beans at Goofy's Kitchen the night before she asked if they could give her mixed vegetables instead, and the chef said sure – how about broccoli, squash and carrots? Lisa said great. So when her dinner arrived, guess what…the plate contained a generous serving of green beans. The best-laid plans…our server apologized, but Lisa stuck with the green beans. She enjoyed the steak, though!
We had a very nice meal – nothing fancy at all, but it was very tasty and satisfying. We passed on dessert, but they offer sundaes and banana splits, and a "molten apple pie". If you have a large group (or are really hungry!) you can try The Whole PCH Grill & Kitchen Sink – which is 10 scoops of ice cream and "then tell us what you don't want on it." Wow.
The menu for the PCH Grill is available HERE
If you've dined there, please share your review on AllEars' Rate and Review section HERE