Walt Disney World News
Disney Cruise Line
Disneyland Resort
SeaWorld Orlando
Site News
News Around the World
News Filters:
---
Minnie's Holiday Dine Video Review!
November 29, 2015
Join Deb Wills and special guest Kay Belin as they review Minnie's Holiday Dine at Disney's Hollywood Studios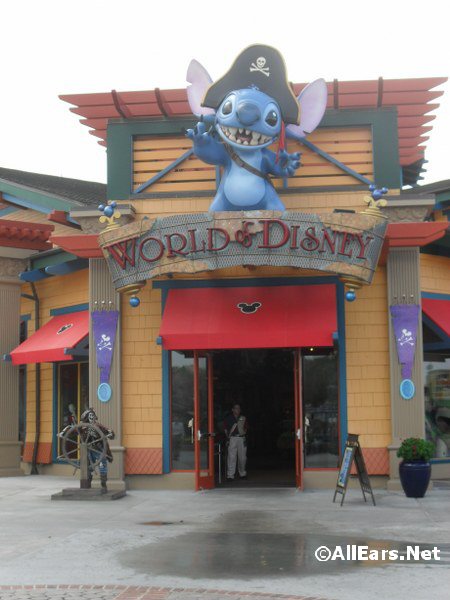 Free Shipping to Celebrate Expansion
November 25, 2015
To celebrate the newly expanded World of Disney at Disney Springs Marketplace, the store is offering Free Shipping on purchases made from Thursday, November 26 through Sunday, November 29, 2015.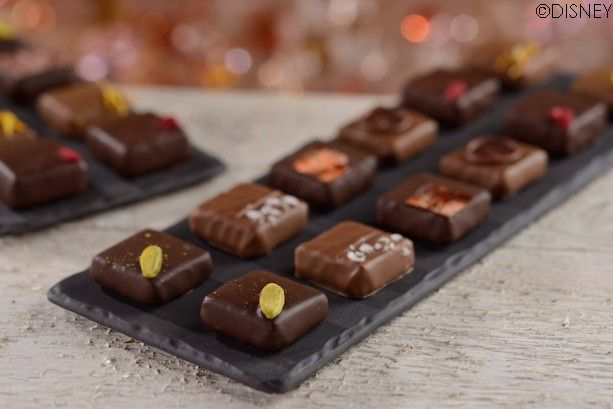 Chocolate Shop Joins Disney Springs
November 25, 2015
The Ganachery, the previously announced shop at Disney Springs that will showcase hand-crafted chocolate, will open December 15.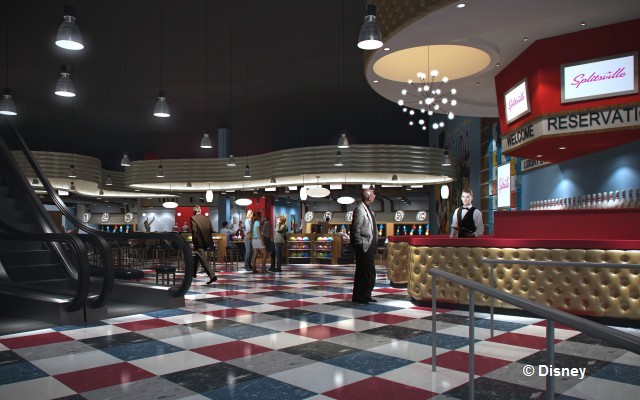 Walk-In Pricing Adjusts at Splitsville
November 25, 2015
Splitsville Luxury Lanes at Disney Springs has implemented new pricing for its "walk-in bowling." Price is now $15/person from opening to 4 p.m. and $20/person 4 p.m. to closing on Monday through Friday. On Saturday and Sunday it is $20/person all day. Splitsville also offers "Early Bird" pricing from opening to 12:30 p.m.: $12/adults, $8/child. (Some blackout dates apply.) For more information or to make reservations: splitsvillelanes.com
Biergarten Extends Hours for Holidays
November 25, 2015
Biergarten Restaurant in Epcot's Germany pavilion has extended its hours for the next several weeks as follows:
-- Nov. 22-26: 11 a.m. - 9 p.m.
-- Nov. 27 - Dec. 19: 11 a.m. - 9:30 p.m.
-- Dec. 20-30: 11 a.m. - 10:30 p.m.
-- Dec. 31: 11 a.m. - 11 p.m.
-- Jan. 1-2: 11 a.m. - 9 p.m.
As part of this change, the performance times for Oktoberfest Musikanten have also been updated to the following: 11:30 a.m.; 12:20 p.m., 1:10 p.m., 2 p.m., 2:50 p.m., 3:40 p.m., 5:20 p.m., 6:10 p.m., 7 p.m., 7:50 p.m., 8:40 p.m. and 9:30 p.m.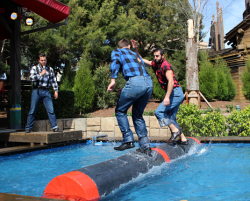 Lumberjack Show Finishes Run
November 25, 2015
The Canadian lumberjack show that has been performing in Epcot's Canada pavilion since last fall is giving its last performances today, November 24. Beginning this Friday, November 27, the Canadian Holiday Voyageurs will perform in the pavilion as part of Epcot's Holidays Around the World. There is no word on what live entertainment, if any, will take place in Canada after the holidays.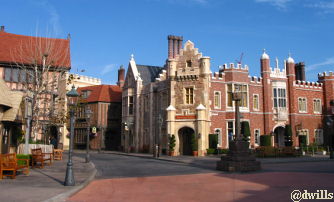 Entertainment Changes Coming to United Kingdom
November 25, 2015
The Paul McKenna Band, which had been performing in the United Kingdom pavilion, will be replaced by another acoustic group. The new band, Quickstep, is set to debut Wednesday, November 25.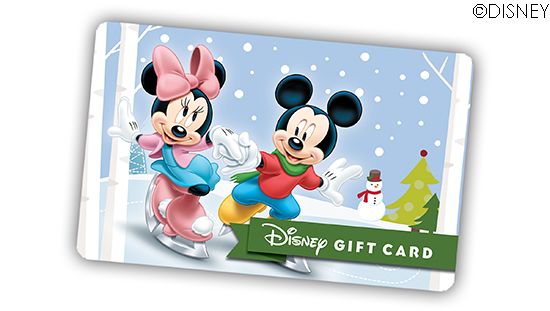 DVC Gift Card Policy Amended
November 25, 2015
Disney Vacation Club has a new policy that affects members who use Disney Gift Cards to pay their annual dues obligation for the year. Effective immediately, a limit of five gift cards can be used toward annual dues payments. However, Disney allows guests to combine values from multiple gift cards to a single card on DisneyGiftCard.com. Annual dues balances will be posted around the start of the year, and payment is due by January 15 with a 30-day grace period before any late fees or penalties are applied.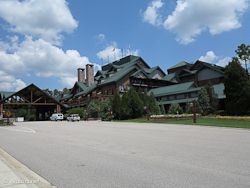 Wilderness Lodge Construction in Full Swing
November 25, 2015
Construction is well under way at Disney's Wilderness Lodge, with many visual barriers appearing around the property and the complete removal of one of the resort's pools. The Disney Vacation Club Mickey Mouse topiary has been removed and the quiet pool adjacent to the Disney Vacation Club villa wing has been demolished.
Paint the Night Dining Packages Begin
November 25, 2015
Paint the Night dining packages start at Disneyland on January 11, 2016. Dining options include a three-course meal at Blue Bayou or a Grab and Go meal (choice of three entrees) from Aladdin's Oasis. Blue Bayou diners will view the parade from Main Street; viewing for Aladdin's Oasis package holders will be near "it's a small world." Booking has not yet openedPaint the Night dining packages start at Disneyland on January 11, 2016. Dining options include a three-course meal at Blue Bayou or a Grab and Go meal (choice of three entrees) from Aladdin's Oasis. Blue Bayou diners will view the parade from Main Street; viewing for Aladdin's Oasis package holders will be near "it's a small world." Booking has not yet opened.
Galactic Grill Serving Star Wars Themed Menu
November 25, 2015
The new Galactic Grill is open during The Season of the Force for breakfast, lunch and dinner.


Backstage Tales Tour Reveals Animal Kingdom Secrets
November 24, 2015
AllEars.Net's Deb Koma recently went behind the scenes at Animal Kingdom for the new Backstage Tales tour. This is her review of the experience.
Tiffins Restaurant Coming to Animal Kingdom in 2016
November 24, 2015
Tiffins, a new Signature Restaurant, is set to open in Disney's Animal Kingdom in 2016. The restaurant will "celebrate the art of traveling" and will feature a diverse menu inspired by the same places that inspired the creation of the theme park. Open for both lunch and dinner, Tiffins will have waterfront views from both indoor and outdoor seating areas.
Two Disney Kids Clubs Get Enhanced Programming
November 23, 2015
If you're the parent of a child who has experienced the kids or youth clubs on Disney Cruise Line ships, you probably know that the activities go well beyond simple crafts and movies. The young club-goers have their own extensive itineraries from which to choose, and the selections are so engaging that the kids often don't want to leave the clubs. But now, visitors to Walt Disney World won't have to set sail to experience the same award-winning programming.
Polynesian Hidden Mickeys
November 23, 2015
Steve Barrett is back with Hidden Mickey images from Disney's Polynesian Village Resort
2015 Avengers Half Marathon Weekend Part 1
November 23, 2015
The third stop on our Eat, Drink, and Run tour was Avengers Super Heroes Half Marathon Weekend at Disneyland. Our first event was the 10K on Saturday. But we didn't get off the cruise ship until Friday morning. Makes for tight timing when have to fly cross country so you can get to the Race Expo before it closes on Friday.
2015 Avengers Half Marathon Weekend Part 2
November 23, 2015
Today our costumes were Princess Captain America (finally able to wear my tiara again!) and Hawkeye. Same costumes we wore last year, but why mess with a good thing? Unlike last year, this year there were actually two people who recognized that I was Princess Captain America. Lee's Hawkeye costume got most of the attention, though. There weren't too many Hawkeyes out there, plus he looked really good (though I told him he was smiling too much. ;-) )
Thanksgiving Dining around the World
November 23, 2015
Walt Disney World Resort guests can indulge in a fresh take on an American tradition by enjoying their Thanksgiving feast Nov. 26, 2015 with a bounty of Disney tastes. With more than 30 different dining choices at Disney theme parks and resorts, families and friends can come together for a variety of Thanksgiving lunch and dinner offerings.
Elf on the Shelf Ideas
November 20, 2015
Next week is a week that many of us parents have been simultaneously dreading and looking forward to since Christmas Day 2014: It's the return of the Elf on the Shelf shenanigans. Dubbed Elf Scout Return Week, Nov. 27 through Dec. 4 is the time when most families welcome back their scout elves or adopt new North Pole helpers. Our elves, Sugar Plum and Blizzard, usually arrive the day after Thanksgiving.
Season of the Force Part 2
November 20, 2015
We continue our look at Disneyland's new Star Wars celebration in Tomorrowland, with some of the new attraction additions and overlays.