Walt Disney World News
Disney Cruise Line
Disneyland Resort
SeaWorld Orlando
Site News
News Around the World
News Filters:
---
Sounds Like Summer Concerts June 9 - July 27
May 19, 2013
The Sounds Like Summer concert series is held annually at Epcot's America Gardens Theatre, featuring "tribute" bands that cover music by popular artists. Entrance to the concerts is free with paid admission to the park.

2013 SCHEDULE (subject to change):

June 9 - June 15: Stayin' Alive (tribute to the Bee Gees)

June 16 - June 22: Hotel California (Eagles tribute band) (pictured above)

June 23 - June 29: Mike Delguidice & Big Shot (The Ultimate Billy Joel Show)

June 30 - July 6: Slippery When Wet (he Ultimate Bon Jovi tribute)

July 7 - July 13: Southbound and Company (tribute to Lynyrd Skynyrd)

July 14 - July 20: The Police Experience (a tribute to the Police)

July 22 - July 27: 2U (U2 tribute band)

Showtimes are 5:30, 6:45 and 8 p.m. (except on July 4 - showtimes are scheduled for 5:15, 6:30, 7:45 and 9 p.m.).
Disneyland Resort Photo Update
May 17, 2013
Jason's weekly walk about at the Disneyland Resort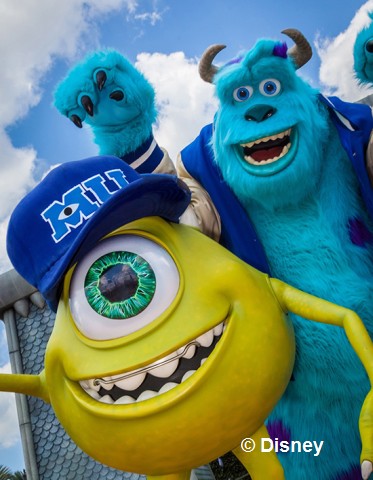 Monstrous Summer 24-Hour All-Nighter at Disneyland Resort
May 17, 2013
From 6 a.m. on May 24 to 6 a.m. on May 25, enjoy all the monster-themed madness inside Magic Kingdom park at Walt Disney World Resort in Florida, as well as Disneyland park and Disney California Adventure park in California. From special entertainment and monstrous merchandise to frightening food and boo-verages, this "All-Nighter" is shaping up to be one scary good time!

Everything kicks-off with special opening moments in front of the parks, leading up to park opening at 6 a.m., and then you're off and running for 24 hours of fun!

At Disneyland Resort, the fun spreads out across two Disney Parks! Disney California Adventure park is having a Hollywood Viewing Party, screening "Monsters, Inc." inside Muppets Theater and hosting Mad T Party outside in Hollywood Land. Both start at 9 p.m. and continue through the night. Elsewhere, the "Monsters University" gang will be out and about with the new MU float from the Pixar Play Parade, happy to pose for pictures with you.

Disneyland park celebrates with a Disney Character Pajama Party, starting after midnight in Mickey's Toontown with classic Disney cartoons, a Mickey Mouse Party Zone with DJ and activities for kids, plus goodies available for purchase, like hot chocolate, milk and cookies and other treats. Over in Tomorrowland, there will be Star Wars characters to meet and the TLT "Monstrous" Dance Club at Tomorrowland Terrace, where you can keep the party going from midnight to 5:30 a.m. During the All-Nighter, the Royal Theatre at Fantasy Faire hosts a Royal Swing Ball, with a live band from 10 p.m. - 1:40 a.m., and beginning June 15 the "Jump, Jive, Boogie Swing Party" will return to the Royal Theatre for select nights during the summer. Keep an eye on the calendar page on Disneyland.com for dates and information.
Downtown Disney Restaurants Host Kids Cooking School
May 16, 2013
Levy Restaurants is again offering a summer cooking school for kids ages 6 to 12, who may be the foodies of the future. The kid-friendly cooking class takes place from 11 a.m. to 3 p.m. Saturday, June 22, at Fulton's Crab House, Portobello Restaurant and Wolfgang Puck Cafe. The Levy cooking school is $37 per child. Registration is on a first-come, first-served basis until the event is full. To sign up, call 407-828-8996.
Star Wars Weekends May 17 - June 9, 2013
May 16, 2013
Star Wars Weekends begin May 17! Are you ready? Turn to AllEars.net for complete coverage.
Related Links:
-- Hyperspace Hoopla
-- Chip and Dale Debut as Ewoks
-- Celebrity Welcome
-- Character Meet and Greets
-- Celebrity Motorcade Video
-- Celebrity Motorcade
-- Legends of the Force Motorcade
-- Event Times and Guide Map

Eat to the Beat Concerts Announced!
May 16, 2013
This year's Epcot International Food & Wine Festival will return to the park September 27-November 11. Here is the tentative list of performers who will participate in the Eat to the Beat concert series.

New acts coming this year include the Go-Go's, Edwin McCain, The Manhattan Transfer, Wilson Phillips, Spin Doctors and Christopher Cross. There are also many returning favorites, including Big Bad Voodoo Daddy and Boyz II Men.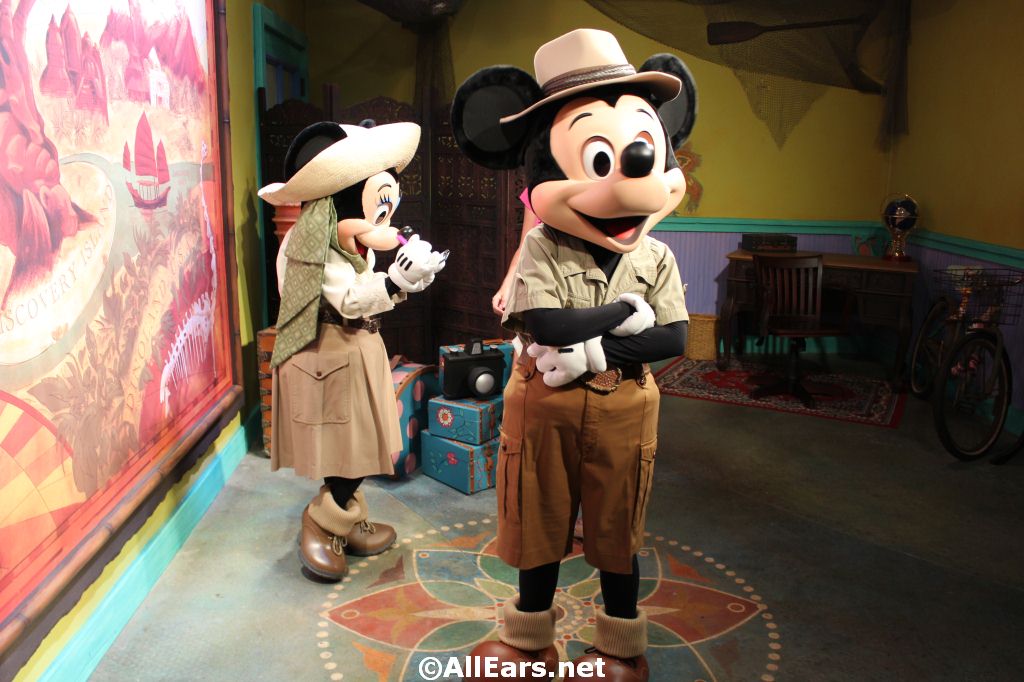 Adventurers Outpost Now Open!
May 15, 2013
Mickey and Minnie have arrived in their new air conditioned meet and greet location in Animal Kingdom's Discovery Island area.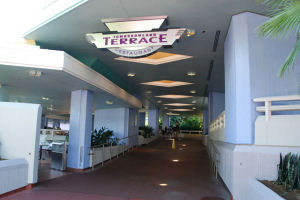 May the 24th Breakfast Meet
May 15, 2013
Meet Deb Wills and Deb Koma for a breakfast meet and greet at the Tomorrowland Terrace in the Magic Kingdom at 9:00am.
Early 2013 Epcot Food and Wine Festival Details!
May 13, 2013
Sip, Savor, Repeat! Fresh Global Tastes Tempt the Palate at the 18th Epcot International Food and Wine Festival September 27-November 11, 2013. A Scotland marketplace debuts, while Brazil flavors return for an encore. Also, there will be new performers at the Eat to the Beat Concerts, including The Go-Go's and Manhattan Transfer.
Merida Becomes Official Disney Princess
May 11, 2013
Merida became the newest Disney Princess May 11, 2013 at a special ceremony in Disney's Magic Kingdom.
SeaWorld Announces Lauren Alaina to Promote Antarctica: Empire of the Penguins
May 10, 2013
SeaWorld Parks and Entertainment has partnered with award-winning country artist Lauren Alaina to perform the official theme song for the new attraction at SeaWorld Orlando, Antarctica: Empire of the Penguin, opening May 24, 2013.

Alaina recorded two songs for SeaWorld, including the theme song for the ride in Antarctica: Empire of the Penguin, and a remix version called "Antarctica: One World, One Family." Alaina also will be performing the song live at SeaWorld Orlando for the attraction grand opening the week of May 24.
Free Dining Offer for September 2013
May 09, 2013
Here's a delicious way to make your vacation dreams come true! Book a non-discounted Walt Disney World Magic Your Way package and get a select Dining Plan - Free*!
Free Dining for Disney VISA Cardholders: September 2-25, 2013
May 06, 2013
Are you a Disney VISA cardholder? Here's a delicious way to make your vacation dreams come true! Book a non-discounted Walt Disney World Magic Your Way package and get a select Dining Plan - Free!

Book a value resort - Get Quick Service Dining Plan - Free
Book a moderate, deluxe or villa - Get the Disney Dining Plan - Free

Valid for stays most nights:
September 2, 2013 - September 25, 2013

Book by July 31, 2013

For details, see the website of AllEars.Net's preferred travel provider, Mouse Fan Travel:

http://www.mousefantravel.com/disney-destinations/walt-disney-world-resort/latest-deals/disney-visa-cardholders-free-dining-offer

Sneak Peek Video of AquaDunk
May 05, 2013
Imagineer Joe Lanzisero talks about the "Splashtacular" changes coming to the Disney Magic this fall.
Not So Scary Halloween Party Dates/Prices!
May 01, 2013
Dates and prices for the 2013 Mickey's Not So Scary Halloween Party. Tickets went on sale May 1, 2013.
Very Merry Christmas Party Dates/Prices!
May 01, 2013
Dates and prices for 2013 Mickey's Very Merry Christmas Party. Tickets went on sale May 1, 2013.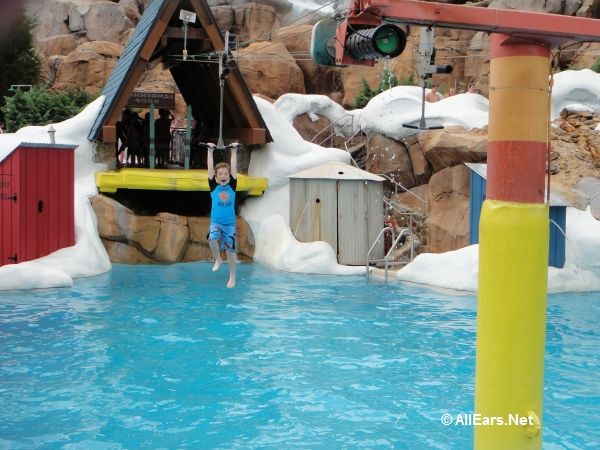 Activities for School Age Kids
April 29, 2013
Visiting Walt Disney World is, of course, a dream vacation for many families. Even among the numerous fun recreational experiences, though, there are educational activities that won't feel too much like homework yet will help teach, too.

For home-schooled children, Walt Disney World is an endless classroom. And even for those kids who missed regularly scheduled classes to go on their vacations, we offer some ideas for the requisite "trip report" that will be due when they return.

Here are reader- and staff-generated suggestions for learning opportunities in the four theme parks at Walt Disney World. Some are simple enough for elementary-age kids while others might be more appropriate for middle- and high-school students.
A Pirate's Adventure: Treasures of the Seven Seas - Testing!
April 29, 2013
Contributing photographer Jason of disneygeek.com had a great opportunity my last morning at Walt Disney World. The Imagineers were conducting a public "play test" of A Pirate's Adventure: Treasures of the Seven Seas. This is a new interactive experience that will be opening in Adventureland in the Magic Kingdom in the near future. The testing started earlier in the morning and I managed to make it there about 11:45am and was one of the last groups through, they shut down around noon. The adventure begins at the Enlistment Quarters, the old Crows Nest.
All Ears Website Important Notice
April 28, 2013
Beginning 9am Monday, April 29, AllEars will be undergoing updates to our web service. During this time, the website will not be available. We should be back online Tuesday morning (if not sooner). Thanks for your patience and understanding.
BoardWalk Bakery Reopens
April 26, 2013
The BoardWalk Bakery reopened today Friday, April 26, after a renovation of several months. The bakery sports an all-new look, with a new entrance, queue, signage and more. The bakery also now features an expanded menu with a soup or salad and sandwich combo, pastries and specialty beverages. The newly refurbished bakery also has a refillable mug station for those staying at the BoardWalk Inn and Villas.