March 2014 Walt Disney World Bits and Bites
Feature Article
This article appeared in the February 25, 2014 Issue #753 of ALL EARS® (ISSN: 1533-0753)
Editor's Note: This story/information was accurate when it was published. Please be sure to confirm all current rates, information and other details before planning your trip.
= = = = = = = = = = = = = = = = =


STEP BACK IN TIME
= = = = = = = = = = = = = = = = =
by Deb Wills
Each month, we rummage around in our archives for this featurette, which indulges in a bit of nostalgia, taking you back in history for a glimpse of Walt Disney World and The Walt Disney Company through the ages. This month, we take a look at the history of Walt Disney World ticket price increases.
As you have probably read by now, Walt Disney World ticket prices increased on Sunday, February 23. An adult one-day ticket to the Magic Kingdom increased by $4, to $99. Tickets to the other three theme parks increased by $4 also. In addition, there were a number of other ticket price changes around the resort.
This latest ticket price increase caught folks a bit off-guard, as most price changes in recent years have occurred in June. Of course, March has seen its share of ticket price changes as well.
(Source: http://allears.net/tix/tixincrease.htm)
Back in March 1986, the price of a one-day ticket, valid at all the theme parks, increased from $21.50 to $23.
In March 1994, a one-day ticket went from $35 to $36.
http://allears.net/tix/94-1daytype2.jpg
In March 1997, a one-day ticket went from $38.50 to $39.75
http://allears.net/tix/97-lumiere.jpg
In March 2004, one-day ticket jumped from $52 to $54.75.
And so this year, a one-day ticket to the Magic Kingdom has gone up to $99. A one-day ticket to Disney's Animal Kingdom, Disney's Hollywood Studios or Epcot, is now $94.
Check out the comprehensive AllEars.Net Walt Disney World Ticket History pages created and maintained by Jack Marshall:
http://allears.net/tix/tickethistory.htm
And please take a look at the ticket scans we have — if you have any that we are missing, please let us know!
EDITOR'S NOTE: AllEars.Net's Deb Wills was quoted in an item on the ticket price increase on CNN.com the other day:
http://www.cnn.com/2014/02/24/travel/disney-magic-kingdom-price-increase/index.html?hpt=hp_bn10
= = = = = = = = = = = = = = = = =


HIDDEN MICKEYS ALERT
= = = = = = = = = = = = = = = = =
Steve Barrett, author of the Hidden Mickeys books and webmaster of www.HiddenMickeyGuy.com, highlights below a few Hidden Mickeys at Epcot and the Magic Kingdom. Put on your walking shoes and check them out!
1. Inside The Seas with Nemo and Friends Pavilion at Epcot, in the waiting room for Turtle Talk with Crush, an upside-down classic Mickey is above the left side of the "eyebrow" of "Peach" the starfish. Peach is at the upper left of the second window to the right as you enter the room. (Thanks to Donna McMurrey and Stephanie.)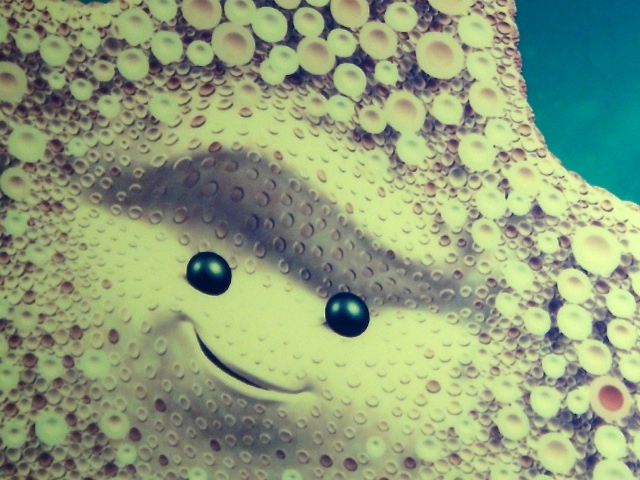 http://allears.net/btp/images/hidden-mickey-423.jpg
2. A classic Mickey is in the mosaic mural on the right wall outside as you enter The Land Pavilion. To the upper left of the word "LAND" is a cluster of grapes. A classic Mickey, tilted to the right and almost upside down, is formed by three grapes. This grape Mickey image is partially beneath the translucent signboard. (Thanks to Jeff Love.)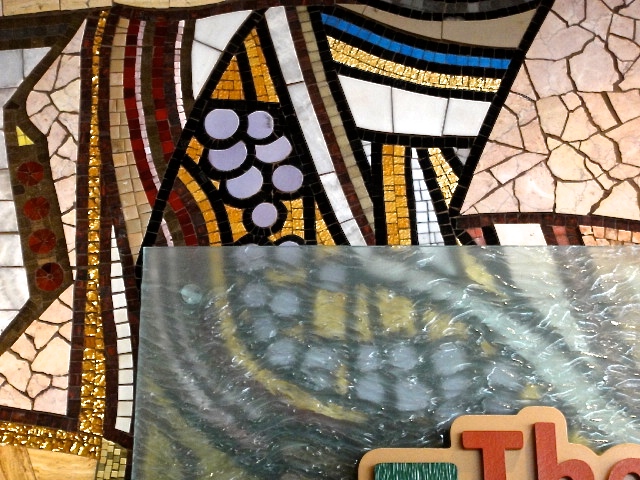 http://allears.net/btp/images/hidden-mickey-424.jpg
3. Shields are propped at the sides of the bridge from Adventureland toward Main Street in the Magic Kingdom. Two classic Mickeys with smiley faces for "ears" are on the shields, one with white ears at the bottom of a shield and another (shown in the photo) upside-down classic Mickey with blue ears at the top of a second shield. (Thanks to Daniel Hadden and the Benson Family.)
http://allears.net/btp/images/hidden-mickey-425.jpg
=-=-=-=-=-=-=-=-=-=-=-=-=-=-=-=
You can find a selection of past Hidden Mickey Alerts here:
http://allears.net/btp/hiddenm2.htm
And check out our Searching Disney with Steve blog:
http://land.allears.net/blogs/stevebarrett/
== = = = = = = = = = = = = = = = =

RATE & REVIEW SPOTLIGHT
= = = = = = = = = = = = = = = = = =
Compiled by AllEars® Editor Deb Koma
In this monthly featurette, we take a look at comments made in the AllEars.Net Rate & Review section about a particular restaurant, resort, event, etc. With the annual Epcot Flower and Garden Festival right around the corner, we thought we'd share comments from last year's event to help you with your planning!
The Flower and Garden Festival Topiaries have an average rating of 9.6 (out of 10) and are recommended by 100 percent of AllEars.Net reader/reviewers.
The Garden Marketplaces introduced last year (which will be known as Outdoor Kitchens this year) have an average rating of 9.2 and are also recommended by 100 percent of AllEars.Net reader/reviewers.
About the Topiaries and Festival itself:
— "I really enjoyed walking through Epcot and would consider coming back for this."
— "I would much rather be in Epcot during the flower festival than any other time of year. I thought the displays this May were the most stunning I have seen, and I love all the developed ideas for little ones!"
— "While the park is beautiful during this time, not much seems to change from year to year. Many of the topiaries there this year were there last year, albeit perhaps in a different location. Some variety would be appreciated!"
— "Even my wife who is not at all into plants very much enjoyed it."
— "We visit the Epcot Flower & Garden Show every year. This year was better then ever with the awesome themed kid play areas to the new Marketplaces. We picked up a passport in the Festival Center my daughter loved it, she was eager to make her way around the park getting it stamped, they also have numerous kid activities along the way. We had a blast!"
— "We have been to the festival 4 years in a row now and we still enjoy it as much as the 1st time. I can't believe that topiaries could be so much fun. We couldn't wait to see the next one as we moved along. All of our favorite characters were represented, as well as some newer ones that the younger kids will love… The gardens are beautiful and the exhibits are fun and educating. Wish there were a better selection of Flower and Garden souvenirs, though."
About the Garden Marketplaces:
— "I greatly appreciated this addition to the F&GF this year! It was perfect for allowing me to snack around World Showcase at my leisure without purchasing a big meal. I stopped at several different booths. I enjoyed the Watermelon Passion Fruit Cocktail very much."
— "We really enjoyed all the garden food kiosks around the world. We tried every one of them and our favorites were the pork tacos (Mexico) and the Trifle Trio (between England and Canada). The pork had an excellent flavor and the trios (one chocolate, one berry, and one green tea) were a tasty combination of custard and cake. It was a lot of fun to try food options that are out of our comfort zone without spending a lot of money for each item."
— "We visit the Epcot Flower & Garden Show every year, so the addition of the marketplaces was great. The lines were short, we tried about five different food and drinks and all were great, portions were big also. Pick up the passport for the kids it will keep them busy while you make your way around the countries."
— "The addition of food and wine to an already good event reminded me of the first years for the fall Food and Wine festival. The lines for this event were short, the portions large (compared to the F&W festival) and no loud, drunk crowds. Overall a very positive experience."
If you visit the Flower and Garden Festival this year (it starts Wednesday, March 5!), don't forget to leave your thoughts in our Rate and Review Section, too!
http://land.allears.net/reviewpost/showcat.php?cat=202
And don't forget to check out all of our Rate & Review section here: http://land.allears.net/reviewpost/
= = = = = = = = = = = = = = = = =


MONTHLY REMIND-EARS
= = = = = = = = = = = = = = = = =
EVENTS
Animal Kingdom
Epcot
Epcot's Flower & Garden Festival – The 21st Epcot International Flower & Garden Festival will run March 5 to May 18, 2014. Goofy, Donald Duck and Daisy Duck topiary will celebrate spring with a butterfly hunt adventure in the Epcot front entrance garden, while topiaries of Mickey Mouse and dozens of other Disney characters will surprise guests beyond Spaceship Earth. The garden party continues for 75 days. For the festival's second year, Disney guests can taste sweets and savories from about a dozen food-and-beverage marketplaces surrounding the World Showcase Lagoon. Most gardens will be illuminated when the sun sets to extend the festival fun. At the Festival Center, daily interactive gardening seminars will set the stage for outdoor do-it-yourself inspiration, and popular HGTV celebrities will headline weekend seminars filled with home, garden and design ideas. Back by demand, the Disney-Pixar "Cars" garden and playground will bring favorite movie characters to life. Tinker Bell's Butterfly House will feature hundreds of the winged beauties and intricate fairy topiaries including Tinker Bell, Fawn and Terrence.
This year's Festival will also have a number of HGTV and DIY Network experts sharing their home remodeling and decorating tips. The tentative schedule of TV personalities slated to appear (subject to change) is HERE.
The complete schedule for the 2014 Flower Power Concerts, to be performed during the Epcot International Flower and Garden Festival, is HERE. Performances are at America Gardens Theatre at 5:30, 6:45 and 8 p.m. each Friday, Saturday and Sunday of the Flower and Garden Festival. The concerts are included in Epcot admission.
Downtown Disney
March 7-17: St. Patrick's Day celebration at Raglan Road and throughout Downtown Disney. See "News" below for details.
ESPN Wide World of Sports
The Disney Pro Soccer Classic is set to take place Wednesday, February 19 through Saturday, March 1, 2014. This event will feature eight teams competing in 16 games. Participating teams include: Philadelphia Union, Toronto FC, New York Red Bulls, Montreal Impact, Columbus Crew, Sporting Kansas City, Orlando City Soccer Club and Brazil's Fluminense FC.
Orlando City Soccer Club will play its regular-season home games at ESPN Wide World of Sports Complex this season. Additional stadium seating is planned to surround all four sides of the main soccer field, bringing seating to approximately 5,200. This will be the Lions' final United Soccer League (USL) season before becoming the 21st Major League Soccer (MLS) franchise in 2015. Their first home match is scheduled for Saturday, March 29 at 7:30 p.m. vs. Pittsburgh.
Atlanta Braves Spring Training has returned to ESPN Wide World of Sports Complex for its 17th straight year, with a game lineup showcasing some of Major League Baseball's (MLB) marquee teams, including the reigning World Series Champion Boston Red Sox. This year's schedule also will include three nighttime games and select promotional-themed games, along with traditional Disney family-oriented fun, including in-game entertainment, Disney character appearances and on-field fan experiences. Kids will again have the opportunity to run the bases after every game. The Braves close out their spring home schedule on March 26 against the Marlins. For more information or to buy tickets, visit http://www.espnwwos.com/atlantabraves
For more information on ESPN Wide World of Sport events, visit disneysports.com.
On March 15, the limited edition release of "Off the Page – 25 Years," featuring Sorcerer Mickey will be released at the Animation Gallery at Disney's Hollywood Studios. Several of the Ink & Paint artists associated with this piece will be on hand for a special appearance and signing from 10 a.m. to 1 p.m. and 2 to 5 p.m. The limited edition 1000 cel will be available in several formats including: Unframed, Black Framed Cel, Black Frame with Pin and Cel, Black Frame with Pin, Postcard and Cel as well as a Gold Frame. Disney Event Services is currently taking pre-orders for this piece, but all orders must be placed no later than Thursday, March 13, at 5 p.m. (Eastern). For more information, visit: http://www.disneyparksmerchandise.com/events/last-resort-cel-release/?instance_id=
The 2014 Disney Dreamers Academy with Steve Harvey and Essence Magazine, now in its seventh year, is slated for March 6-9. Annually, 100 U.S. high school students, ages 13-19, selected from thousands of applications, embark on an all-expense-paid trip to Walt Disney World Resort for a four-day program with motivational speakers and celebrities sharing their stories on how to achieve success. Dreamers have the opportunity to cultivate relationships with other students from across the nation while they gain firsthand knowledge from Disney experts and world-renowned entrepreneurs and executives.
-=-=-=-=-=-=-=-=-=-
Don't forget to check our Events page for current updates: http://allears.net/pl/events.htm
-=-=-=-=-=-=-=-=-=-=-=-=-=-=-=-=-=-=-
REHABS AND CLOSINGS
Animal Kingdom
Festival of the Lion King in Animal Kingdom closed January 5, 2014, for a six-month renovation. This renovation will include moving the show to a new theater located in the Africa section of the theme park.
Magic Kingdom
Fantasyland Expansion: The ongoing Fantasyland expansion project continues with the debut of a new Disney "mountain" in the form of the Seven Dwarfs Mine Train in 2014. The construction walls have come down around part of the Seven Dwarfs Mine Train area and landscaping has been added. We have the latest video and photos released by Walt Disney Imagineering here:
http://land.allears.net/blogs/dnews/2014/02/new_imagineering_video_seven_d_1.html
The upcoming Disney Festival of Fantasy Parade is scheduled to debut in the Magic Kingdom on March 9, 2014. We have a behind-the-scenes video of the parade, as well as a preview of the costumes and a video of the floats. See more in the "News Bites" below.
Splash Mountain closed for refurbishment on January 2, 2014. It is scheduled to reopen sometime in March.
Tomorrowland Transit Authority PeopleMover is closed through March 27.
The Plaza Restaurant is closed through mid-March.
Pinocchio Village Haus is closed now through March 30.
Service on the Magic Kingdom Resort and Express monorails will be unavailable on weekdays between 11:30 a.m. and 7 p.m. to allow for planned maintenance. This schedule will run through the end of March 2014. During this time, watercraft and additional buses will be available. The Epcot monorail beam will operate normally.
Downtown Disney
Downtown Disney is being transformed into Disney Springs, which will treat guests to more shopping, dining and entertainment amid open-air promenades, springs and waterfront charm. Disney Springs will feature an eclectic and contemporary mix from Disney and other noteworthy brands, from boutique shops to unique flagship anchor stores. Disney Springs will double the number of shops, restaurants and other venues for guests to explore, resulting in more than 150 establishments. Drawing inspiration from Florida's waterfront towns and natural beauty, Disney Springs will include four outdoor neighborhoods interconnected by a flowing spring and vibrant lakefront. Read more about Disney Springs here:
http://allears.net/btp/disney-springs.htm
As part of the Disney Springs expansion, Downtown Disney parking lots H-K (near West Side locations such as AMC Theatres and House of Blues) closed July 22 to make room for a parking garage expected to open in late 2014. To compensate for the closed areas, "overflow" parking areas have been designated and will be open most Fridays, Saturdays and Sundays, as well as holidays, special events and other busy days throughout the next few years of the expansion project. Overflow lots include those at Team Disney, Casting and SunTrust. Signage along Buena Vista Drive will direct guests to parking areas. Shuttles will operate from 5 p.m. to 3 a.m. on days that overflow parking is open to transport guests between Team Disney and Downtown Disney West Side near Cirque du Soleil. If you have reservations at a Downtown Disney location, be sure to allow ample time for parking under these new conditions.
A new merchandise location is coming to Downtown Disney Marketplace in spring 2014. Called the Marketplace Co Op, it will occupy the site that housed Team Mickey, which has closed. The marketplace will act as a collection of shops within a shop — a sort of "incubator," serving to introduce new Disney specialty retail shops and products to the public. The current building will be slightly redesigned, but will retain its original ceiling elements, including the skylight.
http://land.allears.net/blogs/dnews/2013/11/marketplace_co_op_coming_to_do.html
Valet parking is now available at Downtown Disney, accessible from 4 p.m. to 2 a.m. daily via Entrance 4 at Downtown Disney West Side. The cost is $15 per vehicle and gratuity is accepted. The Tables in Wonderland benefit of free parking will be available if you present your Downtown Disney dining receipt and the TiW card. When you're ready to pick up your car, check in at the valet booth or text the number you'll be given when you park. Parking in the regular lots will continue to be complimentary.
Villas at Wilderness Lodge
A "hard goods" refurbishment is under way at the Villas at Disney's Wilderness Lodge. "Hard goods" is Disney's designation for the most comprehensive room update. Nearly all elements of the guest room are replaced, repaired or refinished to bring the facilities back to a like-new condition. Workers have already completed renovations on all 5th floor villas and are now working on 4th floor units. All villas are expected to be renovated by the end of March 2014.
Bay Lake Tower
The children's water play area at Bay Lake Tower at Disney's Contemporary Resort will be closed for several weeks to complete scheduled maintenance. It will be unavailable through February 28, 2014.
Blizzard Beach closed December 22 for its annual refurbishment. It is scheduled to reopen March 16, 2014.
-=-=-=-=-=-=-=-=-=-
A complete list of rehabs can be found here: http://allears.net/tp/rehabs.htm
= = = = = = = = = = = = = = = = =


MAGICAL MOMENTS
= = = = = = = = = = = = = = = = =
James Newman: Just returned from our latest visit to Walt Disney World. Had our usual good time, but had to comment on one thing in particular. Lonnie, from West Virginia, the greeter at the American Adventure at Epcot, gave us one of the most magical moments we have ever experienced at Disney. We were celebrating a 50th Anniversary and totally enjoying all of the very friendly greetings that came with our "Anniversary Buttons". As we entered the American Adventure, Lonnie stopped us. He asked our names and where we were from then said that we were the ones he had a message for. He led us to the office, picked up the phone and handed it to us. Next thing we know, we were listening to a anniversary greeting from Mickey himself. As we left the office, Lonnie asked us how we wished to be addressed. He then proceed to make out a beautiful handwritten Magic Moment certificate.. O.K. we thought, this was really a neat and remarkable memory we now had. Only thing is, this was not over. As we left the theater after the performance, Lonnie was waiting for us at the bottom of the ramp. He said there is one more thing I want to do. We followed him as he led us next door to the Liberty Inn. As we entered, Lonnie, in his best voice, announced to the totally full Inn, "Hear Ye, Hear Ye! Today is the 50th Wedding Anniversary of James and Karen." But that was not all. After the applause from the crowd, Lonnie proceed to the counter, got a piece of the brownie and gave it to us with his compliments. I just had to share that even though our trip was memorable up to that point, this was the best memory we have ever experienced and it is all due to Lonnie. Thanks to a wonderful Lonnie and a THANK YOU to the Disney culture that allows and encourages special moments such as these. That's why we keep coming back.
Lori Smyser: My youngest daughter, at the age of 3, was on her first trip to Disney World and wanted to meet Cinderella. This was the only thing she would talk about and she asked constantly, "Where is Cinderella ?" I told her Cinderella was in her castle. After we were there a few days we had a dinner planned at Cinderella's Royal Table, knowing our daughter would see her princesss at dinner. While waiting in the lobby of the castle to be called to dinner, my tired 3-year-old fell asleep. Next thing we knew, the elevator doors opened and Cinderella walked out to greet the guests in the lobby. Our daughter woke up and the expression on her face was priceless when Cinderella walked right over to her! We could not have timed that any better. What a priceless magical moment.
-=-=-=-=-=-=-=-=-=-=-=-=-=-=-=-=-=-=-=-=-
We just bet you have a story to tell about an unforgettable moment during your Disney vacation! Please send your favorite memory for inclusion in a future AllEars® to: allearsnet@yahoo.com
Thank you all for sharing!
-o-o-o-o-o-o-o-o-o-o-o-
Editor's Note: This story/information was accurate when it was published. Please be sure to confirm all current rates, information and other details before planning your trip.