December 2017 Walt Disney World Bits and Bits
Feature Article
This article appeared in the November 28, 2017 Issue #949 of ALL EARS® (ISSN: 1533-0753)
Editor's Note: This story/information was accurate when it was published. Please be sure to confirm all current rates, information and other details before planning your trip.
= = = = = = = = = = = = = = = = =



STEP BACK IN TIME
= = = = = = = = = = = = = = = = =
by Joan L. Feder
AllEars® Contributor
We hunt through our archives for this monthly featurette, which looks at the history of Walt Disney World and The Walt Disney Company. This month we travel back to 1995 when the Osborne Family Spectacle of Lights made its debut at Walt Disney World.
For Christmas in 1986, 6-year-old Breezy Osborne asked her father, Jennings Osborne, to decorate their home, a large estate located on one of the busiest streets in Little Rock, Arkansas. The wealthy businessman agreed, illuminating the house with 1000 red lights. By 1993, the display had grown to 3 million lights and was so extensive that Osborne purchased the homes on either side of his house and decorated them as well. The lights were on from sunset until midnight, attracting large crowds for 35 days during the holiday season. Needless to say, this wreaked havoc with traffic and upset the neighbors. They took him to court and got an injunction that limited the display's run to between 7 and 10:30 p.m. for only 15 days. Eventually, the Arkansas Supreme Court went even further, shutting it down completely in 1995.
The court case got national news coverage and executives at Walt Disney World offered to install the exhibit at what was then Disney-MGM Studios. Jennings Osborne, a huge Disney fan, gladly accepted. It wasn't long before four 18-wheelers were taking the show to Orlando. The trucks arrived on November 4, 1995. At that time, the cornucopia of lights already included many of its iconic pieces, such as the 70-foot-tall Christmas tree, 100 angels, and two rotating carousels. Three teams of technicians worked around the clock to get the lights up in time for the holidays. On November 24, 1995, the Osborne Family Spectacle of Lights made its debut on the theme park's Residential Street. They were a hit from the very beginning.
The exhibit continued to grow, and eventually included more than 5 million lights and 30 miles of extension cords. Cast members would begin installing the lights in September, and worked 20,000 hours to get them in place. Once installed, the show went on every night from mid-November into the first week of January. Eight hundred thousand watts of electricity kept the bulbs glowing. In 2004, the Lights moved to make way for the Lights, Motors, Action! Extreme Stunt Show. They took up residence on the Streets of America, where 33 machines added artificial snow to the event. The display was renamed the Osborne Family Spectacle of Dancing Lights in 1996, when more than 1500 dimmer switches made it possible to sync the lights with music. The display was updated again in 2011, when all the bulbs were replaced with LED lights. A new control system was installed, allowing for even more extensive choreography. Every 10 minutes the lights "danced", flickering in time to holiday classics like Jingle Bells and Feliz Navidad.
The display also grew to include many "Easter eggs." There was a black cat (actually part of the Osborne Family's Halloween decor) that accidentally made its way into the show; every year, it was hidden in a different spot, so delighted guests could search for it. Christmas stockings bearing the Osborne family's names (Jennings, Mitzi and Breezy) hung from one of the buildings. Even the leg lamp from the movie "A Christmas Story" could be spotted in one of the windows. And, of course, there were dozens of hidden Mickeys concealed throughout the show.
Disney announced on September 11, 2015, that the upcoming holiday season would be the Spectacle's last. The construction of the new Star Wars: Galaxy's Edge was said to be the reason. On January 6, 2016, the lights danced for the last time, to the Mickey Mouse Club Alma Mater, before going dark at 10 p.m.
Once a must-see, this delightful display is now very much missed by many guests. Did you get to experience the Osborne Family Spectacle of Dancing Lights? If so, send us your memories!
RELATED LINKS:
Interview with Jennings Osborne (2002)
= = = = = = = = = = = = = = = = =



HIDDEN MICKEYS ALERT
= = = = = = = = = = = = = = = = =
Steve Barrett, author of the Hidden Mickeys Field Guide books and webmaster of HiddenMickeyGuy.com, encourages you to look for these Hidden Mickeys in the Magic Kingdom. Enjoy the search!
1. Seven Dwarfs Mine Train, Magic Kingdom. Not far into the Standby entrance queue, a classic Mickey with eyes and a smile is impressed into the side of a wooden crossbar. Look above you to the part of the crossbar that holds a lantern above your walkway. (Thanks to Matthew Schimkus.)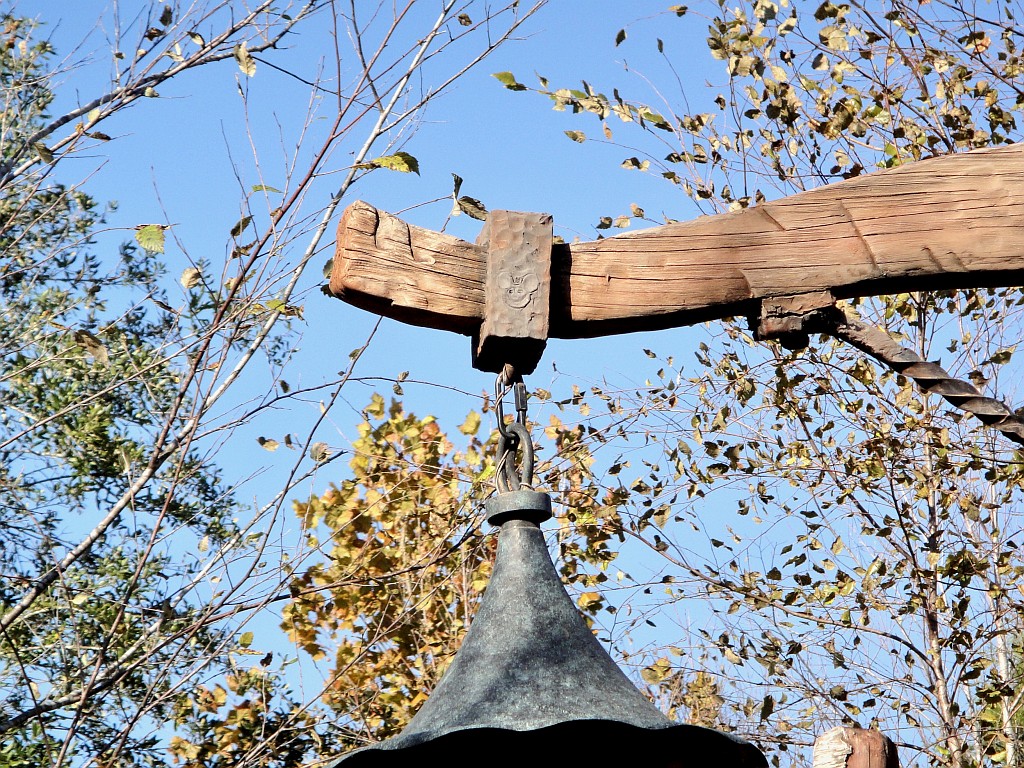 2. Splash Mountain, Magic Kingdom. On the right side of your boat and to the left of the rabbit sweeping a porch, small animal silhouettes run right to left along the top of a hill on the rear wall. Just before the last animal disappears, its head becomes a classic Mickey silhouette. These moving animal silhouettes repeat at regular intervals. (It's difficult to photograph this fast-moving image, but I think you can see the vague outline of Mickey's head in the photo, on the middle of the top of the hill). (Thanks to Tyler Glynn.)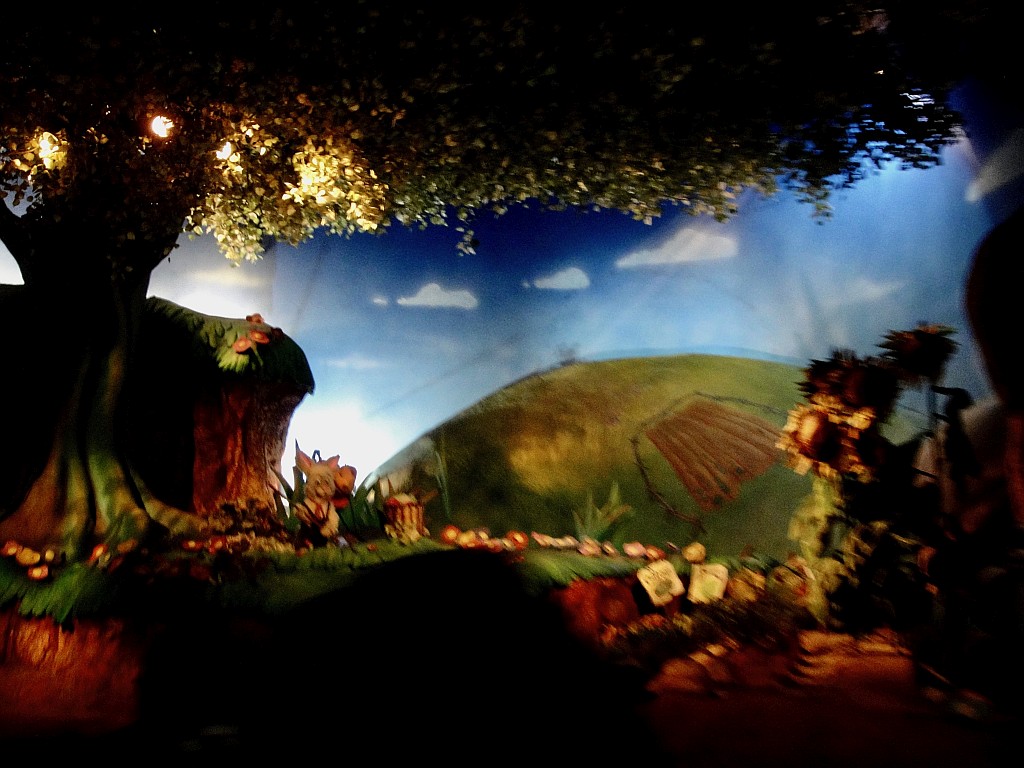 3. Ariel's Grotto, Magic Kingdom. As you make the first left turn in the FastPass+ queue, three round impressions at the top of the short rock wall to your left come together as a classic Mickey. The Hidden Mickey is near a group of tall, vertical green leaves.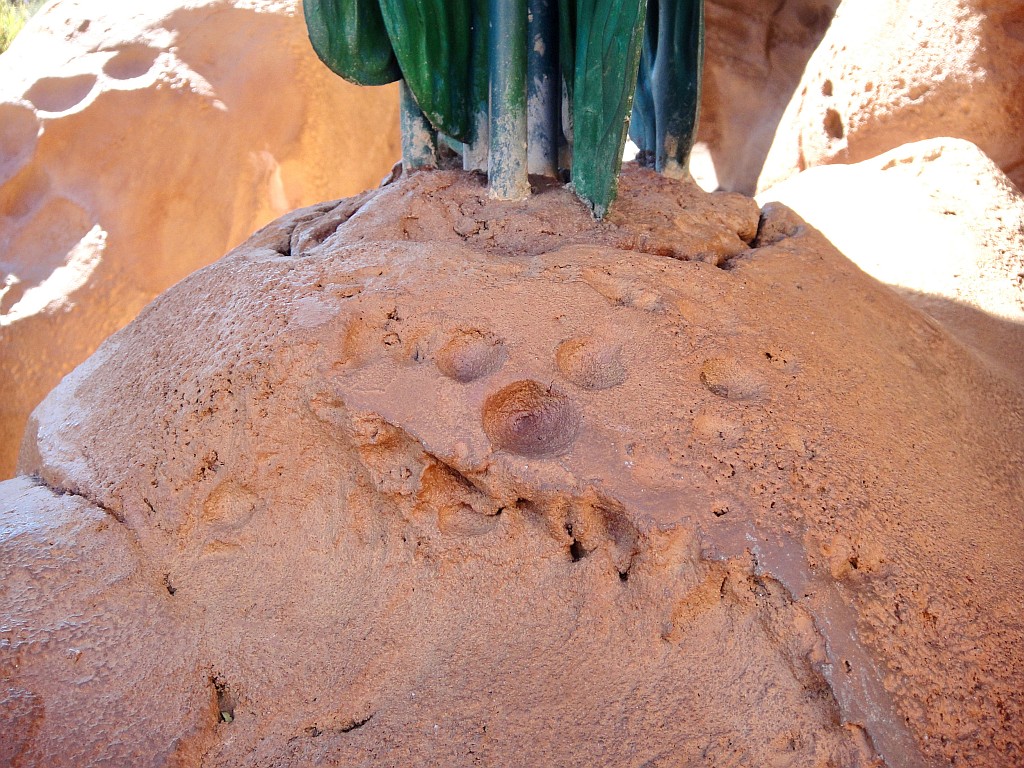 =-=-=-=-=-=-=-=-=-=-=-=-=-=-=-=
You can find an archive of past Hidden Mickey Alerts HERE.

And check out our latest Searching Disney with Steve blog.
= = = = = = = = = = = = = = = = =



SOUVEN-EARS
= = = = = = = = = = = = = = = = =
by Kristin B. Ford
AllEars® Staff Writer
Who likes to get their Christmas shopping done early? With the exclusive merchandise (and other holiday goodies) available at Mickey's Very Merry Christmas Party, it's entirely possible. Or, maybe it's just time to buy yourself some great Disney souvenEARS!
Because a lot of the party merchandise is considered collectible, it used to be that party-goers lined up just to crowd around merchandise displays once the parties started at 7 p.m. Disney planners have since improved this shopping experience by allowing guests with their party wristbands access to the exclusive merchandise as early as 4 p.m., which eliminates a bottleneck of shoppers.
The Magic Kingdom offers party T-shirts, in adult short-sleeve ($29.99 plus tax) and long-sleeve ($32.86 plus tax) and kids' versions ($23.47 plus tax). These party shirts typically depict Mickey Mouse and Minnie Mouse and other popular characters, but this year party-goers also can find images of the dancing reindeer from Mickey's Once Upon A Christmastime Parade in an adult long-sleeve red shirt ($36.99 plus tax) and Goofy and Clarabelle Cow from "Mickey's Most Merriest Celebration" stage show on short-sleeve shirts with sweater patterns ($29.99 plus tax). There also are two passholder versions of the T-shirts ($29.99 plus tax) and ($27.99 plus tax).

All party-goers can purchase the Limited Release pin that features the event logo with Mickey Mouse and Limited Edition pins with Donald Duck, Daisy Duck, Minnie Mouse and Chip and Dale ($15.99 plus tax). There is also a Passholder exclusive pin set that has a Toy Soldier and his drum from the parade ($16.99 plus tax). I love this one, and I know the toy soldiers are favorites of so many guests! There also are two boxed sets and a framed pin set.
If you'd rather collect Christmas tree ornaments than pins, there is a sweet, heart-shaped and dated Mickey Mouse and Minnie Mouse ornament ($16.99 plus tax). Walt Disney World also recently has begun selling Alex and Ani bracelets ($44.95 plus tax) that are exclusive to the parties. Plus, there are party exclusive MagicBands ($32.99 plus tax). This year's shows a Toy Soldier and Gingerbread Man from the parade on one side and Mickey Mouse and Chip and Dale on the other. The Limited Edition (3,000 total) MagicBands are presented in holiday scented boxes.
As with any special Disney merchandise, if you see something you like, don't hesitate to purchase it because items can and do sell out later in the night. You can find party merchandise at the Emporium, Mickey's Star Traders, Frontier Trading Post, Big Top Souvenirs, Fantasy Faire and Ye Olde Christmas Shoppe in the Magic Kingdom.
= = = = = = = = = = = = = = = = =



MONTHLY REMIND-EARS
= = = = = = = = = = = = = = = = =
Through Dec. 31: Disney's Hollywood Studios' Flurry of Fun runs throughout the holiday season, including the new Sunset Seasons Greetings and the returning Jingle Bell, Jingle BAM! projection show.
Through Dec. 30: Candlelight Processional — retelling of the Christmas story as told by a celebrity narrator accompanied by 50-piece orchestra and a mass choir.
Through Dec. 30: Epcot International Festival of the Holidays.
Dec. 1, 3, 5, 7, 8, 10, 12, 14, 15, 17, 19, 21, 22: Mickey's Very Merry Christmas Party!
Dec. 16: Star Wars: Galactic Nights at Disney's Hollywood Studios. Tickets are $129 adults, $124 ages 3-9 (discounts available for Annual Passholders and DVC Members). Purchase tickets at DisneyWorld.com or call 407-W-DISNEY (407 934-7639). Learn more about this special event in an interview with Michael Roddy, Show Director for Disney Parks Live Entertainment.
Dec. 16: Star Wars: Secrets of the Empire hyper-reality experience debuts at Disney Springs.
Check our Events page for a full schedule of upcoming events.
-=-=-=-=-=-=-=-=-=-=-=-=-=-=-=-=-=-=-
Resort-Wide
Disney Skyliner construction: Walt Disney World is in the process of creating a new transportation system, Disney Skyliner, which will give you a bird's-eye view of the resort while traveling via gondolas. During this time, construction noise will be seen or heard throughout the resort, but noise should not be heard from Disney hotel rooms between dusk and 9 a.m.
Star Wars: Galaxy's Edge — Work is under way on the 14-acre Star Wars-themed land at Disney's Hollywood Studios that was announced during the 2015 D23 EXPO. It's set to open sometime in 2019.

Toy Story Land — Construction is under way for the new Toy Story Land that will open in Disney's Hollywood Studios in Summer 2018.
Hall of Presidents in Liberty Square is closed for refurbishment. A reopening date is yet to be announced.
Art of Animation Resort is currently undergoing some general refurbishment projects. During this time, the resort will be in full operation with all amenities available, including dining, merchandise and recreation locations. It is possible that construction may be seen or heard, but noise should not be heard from guest rooms between dusk and 9 a.m. No end date for these projects has been announced as yet.
Through Fall 2018, Old Port Royale Food Court, Shutters at Old Port Royale, Cabana Pool Bar and Calypso Trading Post will be undergoing refurbishment. A variety of dining options will be available for all meals. Centertown will serve breakfast and dinner. Grab 'n' Go options will be available in three island markets: Aruba, Jamaica, and Martinique. In addition, buildings in Barbados and Martinique islands are being demolished to make way for new construction.
Chef Mickey's is closed for refurbishment. During this time, the Chef Mickey's dining and character experience will relocate to the Convention Center at the Contemporary.
The resort rooms are undergoing a "hard goods refurbishment" that will continue for some time into 2018.
Grand Floridian Resort and Spa
Beach Pool and Beaches Pool Bar is closed for refurbishment through Spring 2018. The water play area and the mug refill station is available during this period.
Disney's Old Key West Resort is undergoing a wholesale refurbishment, which is expected to be completed in 2019.
Pop Century resort rooms are currently undergoing refurbishment, with work expected to be completed by Summer 2018. In addition, there are a number of other refurbishment projects going on around the resort, but all amenities are available.
Resort room refurbishment is taking place through late 2017.

The Yacht and Beach Club Convention Center is undergoing expansion and renovation now and throughout 2018. No end date has been specified.
Portobello Country Italian Trattoria at the Disney Springs Landing will be closed for refurbishment until sometime in late 2017. When it reopens, it will be known as Terralina Crafted Italian.

Sosa Family Cigars is closed for refurbishment.

Cirque du Soleil at Disney Springs West Side will give its final performance on Dec. 31, 2017.
ESPN Wide World of Sports Complex
ESPN Wide World of Sports has teamed up with the nation's top cheerleading organization, Varsity Spirit, to create a new state-of-the-art cheerleading and dance team competition venue, the first in the world specifically designed for cheerleading and dance team competitions. The venue will include a flexible design for one large competition space that can be set up for as many as four competition areas. Additional areas are being tailored for warm-up and practice, along with areas for judges and officials. With the ability to seat more than 8,000 guests, plus performance and warm-up space, the new multi-use sports and entertainment venue will also have the ability to host six regulation basketball courts, six regulation volleyball courts or concert configurations. There will be concessions throughout the building, and an additional box office and entry to the complex. Construction is ongoing until further notice, with intermittent overnight lane closures, lane shifts, traffic congestion and noise along Osceola Parkway/Victory Way.
Blizzard Beach is closed for its annual refurbishment through Jan. 7, 2018.
-=-=-=-=-=-=-=-=-=-
A complete list of known rehabs can be found HERE.
= = = = = = = = = = = = = = = = =



MAGICAL MOMENTS
= = = = = = = = = = = = = = = = =
Each month, we like to share a few heart-warming Magical Moments brought to us by the amazing Disney cast members!
Rae Vautrin: We took my 8-year-old grandson and niece to Walt Disney World in June. Armand was looking forward to seeing his favorite princess, Jasmine. After a delicious lunch at Marrakesh, we walked out and heard Jasmine was appearing around the corner. My daughter and niece took off to get in line, but Armand had to use the restroom. As soon as he was done we hurried to join them. The line was long and despite asking politely no one was letting him by to join the others. He was crestfallen. I told him we could watch through a nearby glass door. As we were waiting I felt a tap on my shoulder and a voice said, "Excuse me, Queen." It was Jasmine! She noticed Armand's sad face and asked, "What is wrong, handsome prince?" When I explained, she proclaimed, "Then he will be my royal escort!" and grabbed his hand and took him inside, to his aunt and cousin. It was so sweet. Jasmine is now everyone's favorite!
Kathy Glaze: My husband and I just returned from an overnight stay at Walt Disney World. We are passholders and live 45 minutes away, but we needed a mini-trip after losing four of our "furbabies" and Hurricane Irma taking aim at us. We have been going to the World at least once a week for the last five years, and prior to that at least four times a year and have never had pixie dust sprinkled on us until this trip! My husband recently has had to start walking with a cane and has difficulty standing. When we got to Big Thunder Mountain, the cast member told us to go ahead in, so we entered via the disabled entrance. The sweet cast member there stood and talked with us while we waited for five or 10 minutes. After the ride was over she was waiting, holding my husband's cane, and asked if we had FastPasses. I explained I had them for Animal Kingdom that night and we were just winging it at Magic Kingdom. She pulled out three FastPasses for us to use. We were elated because wait times were up to an hour or longer on most rides. We decided to use our first one at Buzz Lightyear. After riding we walked out and another cast member stopped us because my husband had his Air Force Retired hat on to thank him. They started talking and found out his son was stationed at the base my husband retired from. The cast member then pulled out three more FastPasses for us. BEST DAY EVER! Thanks, Disney cast members, for that sprinkle of pixie dust.
Lori Durand: My son and I were at Animal Kingdom recently, in line to ride Flight of Passage in Pandora. We have both ridden it before, but I have never had a chance to go through the laboratory with the Na'vi floating in the tank because we always ride it first thing in the morning. Apparently, they only open that queue when the line gets really long. I have been very eager to see it and hoped that this would be the time. Unfortunately, it was not and, when we got to the front of the line, I mentioned to a cast member how disappointed I was that, once again, I would miss the lab. She then offered to take my son and me to see it and took us on a private tour, during which she explained everything that we were seeing. She even took a picture of us in front of the tank with the floating Na'vi. I assumed that, after this, we would get back into the regular queue, but she took us to the front of the line and made sure that she got us on the next ride. It was such a special experience and, after thanking her profusely, I told her that she was going to become a Magical Moment, on allears.net. I also made sure to go to Guest Relations to tell them about our experience so that she would receive credit for what she had done. She truly made my day!
-=-=-=-=-=–=-=-=-=-=-=-=-=-=-=
We just bet you have a story to tell about an unforgettable moment during your Disney vacation! Please send your favorite memory for inclusion in a future AllEars® via our Contact Us page. Thank you all for sharing!
-o-o-o-o-o-o-o-o-o-o-o-
Editor's Note: This story/information was accurate when it was published. Please be sure to confirm all current rates, information and other details before planning your trip.