August 2011 Walt Disney World Bits and Bites
Feature Article
This article appeared in the July 26, 2011 Issue #618 of ALL EARS® (ISSN: 1533-0753)
= = = = = = = = = = = = = = = = =


STEP BACK IN TIME
= = = = = = = = = = = = = = = = =
by Debra Martin Koma
AllEars® Senior Editor
We rummage around in our archives for this monthly feature, which indulges in a bit of nostalgia, taking you back in history for a glimpse of Walt Disney World and the Disney Company through the ages. This month, we take a look at one of my personal all-time favorite shows, The Hunchback of Notre Dame: A Musical Adventure.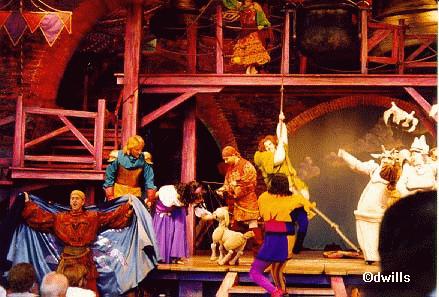 This show, based on Disney's 34th full-length animated feature, The Hunchback of Notre Dame, debuted 15 years ago at the Backlot Theater in what was then called Disney-MGM Studios on June 21, 1996.
The 30-minute production followed the storyline of the movie fairly closely: The scene is 15th century Paris, and Clopin, the brightly clad gypsy puppeteer, tells the story of Quasimodo, whose mother dies when he is an infant, leaving the deformed child an orphan. Judge Claude Frollo, the Minister of Justice, nearly kills the baby Quasimodo, but he is stopped by the Archdeacon of Notre Dame, who then forces Frollo to care for the orphan. Frollo agrees to do this reluctantly, and hides the child in the bell tower of the cathedral, where his only friends are three gargoyles Victor, Hugo, and Laverne. During the Festival of Fools, young Quasimodo is urged by his stony companions to join the festivities and walk among the people he has only been able to observe from afar. It's there that Quasimodo meets the beautiful gypsy girl Esmeralda and the handsome captain of the guard, Phoebus. Although Quasi falls for Esmeralda, she and Phoebus fall in love, and the trio then must thwart Frollo's attempt to destroy the gypsies. Quasimodo, who rescues Esmeralda, and ultimately saves Phoebus and the cathedral of Notre Dame, emerges the hero.
The beautifully arranged musical numbers pulled directly from the film — and I don't think I ever experienced a bad performance. Every actor I saw who sang the poignant "Out There" matched the tenderness of film actor Tom Hulce's screen rendition, and the same could be said for the other singers, as well. Those performances, coupled with the vibrant costumes and impressive special effects made this show both exciting and unique. Another unusual aspect of the show at the time was the use of a number of very expressive puppets. Djali, Esmeralda's goat, for example, always conveyed the emotion of the scene, which was also portrayed on the puppeteer's face as he/she manipulated the puppet. The character of Clopin, who acted as the show's omniscient narrator, also frequently duplicated the action occurring onstage or re-enacted scenes that occurred off-stage with puppets.
In addition to the stage presentation itself, the Hunchback show always featured an entertaining "pre-show." There were several different vaudeville-type performers who "warmed up" the audience beginning about 20 minutes prior to show-time. Matt the Juggler (shown at right) was my personal favorite — there was a time when I'd seen the show so often, I knew all of his jokes (which was, of course, part of the fun!).
After a run of more than six years, the show closed on September 28, 2002. I still miss it.
The Backlot Theater, which had housed several other productions prior to the Hunchback of Notre Dame, including Beauty and the Beast and Pocahontas, sat unused for some time before it was torn down to make way for construction of the Lights! Motors! Action! Extreme Stunt Show. A new structure, the Premiere Theater, now sits in the general area of the former Backlot Theater location. It's used for special events, such as Star Wars Weekends.
More photos from The Hunchback of Notre Dame: A Musical Adventure:
http://allears.net/tp/mgm/hbond.htm
= = = = = = = = = = = = = = = = =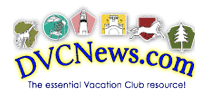 DVC UPDATE
= = = = = = = = = = = = = = = = =
In an effort to provide Disney Vacation Club members with up-to-date news, AllEars.Net has asked Tim Krasniewski, webmaster of dvcnews.com, to share current goings-on in the world of DVC. Here, he has a short update on Aulani, the DVC's soon-to-open Hawaiian resort:
In creating Aunty's Beach House at Aulani, a Disney Resort & Spa, designers have taken a page out of the Disney Cruise Line playbook. One feature shared by many Disney Vacation Club resorts is the Community Hall — a play-space where families can break from the Disney parks to engage in light activities ranging from foosball to ping pong to light arts and crafts projects. Community Halls tend to be rather bland in their design, indistinguishable from child care facilities found at a local supermarket. Aunty's Beach House is no Community Hall.
Read more of Tim's Aulani update here:
http://land.allears.net/blogs/guestblog/2011/07/aulani_a_disney_resort_spa_1.html
And watch for more DVCnews.com updates on AllEars.Net soon!
= = = = = = = = = = = = = = = = =


HIDDEN MICKEYS ALERT
= = = = = = = = = = = = = = = = =
Steven Barrett, author of the Hidden Mickeys books and webmaster of www.HiddenMickeysGuide.com, wants to highlight some cool Hidden Mickeys at Walt Disney World:
1. On the Disney's Hollywood Studios guide map, a filmstrip flower bed adorns the right side of the entrance plaza in front of the trees. A green side profile of Mickey is in the fourth square from the bottom of the filmstrip. He's looking at Minnie, who is in the third square from the bottom. (Thanks to Hannah, David and Celia Berset, and The Bodmann Family.)
2. On the stage of The American Idol Experience, a small, faint classic Mickey image is near the top of the large arch in the stage backdrop. It's between the fifth and sixth round archway lights (counting from the lower left of the arch). (Thanks to Jamie Lee Hindes, Katie Ortynsky, Haley Heintz, Tacey Atkinson, Michael Nemeroff, and The Scheuher Family.)
http://allears.net/btp/images/hm334.jpg
3. In the Coronado Springs Resort main building, a tiny red classic Mickey is embedded in the middle of the floor at the entrance to the registration area.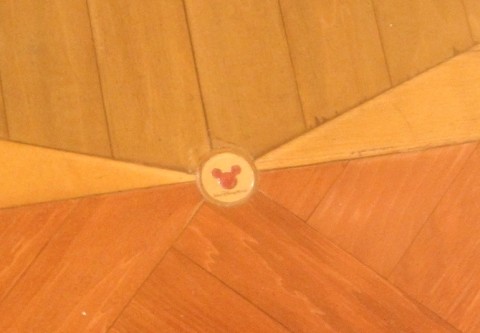 You can find a selection of past Hidden Mickeys Alerts here:
http://allears.net/btp/hiddenm2.htm
= = = = = = = = = = = = = = = = =


VEGAN TIPS
= = = = = = = = = = = = = = = = =
by Emily Woesthoff
General Manager for BabyCakes NYC at Downtown Disney
After a quick Doom Buggy ride over at the Haunted Mansion, you might find yourself ready for lunch. That ghost who's following you home might be hungry, right? If you and your happy haunt are looking for lunch, head over to the Columbia Harbour House! Not only is this quick service gem an awesome place to go upstairs and relax in the cool air conditioning during the crowded summer; they also have a decent vegan option! Ladies and gentlemen, the Lighthouse Sandwich (it even has a cute name)! To make it vegan, you will have to omit the "broccoli slaw," but with a name like broccoli slaw, who really wants it anyway? OK, it's a "decent" option because in essence, it's basically a hummus sandwich with sliced tomatoes. However, it's a filling hummus sandwich with sliced tomatoes and a welcomed departure from eating veggie burgers for two out of your three meals for the day. The Columbia Harbour House also boasts a really cool atmosphere, and a tidbit of restroom trivia (the best kind of trivia). As Disney legend has it, indoor plumbing would not have been an option during the time period of the restaurant, so the restrooms are technically built on Fantasyland's property as to not tell an inaccurate story. Pretty nifty, huh? Trivia and a vegan meal all in one visit!
Missed previous Vegan Tips from Emily? We're compiling them here:
http://allears.net/din/vegantips.htm
= = = = = = = = = = = = = = = = = =

RATE & REVIEW SPOTLIGHT
= = = = = = = = = = = = = = = = = =
Compiled by AllEars® Team Member Cathy Bock
In this monthly featurette, we take a look at recent comments made in the AllEars.Net Rate & Review section about a particular restaurant, resort, event, etc. This month, we examine what AllEars® readers are saying about San Angel Inn, located in the Mexico Pavilion at Epcot.
A table service meal, San Angel Inn is recommended by 82% of reviewers and has an average rating of 7.3.
From recent reviews:
Food: "was good"; "was sub-par at best"; "portion sizes were very small"; "nicely prepared and presented"; "soup was served cold"; "wasn't the type of Mexican food we are used to at home, but it was still tasty"; "find it to be a little over-priced for the portion you receive".

Entrees: "snapper veracruzana… that was amazing"; "husband enjoyed his steak"; "did not really enjoy my chicken"; "steak dish was average at best"; "spicy shrimp dish… was OK – not great"; "steak was deemed the best entree"; "Mom had the tacos de ribeye and she really liked how the meat was grilled"; "had the Pollo a las Rajas, and it was very good"; "husband had Tacos de Ribeye, which were possibly the best thing on our table"; "DH had the pork tamales that were smothered in a hotter than fire sauce… he could not eat it"; "really like the Mole Poblano"; "chili rellenos and Pollo A Las Rajas were delicious"; "ordered the 'ribeye' tacos, which is 4 mini tortillas with cold, fatty, flavorless meat topped with a few chunks of avocado. Meal comes with nothing else. 4 mini tacos: $24"; "liked how they prepared the Mahi Mahi — just different, and tasty".
Desserts: "some of the best anywhere in Epcot"; "Churros were well liked by kids for dessert"; "was good but not the best we've had in Epcot"; "were OK "; "flan was nicely prepared and presented, but nothing special"; "moras de cajeta… was spectacular".
Kids Menu: "kids chicken fingers… were very soggy and kinda gross"; "ate the tacos but left the rice untouched"; "cheese quesadillas… 2 sad, soggy, barely melted cheese filled tortillas served with a huge portions on bland rice and green beans".
Service: "waitstaff are friendly, patient and very helpful"; "service was good and our waitress was attentive"; "found that the host and waitstaff fluency in English was not strong"; "waiter was nice but not efficient"; "was efficient and friendly"; "waitress was so lovely… took time to talk about the volcano and the temple"; "server was attentive and friendly"; "was professional but cool"; "waiter did nothing except take our order and take our money at the end"; "the PERFECT waiter".
Atmosphere: "seated in area away from the nice view"; "view is pretty"; "tables were a bit too close together, and the lighting is so low you can't read the menu"; "enjoyed the ambiance"; "lighting is terrible"; "decor is fun and interesting".
Overall: "wouldn't go back again but it was worth the nice view and experience once"; "least favorite dinner of the trip"; "It was great"; "will try eating here again"; "definitely would try San Angel for dinner"; "skip this place".
If you have recently dined at San Angel Inn, we'd love to have your review!
http://land.allears.net/reviewpost/showproduct.php?product=97&cat=34
Menus:
San Angel Lunch: http://allears.net/dining/menu/san-angel-restaurante/lunch
San Angel Dinner: http://allears.net/dining/menu/san-angel-restaurante/dinner
San Angel Children's: http://allears.net/dining/menu/san-angel-restaurante/child-lunch-dinner
= = = = = = = = = = = = = = = = =


MONTHY REMIND-EARS
= = = = = = = = = = = = = = = = =
EVENTS
Animal Kingdom
August – Cotton-top Tamarin Month Celebration.
D23 — The Official Disney Fan Club
This year's D23 Expo will begin on August 18 with D23's Ultimate Disney Trivia Tournament Presented by Hasbro® TRIVIAL PURSUIT: Disney For All Edition. Participants will demonstrate their Disney knowledge hoping to win the ultimate prize, a cruise vacation on the new Disney Fantasy. The semifinal and final rounds, held on Stage 23 during the D23 Expo on Friday, August 19, will feature questions directly from the new Hasbro® TRIVIAL PURSUIT: Disney For All Edition, which releases this fall. The prize includes accommodations for four, plus air travel.
http://land.allears.net/blogs/dnews/2011/05/d23_ultimate_disney_trivia_tou.html
Read more about the D23 Expo on the official site: www.D23Expo.com
EDITOR'S NOTE: The AllEars.Net Team is already gearing up for the D23 Expo, too — Team members Deb Wills, Deb Koma, Laura Gilbreath and Lee Zimmerman will once again be providing on-the-spot coverage of the Expo's many exhibits and presentations.
The Encore! Cast Choir and Orchestra, a volunteer ensemble of nearly 300 talented Walt Disney World Resort cast members, is currently in rehearsals for concerts to benefit the Dr. Phillips Center for the Performing Arts. Tickets are now available for "An American Revival – A Concert Celebrating the Voice of America!," which will be performed July 29, 30, 31 and August 4, 5 and 6 at 7:30 p.m. in the Premier Theater at Disney's Hollywood Studios. The concerts will feature classic pop, gospel and patriotic songs that celebrate the grand musical history of America. Founded in 2002, Encore! gives Walt Disney World cast members and their families the opportunity to showcase their talents and perform great music for worthy causes. The group is comprised of a 175-person choir, 65-piece symphony orchestra and 20-person dance troupe. Since its inception, Encore! has donated the funds from its ticket sales to local charities, raising more than $150,000 to date. Beneficiaries are determined by group vote; Encore! has chosen the Dr. Phillips Center for the Performing Arts as its 2011 beneficiary. For more information and to purchase tickets to the upcoming performances, visit www.encorecentral.org.
http://land.allears.net/blogs/dnews/2011/07/cast_members_to_perform_benefi_1.htm
=-=-=-=-=-=-=-=-=-=-
Don't forget to check our Events page for current updates: http://allears.net/pl/events.htm
-=-=-=-=-=-=-=-=-=-=-=-=-=-=-=-=-=-=-
REHABS AND CLOSINGS
Animal Kingdom
Primeval Whirl is closed for refurbishment through September 14.
It's Tough to be a Bug will be closed August 15 through October 1, 2011.
Disney's Hollywood Studios
Voyage of the Little Mermaid will be closed for refurbishment from August 15 through September 3, 2011.
Magic Kingdom
The Fantasyland Forest development in the Magic Kingdom has meant the closure of several Magic Kingdom park areas in 2011. Mickey's Toontown Fair's last day was February 11, 2011. Work is now well under way on transforming the area into the new Storybook Circus section of Fantasyland. http://allears.net/tp/mk/fant_expansion.htm
Mickey Mouse and Minnie Mouse and the Disney Princesses can now be found for meet-and-greets in new Town Square Theater, featuring FASTPASS. For more details on the new Town Square Theater featuring Magician Mickey:
http://land.allears.net/blogs/guestblog/2011/04/magician_mickey_mouse_and_prin_1.html

For more details and an artist's renderings of the new Fantasyland, read the official press release here:
http://land.allears.net/blogs/dnews/2011/01/largest_expansion_in_magic_kin_1.html
The Enchanted Tiki Room (Under New Management) at Magic Kingdom, which has been closed since a fire early this year, is now being renovated to more closely resemble the original version of this attraction, originally called Tropical Serenade. The shows former winged hosts, Jose, Fritz, Pierre and Michael, will once again take center stage. This Walt Disney World attraction has been entertaining guests since the theme park's opening day on October 1, 1971. Tropical Serenade became The Enchanted Tiki Room (Under New Management) in 1998, with the addition of Iago (from Aladdin) and Zazu (from The Lion King). The renovated show will debut at Walt Disney World around August 15.
http://land.allears.net/blogs/dnews/2011/05/enchanted_tiki_room_to_transfo_1.html
The Frontierland Shootin' Arcade will be closed for refurbishment June 13 through September 30, 2011.
Disney's Art of Animation Resort
Disney's Art of Animation Resort, the 26th resort at Walt Disney World, will feature family suites designed around four themes: The Lion King, Cars, Finding Nemo and The Little Mermaid. The resort will be located next to Disney's Pop Century Resort.
Disney has released a new artist rendering showing Disney's Art of Animation Resort at Walt Disney World as part of a new web page just launched on the WaltDisneyWorld.com site. On the page there are some details you may not have seen yet about this new resort, with more soon coming. Dates for booking haven't been announced, but the resort is scheduled to open Summer 2012.
http://land.allears.net/blogs/dnews/2010/09/disneys_art_of_animation_resor_1.html
Disney's Contemporary Resort
Disney's Port Orleans-Riverside Resort
Royal Guest Rooms are now under construction in the Magnolia Bend section of the Port Orleans-Riverside resort. Opening in early spring 2012, the Royal Guest Rooms allow princes and princesses of all ages to stay where Disney royalty have stayed. Guests find regal touches left behind by some of their favorite Disney characters — fiber optics special effects above ornately decorated beds, gold and crystal accents, custom linens and drapes, and in-room art and details including Princely banners and Princess friends. The 512 Royal Guest Rooms start at $189 per night, and are booking now, for stays early in 2012.
A complete list of rehabs can be found here: http://allears.net/tp/rehabs.htm
= = = = = = = = = = = = = = = = =


MAGICAL MOMENTS
= = = = = = = = = = = = = = = = =
Teresa Pitman: We decided to do the "Family Magic Tour" in Magic Kingdom with my daughter-in-law, my 6-year-old granddaughter, and my 3-year-old grandson, Xavier, who is a huge fan of Peter Pan. We didn't tell him what to expect on the tour and just let the guide tell the story. At one part, the kids are given money to throw in the wishing well and make a wish. Xavier threw his in, then said to me, "Grandma, you know what I wished? I wished that Peter Pan was real and I could meet him." I didn't say a word, but I was smiling inside! And of course, at the end of the tour, we walked into the little secret garden, and there was Peter Pan! Xavier was just awestruck, and he ran to me and said, "Grandma, my wish came true!" I think he's going to believe in the magic of Disney World for a long time!
Judy Richardson: My daughter was 3 on her first visit to Disney World. We spent a majority of our visit in the Magic Kingdom. On our final day, we arrived early and took the train to Mickey's Toontown. No one else was there yet as this portion of the park opened after the rest of the park. We were waiting by the rope for Toontown to open when Mickey came over and greeted us. When it was finally time to open Toontown, a cast member asked us if we wanted to open Toontown with Mickey. Of course we did! Mickey took my daughter by the hand and escorted her through his house pointing out different sights. We were then given private time alone with Mickey, Minnie and the photographer. What a fabulous experience! I still cry when I think about that magical time. Although my daughter may not remember it, I will always treasure that moment and we have plenty of pictures to relive it over and over again! Toontown may be in the past, but we will never forget it!
Dwight & Rose Mayeda: Our son has been obsessed with watching The Dapper Dans of Main Street perform "Grim Grinning Ghosts" on youtube.com for several months, so he was beyond elated when he found out that we were going to Disney World for spring break! We made sure to see The Dapper Dans perform when we visited the Magic Kingdom. As they finished their show and were getting ready to leave, our son wanted to meet them and take a picture. While The Dapper Dans were saying hello to our son, my husband was explaining to them how much our son loved "Grim Grinning Ghosts" and had memorized all the words and different parts of the song. Then, spontaneously, the men stood around our son and began singing it. The "Green" Dan gave our son his hat, and our son got to sing tenor and perform with The Dapper Dans, right there on the sidewalk of Main Street. Afterwards, he was given a card that made him an honorary member of The Dapper Dans. But what made this moment even more magical for our family is the fact that our son is autistic, and typically he struggles to be cooperative and willing to perform publicly (even though he is incredibly gifted musically). The Dapper Dans treated our son with such respect and embraced him as one of their own… and we will always treasure this magical moment in our family's journey.
-=-=-=-=-=-=-=-=-=-=-=-=-=-=-=-=-=-=-=-=-
We just bet you have a story to tell about an unforgettable moment during your Disney vacation! Please send your favorite memory for inclusion in a future AllEars® to: allearsnet@yahoo.com Thank you all for sharing!
-o-o-o-o-o-o-o-o-o-o-o-
Editor's Note: This story/information was accurate when it was published. Please be sure to confirm all current rates, information and other details before planning your trip.