June 2009
Walt Disney World Bits and Bites
Feature Article
This article appeared in the May 26, 2009 Issue #505 of ALL EARS® (ISSN: 1533-0753)
= = = = = = = = = = = = = = = = =

STEP BACK IN TIME
= = = = = = = = = = = = = = = = =
Ever wonder what Walt Disney World was like way back when? We rummage around in our archives for this monthly feature, which takes you back in history for a glimpse of Walt Disney World through the ages.
On May 28 the Wilderness Lodge turns 15 years young! As we looked back through our materials, we could not find the date that the Wilderness Lodge had been announced. But what we did find was a Walt Disney World News Press Release from 1992 that announced groundbreaking for two new themed resorts, The All Star Sports and the Fort Wilderness Lodge. Yes, the early press materials did have one reference to the resort as the Fort Wilderness Lodge, a woodland retreat in a national park-lodge setting. Later in the same article it says, "The famous lodges of American National Parks at the turn of the century are recalled at Disney's Wilderness Lodge."
The 728-room lodge was designed by Peter Dominick, Jr. who later designed the Villas at Disney's Wilderness Lodge, and Jambo House and also Kidani Village at Animal Kingdom Lodge. Room rates began at $149 and the value rate in 2009 began at $240.
The 82-foot tall stone fireplace, one of several focal points as you enter the cavernous lobby, recreates two billion years of history in the rock. From black, to green, to magenta, to light buff, reds and browns, the rock has been recreated in the proportions they occur in the Grand Canyon. As you gaze upward, rock types include Vishnu Schist, Bass Limestone, Redwall, Temple Butte Limestone, Kaibab Limestone and Toroweap Formations.
Native American tribes including Cheyenne, Crow, Sioux and Blackfoot are represented in the lodge by various art and artifacts.
With the exception of the Disney Vacation Club's Villas at Wilderness Lodge addition, not much has changed since the resort first opened. The dining establishments that opened the resort remain: Artist Point, Whispering Canyon Cafe, Roaring Fork Snacks and even the Territory Lounge and Trout Pass poolbar.
Interesting facts about the Wilderness Lodge:
-- The Wilderness Lodge Flag Family of the day gets to climb up to the roof of the Wilderness Lodge and assist with raising the flags. It's a wonderful treat that can only be requested at check-in; prior reservations are not possible.
-- You can request a Hidden Mickey list from the Front Desk to search out some elusive Mickeys!
-- The Lodge's Activity Sheet lists special tours of the resort.
-- The "Indian Carpet" floor pattern in the lobby is made up of four different types of wood: Brazilian Cherry, White Oak, Bird's-Eye Maple, and Burl Walnut. The design depicts the symbol of unity among the four seasons, wildlife, man, and the cosmos.
-- A 10-foot "totem" of Disney characters stands adjacent to Wilderness Lodge Mercantile. It took Orlando-based artist William Robertson months to carve out the intricate features of Humphrey Bear, Donald Duck, Goofy, and Mickey Mouse.
-- The Electrical Water Pagent goes by the Lodge every night around 9:35 p.m. (check at the front desk for exact time) and can be watched from the beach or boat dock.
-- The 120-foot geyser spouts every hour on the hour from 7 a.m. to 10 p.m. Walk from the lodge to the back of the pool and there is a walkway to watch the geyser. Be sure to look for the rainbow that sometimes joins the show.
-- There is a wooded path that runs from the Wilderness Lodge to the Fort Wilderness Campground. It's a great activity when the weather is cooler.
= = = = = = = = = = = = = = = = =


HIDDEN MICKEYS ALERT
= = = = = = = = = = = = = = = = =
Steve Barrett, author of the Hidden Mickeys books and webmaster of www.HiddenMickeysGuide.com, points out the following Hidden Mickey images at Epcot and the Magic Kingdom:
1. Near the end of the Test Track FASTPASS or Single Rider queue (the Standby queue is too far away) in area 7b, look for the tool desk with the classic Mickey washers. Bend down to spot a photo with three kids wearing Santa hats with Mickey ears. The photo is on the right rear wall of the upper left shelf of the desk. (Thanks to Jennah and Noah, and Nancy Burke.) http://allears.net/btp/hm254.jpg
2. Along the exit from Test Track, just past the ride photo viewing area, walk over to some red lockers on the left. Inside the locker on the far right, an old Disney Cast Member tag with the name "John" is on the upper shelf. The tag is inside a yellow cage, on the lap of a white teddy bear wearing sunglasses. The tag is worn and only Mickey's red shorts and white shoes are visible. (Thanks to Annmarie Benavidez.)http://allears.net/btp/hm255.jpg
3. In Mickey's Toontown Fair (Magic Kingdom), don't miss this classic Mickey in Mickey's back yard. On the lower part of a pole next to his pumpkins, knots in the wood form a three-circle Mickey. A sign at the top of the pole points the way to the Judge's Tent. (Thanks to David and Aubree Serkoch, and the Kemper family.) http://allears.net/btp/hm256.jpg
See archived Hidden Mickey Alerts here: http://allears.net/btp/hiddenm2.htm
Read Steve's blog at AllEars® Blog Central: http://allearsnet.com/blogs/stevebarrett/

= = = = = = = = = = = = = = = = =
WE DID ONE THING RIGHT!
= = = = = = = = = = = = = = = = =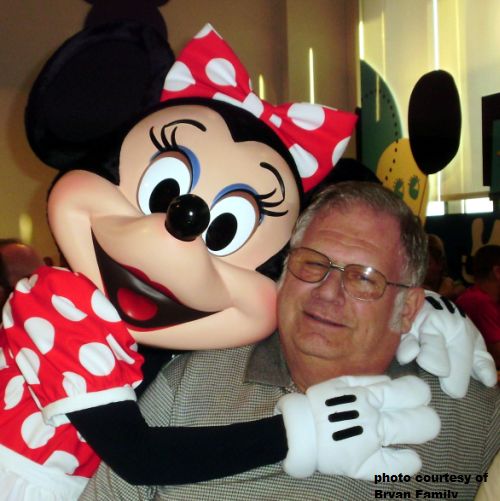 Originally written by Dave Bryan, and amended by daughter Sheryl Bryan, in honor of getting things started by a Mouse:

When I was growing up, my family always took off a week or two for an annual family vacation. After college, I began my teaching career, and at first it was hard to take time off for an extended vacation. Besides, beginning teachers usually struggle to make ends meet, so we spent most of our time off visiting family. And then in 1971, several things happened. First, the school system I worked for decided to take a full week off for spring break. And second, Walt Disney World opened in October! Our daughters, Sheryl and Stephanie, were 6 and 3 years old. It occurred to me that one of my favorite family vacation spots was Treasure Island, off the coast of St. Petersburg, Florida. It also occurred to me that St. Pete was only a couple of hours from Disney World.
Could I possibly make this dream a reality? One night I called Sheryl and Stephanie into our bedroom and asked them if they'd like to go to Disney World. You know what their answer was! My wife, Suzan, was apprehensive at first. You know, the economic situation. Well, it was my dream. And I wanted them in it, so I announced that Sheryl, Stephanie, and I were going and we hoped that she would come along. For our family, it really did start with a Mouse!
We had a Chevy station wagon and we loaded every nook and cranny, being careful to make a sleep area for the girls in the back since we had decided to leave after school and drive all night. Sometime between 11 a.m. and noon the next day, we pulled into the Magic Kingdom parking area. Who knew asphalt could be so magical? Or that the tram ride from the parking lot to the ticket area wasn't a thrill ride? It was that moment when I knew my dream had come true.
I can remember walking up to the gate for the first time. Suzan and I were bushed, but the girls were on fire! As we approached the gate, Sheryl and Stephanie dropped our hands (after strict orders not to do so) and took off! Goofy, Pluto, and other characters were welcoming everyone into the Magic Kingdom. We couldn't fuss at the girls-- we realized that, in their eyes, Goofy and Pluto were old friends. What a great way to begin some of the happiest days of our lives.
In the years that followed, we continued to make trips to Disney World every spring until the girls graduated from high school. On our first trip, the Magic Kingdom was all there was, and there weren't near the attractions that are there now. When WDW first opened, they used A, B, C, D, and E tickets, and, of course, different attractions called for different tickets. The challenge was: on our budget, how do we use all of the tickets and still do everything we want to do? Suzan and the girls became masters at ticket utilization, a skill they later transformed into planning the ultimate family vacations.
You might even say we raised our family at Disney World. On our first trip, the Magic Kingdom wasn't finished. Now we struggle to drink in enough magic in 7- and 10-day blocks. We still cry every time we get there, when we first hear the music on Main Street, and every time we leave, looking back at the train station as we walk to the bus stop (that's the moment we start dreaming our next visit).
And unknown to Suzan and me at the time, we were creating Disney fanatics! Our daughters have continued the tradition and travel to Walt Disney World at least once a year. It has become our favorite family gathering place. What a treat for us to see our daughters and their husbands experiencing the same magic with their kids that we did in 1972 -- the magic has come full circle. Our grandchildren are already planning visits with their kids. And yes, they promise to bring their parents and grandparents along.
I don't think there is any doubt in the Bryan family that our time at the World has been, and still is, nothing short of magical. The good times, the magic memories, and the family time have become a staple in our lives. Back in 1972, on that evening when we were all sitting on the bed together, not really having enough money, we must have been nuts to take our family on such an adventure. We had no idea of the impact WDW would make on our lives. But now we know. What a great legacy. We did one thing right!
= = = = = = = = = = = = = = = = =


MONTHLY REMIND-EARS
= = = = = = = = = = = = = = = = =
EVENTS
Disney's Hollywood Studios
2009 Star Wars Weekends continue through June 14. The celebrity host for each weekend will be Jay Laga'aia (Captain Typho). Ashley Eckstein (Ahsoka) will host Clone Wars: Behind the Force.

May 29-31 -- Peter Mayhew & Matthew Wood. Peter Mayhew has appeared in four of the six Star Wars movies as Chewbacca. Also appearing will be Matthew Wood, Supervising Sound Editor for the Star Wars prequels and The Clone Wars, as well as the voice of General Grievous and the battle droids.

June 5-7 -- Jeremy Bulloch, David Prowse, and Matt Lanter. Jeremy Bulloch is best known for his role as Boba Fett in The Empire Strikes Back and Return of the Jedi, and also made a brief cameo in Revenge of the Sith as Captain Colton. David Prowse played ultimate villain Darth Vader throughout the original trilogy as the man behind the mask. Matt Lanter, the voice of Anakin Skywalker in The Clone Wars, appears as a guest in Behind the Force.

June 12-14 -- Dave Filoni & Temuera Morrison. The creative force behind The Clone Wars, Supervising Director Dave Filoni is also a die-hard Star Wars fan! Filoni will be joined by Temuera Morrison, who plays Jango Fett as well as the unmasked clones of Episodes II and III!

Disney's Hollywood Studios: http://allears.net/tp/mgm/mgm.htm
Star Wars Weekends: http://allears.net/tp/mgm/m_starwars.htm
Epcot
Epcot's Flower & Garden Festival -- is winding down and will finish on May 31, 2009.
5/29 - 5/31 -- Tony Orlando ("Tie a Yellow Ribbon") http://allears.net/tp/ep/flogar.htm

Disney's Pin Celebration 2009, The Museum of Pin-tiquities, June 26-28, 2009, at Epcot's World ShowPlace. Disney Pin Traders from around the world will celebrate the "10,000-year history" of Disney Pin Trading during this three-day event. The event will feature unique Disney pins created for the Museum's opening, Disney pin trading activities, a silent and live auction of artifacts direct from the Museum's vault and much more. DisneyPins.com.

Sounds Like Summer concert series, which features tribute bands at America Gardens Theatre in Epcot, has revised its schedule somewhat. Concerts, which are included in regular Epcot admission, are nightly at 5:45, 7 and 8:15 p.m. (except July 4, when show times will be 5:15, 6:30, 7:45 and 9 p.m.). The current lineup (subject to change):

June 15-21: Stayin' Alive - A Tribute to the Bee Gees
June 22-28: Hotel California - A Tribute to the Eagles
June 29-July 8: Slippery When Wet - A Tribute to Bon Jovi
NFFC World Chapter meeting for Disney Enthusiasts -- Saturday, June 27, 2009. Very Special Speaker will be Disney Artist Bev Bergeron, Past-President, International Brotherhood of Magicians, Society of American Magicians Hall of Fame. His lifetime of entertaining includes 15 years of performing 5 shows a day at Walt Disney World Diamond Horseshoe Revue. Location: Quality Inn and Suites, 8700 S. Orange Blossom Trl, Orlando, FL 32809-7912 (4 miles east of I-4). Doors open at 6 p.m., Meeting starts PROMPTLY at 6:45 p.m. Admission: $1.00 for current NFFC Members, $5 Prospective Members. For more information: 407-ASK ARLO (407-275-2756) or worldchapter@magicalmountain.net.
-=-=-=-=-=-=-
Don't forget to check our Events page for current updates: http://allears.net/pl/events.htm
-=-=-=-=-=-=-=-=-=-=-=-=-=-=-=-=-=-=-
REHABS AND CLOSINGS
Magic Kingdom
Space Mountain is closed until November 21, 2009 for refurbishment.

Tomorrowland Transit Authority will be closed through August 24, 2009.

The Hall of Presidents is closed for rehab through July 1, 2009.

The Heritage House Shop is closed until July 1, 2009
Downtown Disney
Three times each year, Cirque du Soleil's La Nouba performance schedule is altered so the cast can rest and rejuvenate and the production crew can refresh and refurbish the theatre at Downtown Disney West Side. The theatre will go dark following Saturday, May 16, performances and resume production on Tuesday, June 2.
-=-=-=-=-=-=-
A complete list of rehabs can be found here: http://allears.net/tp/rehabs.htm
= = = = = = = = = = = = = = = = =


MAGICAL MOMENTS
= = = = = = = = = = = = = = = = =
Each month we share reports of guests at Walt Disney World and Disneyland experiencing special Magic, and also special celebrations as part of the "What Will You Celebrate?" program.
Dawn A Hormel: On March 22, my family entered the Magic Kingdom after having a wonderful breakfast at Chef Mickey's. I had gotten a stroller for my two daughters (Haley, 7, and Molly, 5), pins that announced their "First Visit," and settled everyone in as we pushed our way through the train station. I dont think I was 10 steps out of the station when a Cast Member approached my girls in the stroller noticing their first visit pins. She told us she had a surprise and asked us to park our stroller near the entrance of the Kodak building. We anxiously followed her as we entered a "Cast Member Only" section. She came to a huge curtain where she asked my girls to say Bibbidi Bobbidi Boo. She pulled back the curtain and there stood... CINDERELLA! We had a magical personal visit with Cinderella! My eyes filled with tears. I couldn't believe it! My girls were so excited, they still talk about it. Thank you to the cast member, for making this such a magical memory for us!

-=-=-=-=-=-=-
Mary Slater: I'd like to share how pin-trading made our Super Bowl Sunday very Super. We were exiting Camp Minnie-Mickey at Animal Kingdom around 2 p.m. just after Festival of the Lion King. We hadn't seen Divine (http://allears.net/tp/ak/ak_art1.htm) yet so I suggested going to find her and then heading back so my husband would be able to get settled at the sports bar at Shades of Green in time for kickoff. I'd recently gotten into pin-trading and spied a cast member and asked to check out her pins. Even though I didn't see any pins I wanted to trade, she stopped to chat and asked what we were doing next. I said that we were going to see Divine and she replied she was heading that direction so she asked to join us. We chatted and she asked if we had ever seen the Animal Kingdom parade. In our more than 10 trips to WDW, we had never seen the Jammin' Jungle Parade. So she asked if we would like to be IN the parade. Well, would we ever! What a treat! We were on Rafiki's float and just had such a ball, waving and taking pictures! Thank you to Michelle at Animal Kingdom for making our whole trip magical! And hubby made it back in time for kickoff!
-=-=-=-=-=-=-
Marcia Faulkner: While visiting Hollywood Studios with our 7-year-old son in February, we were waiting outside of the Rock 'n' Roller Coaster for our Fastpass time to roll around. My son was so excited because he was finally tall enough to ride this year. While noticing him bouncing up and down waiting, a cast member named Richard told us to put away our Fastpasses for a souvenir because we were going to go in the VIP way. My son was so thrilled as Richard explained that this was the way in for the Jonas Brothers and Miley Cyrus. He then escorted us through the exit and got us seated on the first row! He even promised to wait around until our ride was over to make sure my son was OK. Sure enough, he LOVED the ride and Richard arranged for us to ride again! Needless to say, this kind of magic is why we go to Disney every year!

-o-o-o-o-o-o-o-o-o-o-o-
Send your Magical Moments to: allearsnet@yahoo.com
-o-o-o-o-o-o-o-o-o-o-o-
Editor's Note: This story/information was accurate when it was published. Please be sure to confirm all current rates, information and other details before planning your trip.