The Disney Wonder underwent an extensive dry dock and refurbishment in the fall of 2016.  Our Panama Canal cruise was my first opportunity to check out the new features.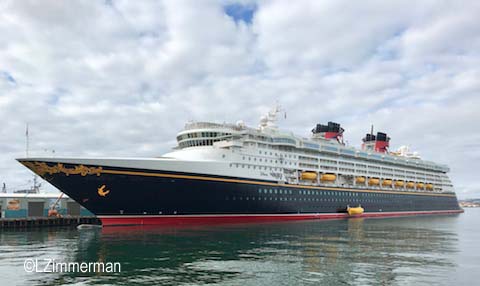 My husband Lee had been on board the Wonder for a media day in 2017, and he posted this report to AllEars®.   I'm going to cover a few things that he didn't write about — things that were noticeable if you were actually living on board the ship rather than taking a short tour.
There's a new hand-washing station outside of Cabanas, the buffet restaurant on deck 9.  You get to really wash your hands with soap and water rather than using the antiseptic wipes.  That takes longer, though.  We were never there during really busy times, so I'm not sure if it created longer lines.  Considering that in Cabanas I usually wait in line once I get inside to pick up my plate and wander down the buffet line, it's probably a wash (so to speak).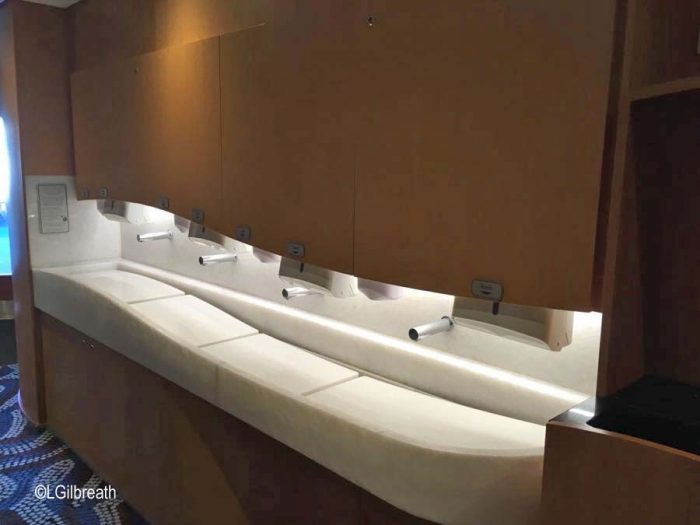 N.B. One day we were there when a crew member washed her hands, and she very carefully soaped up and lathered for the appropriate amount of time before rinsing off.
Tiana's Place replaced the Parrot Cay restaurant.  Lee talked about this in his article but I thought it worth mentioning again.  It was a most welcome change — it brings in a Disney theme and it all just makes a lot more sense than Parrot Cay's tropical hodgepodge ever did.  We had two dinners there that featured entertainment by Tiana and her jazz band.  Tiana went around the dining room to greet guests and thank us for coming to her restaurant — and urged us to try the beignets on the evening they were offered.  (They were surprisingly good — obviously freshly made.)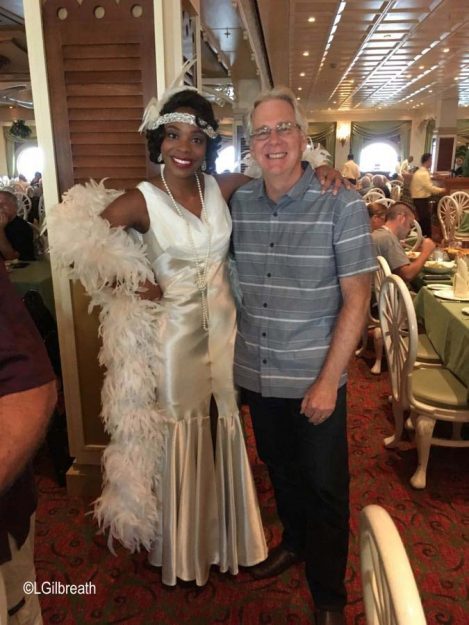 The in-room safe is now a pull-out drawer.  I hadn't seen these before.  It was much easier to deal with than opening the door and groping around inside trying to find something — or trying to make sure that nothing gets left behind! I didn't notice any other significant changes to the staterooms.  The Wonder still does not have "on-demand" movie entertainment like the other three ships — but maybe that will come in the 2019 dry dock.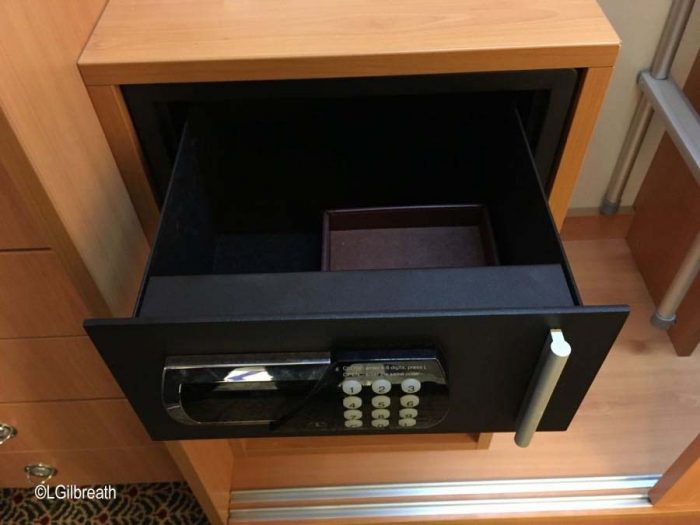 There were a couple of new food options on deck 9.  Daisy's De-lites now offers a "Build A Bowl" station in addition to the usual pre-made sandwiches, wraps, and salads.  There was always rice and quinoa as a base, with a different protein every day, such as teriyaki chicken.  Additional toppings included items like spring onions, radishes, carrots, bell peppers, and sun-dried tomatoes.  There were two rotating choices of soup every day — I saw clam chowder, miso, white bean, and cream of cauliflower.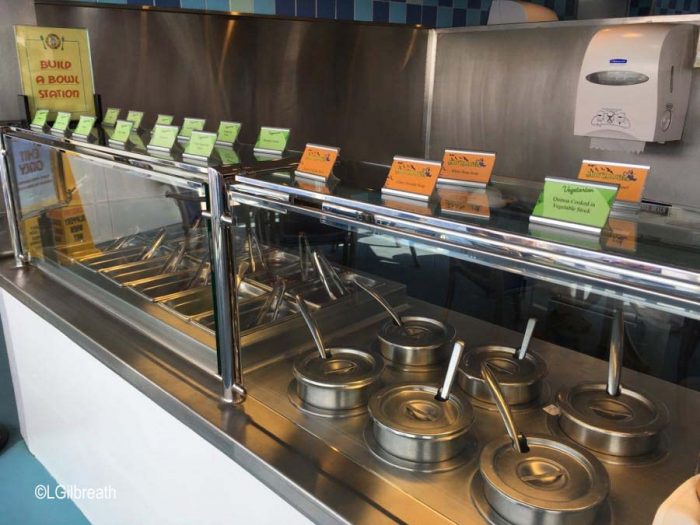 The other was a Shawarma station at Pete's Boiler Bites.  (Never fear: chicken tenders, hot dogs, burgers, and fries are still available!) Chicken and beef/lamb shawarma was on the spits behind the counter, where the server carved it to order.  And then it was time to choose toppings and sauces: hummus, baba ghanoush, tzatziki, mint cilantro yogurt, garlic aioli, sambal, chili mayonnaise, kachumber salad, pickled cabbage, lettuce, tomatoes, onions.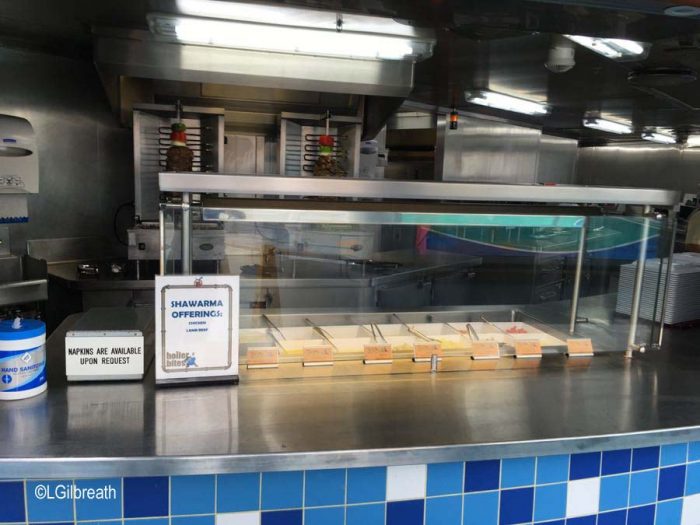 I had those several times and enjoyed them, though I found it odd that they were served on a tortilla and not on a pita pocket.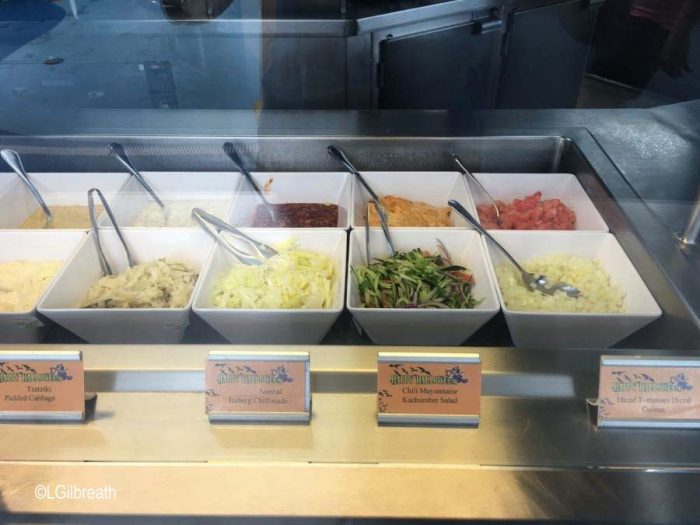 And… Dole Whip is now served on board!  Sulley's Sips offers Dole Whip by itself or an alcoholic version served with choice of several different rums.  There's an extra charge for any of these, though.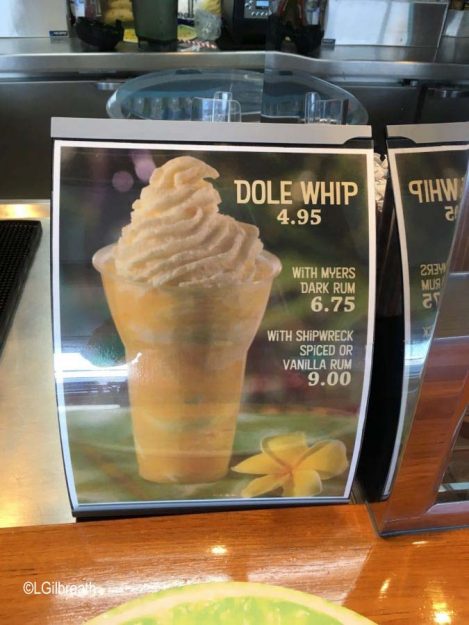 I was interested to see  Frozen – A Musical Spectacular in the Walt Disney Theater, to see how it compared to the stage version at Disney California Adventure.  They are quite similar – I think all of the songs are the same.  The Wonder's version is a little longer, with more dialog.  For people who haven't seen the movie (if there is anyone like that aboard a Disney cruise ship!) I think the story is more understandable than at Disney California Adventure.   Since the Wonder has a) a smaller stage and b) a non-dedicated stage, the sets are more minimal, but I still found them effective.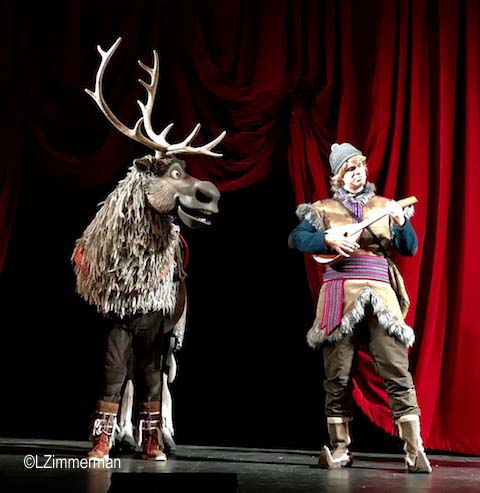 One very unwelcome change aboard the Wonder: the enclosed second floor area of the Cove Cafe is exclusive to Concierge guests now.  That was one of the best spaces on board, and one we really enjoyed on our Alaska and  west coast repositioning cruises.  Boo.
I enjoyed our two weeks on the Disney Wonder.  Though the ship is almost 20 years old, the periodic refurbishments and enhancements have kept it just as comfortable and relevant as ships that are much newer.
Be sure to check out our other recent Disney Cruise Line news!
Have you taken a Disney cruise? Stop by our Rate and Review section and share your thoughts!