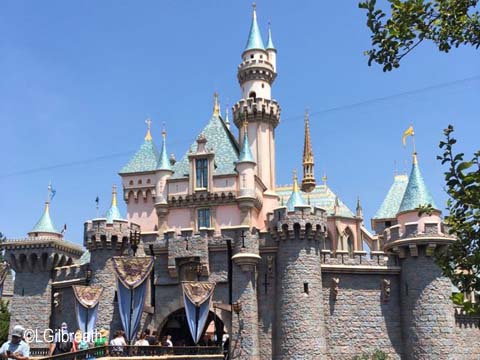 Summer is heating up, and it seems like everyone is offering their opinions on ways to beat the heat. I already had this blog in the works when I saw several others come out on the same topic. Great minds think alike, I suppose. But I think I have a few ideas that are different, and, if they aren't walk-ons, don't involve much of a wait.
So here are my suggestions for places to hang out at the Disneyland Resort when it's hot. I'm sure you have some ideas, too, which I hope you will share by leaving a comment below.
At Disneyland
The Opera House on Main Street – the lobby is air-conditioned, and there's always some kind of exhibit there – right now it's Steam Trains. There's also a small screening area with a couple of benches where you can watch Disneyland – The First 50 Magical Years, the 50th anniversary video starring Steve Martin and Donald Duck. And then inside the theater you can enjoy the A/C and a comfy chair while watching Great Moments with Mr. Lincoln. And if you catch a few Zzzs as well… you wouldn't be the first!
The Disney Gallery – take a few minutes to stop in here and admire all the artwork.
Main Street Cinema – no seats here, but it's a cool place to enjoy some classic Disney cartoons, including Steamboat Willie and Plane Crazy.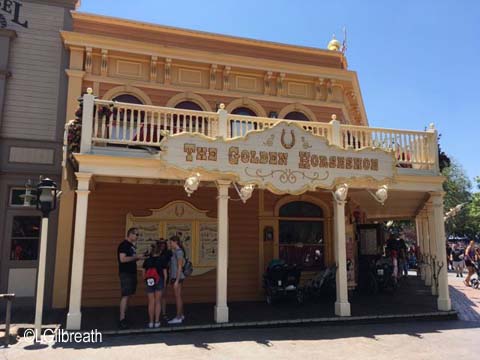 The Golden Horseshoe – Belly up to the bar and order a cold sarsaparilla (or maybe this century's equivalent: a Coke or root beer float), then take a seat at a table (or go up to the balcony!) and enjoy the antics of the Laughing Stock Co.
The Enchanted Tiki Room – the birds sing words and the flowers croon in this air-conditioned tropical oasis. The bench seats are padded but backless unless you sit in the last rows and lean against the wall.
Star Wars Launch Bay – there's not as many activities in here as there were when it was Innoventions, but there are several Star Wars character meet and greet opportunities, and movie props and costumes to look at. There's also a small screening area with several benches featuring a video of Star Wars filmmakers talking about what they do.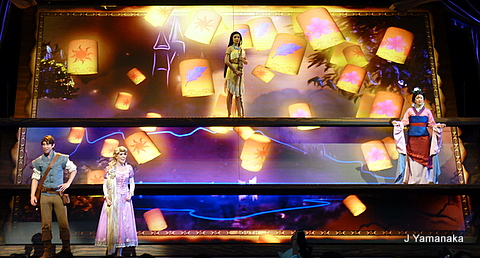 Mickey and the Magical Map – ok, this one is not air-conditioned, but the theater is covered and there's usually a breeze. So it's out of the sun which at least means it's cooler than most of the rest of the park. The theater is rarely full, and if you're like me and don't mind sitting in the back you can get a seat right before showtime. I enjoy the show, especially the Rapunzel/Pocahontas/Mulan medley.
At Disney California Adventure
The Animation Building in Hollywood Land is completely indoors, and a number of different activities are available inside.
Courtyard Gallery – This is one of my favorites – just walking inside the Animation Building and sitting down (on the floor if I can't find a seat on one of the lounges) and enjoying the clips and concept art and music from Disney and Pixar animated movies.
Animation Academy – Have a seat and learn to draw a Disney character. Classes are held every 30 minutes and different characters are featured throughout the day. If you have a particular character in mind, cast members at the entrance should have a list of what characters will be featured in each session.
Turtle Talk with Crush – Bench seating in the "human tank" is available for an interactive encounter with the Crush-man. It's totally awesome, dude.
Sorcerer's Workshop – You can create your own animation or sit down with an enchanted book and discover which Disney character is most like you.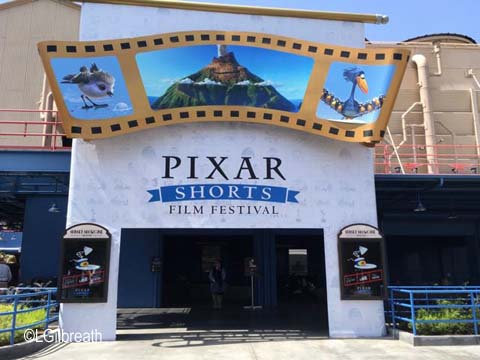 Pixar Shorts Film Festival – the Sunset Showcase Theater (formerly MuppetVision 3D) is showing a series of three Pixar short films. The plan is to change them out periodically, and just last week that happened. The current films are "La Luna", "Bao", and "Sanjay's Super Team."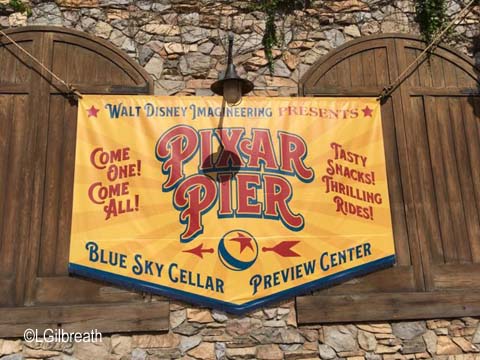 Blue Sky Cellar Preview Center – Right now it's an exhibit on Pixar Pier, which is largely OBE because most of the Pier is open, and the exhibits haven't been updated to provide additional info on what isn't yet open. In the Screening Room there are several benches to sit on while you watch a short video on Re-Imagining Pixar Pier.
Boudin Bakery Tour – The bread ovens are hot but this self-guided tour is in an air-conditioned space. "Loaf" as long as you want as you learn how Boudin sourdough bread is made. You can play a game to test your knowledge of sourdough bread. Plus a free sample of bread is available as you enter!
Princess Dot Puddle Park – Splashing around in fountains is probably more appealing to kids than adults, but just being near the water often has a cooling effect. Since Flik's Fun Fair is closing soon (to make way for the upcoming Super Heroes land) this one won't be around much longer.
In both parks you can always find air-conditioning in the restrooms. Sometimes just getting out of the sun and splashing your face with some cool water provides relief from the heat.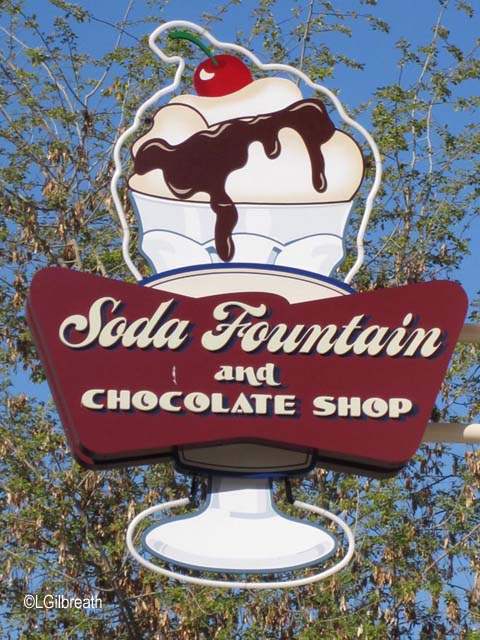 I haven't mentioned the shops and restaurants in the parks which are kept nice and cool. There's also refreshing beverages and frozen treats like ice cream (Ghirardelli is my go-to), Dole whip, and the Goofy's Glacier slushes. While I really like Dole Whip and its lemon-flavored counterpart at Adorable Snowman Frosted Treats, both places usually have very long lines and I think the coolness of the treat doesn't compensate for all the heat you absorb while waiting for it.
Outside the Parks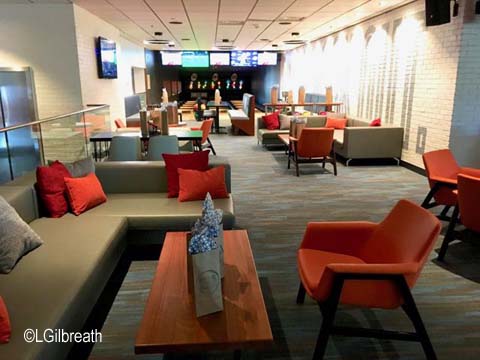 In Downtown Disney there are lots of restaurants, or you can eat AND bowl while you keep your cool at Splitsville Luxury Lanes.
Trader Sam's at the Disneyland Hotel is a fun place – if you can get a seat inside where it's cool and dark. It's not very big and is popular, especially on weekends. The outdoor patio accommodates more guests but tends to be sunny and very warm.
The lobby of the Grand Californian Resort & Spa is a relaxing place to take a break. There's quite a bit of seating in the lobby. In the afternoons and evenings there's often a pianist playing Disney songs on the grand piano.
Those are some of my favorite ways to stay cool – what about you?