Last week, I had the chance to pop in to Terralina Crafted Italian, the newest restaurant at Disney Springs, which had officially opened its doors without much fanfare just a few days earlier.
It was late in the afternoon, well after the lunch rush, so I had the place almost entirely to myself.
For those of you who remember the previous Italian restaurants that have sat on this spot — Portobello Country Italian Trattoria and, going even further back, Portobello Yacht Club — the place will still feel vaguely familiar, despite the building's multimillion-dollar makeover. Still, there's a freshness about it, with new, lighter, eclectic decor, tile floors and a laid-back ambiance that's supposedly inspired by Italy's Lake District.
With several defined dining areas, an open kitchen, and comfortable, casual seating, the space has been designed to make you feel you're dining in someone's home. This is apparent from the moment you walk in, where you're greeted by a cozy waiting area, with comfy-looking leather chairs gathered around the focal-point fireplace.
Steps away is the welcoming, well-stocked bar, which was not crowded at all this lazy Sunday afternoon.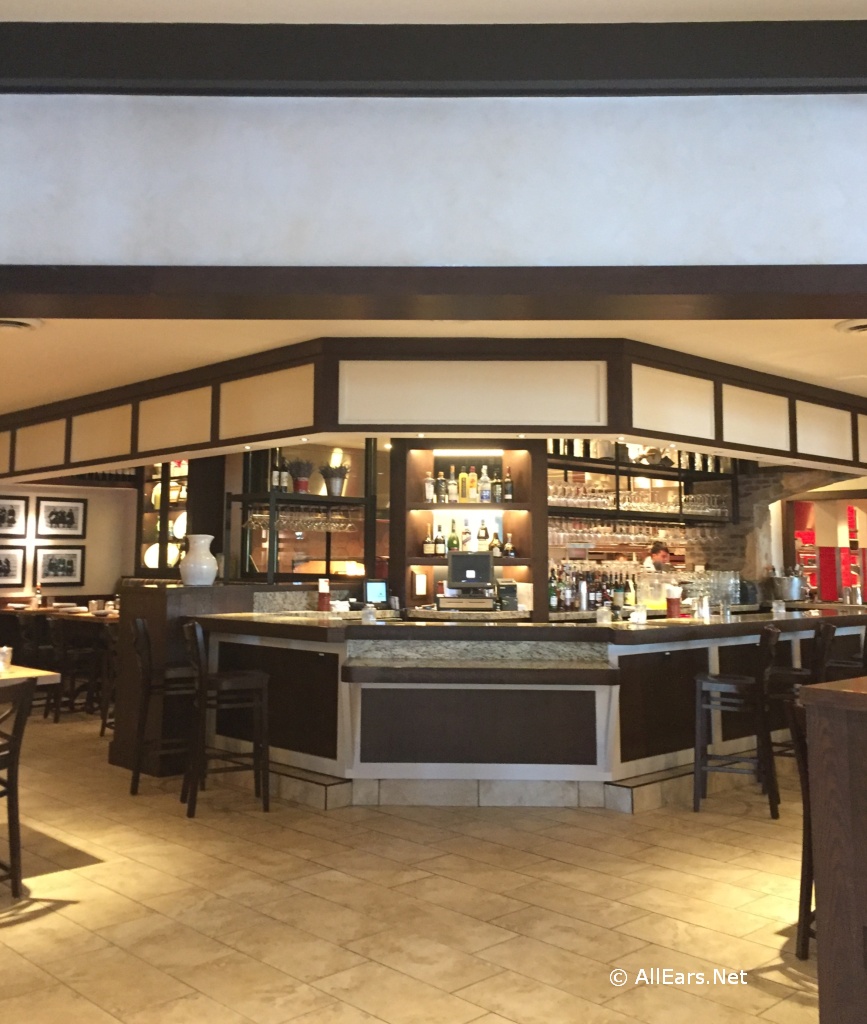 There's both booth and table seating, and lots of homey touches like family photos, plants, candles and stacks of dinnerware accenting the space.
I know, you're wondering, "What about the food?" To be fair, I didn't get to try much — that's why this is only a mini-review — but here's what I can tell you about what I did sample.
My server, a holdover from the previous restaurant, seated me and brought me water in a quaint, old-style glass, as well as a loaf of ciabatta bread with the housemade "giardiniera" — an old-school Italian relish of pickled vegetables in vinegar or oil. The bread was warm and crusty, and good with a dash of the extra virgin olive oil left on the table, but the giardiniera mixed vegetables were a little too tart for my liking. That's not necessarily a ding against Terralina — that's how giardiniera often is, and I've never been a big fan.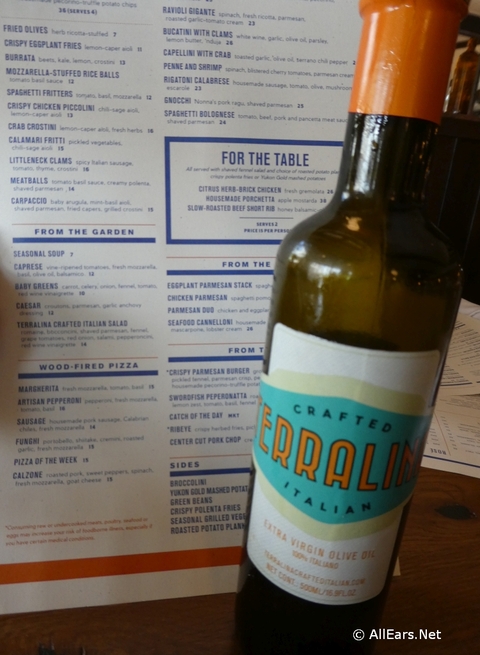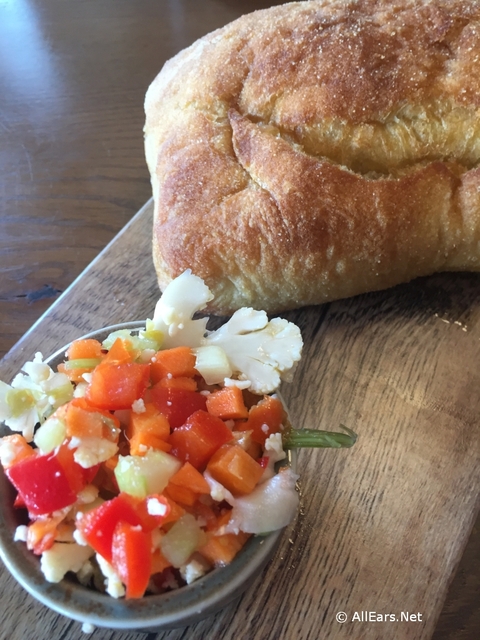 As I took a look at the menu, which was put together by James Beard award-winning chef Tony Mantuano and implemented by returning Portobello exec chef Justin Plank, the very knowledgeable server pointed out several of the new items. The first appetizer that jumped out at me was Spaghetti Fritters ($12). I'm half-Italian, but I can't say I ever saw those on any of my family's dinner tables. What were they?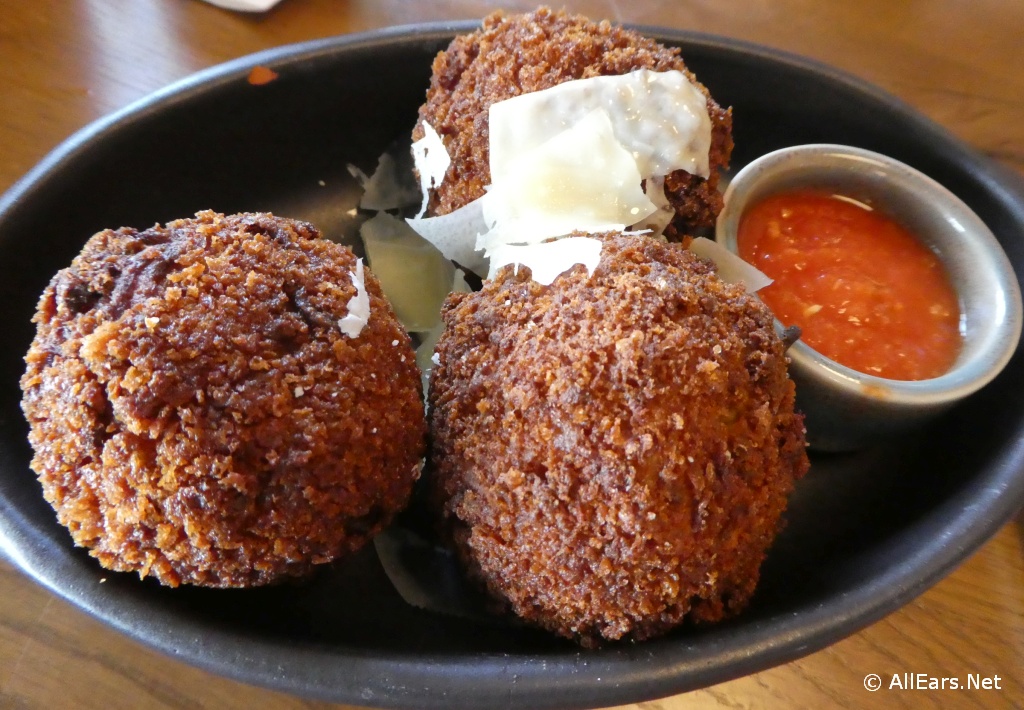 No surprises, they were exactly what the menu said. Fritters… made of spaghetti. Three generous-sized, deep-fried balls of pasta and cheese in a tomato-y sauce were topped with a few whisper thin slices of fresh parmesan and came with a side of tomato-basil sauce for dipping, too. I suppose they were meant to be Terralina's answer to arancini, the delightful, deep-fried arborio rice balls found on many Italian restaurant menus. (They were also on Terralina's by the way, disguised under the name "Mozzarella Stuffed Rice Balls.") While the Spaghetti Fritters were unusual, and worth trying once, I can't say I'd get them again. The outer fried shell was very crunchy and dry and the spaghetti inside was just OK. They're very heavy and veeerrry filling. If you try them as a starter, I would say definitely share with several other people… otherwise, that course may be as far as you get.
After such a heavy-duty beginning, I realized I really didn't have room for a big meal. I opted instead for one of the pizzas — pizza funghi, with portobello, shiitake, cremini mushrooms, roasted garlic, and fresh mozzarella ($15). I have to admit that I'm a harsh pizza critic — pizza is a passion — and this one passed the test.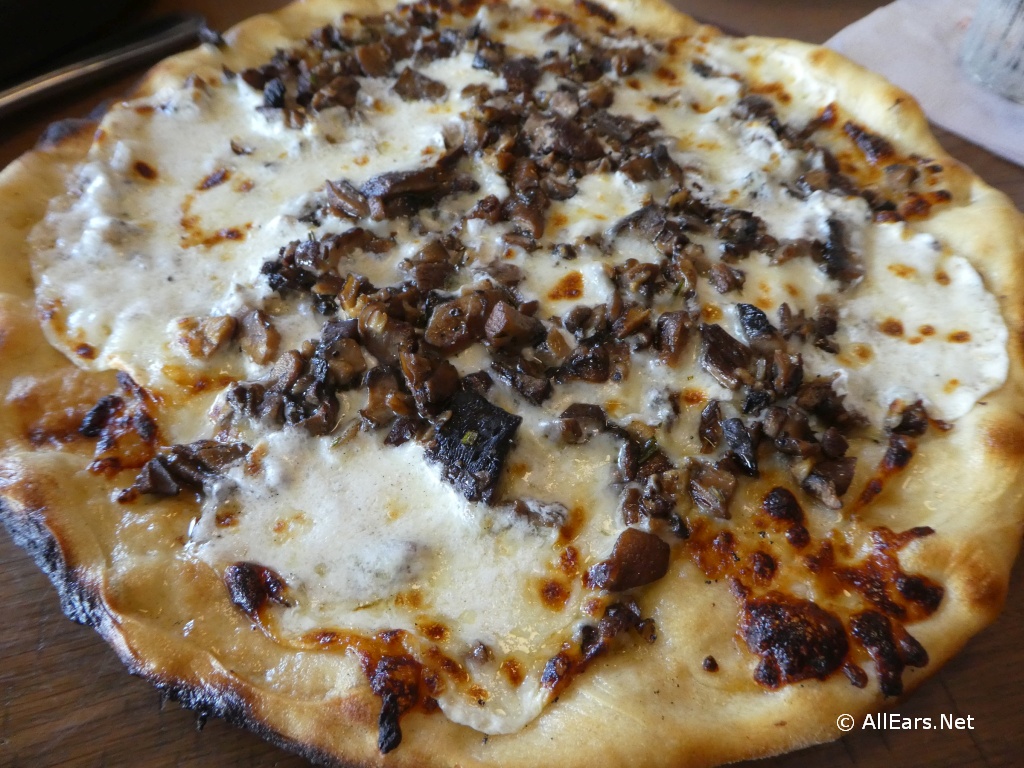 With a wood-fired crust so thin it bordered on crunchy, the pizza was covered with a good dose of mushrooms and cheese and was quite tasty. I only ate half of it, about three slices, but don't worry! My server boxed up the remainder so I could have it for dinner later. And I did!
I really didn't have room for dessert, but in the name of research thought I should try at least one. I love creme brulee, I love cappuccino, so when my server mentioned the cappuccino creme brulee ($9) I told him to stop right there and fetch me some.
Sadly, it wasn't as good as I had hoped it would be. The brulee itself got my hopes up. It was caramelized perfection — I really had to tap hard to crack through it. But instead of creamy coffee-flavored goodness waiting for me underneath I found a rather starchy, almost pudding-like "creme."
I was also able to taste a few other desserts, though, that more than made up for the disappointing creme brulee.
The flourless chocolate cake with berries, for example, was outstanding… not to mention enormous. The exterior was coated in rich, dark chocolate, while the inside was a moist chocolate cake layered with not-too-sweet vanilla cream. I thought it was excellent and well worth its $11 price tag, especially if you were sharing — which you definitely could and not feel cheated. If I'd had more room, I might have been tempted to eat all of it.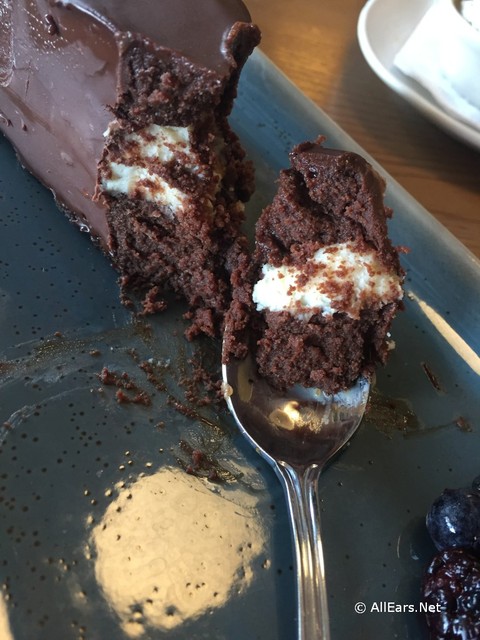 The other dessert I sampled was the Chocolate-Dipped Gelato Sandwich — salted caramel gelato between two pizzelles (thin, waffle-like Italian cookies) and rolled in a toffee crunch, then stood on its side and anchored on the plate with dark chocolate, all for $10.
The presentation of this dessert is visually impressive — it looks rather like a Ferris wheel that's been drenched in gooey ice cream and chocolate. And that's not a bad thing. The pizzelles are not as light and crispy as my Grandma's, but they were still good, and the gelato hits all the right sweet-and-salty-at-the-same-time notes. Yes, I would get it again.
Unfortunately, I didn't have time to dig deeper into Terralina's menu on this trip, but what I saw was encouraging, so I will definitely be making a return to try out a few more entrees… and of course to revisit a couple of those desserts.
Terralina Crafted Italian Restaurant page
Terralina Crafted Italian lunch/dinner adult menu
Terralina Crafted Italian lunch/dinner children menu