2018 Disney California Food and Wine Festival
Flora Springs Winemaker Dinner
Steakhouse 55, March 15, 2018

Amuse Bouche
Golden Ossetra Caviar
Rosemary Waffle Crisp, Green Apple Gel, Creme Fraiche
Flora Springs, Sauvignon Blanc, Napa Valley 2016
1st Course
Sweet Butter Braised Lobster
Local Cauliflower, Sunchoke Puree, Coquito Froth, Kaffir Lime Powder
Flora Springs, Sauvignon Blanc, Napa Valley 2016
2nd Course
Muscovy Duck Breast
Fromage D'affinois, King Trumpet Mushroom, Cured Egg Yolk, Black Truffle Coulis
Flora Springs, Merlot, Napa Valley 2015
3rd Course
Snake River Farms Wagyu Beef Tenderloin
Parisian Mustard, Roasted Wild Ramp, Lavender Smoked Beet, Bearnaise Gelato
Flora Springs, Trilogy, Napa Valley 2014
4th Course
Chocolate Cherry Vacherin
Chocolate Mousse Meringue, Brown Butter Creme Anglaise, Brandied Cherry Gelee
Flora Springs, Cabernet Sauvignon, Napa Valley 2014
Steakhouse 55 Chef: Marcel St. Pierre
Flora Springs General Manager: Nat Komes

One of the Signature Events that Lee and I have enjoyed during past Food and Wine Festivals has been the Winemaker Dinners, which feature a multi-course dinner and wine pairings from a visiting winery. They were not part of the Festival's return in 2016, and we weren't able to attend any of them last year. In 2018 there are three Winemaker dinners, showcasing wines from Flora Springs, David Arthur, and the "Disney Family of Wines" (multiple wineries with a Disney connection. This year all of the dinners are in a different location: Steakhouse 55, Carthay Circle Restaurant, and Napa Rose. Quite a difference in pricing, as well: the Flora Springs dinner is $175, Disney Family of Wines is $250, and the David Arthur is $300 – though it's limited to just 24 guests. (Prices do not include tax and tip.)
We chose to attend the Flora Springs dinner. We have visited the winery and are familiar with, and enjoy, many of their wines. I was surprised that the event wasn't sold out. It might be due in part to Flora Springs' participation at one of last year's Winemaker dinners, so it wasn't a "new" offering. Also, the price was $25 higher this year.
The dinner started at 6:00 at Steakhouse 55 at the Disneyland Hotel. We arrived about 5:45 and checked in – I had made the reservation and had to show a photo id…which I almost hadn't brought with me.
We received a card with our table number on it, and waited in the lounge until someone came to seat us. They were a little late in doing that – we weren't seating until about 6:10. At each place setting was the menu, so we had a preview of the courses and wines for the evening.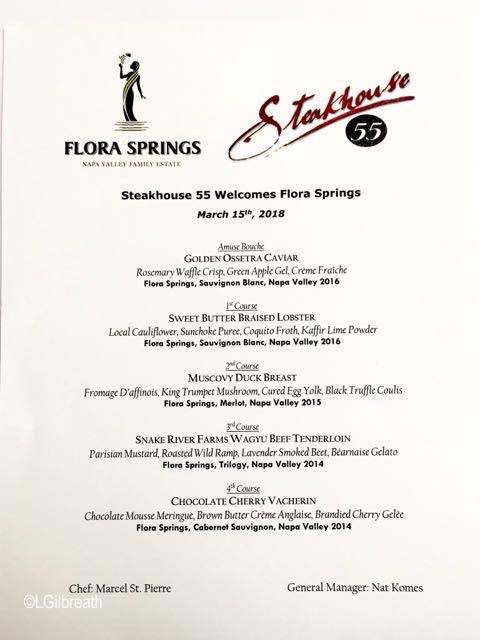 It's always somewhat "luck of the draw" as far as dining companions go at these events, but this time we were fortunate, and our four tablemates were interesting and engaging. We had a good time, and I hope that they did also.
Not long after we were seated the servers brought us our first glass of wine: Flora Springs 2016 Sauvignon Blanc. I enjoy this wine, though I'm not sure I'd tried the 2016 yet. It's crisp and acidic – nice and clean. I didn't get a lot of flavor out of it this time, though – it was more the feeling of it.
The presentation began when Nat Komes (it's pronounced KO-mes) introduced himself. He is the General Manager for Flora Springs, and the grandson of the original owners. The winery is named for his grandmother Flora, and for the natural springs on the property. He also introduced us to Marcel St. Pierre, the executive chef at Steakhouse 55. These two have worked together before and seem to have a lot of fun together.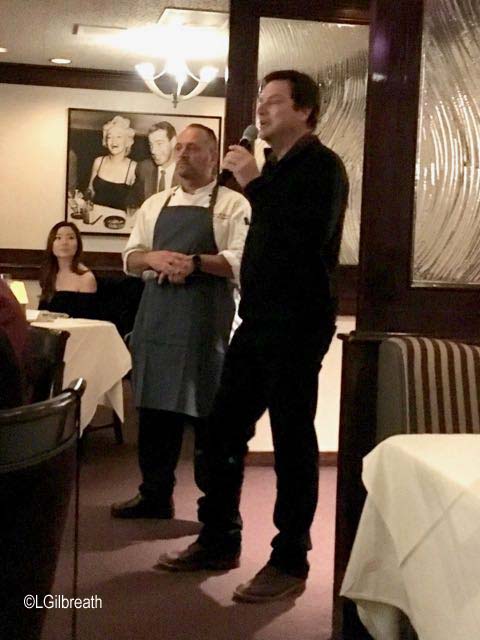 But unlike previous winemaker dinners we've attended, the chef didn't talk very much to us about the food courses as they were served to us – I've had a lot more information on the food in the past. Especially what it was about the wines that made him choose that type of food to go with it.
Our amuse bouche was golden ossetra caviar on a rosemary waffle crisp, with green apple gel and creme fraiche. A lot of different flavors there, but I don't know that I really tasted any of them specifically. Not even the rosemary, which is typically a strong flavor for me. The course was good, but not especially memorable. For me personally, it was not a very successful pairing with the wine.
The wine for the 1st course was another glass of the same sauvignon blanc we'd received with the amuse bouche. This surprised me – Flora Springs has a much more extensive selection of wines available, and they make a wonderful pinot grigio. I was hoping for a glass of that. (When I asked Nat Komes about it later, he said they don't make much of it, and almost all of it goes to the Wine Club members. Mea culpa.)
The first course was Sweet Butter Braised Lobster with cauliflower, sunchoke puree, coquito froth, and kaffir lime powder. Almost everyone at our table really enjoyed that.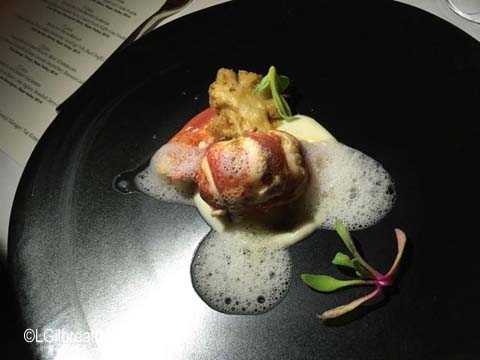 Due to some kind of misunderstanding I did not get the lobster, and instead got a roasted sunchoke. It was actually really good, and I enjoyed it – a lot more than the taste I had of Lee's lobster, to be honest. I don't know why, but I just don't care for the flavor of lobster.
With the second course we received a glass of 2015 Flora Springs merlot. I don't remember having their merlot before, and it was very good. Lots of fruit and very smooth.
The second course was Muscovy Duck Breast, with D'affinois cheese (similar to Brie), mushrooms, cured egg yolk, and black truffle coulis. The duck was rolled, with something like duck confit in the center. I thought it was a little tough, but it paired very well with the wine. Lee commented that it's the most extensive preparation of duck he's ever had. When the chef came by our table one of our tablemates asked about the cured egg yolk. It was soaked in sugar and vinegar for several days, then put in a food dehydrator for six hours – just enough so that the middle was still slightly soft. It had a pretty odd consistency and flavor, though. It was an interesting dish, and a very attractive plate, but it was our least favorite of the evening, though it paired well with the wine – the wine was the best part of that particular course.
The 2014 Flora Springs Trilogy was poured for our third course of the evening. This is an estate grown Bordeaux blend – Lee really likes this one. An excellent pairing with the accompanying food course.
The third course was Wagyu Beef Tenderloin with Parisian mustard, wild ramp puree, lavender smoked beet, and bearnaise gelato. It was a hit at the table – Lee said it was "awesome." (I don't know what the wafer thing is.)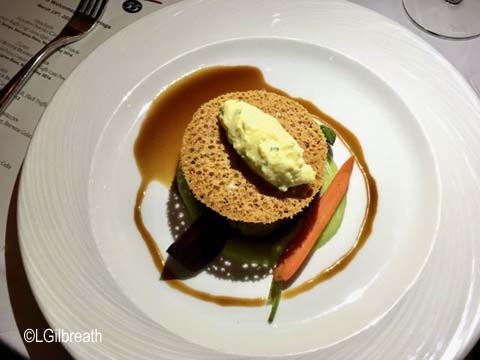 I received a vegetarian dish – ratatouille on puffed pastry. I also had the wild ramp puree which was very good. None of us were sure what it was until we asked – it didn't have any sort of onion-like flavor at all. Very mild, but good.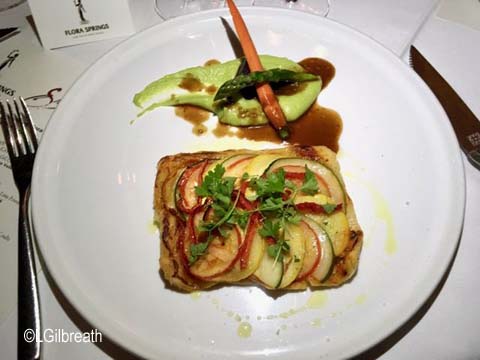 Dessert was the final course. Typically at a winemaker dinner we've received a dessert wine, but instead it was a 2014 cabernet sauvignon. I think this pairing would have been more successful if dessert had been a rich chocolate creation, but it wasn't.
There were three components to the dessert course. A chocolate cherry vacherin, which was a chocolate meringue topped with a cherry mousse; a brandied cherry on a square of cherry gelee with a crisp cookie-like layer on the bottom; and a chocolate mousse meringue. The latter was the smallest, but was my favorite – it was like a bite of a rich s'more. The desserts were beautiful, and showed lots of technique, but except for the chocolate mousse meringue they were not anything I would order – and I don't think the wine really worked with them.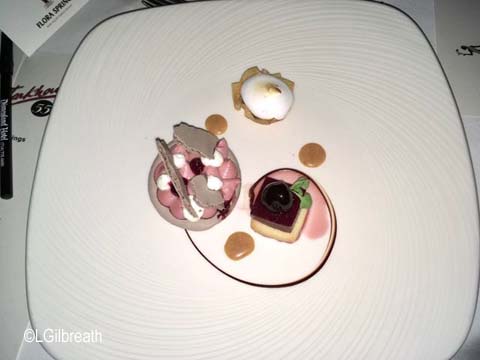 It was a long evening – we didn't leave the restaurant until after 9:30. Not to say that the evening dragged, because it didn't. The courses were paced well – we had enough time to enjoy each one before the next one was served.
For me dinner was good but not great – there was nothing I had that I thought was exceptionally good. This is the first meal I've had from this particular chef – I suppose his style does not appeal to me as much as others. The wines were excellent, but I didn't feel that most of the courses complemented the paired wine very well. That was a surprise, and was quite disappointing considering our previous experiences with these types of dinners.
Still, we had a good evening – we enjoyed the dining experience. Was it worth $175 per person? No, not really. That doesn't mean that I won't do another winemaker dinner in the future, but I might make sure that it's a different chef.