In Part 1 of Architectural Photography at Walt Disney World we discussed the kind of equipment and techniques for architectural photography. In Part 2, we talked about how composition plays an important part in using the equipment.
For Part 3, as in all photography, it comes down to the Light. Granted you can take photos of structures any time of day if you are documenting them. We, as Disney and travel photographers, like to go one better and find/create/wait for more creative ways to document the beautiful and unique buildings, attractions and structures found on Disney properties. The most interesting light in nature occurs when the Sun is near or just under the horizon.
Mornings are a bit difficult for most of us while on vacation unless you have an early breakfast or tour reservation. The photo of Space Mountain I photographed while I rode the monorail from the Magic Kingdom one bright December morning. Even at 9AM, when this photos was taken, the Sun was still low enough in the sky to create shadows giving the structure a 3-D look among the trees.
Morning view of Space Mountain from the monorail leaving the Magic Kingdom.
Nikon D700/28-300VR, 1/250s, f/16, ISO 450, EV 0, 82mm Focal Length.
Another great time to photograph is during the Golden Hours of each day which are one hour after sunrise and one hour before sunset. The Sun is so low in the sky the atmosphere can create color casts from deep reds to golden yellows. The photo of the Rainforest Café in Disney Springs was taken about a half hour before sunset. The low Sun angle allowed the golden light to reach right into the Lava Lounge.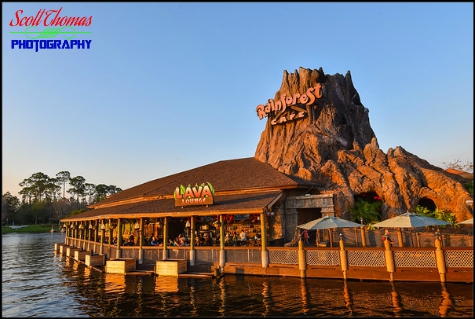 Golden Hour Light on the Rainforest Café restaurant at Disney Springs.
Nikon D750/16-35VR, 1/125s, f/16, ISO 640, EV 0, 20mm Focal Length.
My favorite time to photograph buildings or natural landscapes is after the Sun sets. The sky can take on a rainbow of colors and go into a deep blue called Blue Hour. The long exposure photo of Cinderella Castle had not reached that deep blue but the lighting on the castle complemented the sky and clouds.
Cinderella Castle at dusk in the Magic Kingdom.
Nikon D750/24-120VR, 20s, f/16, ISO 100, EV 0, 50mm Focal Length.
When walking with your camera in the morning or evening, look for the light on the places near you. Even ordinary places and things can become magical with the right light.