If you're a regular reader of this blog, then you probably know that Lee and I are big fans of Disney Cruise Line. We've taken a couple of non-Disney cruises (Royal Caribbean and Princess) in the last year and several of you expressed interest in hearing what we thought about them. So this blog is for you. 🙂
This is not going to be an in-depth "Disney vs. Royal Caribbean vs. Princess" article. Since the cruises were a vacation for me I didn't do a whole bunch of research nor take a whole bunch of photos. It'll be more things that struck me as similarities, or significant differences, between the cruise experiences.
Bottom line: Any of the three cruise lines can give you a very nice vacation. There are a lot of variables, so it really depends on you and what you're looking for. In addition to cruise line and cruise ship, itinerary may also be a very important factor. Based on our experiences I felt that overall you get more for your money with Royal Caribbean though there are definite intangibles with Disney that might make a Disney cruise worth the higher price. I'm sorry to say that the Princess cruise didn't measure up to the other two. We were disappointed in our Princess cruise and felt there was a definite "you get what you pay for" when compared to Disney.
Royal Caribbean
We took a 7-night Eastern Caribbean cruise on Royal Caribbean's Oasis of the Seas ship. Which is HUGE. The ports were Nassau and St. Thomas, which we have visited before on Disney, and St. Maarten, which was new to us. We had three sea days. No stop at their private island, so I won't be able to compare that to Castaway Cay.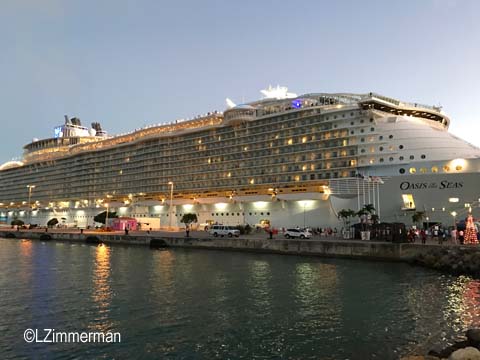 I also can't do a fair comparison of our stateroom. Instead of the usual veranda stateroom we have on Disney we had a Grand Suite. It was very nice. Lots of room – a little less than twice the size of our usual DCL stateroom.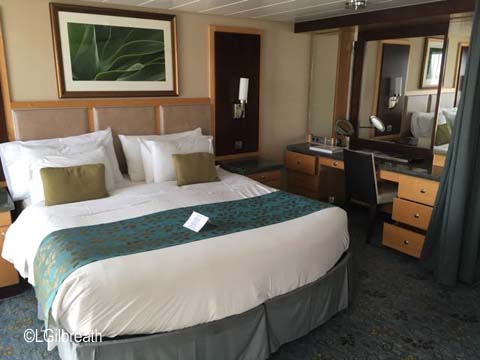 It had upgrades like granite counters, tile, and a full-size bathtub. But the upholstery on the sofa and chairs was a bit shabby and the carpet was worn. It was about 30% more expensive than a DCL oceanview stateroom with veranda would have been for a week-long Caribbean cruise. Still, that was far less than what we would've paid for a suite on a Disney cruise ship.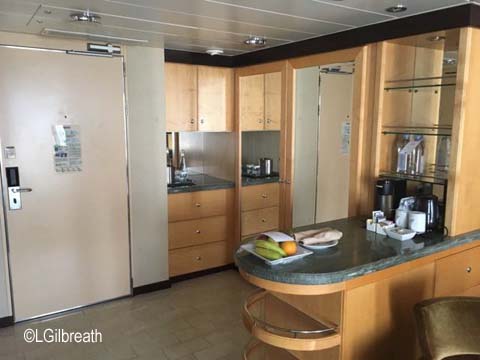 Also, as suite guests we had lots of benefits that we would not otherwise have had – like a lounge and a private restaurant. I've not cruised in a suite on Disney, so I have no experience with what it's like. I do know that Disney does not have a private restaurant for suite guests, though.
The check in and boarding experience were about the same – though we weren't "welcomed aboard" like we are on Disney. That was actually fine with me – I don't really enjoy that on the Disney cruise ships.
There's not a huge atrium on the Oasis – instead we entered into the Royal Promenade, a totally indoor area filled with shops, bars, and restaurants. But it felt like we were in an outdoor space during the nighttime.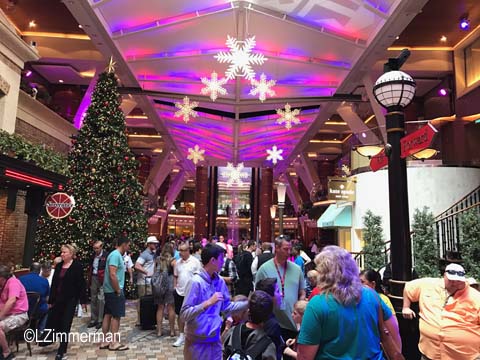 Before I go any further I should probably describe the Oasis a little more. For a few years it was the largest cruise ship in the world (now its sister ships are a few inches longer). One of the things it is known for is its Central Park area. It's on deck 8 in the center of the ship, and it's open all the way to the sky. It looks like a park, with trees, shrubs, flowers, benches, and walkways. There's even the sound of birds chirping. There are restaurants and bars on both sides. On the higher floors above the park there are staterooms with balconies. These would be interior staterooms on other ships, but on the Oasis they overlook Central Park.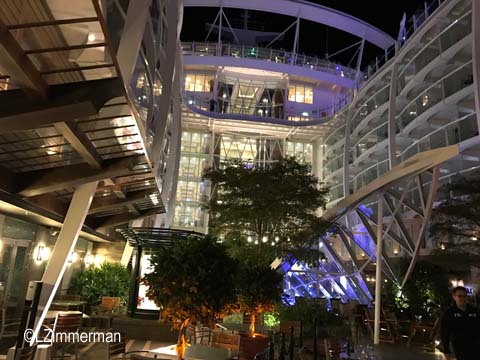 There's also a large open area on the back of the ship, on deck 6. The Boardwalk is also open all the way to the sky. There's a couple of restaurants there as well as an ice cream and cupcake shop, candy store, and a bar. And a carousel. All the way at the back of the ship is the Aqua Theater, where there are shows, a large screen for movies or televised events (e.g. football games). It has a fairly large seating area. Above are staterooms that overlook the Boardwalk and/or the Aqua Theater. Two of our traveling companions had a stateroom above the Aqua Theater, and we enjoyed watching the diving show from there.
Activities on board the Oasis that are not offered on Disney include things like climbing walls, ziplining, and the Flowrider (a boogie board/surfing simulator).
Though the Oasis was bigger than any Disney ship I've been on, I found it easy to get around, and it seemed much more logically organized – I wasn't constantly trying to remember if something was on deck 2 or 3 or 4, and if it was forward or aft. Most everything was in the center, like Central Park and the Royal Promenade. It also helped that there were only two elevator lobbies/stairways. There was no mid-ship elevator, so the two were somewhat forward of mid-ship and somewhat aft. I believe there were 12(!) elevators in each lobby – six port, six starboard.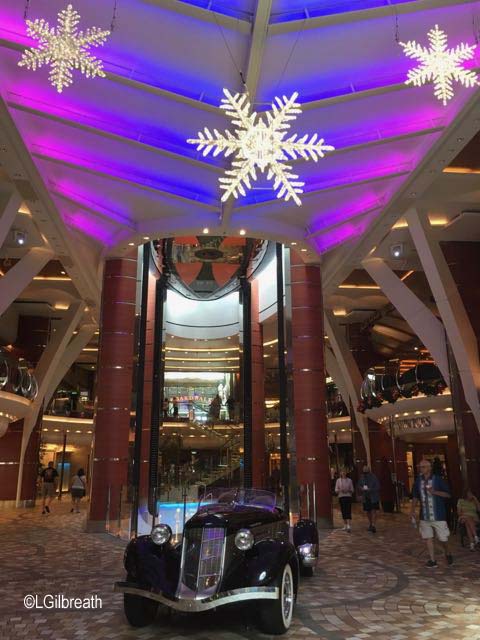 One thing that's quite different on Royal Caribbean in comparison to Disney is dining. There are three main dining rooms, but there's no rotational dining. Whatever dining room you are assigned to is where you would go every night if you don't opt for something else. When you book a cruise you also have a choice of "My Time" dining. With that you can go to any of the three restaurants, but you might have to wait for a table. We chose "My Time" dining.
There are many more choices for meals than on the Disney ships. On the Oasis there's the Windjammer buffet as well as a number of quick service places that offer pizza, burgers, hot dogs, and sandwiches. There's even more options with the specialty restaurants, but those cost extra. We tried most of the specialty restaurants: in a couple of places it was worth it but in most places not. And I have to say that Palo stands up to ANY of them, and is less expensive than the two "fine dining" restaurants we tried on the Oasis.
Two places that we really enjoyed – and which also gave us a lot of food for the price – were Sabor, the Mexican restaurant, and Vintages, the wine bar. Sabor offers tableside made-to-order guacamole for $5 (cheap – easily serves 2 or more) that was delicious. Their other entrees, such as the carnitas tacos and quesadillas, were also quite reasonable and very filling. $20 for two people will get you a LOT of food.
Vintages offers a really interesting variety of tapas – I think we shared one of the samplers, which gave us six different plates for something like $20, and was way more than we could eat.
Speaking of Vintages…we went to two wine tastings there. Much more expensive than Disney – $40/person, and I think we usually pay more like $15 for a Disney wine tasting. They were good experiences – the staff was great and the wines were good – but I think Disney offers a better value there.
The food quality I would say was on par with Disney. Though again, since we never ate in the main dining rooms I can't compare that experience. Still, that was the consensus from some of our group who did eat in the main dining rooms.
Beverage packages are another thing that was new to us. On Disney, soft drinks and hot beverages like tea and coffee are free at the beverage stations and in the dining rooms. On Royal Caribbean, you pay for those unless you have a beverage package. There are several different packages. The most basic offers unlimited soda for $8.50 per person per day, while the Deluxe package, for $55/person/day, includes soda, juice, bottled water, premium coffee, and alcoholic beverages (up to $12, with a $12 credit on anything over $12). We opted not to do any drink packages, which over the course of the cruise was the right decision for me – for Lee, it was a little closer since he drinks coffee and beer, though I still think we came out a little ahead. My impression was that the Deluxe package was the reason we saw more obviously intoxicated passengers than we do on a Disney cruise, though there wasn't anyone that was particularly unruly or obnoxious.
The cruise we were on was sold out, but the ship rarely seemed crowded. Embarkation and debarkation and the lifeboat drill were when we saw the most people. Now, the demographics were much different than on a Disney ship! The passengers were largely retired and much older than we were. We saw some families with kids, but nothing like the numbers of kids we see on a Disney ship. The number of kids wasn't entirely unexpected, but we were surprised that relatively few people seemed to be under the age of 70. One in five, maybe? (That might be optimistic. I don't think it was as low as one in ten, though.)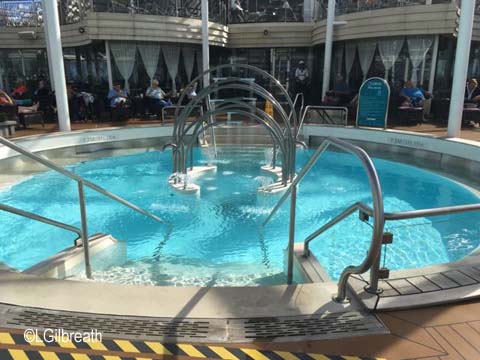 There were plenty of things to do on board – and as usual, we didn't get to a lot of them. I already mentioned the climbing walls, FlowRider, and ziplining. One of the biggest differences from a Disney cruise is that there was a casino. We went in there once just to take a brief look – it's really not our thing. But a lot of people seem to enjoy it.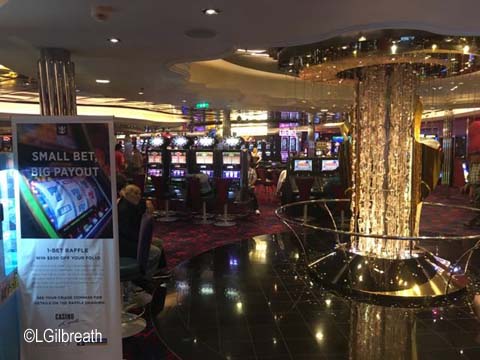 I missed the availability of movies. Unlike on a Disney ship, there weren't movies being shown almost continuously in an indoor theater – and definitely not first-run movies. There were some movies shown outdoors on the big screen at the Aqua Theater – similar to the Funnelvision idea on the Disney ships. Another big difference was in the staterooms: movies were pay-per-view and not free.
Shows were another difference. Most of the shows ran several times throughout the cruise, and passengers could reserve a spot in advance for them. There was the Broadway musical Cats, an ice skating show, comedy club and other acts – we saw an ABBA tribute group that was very good. All the reservation did was allow you into the theater prior to the standby line, though. So even people with reservations often lined up early for the shows. I don't think the main theater, the Opal Theater, is as big as the Walt Disney Theater. Some of the shows were amazingly well-attended (like the ABBA show), and the theater was standing room only. I found that a surprise.
The Aqua Theater was an interesting venue. It was outdoors on the stern, and had pools, a trampoline, diving boards, and high dive platforms. The Oasis of Dreams show was sort of Cirque d'Soleil'ish and combined diving, acrobatics, synchronized swimming, and trampoline. It was pretty technically impressive as well. Unfortunately we had some wind and high seas, so it wasn't until the final day of the cruise that performances were finally able to take place. We happened to be outside the theater one day when the performers were rehearsing, though – that was interesting to watch.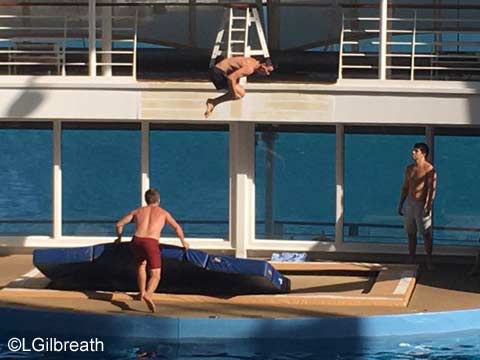 There were places for active activities, too. There was a Sports Deck with basketball hoops, volleyball nets and ping pong tables. Lee and I both enjoyed the very nice walking/running track on deck 5. It's a dedicated track – no shuffleboard courts like on the Disney ships. There's a special surface on the deck, slightly cushy. There were separate lanes for runners and walkers, and in general it was much easier to walk/run than it is on the Disney ships since pretty much everyone who was on that deck was there to walk or run.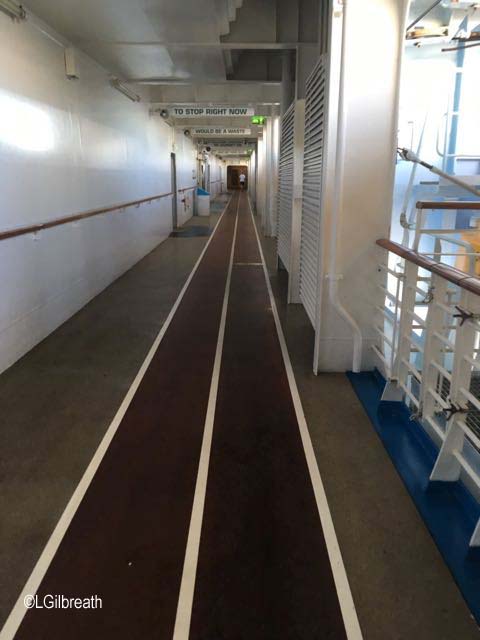 There was a huge gym and spa on board. It was on decks 6 and 7, with all interior space – no windows like on the Disney ships. Lee went to the gym to ride the exercise bikes a few times – it was never that busy.
I had a couple of spa treatments. Unlike Disney I was not shown to a locker room or offered a robe – just waited in the relaxation room until I was escorted to a treatment room. Nor was I offered access to shower facilities afterwards. My practitioners were fine and they didn't push the Elemis spa products when I said I wasn't interested.
Lee and I both signed up for Oasis' version of the "Rainforest Room" – they called it the "Thermal Suite". It was quite a letdown compared to Disney. A very small area considering how many passengers the ship holds. There were only four heated lounges! So it was sometimes hard to get one. No other seating at all. There was a dry sauna and two steam rooms, but only two showers, and there were no whirlpool or soaking tubs at all. And again, it was all inside, with no natural light. Though at least when we checked into the Thermal Suite we were given a robe and access to a locker room and showers.
There were several different pool areas. All looked nice, but we never spent any time there.
We were very impressed by the internet service on board the ship. So much better than our experiences on Disney ships. As suite passengers it was included, but the same service was available to everyone for a reasonable fee. It was surprisingly good, and fairly fast. I wouldn't stream a movie, but for keeping up with email and Facebook it worked great. I had coverage all over the ship, and very few times did I experience any kind of interruption in service. It was also "unlimited" – no minutes or megabytes to keep track of. Though if you used too much your speed was throttled down. I don't think that happened to us, though.
I was surprised that there was no on-board app like Disney's Navigator application. We had to rely on the daily paper, or our stateroom tv, to figure out what was going on.
Another area where Oasis disappointed us was in keeping us informed of things on our schedule. I never received any phone messages or stateroom notes to remind me of spa appointments or specialty dining. I found the latter especially surprising – I'd think they would want people to be well aware of their dining arrangements! It turned out that we could set up a personal calendar of events on our stateroom tv – but then we had to turn on the tv to find out what was on the calendar. Not very convenient to do.
This was one example where we didn't feel as "cared for" as we do on Disney. Another was on our excursion on St. Thomas. Rather than meeting on board ship we were told to meet at a spot on the pier. Once we went there we were told to go over to a spot near one of the docks to wait for our ferry to St. John. But there were several other excursions also boarding from that same dock, and it was very confusing trying to figure out which group we should be part of. Plus our ferry was at least 30 minutes late, and we were stuck waiting outside in the hot sun – there was no shade. On Disney we would have been escorted to where we needed to go – and we wouldn't have been taken off the ship until they knew our boat was fairly close. While this wasn't really a big deal – it was very different than the way Disney would have handled it.
Our experience with the crew was good. We had one less than positive experience with our server in Chops, but otherwise I found the service not significantly different than our Disney cruises. I even saw a few crew members that I recognized from previous Disney cruises.
We enjoyed our cruise, and, while we do not have another cruise booked, we will certainly consider Royal Caribbean in the future. They offer many more ships and choices of destinations than Disney, and at this point in our lives, that's very attractive to us. While there were a few things that Disney does better, there were also things that Royal Caribbean does better, and a lot of areas where both cruise lines do equally well.
Princess Cruise Line
We took an Alaska cruise. The choice of cruise line and ship was completely itinerary and date-driven: the cruise had to be at a certain time in June, it had to visit Glacier Bay, and it had to be a southbound itinerary (Seward or Whittier to Vancouver). While we looked at Royal Caribbean, Norwegian, and Holland America, the "Voyage of the Glaciers" cruise on the Star Princess, leaving from Whittier, was the only one that met all of the criteria. It was a great itinerary: scenic cruising of Hubbard Glacier one day and Glacier Bay the next, followed by port calls in Skagway, Juneau, and Ketchikan. We had amazing weather. It was such a nice day in Ketchikan that the Misty Fjords weren't misty!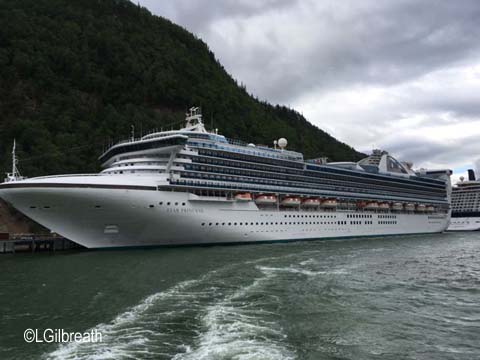 Our stateroom was a mini-suite, so it was upgrade – in size, at least – over our usual veranda stateroom on Disney. We certainly had more room inside, and a larger balcony – nice for glacier watching.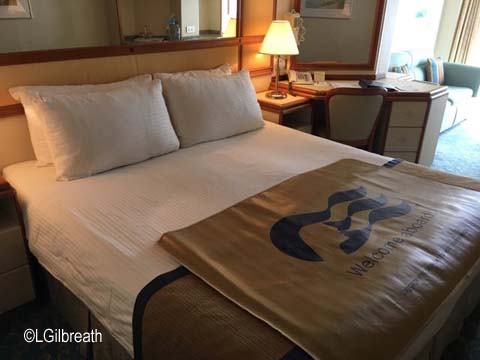 There was only a single bathroom, but it had a full-size tub. Unfortunately the Star Princess is an older ship, and the staterooms are in desperate need of refurbishment. We were very disappointed in the condition of ours: the carpet was faded, the sofa cushions were worn through in places, the shower curtain was shabby, and there was black stuff in some of the grout in the shower.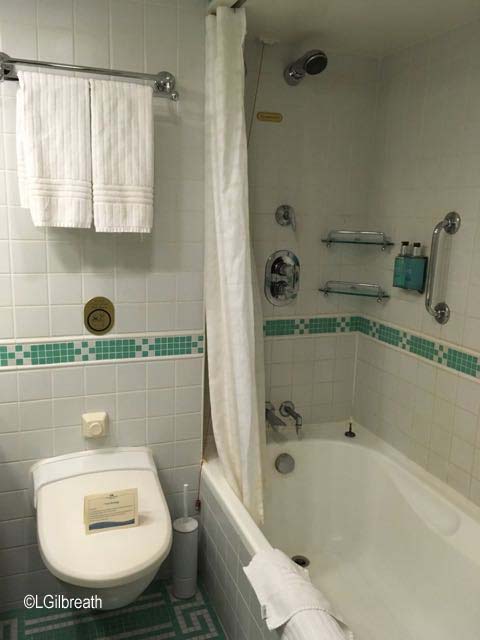 The price was attractive: we paid about 25% less than we would have paid for a Disney Cruise Line veranda stateroom for their 7-night Alaska itinerary. And Disney doesn't go to Glacier Bay or Hubbard Glacier. We booked with a package called "Sip and Sail", which included the premium beverage package at no additional cost to us. More on that later.
Check-in at the port in Whittier was efficient – which was nice because we had NO status at all on Princess. Being in a mini-suite did not give us any special privileges. Unfortunately the woman who checked us in didn't tell us some of the things that our traveling companions learned from other agents – like what deck our stateroom was on. If you recall from "The Love Boat", Princess has decks named "Lido", "Caribe", "Aloha", etc.. We were on "Dolphin" – which was deck 9 – that was a good thing to know.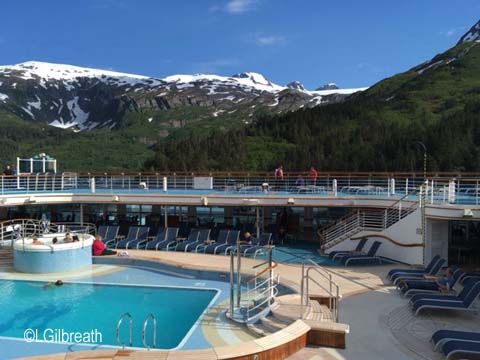 We didn't enter into the atrium of the Star Princess, though it had an atrium. Not quite as grand as Disney, but still nice. While the staterooms needed attention, I'll say that the public spaces on the Star Princess were beautiful, and in excellent condition.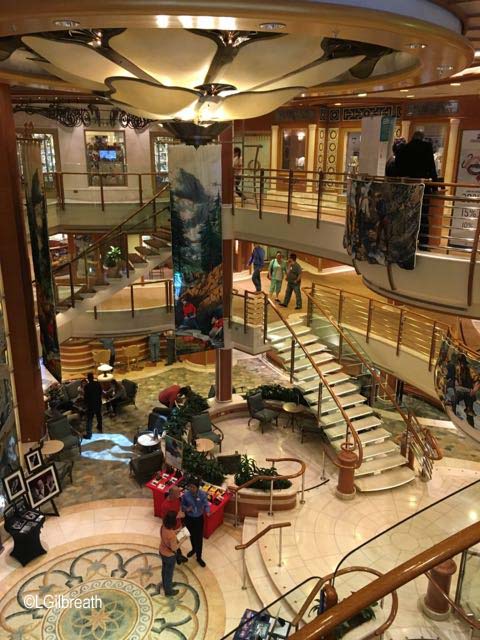 The Star Princess is slightly larger than the Magic and Wonder, but not as big as the Dream and Fantasy. It seemed a similar layout to the Disney ships, with restaurants, bars, shops, etc. on decks 5-7; pool deck on deck 14 with quick service locations and buffet; and a sports deck and spa and fitness center. One of our favorite spaces was Skywalkers Nightclub – it sort of looked like a whale tail above deck 17. Great view looking aft from there!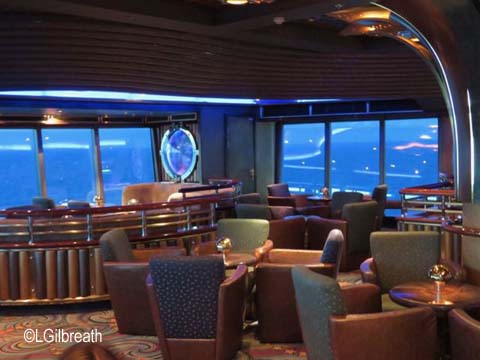 The only thing that struck me as being available on the Star Princess but not on Disney was the Casino. We never even went in there. 🙂
On Princess, there's a choice of "Traditional" dining or "Anytime" dining. With Traditional you are assigned to one of two dining rooms at a set time. With Anytime, you dine when you wish. There was one restaurant dedicated to Anytime dining; and one of the Traditional dining rooms was available to Anytime diners starting at 7:30. We had opted for Anytime dining.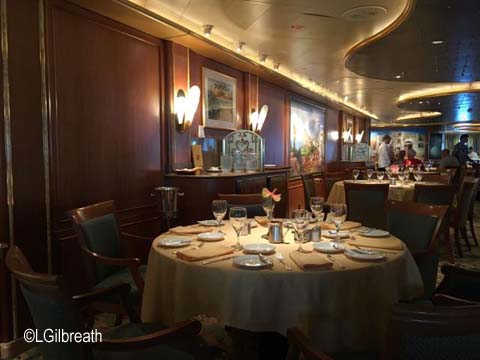 Other options are the buffet, quick service, or room service. There are also two specialty restaurants, for which there is an additional charge. We tried Crown Grill and it was very good.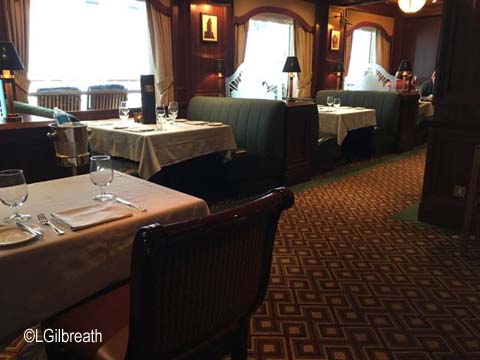 The International Cafe on deck 5 was open 24 hours a day. In addition to specialty coffee, tea, etc., it served food. Depending on the time of day they offered pastries (wonderful fresh pastries), a breakfast sandwich, soups, salads, sandwiches, fruit, cheeses, and desserts. Everything I had there was very good – it was SO much better than the Goofy's Galley or Flo's concepts on the Disney ships. Much more variety.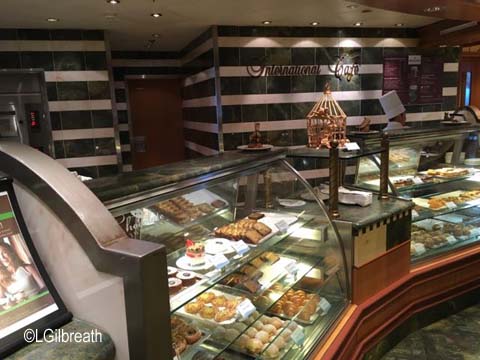 In the afternoons there was usually a movie showing on the pool deck – their version of "FunnelVision". Free, freshly popped buttered popcorn was available in the area, and that was a very nice snack.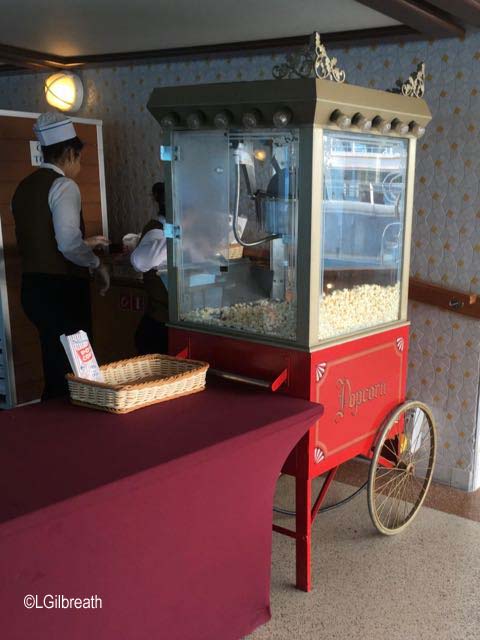 The food quality overall – not very good. I was surprised, because I'd heard that Princess was considered to be better than Disney. The food in the dining rooms was kind of tasteless, dry, etc.. The exception was desserts: they were MUCH better than anything I've had on Disney except the Palo chocolate souffle. As I mentioned earlier, we really enjoyed the International Cafe. It was my favorite place to eat a snack, or a light breakfast or lunch. And we had an excellent meal at Crown Grill – it was easily the best meal we had on board all week.
The dining room service left a lot to be desired, also. Since we had Anytime dining we were randomly assigned to an available table – never in the same spot in the restaurant. We had servers who couldn't be bothered to greet us and didn't introduce themselves, assistant servers who disappeared and it took forever to get drinks, items we ordered that weren't delivered and we had to ask for them, a head server who didn't seem to care what was going on…sometimes we felt unwelcome. Quite different than anything I've experienced on a Disney ship.
Like Royal Caribbean, Princess also offers various beverage packages, since soft drinks and hot beverages are not included like they are on Disney. I mentioned the "Sip and Sail" promotion – that gave both of us the All-Inclusive Beverage Package, which is normally $58 per person, per day. Any beverage on board valued at $10 or less was available to us at no charge. That was just about everything, including specialty coffees, cocktails, and wines by the glass (a few sparkling wines were higher). It's not something we would have purchased, but it was nice to have. All we had to do was order at a bar or in a restaurant and present our room keys. Tip was included – though it was odd that we didn't receive any kind of bill at all to potentially add to it. I have to admit that I tried things I wouldn't have otherwise tried – and if I didn't like it, I didn't feel badly about not finishing it. 🙂 I drank a fair amount of Perrier, which I wouldn't have done without the package.
We were traveling with two other couples. We all had the package so we spent a fair amount of time in various bars. Generally the bar service was good, especially since some of the servers and bartenders got to know us. There were some inventory problems, though: the four beer drinkers in our group were not happy that several of the draft beers were sold out when we were only halfway into the cruise.
Lee and I spent some time in Vines, the wine bar. Yes, I'm sure you're all shocked. 🙂 In addition to wines by the glass there were several wine flights available for under $10. But they also had inventory problems – there were several wines that were supposed to be part of flights that were sold out early in the cruise. And rather than substitute a different wine, they wouldn't sell the flight at all. From 4:00-9:30 Vines served Tapas and Sushi with any wine purchase – also included for those of us using the package. On a couple of evenings Lee and I got a plate of sushi and a plate of tapas to share, and it was pretty good.
There was a wine tasting session on our final sea day. Rather than being in one of the lounges it was in one of the dining rooms. There was room for many more guests than anything we've done on Disney, but it lost a lot of the intimacy. Still, it was well done and informative.
There were lots of ship-board activities. Our group participated in a couple of games. Not surprisingly, we won the Disney Trivia contest. 🙂 Because we were in Alaska there was a guest lecturer on board who gave several presentations on glaciers, wildlife, etc., and those were interesting.
We think our cruise was pretty full, but we didn't really experience a lot of crowds. Debarkation was the worst part because we were delayed getting into port and docking. So the "express walk-off" people were over an hour late getting off the ship, and lots of people were just hanging around after breakfast because they were still waiting to get off. The Debarkation process was different than what we are used to on Disney because everyone was assigned to a group, and each group met in a different area of the ship where we waited until we got the OK for that group to leave. Our group was about 40 minutes late because of the delay.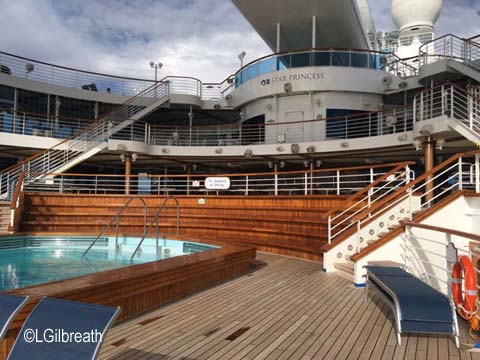 The mix of adult passengers didn't seem that much different to me than on Disney. There were 20-somethings on up. There were fewer kids than we'd see on Disney, but there were still a number of kids on board. We were relieved not to see the preponderance of elderly passengers we did on our Royal Caribbean cruise.
The walking/running deck was unusual – it was not a continuous flat track. There were sets of stairs we had to go up and down at the front of the ship. That area at the front was the forward viewing area, so sometimes we had to avoid people who were up there just to look around. Not really conducive to running very much, though we weren't the only ones who attempted it. There was a fairly nice gym as well. We took a tour of the spa but I never did any treatments there, so can't address that at all.
To find out what was going on around the ship there was the daily paper – the "Princess Patter". Or, you could use WiFi and your web browser to connect to the on-board ship information. That worked pretty well. We also used it to send messages to our group.
Excursions were handled much better than what we'd experienced on Royal Caribbean. While our excursion groups didn't meet on-board the ship like we usually do for Disney, there was cruise staff with signs on the dock, and they were easy to find. We were usually on our way pretty quickly.
Our experience with the crew was mixed. We saw our stateroom host fairly often, and he always had a pleasant greeting for us. I mentioned our disappointment with most of the staff in the dining rooms. The staff at the buffet was generally pleasant, and the bar staff was good.
At the end of the cruise I had pretty mixed feelings about Princess in general. Our itinerary was wonderful, and we enjoyed all of the ports. But the condition of the staterooms and our dining experiences were very disappointing, and not at all what I expected. Princess has a large fleet of ships with itineraries available all over the world, so we will see if we take another Princess cruise. If we were on a newer (or recently refurbished) ship we might have a different experience.
I apologize if I've rambled – I have written this blog in multiple chunks over a period of eight months, so it's a little disjointed.