Several days ago, during a panel discussion at Star Wars Celebration in Orlando, representatives from Lucasfilm and Walt Disney Imagineering discussed their unique partnership and shared details about the new Star Wars-themed lands being created at Disneyland and Walt Disney World Resorts.
The panel, Star Wars and Disney Parks: A Galaxy in the Making, featured an exclusive video that gave some insight to this collaboration.
The team shared new details about the story behind this mysterious destination somewhere on the Outer Rim — lying on the edge of the Unknown Regions: The remote village was once a busy crossroads along the old sub-lightspeed trade routes, but the prominence of the outpost has been bypassed with the rise of hyperspace travel. Now home to those who prefer less attention, it has become a thriving port for smugglers, rogue traders and adventurers traveling between the frontier and uncharted space. It's also a convenient safe-haven for others intent on avoiding the expanding reach of the First Order.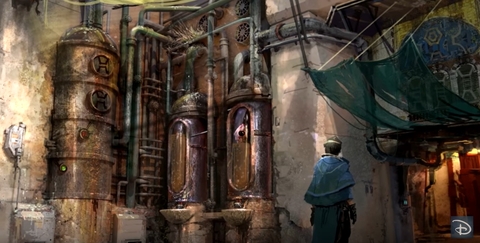 Unusual characters from across the galaxy have landed here, preferring the "no questions asked" environment as well as easy access to exotic supplies and an abundant supply of ready rogues looking to join a crew for their next adventure.
As Disney Chairman and CEO Bob Iger announced last month, the Star Wars-themed lands are scheduled to open in 2019.