Today is a special day in Disney history!
It was 50 years ago today that one of Disney's most popular attractions opened! On March 18, 1967 guests at Disneyland were able to take their first ride on Pirates of the Caribbean.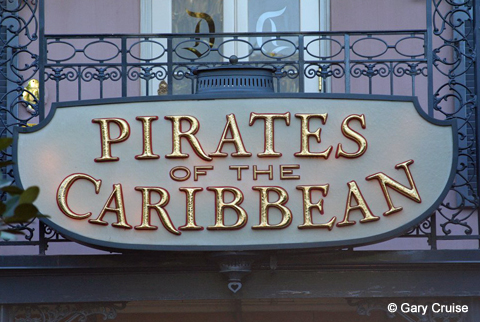 ♫ ♪ Yo ho, yo ho, a pirate's life for me! ♫ ♪
At the time of its opening 50 years ago Time Magazine heralded it as "the costliest and most technologically sophisticated adventure ever conceived as a permanent entertainment attraction, within or beyond the Disney gates!"
It opened to rave reviews and for a half century Pirates of the Caribbean has retained that popularity. It's a ride Carol and I never miss, between Florida and California I'm sure we've ridden it more than a hundred times! That's probably nowhere near a record though; I wouldn't be surprised if there are avid Disney fans out there who have ridden thousands of times!
How popular is it? The Pirates attraction has been replicated in Disney parks in Florida, Tokyo, Paris and Shanghai and it has spawned a series of five live action movies.
One other notable thing . . . Pirates of the Caribbean was the last attraction Walt Disney worked on before his death. He passed away just a few months before it opened to the public.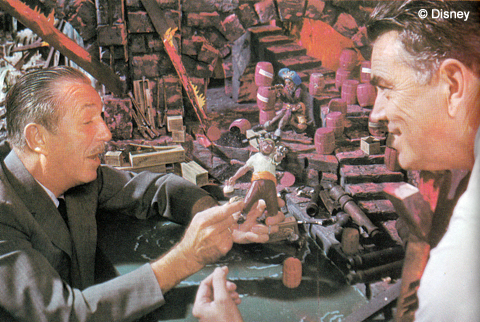 While I was looking for information on the Pirates ride I took a look in Carol's Tickle Trunk and found a terrific article published in the Fall 1992 issue of Disney News. The article takes a look back after 25 years and gives a fascinating perspective, from the eyes of those talented Imagineers who brought the pirates to life.
Imagineer Marc Davis, one of Walt's "nine old men", was the principal designer and it's interesting to hear him disclose his initial doubts about the Pirates project. "I thought, none of this is Disney. When I started reading everything I could find on pirates, I found that few of them were ever killed in sea battles like we'd always heard. Most of them lost their lives by venereal disease picked up in brothels."
The article is pictured below. Click on each image to read the full text.
Walt Disney assigned the Pirates project to Marc Davis in the early 1960's and Davis began conceptualizing a walk-through show. He produced some wonderful concept art and storyboards, but when he reviewed them with Walt there was no enthusiasm. The project couldn't seem to get any traction!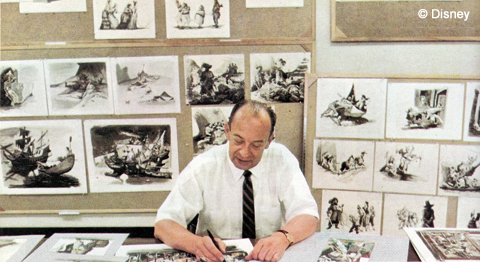 It wasn't until after the 1964 World's Fair that Pirates of the Caribbean found the spark that it needed. Davis added the boat system from Pepsi Cola's It's A Small World attraction and some Audio-Animatronics like those used in the State of Illinois Great Moments With Mr. Lincoln exhibit. Suddenly Walt was enthused and things began to happen very quickly!
Can you try to visualize the scene Imagineer Xavier Atencio described in that 1992 article? "We mocked up the auction scene in a warehouse at WED with all the figures working and the dialogue. We rigged up a dolly and pushed Walt through at the estimated time the boats would be going through."
I wish I could have been a fly on the wall watching as Walt sat on a dolly being pushed by his most trusted Imagineers!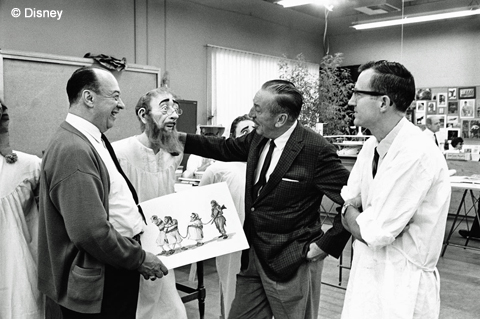 Marc Davis, Walt Disney and Blaine Gibson
I suspect that almost everyone who rides Pirates of the Caribbean comes out singing or humming, Yo Ho, Yo Ho . . .
Who do you think wrote that song? The Sherman Brothers? That was my guess too, but I was wrong. It was written by Imagineer Xavier Atencio and it was his first attempt at song lyrics. George Bruns wrote the music to accompany Atencio's lyrics and between them they swatted a musical home run.
Let's look at some of the amazing concept art Marc Davis produced as he developed and fine-tuned his designs!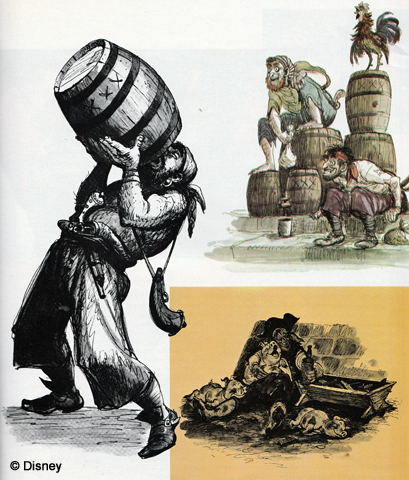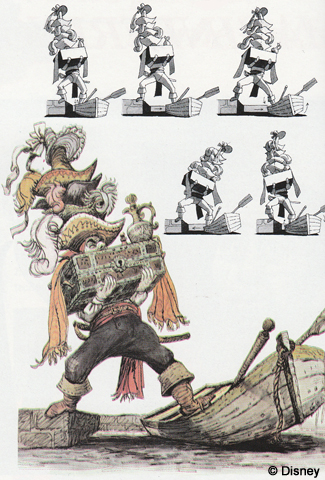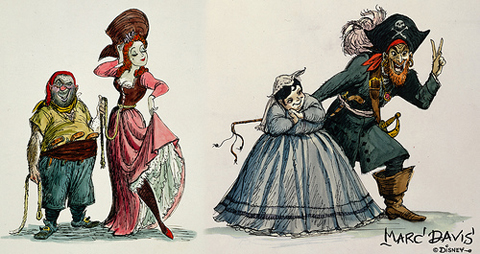 "Strike your colors, ya brazen wench. No need to expose your superstructure!"
Many of his original pieces were displayed in Disneyland's "Disney Gallery" in 2003. At he time the Gallery was located in New Orleans Square, directly above the Pirates of the Caribbean attraction, in the space that is now occupied by the Dream Suite.
Click to see a larger image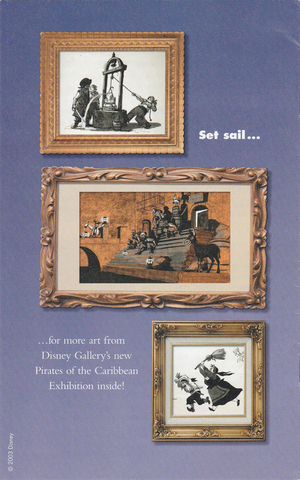 Carol and I didn't get the chance to see Davis' art while it was featured in the gallery, but we did see it a decade later. In May 2013 some very thoughtful friends arranged a special treat for the two of us. We had dinner at Disneyland's exclusive Club 33. Wow! After dinner Cast Member Garrett took us on a private tour of the club and pointed out many of the historically significant artifacts that graced the walls. Several of Marc Davis' original pieces of Pirates concept art were reverently displayed.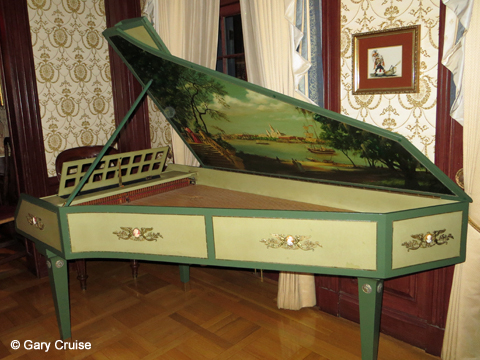 A Marc Davis Pirate sketch hangs behind Lillian Disney's harpsichord at Club 33
Our timing couldn't have been better; Club 33 closed for a major renovation and expansion just after our visit, and the Marc Davis concept art was returned to the Disney Vault.
In that 1992 article Marc Davis is quoted, "You always hope that anything you build will be a big hit. And I think we had a feeling that this one would be a success. But to be as popular now as when it opened? That was too much to hope for back then."
Another 25 years have gone by since 1992 and the Pirates ride has lost none of its appeal. It is every bit as popular now as it was in 1992; it is every bit as popular now as it was in 1967.
That's just astounding when you consider the changes we have seen in the past 50 years. The technology used in the attraction is now very old, but it is still as effective as it was half a century ago.
Yes, there have been a few minor changes, Jack Sparrow and Barbossa have been added to incorporate the new movies into the story, but these new characters have been done in a way that is totally consistent with the original designs mapped out by those talented Imagineers over 50 years ago. They fit very well and add to the original story rather than diminish it.
Happy 50th Birthday Pirates of the Caribbean! You don't look a day over 25!
Now, let's all celebrate together by singing that wonderful song . . .
Yo Ho, Yo Ho, a pirate's life for me.
We pillage plunder, we rifle and loot.
Drink up me 'earties, yo ho.
We kidnap and ravage and don't give a hoot.
Drink up me 'earties, yo ho.
Yo Ho, Yo Ho, a pirate's life for me.
We extort and pilfer, we filch and sack.
Drink up me 'earties, yo ho.
Maraud and embezzle and even hijack.
Drink up me 'earties, yo ho.
Yo Ho, Yo Ho, a pirate's life for me.
We kindle and char and inflame and ignite.
Drink up me 'earties, yo ho.
We burn up the city, we're really a fright.
Drink up me 'earties, yo ho.
We're rascals and scoundrels, we're villains and knaves.
Drink up me 'earties, yo ho.
We're devils and black sheep, we're really bad eggs.
Drink up me 'earties, yo ho.
We're beggars and blighters and ne'er do-well cads,
Drink up me 'earties, yo ho.
Aye, but we're loved by our mommies and dads,
Drink up me 'earties, yo ho.
Yo ho, yo ho, a pirate's life for me.
RELATED LINKS:
** Pirates of the Caribbean Magic Kingdom
** Pirates of the Caribbean Disneyland
** Pirates of the Caribbean Disneyland Paris
** Pirates of the Caribbean Tokyo Disneyland

** Pirates of the Caribbean Disney Pic of the Week