To all who come to this photo trivia game, Welcome! Along the way, the photos can make us relive memories and see details Walt's Imagineers put into everything we love in Walt Disney World!
Can I share something, Players? Feel free to scroll past this. I mentioned I still carry my Pal Mickey and I've made costumes for him. One of them is based on the "Happiest Hipster on Earth" art. I posted photos of my Mickey wearing it online. I still can't believe it: the artist himself, Jerrod Maruyama of Wonderground Gallery, found the photos and favorited them for his Flickr Gallery! He favorited my Pal Mickey dressed like his Hipster Mickey! I'm just so excited! What a great Christmas present! I'm bouncing like Tigger!
The Gunnels Gang is at the World! You just know they're thinking of us right now. See, they're looking at us! Wave!

Look, I probably shouldn't post this "Christmas song" smiley (my sister hates it), but I'm going to and just skim by it if you'd like:

That shouldn't crack me up, but it does. (Do you ever look at the insanity I post and think, "I actually log in each week for this.")
Moving on! Here's what you came to see!
Now for Challenge #408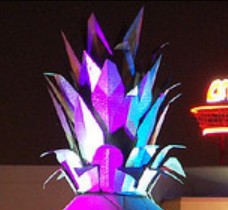 And here's the answer:


Copyright © Barrie Brewer
Bongo's Cafe with the AMC Movies sign in the background, at the newly named Disney Springs!
By the way, thanks, Players. The Grumpy's Groupies putting "Rhythm of the Night" in my head, Jeff Blank bringing up King Julien so I'm hearing "I like to move it, move it", Claire Gregory has me mapping out parking, Vanessa Gordon and John Bickers making me hungry to eat at Bongo's, AND Candace Dadswell & Chris Kelly putting Spongebob's theme in there too. Like my head isn't already a bag of cats. 🙂
Isn't it amazing when you show people a pineapple? And who says we're limited to Disney? We are Renaissance people here at Where in the World!
Jim & Lorie Sonnen was the first to send in the correct answer! Congratulations to Jim & Lorie and to all our winners this week! Ed Suscreba, Bruce Jones, Donna Frank, Melissa Such , John Bickers, Phil Vickers, Evanna Huda, Mary Beth Tarbet, Bill Mckim, Linda College, Pat Morin, Paul Dickson, Kris Nixon, Emily Hudson , Maryann Eckenrode, Sharon Pierce, Carol Ney, Lee Anastasi, Vera And Izzy Williams, Team Hill, Nan Amor, Andrea Kruszewski, Joann Albrecht , Andrew Carrieri, Linda Ranatza, Kerry A., Kristi Strembicki, K Beasley, Tricia Petty, Scott Greenbaum, Gabriella & Matthieu, Shannon Savoia, Margaret Convery, Dee Dee Kenney, Paul Moore, Brenda Mclean, Deb Ragno, Kevin Jones, Vicki Britt, Sarah And Chris, Sandie Albrecht, Kim And Kelly Sroka, Carolyn Como, Jan Rosato, Jamesd (dzneynut), Team Bonnie Sue, Luis Rodriguez, Phyllis, Sands Family, Daniel Record, Jim Finley, Mary Ann Lamay, Maureen Handy, Tim Johansen, Evald Olson, Mark Donahue, Herb Miller, Hobbes And Snorky, Ken Jackson, Hunter Armstrong, Eric Berger, Les Whitten , Claire Gregory, Susie Howard, Nicole Simpson, Chris Kelly, Ken Savage, Martha Collins, Patty Carty, Bonnie Jean, Candace Dadswell, Karen Schlumpf, Megan Krainski, The Long Family, Gloria Martin, The Parker Family, Vanessa Gordon, Tammy Warmouth , Ashley Collins, The Gunnels Gang, Bethany Angermaier, Belicia C., Scott C., Kyra, Mickey Eckert, Wendy Barney, Arlene Vicek, Kenny, Mike Malampy (Malampy Benco Family), Jeff Blank, Kathy Love, Lynn Lamunyon, The Tisdale Family, Rob Blundin, Linda Wilham, Ellen Roy, Tricia Noble, John Warner, Jillian Lassiter, Paul Ignudo,jr., Lynn Smith, Fran Rendulic, Michael & Jackie Mclucas, Jeremy Reichelt, Matthew Frey, Annie Snodgrass, Karrie Duffey, Kelly Smith, Christopher Hall, Kate Giansante, Josette Gabel, Todd Johns, William Allhusen, Jamie Poynton, Smitty, Angela Johns, John Pasqueralli, Carla C, Mary C., Heidi Goodhue, Chris, Gretchen, And Katie Barnes, Brian Skinner, Melissa Littman, Grumpy's Groupies, Mark Hardy, Axel Beer, An, Kathryn Hughes, Jane Johnson, The Kertes Family, Kristan Bertelmann, Thomas Higbee Sr., Theresa Rucando, Hillary Waldroop, Sarah Thomas, Elaine Kleinhenz, Christopher Thacker, Don Purney, Barclay Bakkum, John Paul Carnell, Mike O'brien, and Jennifer Mercier!
__________________________________ _____________________
Challenge #409 Where in the world is this?
We're doing a blast from the past! This show no longer exists at Walt Disney World. Hint: it used an existing attraction as its "stage" and that attraction still runs. Does that make sense?
So what's the show? If you'd like, you can name the attraction too.
Do you know? Do you have a guess? Please send in your answer, before the end of the day on Thursday, December 3rd, by clicking on the blue box below.
Please do not post answers using the Feedback Form link at the bottom of this post.
See you soon, Players!


_______________________________________________________________________
Everyone who sends in a correct answer to a Where in the World Challenge this month will be entered in a drawing at the end of the month for some special AllEars® goodies!