One of the highlights of Carol's pin-trading year is the trip to New Jersey each April for the "Trade 'Til You Fade" pin trading weekend hosted by Central Jersey Disney Pin Traders. She just loves getting together with other traders and CJDPT always puts on a first class event!
The group was founded by John Rick in January 2002 and since then they have held regular pin trading meets. The schedule of events is accessible on their web site at: http://www.cjdpt.com All of their meets are held at the Hampton Inn 255 Davidson Avenue, Somerset, NJ. There are Friday evening events, Saturday afternoon events and two week-end-long events in April and October. John's wife Sheila and their good friends Janis Lavender of Travel Dreams and her husband David are actively involved in all aspects of the group's activities.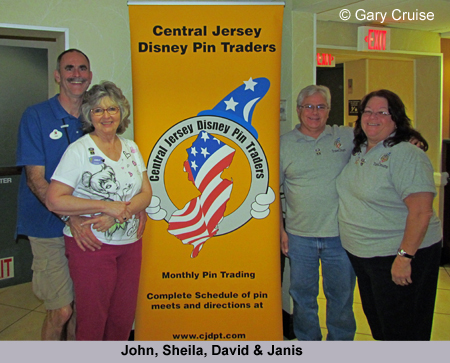 We normally travel to New Jersey with a group of Canadian pin traders, most of them from the Toronto area. Even though I am not a pin trader, I have joined in a few times. The trip is an adventure for us. Our travel day is Thursday and we always stop at the Syracuse NY Disney Store on the way; many of the Disney Stores in Canada have closed and we sure miss them! The store is conveniently located about two hours into our trek so we can stop and stretch our legs. It's a 364 mile trip from our home to the Hampton Inn but we have a bit of a head-start on our companions from the Toronto area who have to drive an extra 160 miles, making it a 524 mile trip for them.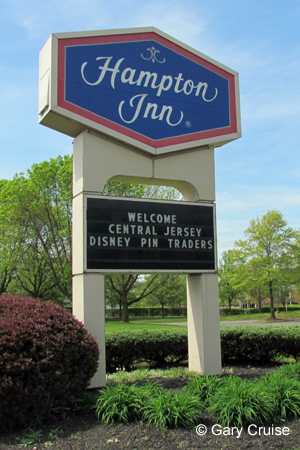 You might expect that we Canadians, since we are foreigners, travelled furthest to get to New Jersey but that's actually not the case. Folks drive from as far away as Miami FL – 1,270 miles but I think this year the distance award has to go to the dedicated trader from Seattle WA who flew 2,800 miles to trade pins!
Even though trading activities don't officially start until Friday evening there are already some pin traders set up at the tables in the breakfast area adjacent to the lobby by the time we arrive Thursday evening. We always stop and renew acquaintances but it's normally a short night for us. It has been a long drive and Carol needs a good night's rest to get herself ready for a gruelling week end!
We try to plan some other "Disney" activities for Friday morning. This often involves a train ride to The Big Apple and a trip to the Disney Store at Times Square. This time the ladies kept it simple; they took a short 30 minute drive to Staten Island. There are three Disney Stores along that 23 mile route and they covered them all in a shopping frenzy! I hung out at the hotel and my buddy John who lives about 45 minutes away came to join me for lunch.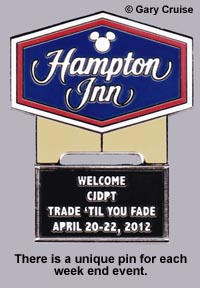 The event kicks off Friday evening at 7:00 p.m. when the registration desk opens and folks line up to check-in, pick up their name-tags, goody bags and tickets for several random draws. There are three trading areas, two hotel meeting rooms fill with traders first and once breakfast is over the trading activity spills over into the room where the complimentary breakfast is served each morning. The Hampton Inn and their staff are extremely accommodating. The hotel staff all join in the fun by wearing Disney themed clothing and they allow the group to post Disney posters and signs throughout the common areas of the hotel. It is a very festive and fun filled place! They even allow the group to bring in coolers filled with their own drinks on ice. Most traders bring bottled water, sodas or juices to add to the communal drink coolers and there are also plenty of traders who contribute "snack-food" items which soon fill the counters in the breakfast area. It quickly transforms from a complimentary breakfast into a veritable junk-food buffet!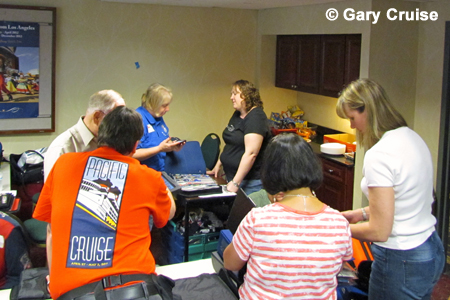 Carol always does her best trading on Friday nights. This year she traded from 7:00 p.m. until 1:00 a.m. and was delighted with the 39 pins and 2 vinylmations she was able to pick up. Yes, pin traders are an oddly nocturnal group! I have no idea what time things actually wound down but a friend reported that the crowd was thin when he left at 3:00 a.m.
Saturday morning we headed down for breakfast at 8:15. Many of the night-owls had returned, looking remarkably fresh and eager. The two meeting rooms were open and trading was in full swing again but, of course, the breakfast room was set aside for breakfast. Traders who want to set up in the breakfast room once the meal is done simply park their pin cases and pin bags along the wall in the corridor and establish their order in the line. Then at 10:20 or 10:30, when the area has been cleaned up after breakfast, they are given the "all-clear" to file in. Once they settle and get set up they are established for the day and trading resumes in earnest.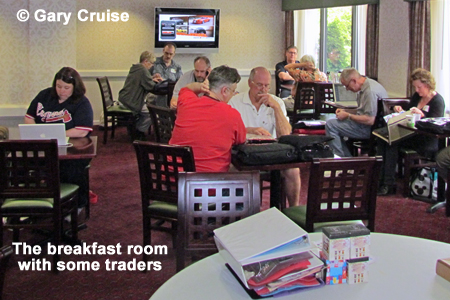 The traders who come to these events are not at all like some of the ones you used to meet at those tables outside Pin Central at Downtown Disney. Many of them made their living trading pins and they could be very aggressive, sometimes ruthless. Not so at CJDPT events. The traders here are nice people who are anxious to help you complete your collection. Trading is easy, fun and free of stress. Carol really enjoys this week end; she looks forward to it every year.
This is the 19th "overnight event" CJDPT has hosted and there were 105 overnight guests in the hotel, occupying 51 rooms. The organizers always negotiate a flat rate with the hotel; all rooms were available at a cost of $68.00 per night which includes taxes and breakfast. We had a two-room suite with a king bed for a mere $68.00 per night! Wow! Registration fees for the pin trading event are quite reasonable as well. Guests registered at the hotel pay a fee of $3.00 to register for all three days. If you are not a hotel guest your fees for all three days will not be more than $13.00. The local people who "drop in" for a few hours swelled the total registration number to 122 people.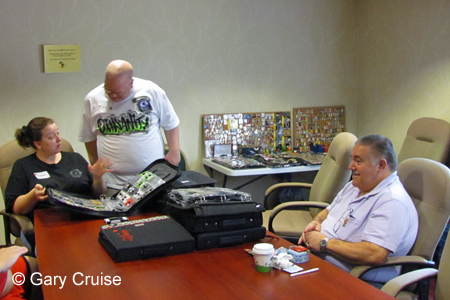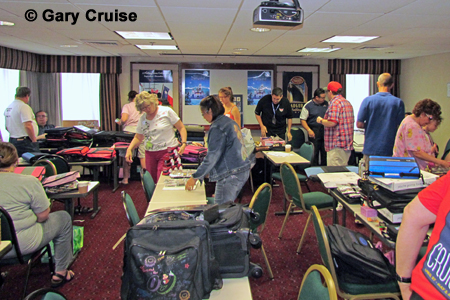 There are special games, activities, quizzes and raffles throughout each day and night with prizes for all the winners. It's non-stop trading and there is always a fun-filled diversion of some kind. It's not always about pins; people are also trading vinylmations and other Disney collectibles!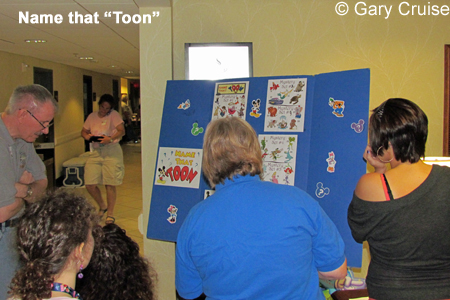 One of the highlights is the Saturday night gift exchange. It's purely voluntary and not everyone participates but it's always fun for those who do get involved. It's one of those exchanges where gifts can be "stolen" and folks can get quite aggressive and quite entertaining as they seek out their favourite gift!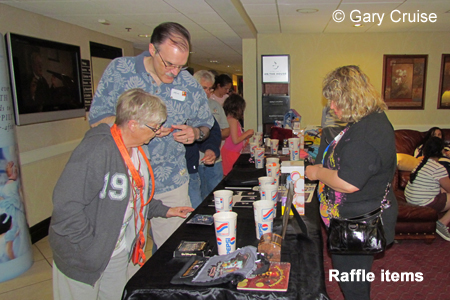 Sunday morning is generally very quiet; those who have travelled a distance are packing up and checking out to start the trip home. We always have breakfast and yak a bit before saying our goodbyes. We strive to be on the road by 10:30 so that we arrive home by about 6:00 p.m. Many folks stay and continue trading until the event officially closes at noon. Every year we see the plenty of familiar faces and several new ones. Carol has always found the group to be easy to trade with and she always completes a few sets and comes home with some new treasures!
If you are a pin trader and you want experience a fun filled week end with your peers, New Jersey is the place for you. Check out their web site at: http://www.cjdpt.com and make plans to join in a pin week end soon.