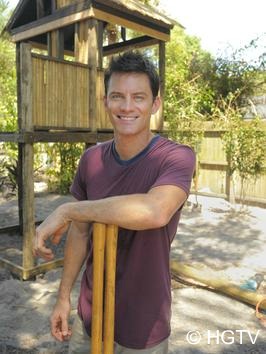 The second season of HGTV's popular My Yard Goes Disney kicks off this week with a one-hour premiere at 9 p.m. ET on Friday, February 24. I talked with the show's host, Brandon Johnson, about what viewers can expect this season and about how he enjoys his various Disney-related TV roles.
"We're going to be doing some things that are just a little bit more outrageous. We're doing things that we've never done before," Johnson said about the second season of My Yard Goes Disney. "We're going to be a lot more interactive than we were last year. "
This will be evident in the premiere, which Johnson jokingly called "My House Goes Disney" because the design team decided to renovate not just the yard, but some of the interiors as well. Even the space for the family pet was transformed with a magical makeover.
"We really want to do something special for this [Lakeland, Florida] family, and you'll certainly see why when you tune in," Johnson said.
So how outrageous are the yards going to get this year? Of course, Johnson can't give away too many details, but he did reveal this: "I can't say we've put in a roller coaster, but we've done something recently that is pretty unbelievable. … It's got twists and turns, and you're up in the air. We're not just transforming stuff on the ground this year, we're going up in the air."
Johnson admits he would like this particular backyard for his own because he is a bit of an adrenaline junkie. His favorite ride at Walt Disney World is Rock 'n' Roller Coaster at Hollywood Studios. (Check out the AllEars page here to see what makes this Disney's Hollywood Studios attraction so great.)
"We're always trying to outdo the last thing, given the circumstances and the size of the backyard we get to work in. As always, it's playing off of the family's love of whatever their particular Disney experience may be," he said.
In addition, Imagineers consider what is new at Disney vacation destinations when creating their designs. This year, Disney will roll out Cars Land at Disney California Adventure, the Art of Animation hotel at Disney World, and the Disney Fantasy cruise ships. Wonder if we'll get sneak peeks?
Viewers can again expect to see other parts of the Disney theme parks featured in the show in some different ways. "We always have shots of the family enjoying themselves in various parks, and I'll be in there setting up stories," Johnson said. "This time we're also going to be going more into the places where some of these installations are created."
Epcot International Flower & Garden Festival
If you don't happen to bump into Johnson when he's filming My Yard Goes Disney, you'll have other opportunities to meet him when he is a featured speaker at the Epcot International Flower & Garden Festival. He will give 30-minute presentations on ways to make your own yard go Disney at noon and 3 p.m. April 13-15. Johnson will explain how to recreate some of the design elements featured on the show that blend Disney imagination with HGTV design. After each presentation, he will meet and greet the audience. (AllEars gives you the scoop on what's new at the 2012 Epcot International Flower & Garden Festival.)
Disney Channel roles
When he's not busy with actual hosting duties, Johnson portrays a television host on Disney Channel's hit sitcom Shake It Up. He plays Gary Wilde, an the over-the-top character on the show's second season. He began developing the idea of a self-involved host when he had a recurring role as Brian Winters on Hannah Montana. Johnson said he was asked to portray Winters as a spoof of popular television host Ryan Seacrest, while making the character his own. Johnson built on his impression of Winters to create Wilde.
"It's a pretty amazing gift to be able to go to work and say this is how I make a living. I don't take it for granted at all. I've been extremely blessed to be a working actor and host for 10 years now," Johnson said. "I'm starting to come into something — I'm not sure if the universe wants me to be an actor or a host, but it definitely seems to want me in front of the camera. I'll say "Thanks" and gladly hit my mark."
On Valentine's Day, Johnson launched his new website, www.officialbrandonjohnson.com, where there are links to all his social-media platforms. He enjoys connecting with fans and invites them to drop in and say "hi."