It's Day two of the Expo, but only day one for Lee and me, since we didn't arrive until today.
I have pages and pages of notes, and we have lots of video that we are trying to get processed, so this isn't complete.
We arrived at the Expo this morning about 8:00 and had some time to wander around before our first session. So we met up with Deb Koma: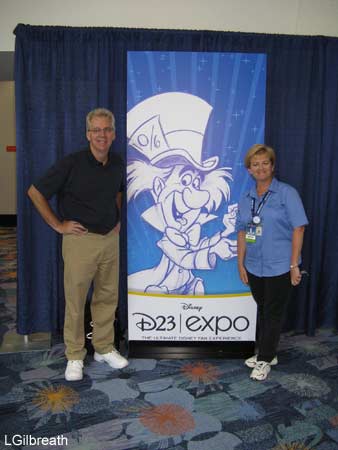 And I got up close and personal with Herbie the Love Bug: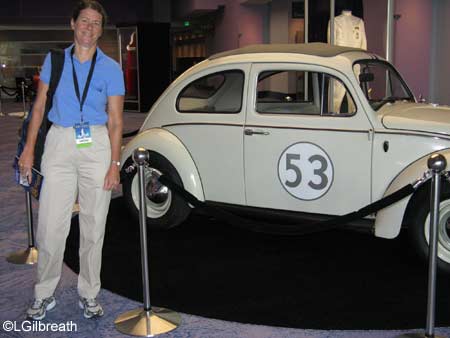 We met Deb Wills for the Disney Cruise Line session. As I'm sure you've heard by now, the big announcement was that the Wonder will be doing Alaska cruises in spring/summer 2011. They showered us with a bunch of snowflake confetti for that! 🙂
Donald Duck was the special guest, and there was a special surprise for Donald, too:
This statue will grace the atrium in the new ship, the Disney Dream.
Other items in my notes…some of the special excursions for the European/Mediterranean cruises this summer are a Princess and Princess Ball in St. Petersburg Russia, a performance of the St. Petersburg ballet, kids get a chance to paint their own fresco in Florence, adults can take a cooking class in a Tuscan farmhouse, and there's a treasure hunt in Tunis.
In the future, there will be some trips that are a combination of Adventures by Disney and the Disney Cruise Line – there will be more information on that in the near future.
The Alaska cruises will start in Vancouver, and visit Ketchikan, Juneau, Skagway and the Tracy Arm Fjord. Excursion opportunities will include the Alaskan Railway, salmon fishing, and panning for gold.
The Disney Magic will be returning to the Mediterranean again for 10- and 11-night cruises in 2011.
Castaway Cay is getting a makeover in 2010. There will be a new Pelican Plunge water slide and the "Spring-a-Leak" water play area. Teens get a new hangout called "The Hideout". There will be some private beach cabanas available for guests to reserve – some on the adult beach at Serenity Bay, and some on the family beach. The cabanas come with a personal host.
The new ships, the Disney Dream and the Disney Fantasy, launch in 2011 and 2012 respectively. They are 50% larger than the Magic and the Wonder.
After the Cruise Line event we had a little time to wander around the Exhibit Hall. There's a great Lego booth where they are building various things out of Legos – like this statue of Buzz Lightyear: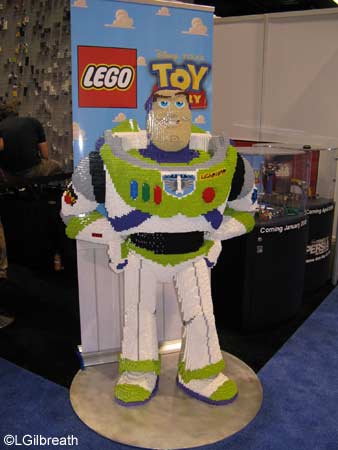 And in the Disney Technology Magic area I got to interact with Wall-E – they had a small one that is remotely operated and does all kinds of cute things. He was adorable.
And there's a tea table set up for a meet and greet with characters from Tim Burton's Alice in Wonderland, where I had a tete-a-tete with her Majesty, the Queen of Hearts. I asked if there was going to be a croquet game, and she said no, that unfortunately all of the hedgehogs had run off with the guinea pigs from G-Force. 🙂
The major event of the day was the Walt Disney Studios presentation in the Arena. Oh my. It was amazing. Disney pulled out ALL the stops for this one! We were not allowed to have any cameras, so this is all from my notes, with a few photos Disney hs made available to us.
The presentation began with about a 20-minute video montage, set to movie music played by a live orchestra accompanied by live singers. There were lots of movies that I'd forgotten had anything to do with Disney (having come out under different labels), like Three Men and a Baby, Crimson Tide, and Pretty Woman. And then there were scenes from classics like Mary Poppins, Pollyanna, and Lady and the Tramp.
Dick Cook, President of Walt Disney Studios, talked about, and showed us, all kinds of things.
The movie theater at the Disney Studios in Burbank will be open to the public for special showings of The Princess and the Frog from November 25-December 13.
Wild Hogs 2 comes out in 2010.
We saw a preview of the new "A Christmas Carol" movie in 3-D. Robert Zemeckis came out and said that he wanted to present the movie like Dickens imagined it.
There will be a new version of "The Beatles Yellow Submarine", also directed by Zemeckis, and in 3D.
There was a very funny preview of Old Dogs, starring John Travolta and Robin Williams. John Travolta, his wife Kelly Preston, and their daughter Ella Blue all appear in the movie, and they all came out together to a very warm reception from the audience.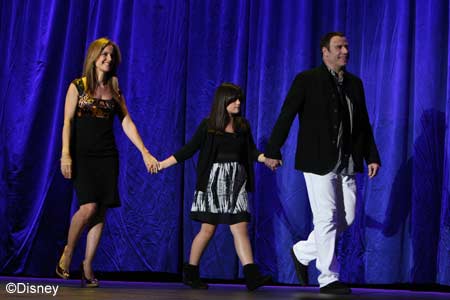 Next up, Tim Burton's Alice in Wonderland, which will also be in 3-D. Tim Burton was on-stage briefly, and said that at one time he worked in Disney Animation as an in-betweener. He said this new movie uses live action and animation, mixing technologies differently.
Johnny Depp plays the Mad Hatter: to quote Dick Cook: "Every time we've put [Johnny Depp] in a funny hat it's always been golden." The movie starts March 5, 2010.
One of my favorite parts of the presentation starred the Muppets. First Fozzie Bear, Gonzo, and Pepe the Prawn appeared on the big screen looking down at and talking to Dick Cook – until Pepe told him to "go green light something" and he went off-stage. Then the curtains opened, to reveal a scaled-down version of the Mark Twain with Pepe, Gonzo, and Fozzie Bear looking out the front…and as it turned the corner, it revealed a whole bunch of Muppets looking out from the side. Kermit finally appeared in the pilothouse and they sang a version of Rainbow Connection (I love that song!). There will be an all-new Muppet movie coming soon: "The cheapest Muppet movie ever made" according to the ad on the screen. 🙂
Jerry Bruckheimer came out and we saw footage from Prince of Persia – Sands of Time, which opens May 28, 2010.
Then Nicolas Cage talked about the movie Sorcerer's Apprentice – he is a huge Fantasia fan, and doing this live action version was his idea – he's also one of the producers. July 16, 2010 for that one.
Next we saw footage from the new Disneynature film called Oceans, opening on Earth Day, 2010. Incredible stuff!
Dick Cook announced a new label that Disney is forming with Guillermo del Toro: Disney Double Dare You. This is supposed to be sort of spooky, sort of scary – Lee calls it "Light Horror". We got video clip of del Toro who is in New Zealand right now filming The Hobbit. The first release will be called "The Troll Hunters", and it's based on an original idea of del Toro's.
Miley Cyrus came on-stage where she performed her hit song, "The Climb" live for us, and talked briefly about her role in the movie The Last Song.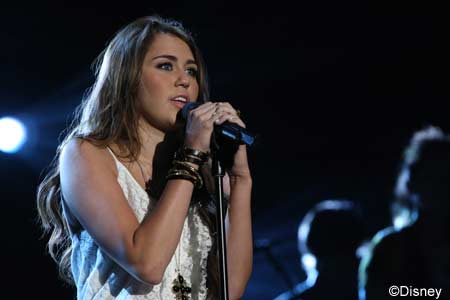 We saw some footage from Tron Legacy 3D, which comes out next year, I think? Jeff Bridges reprises his role as Flynn.
Disney has made an agreement with Dreamworks Studios to produce up to 6 pictures a year under the Touchstone label.
Andrew Stanton of Pixar will be producing a trilogy of movies based on the John Carter of Mars books by Edgar Rice Burroughs.
Jerry Bruckheimer is producing a new Lone Ranger movie with Johnny Depp as Tonto, slated for summer of 2011.
And the finale of the event…cue the Pirates of the Caribbean music, the curtain rises and we see a figure on board ship silhouetted behind a sail…the ship turns, and it's Captain Jack Sparrow – Johnny Depp himself!!! Huge cheers from the audience! The fourth Pirates of the Caribbean movie will be called: Pirates of the Caribbean: On Strange Tides. Captain Jack came down and spoke a little bit – he'd seen a talking frog earlier and was wondering "Where has the frog gone?" Dick Cook enticed him off-stage with the promise of rum. 🙂
It was an amazing, amazing presentation!!!
There was more from today…but that's all I have time for now