Walt Disney World Chronicles: The First WDW Christmas
by
Jim Korkis
Disney Historian
Feature Article
This article appeared in the December 4, 2018 Issue #1002 of ALL EARS® (ISSN: 1533-0753)
Editor's Note: This story/information was accurate when it was published. Please be sure to confirm all current rates, information and other details before planning your trip.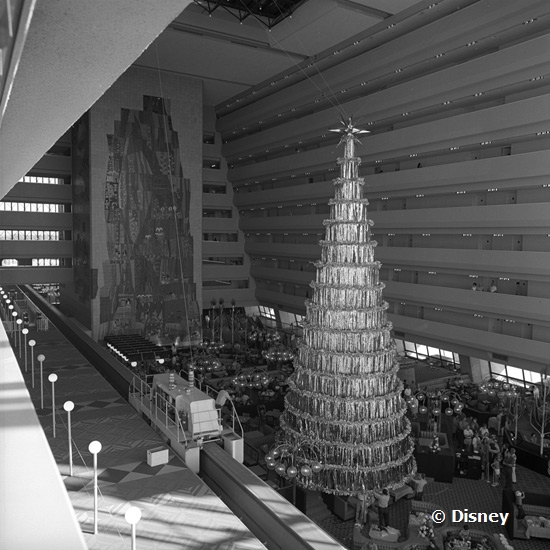 It is hard to believe that the first Christmas celebrated at Walt Disney World was almost 50 years ago. That was less than three months after the vacation destination itself had opened that October.
From the Story of Walt Disney World Commemorative Edition that was available to guests in 1971, here is the description of the new entertainment venue:
"Walt Disney World is a completely new kind of vacation experience. Here you'll find all the fun of California's Disneyland — and many new attractions created especially for Walt Disney World. And that's just the beginning: Here you can dine in the banquet hall of a medieval castle… sail for miles, or sun on the beach of a Polynesian Village… watch the sunset from the deck of a 19th-century steamboat… ride a swift monorail train right through the interior of a resort-hotel, as contemporary as tomorrow.
"Here are just a few of the exciting adventures and attractions awaiting you and your family in The Vacation Kingdom of the World."
For an adult, the cost of a ticket book at the time was $4.75 (19 cents of which was state tax) but it included admission, seven tickets, and a "transportation ticket." Disney estimated that the value was actually $7.65, so it was quite a bargain. It was even more of a bargain when you realized that a single adult admission (without any tickets) was $3.50.
On December 12, the Orlando Sentinel newspaper announced: "Walt Disney World's first Christmas will be a spirited two-week holiday full of gaiety, tradition, colorful Disney character parades, and commemorative religious pageantry of the season. Yuletide decorations will bring added sparkle to the already fun-filled Magic Kingdom — 'decked out' literally for Christmas with a giant tree and hundreds of wreaths of hemlock and holly.
"Special daily Holiday Parades (beginning December 20) and two mammoth candlelight processionals are part of the spectacular events scheduled for the holidays.
"Florally adorned by poinsettias, snapdragons, petunias and 50,000 pansies, the theme park will feature lights and decorations in each of the Main Street shop windows. And in Town Square, a snowy, 50-foot Christmas tree, especially selected and cut from a forest in Paradise, Michigan, will serve as a colorful centerpiece for the festive theme park celebration. More than 1,200 lights and a thousand giant ornaments adorn the tree."
The Holiday Parade was performed twice each day from December 10 through January 2. According to the newspaper account, the parade included "marching toy soldiers, dancing reindeer, marching bands, girls playing glockenspiels and 50 famous Disney characters come to life." And of course Santa Claus was in the parade and the park. Basically, it was similar to the Disneyland parade of the same year.
"Christmas week was even busier than Thanksgiving," publicity manager Charlie Ridgway told me when I asked him about Walt Disney World's Christmas that first year it was opened. "Our 1,500 rooms in the Contemporary and the Polynesian were booked up for a year. Attendance (at Magic Kingdom) increased steadily. It rose to 600,000 in (the month of) December. Hours were extended to midnight for the Christmas holidays. For three successive days at Christmastime, the gate total approached 70,000."
The Magic Kingdom was open on Christmas Eve from 9 a.m. to 6 p.m.; Christmas Day hours were 10 a.m. to 6 p.m. Extended hours from 9 a.m. to midnight were in effect for the week between Christmas and New Year's.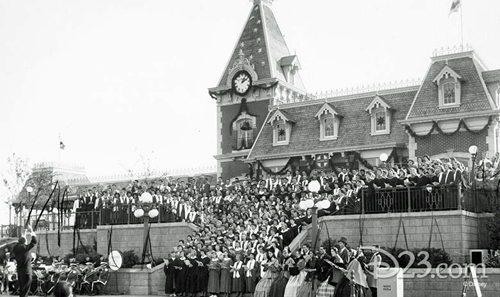 Like the holiday parade, other Christmas traditions from Disneyland were transplanted to Walt Disney World, in particular the famous Candlelight Processional. According to legend and an unpublished manuscript about the history of Disney entertainment by Ron Logan, former vice president of WDW Entertainment, one day in 1958, Walt Disney supposedly remarked to his friend Dr. Charles Hirt of the University of Southern California, "We need Christmas carolers at Disneyland. Can't we have a choir assembled at the hub of Main Street by the Railroad Station in Town Square? Have them sing to the guests there, and I'll listen from my office over the Fire Station." And so, the celebrated tradition of The Candlelight Processional began.
While this is a charming story, I have not found any documentation or confirmation that it was Walt himself who presented the idea of the Candlelight Processional to Dr. Hirt. However, in the early years at Christmas, a dozen "Dickens" Christmas singers from USC (under the direction of Hirt) were supplemented by local choirs, sometimes standing together near the Main Street Station steps singing Christmas carols. They were accompanied by school bands under the direction of Hirt, who taught at USC's School of Music for 35 years. The choirs and carolers were so well-received by Disneyland guests that Hirt suggested to Disney Entertainment that performances by a larger massed choir group would be a welcome addition to future holiday events. So, in December 1958 the first evening Candlelight Processional was held with singers from 16 choirs moving down Main Street to the Plaza where they performed. Celebrity narrators were introduced in 1961, with actor-singer Dennis Morgan having the distinction of being the first one. He performed that role from 1961 to 1964 and again in 1966. Dick Van Dyke, to help promote the film Mary Poppins, was the narrator in 1965.
In 1971, the Candlelight Processional was replicated in the Magic Kingdom in Florida. It was also performed at the train station on Main Street, just as it was at its Disneyland counterpart.
Walt Disney World's very first Candlelight Processionals were held on December 18 and 19 at 6 p.m. each evening. Twelve-hundred carolers from across the state of Florida made up the choir. Actor Rock Hudson narrated the Christmas story, while Frederick Fennell conducted the orchestra. The living Christmas tree was made up of boys' choirs from Orlando and St. Petersburg.
For the WDW performances, Dr. Hirt invited a good friend of his named Ralph Blaine and his wife to attend. Blaine was a very famous Broadway and Hollywood movie songwriter who wrote the song Have Yourself a Merry Little Christmas. It became a tradition for Blaine to perform that song in the WDW Candlelight pre-show each year until his passing.
Over the years there have been some variances in the narration script and some different musical selections, although most guests would not have been able to detect these subtle changes. The ceremony has basically remained the same for decades, except for its location. In 1993, responding to guest requests for more opportunities to enjoy the performance, the Florida edition of Candlelight was moved to Epcot for 15 nights with two presentations each evening, and with a different choir participating each night. That proved so successful that in 1994 the Candlelight Processional was extended to 30 nights with two performances each evening and a different choir every night.
The Candlelight Processional still entertains guests today — on both coasts — with its music and timeless message. I'll leave you with a list of the celebrity narrators from that first Walt Disney World Christmas in 1971, up to 1991. How many of these names from yesteryear do you recognize?
Walt Disney World Narrators the First 20 Years
Rock Hudson (1971) — Hudson had narrated Disneyland's Candlelight in 1968 and would again in 1972.
Cary Grant (1972)
Rock Hudson (1973-1974)
Dean Jones (1975) — Jones made a name for himself in many Disney films like The Shaggy D.A., The Computer Wore Tennis Shoes and The Love Bug.
Joseph Campanella (1976)
Rock Hudson (1977)
Ross Martin (1978)
Perry Como (1979)
Rock Hudson (1980)
James Hampton and Darrin McGavin (1981)
Pat and Shirley Boone (1982)
Joseph Campanella (1983)
Rock Hudson (1984)
Howard Keel (1985-1986)
Dean Jones (1987)
Walter Cronkite (1988) — The newsman with the iconic voice went on to narrate Epcot's Spaceship Earth.
McLean Stevenson (1989) — Star of the long-running television series MASH.
Joseph Campanella (1990)
George Kennedy (1991)
============
RELATED LINKS
============
Ghosts of Walt Disney World Christmases Past
Holiday Happenings around Walt Disney World
The Candlelight Processional by Gary Cruise
Other features from the Walt Disney World Chronicles series by Jim Korkis can be found in the AllEars® Archives.
= = = = = = = = = = = = =
ABOUT THE AUTHOR
= = = = = = = = = = = = =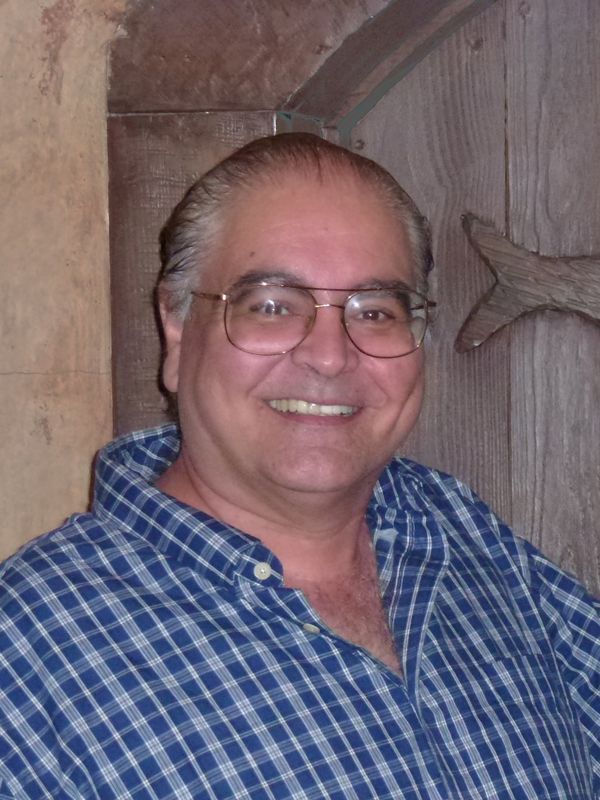 Disney Historian and regular AllEars® Columnist Jim Korkis has written hundreds of articles about all things Disney for more than three decades. As a former Walt Disney World cast member, Korkis has used his skills and historical knowledge with Disney Entertainment, Imagineering, Disney Design Group, Yellow Shoes Marketing, Disney Cruise Line, Disney Feature Animation Florida, Disney Institute, WDW Travel Company, Disney Vacation Club and many other departments.
He is the author of several books, including his latest, Vault of Walt Volume 7: Christmas Edition. This book is filled with nothing but holiday stories of Walt, the parks, animation, comic books and more and is available in both paperback and Kindle versions.