Walt Disney World Chronicles – Mickey Mouse at Walt Disney World
by Jim Korkis
Disney Historian
Feature Article
This article appeared in the November 6, 2018 Issue #998 of ALL EARS® (ISSN: 1533-0753)
Editor's Note: This story/information was accurate when it was published. Please be sure to confirm all current rates, information and other details before planning your trip.
Most Disney fans know that we'll celebrate Mickey Mouse's 90th birthday this coming November 18. In honor of that milestone this month, we thought we'd take a look at our Main Mouse and his place in Walt Disney World.
While some feel that Mickey Mouse lives in Burbank, California, or Hollywood or perhaps even Disneyland (in a house in Mickey's Toontown), a good argument can be made that Mickey's real home is Walt Disney World.
After all, Walt Disney World is home to the rarest Hidden Mickey of them all. In the Under the Sea: Journey of the Little Mermaid attraction at the Magic Kingdom, the rarest Hidden Mickey can only be seen on November 18, Mickey's birthday, at noon if the sun is shining. Imagineers drilled three holes in the ceiling, which on that day and time will create the famous three-circle Mickey image on the wall on the queue line at about knee-level. It has appeared for just a few minutes every year since the attraction first opened in 2012.
Certainly, Walt Disney World has been the home of a number of Mickey-centric experiences — from the Magic Kingdom's Mickey's PhilharMagic, to the iconic Sorcerer Hat that used to reside in Disney-MGM Studios and the Sorcerer Mickey arm and hand next to Spaceship Earth as part of the Millennium celebration. There were also Mickey's Toontown Fair in the Magic Kingdom, Camp Minnie-Mickey in Animal Kingdom, and the nighttime show, Fantasmic! at Disney's Hollywood Studios.
Walt Disney World was also home to the first Mickey Mouse-based theme park attraction, the Mickey Mouse Revue. This signature attraction at the Magic Kingdom in Florida opened in 1971 with more than 80 audio-animatronics Disney characters. It was created primarily by Disney Legend Bill Justice who once told me in an interview:
"(Walt Disney Imagineering) had designed some imaginative shows for the parks, but we seemed to be getting away from our heritage. What we needed was a reminder of what Walt had accomplished. I pulled out a sheet of paper and got to work. Mickey Mouse would have to be the main figure.
"The show we had in mind was this: Mickey Mouse would lead an orchestra of Studio characters through a medley of Disney tunes. Then on the sides of the stage and behind the orchestra, scenes from our most popular animated features would appear one by one. Mickey and his orchestra would close the performance.
"One big problem surfaced: Mickey. With 33 functions crammed into a 42-inch body, he was the most complex audio-animatronics figure to date. He also became my biggest programming challenge because I had to do extreme movements so it would appear that Mickey was keeping up with the tempo."
The revue had an eight-minute pre-show featuring an overview of Mickey's animated career as well as the use of sound in animation. The attraction closed at Walt Disney World on September 14, 1980, and was moved to Tokyo Disneyland, where it was an opening day attraction. It ran there from April 1983 until May 2009.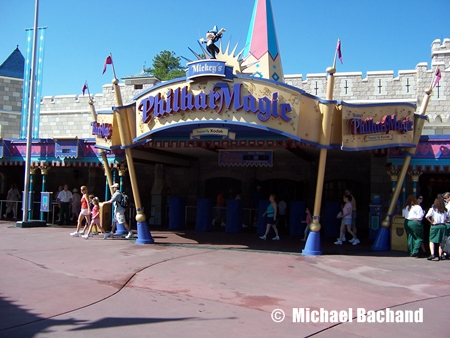 Today, the show building that once housed the Mickey Mouse Revue is now home to Mickey's PhilharMagic Concert Hall.
Mickey's Philharmagic, like Mickey Mouse Revue, features Mickey as a conductor leading an orchestra. The show, which opened in 2003,
is a 12-minute film written by Alex Mann and directed by George Scribner, who directed the animated feature Oliver and Company (1988). It recounts the misadventures of Donald Duck after he borrows Mickey Mouse's magical hat from the Sorcerer's Apprentice. Donald is swept away into several different Disney animated feature scenarios as he tries to catch the errant hat. A total of 14 different Disney animated characters appear.
Although the premise is that Mickey Mouse will be conducting the PhilharMagic Orchestra at the Fantasyland Concert Hall just as he had led several orchestras in his short cartoons, Mickey appears only briefly, at the beginning and the end of the show.
At 150 feet wide by 28 feet tall, the screen for Mickey's PhilharMagic is the largest seamless projection screen in the world. The theater accommodates up to 496 guests (including those in wheelchairs/ECVs) who use 3D "opera glasses" to enjoy the show.
It is considered a 4D attraction, meaning that in addition to the 3D film itself, there are other elements like scents (including apple pie offered by Lumiere), water spray (in Ariel's underwater world), the jets of air while flying over London and a three-dimensional rear end of Donald Duck struggling in the back wall of the theater at the end of the show. (The rest of Donald can be found in the wall of the Fantasy Faire merchandise shop after exiting the attraction.)
Wayne Allwine originally supplied the voice for Mickey Mouse when the attraction opened. Most of Donald Duck's lines were pieced together from soundtracks of old cartoons where he was voiced by his original voice Clarence Nash. Tony Anselmo, the current voice of Donald, supplied only five new lines, such as the scene where Donald Duck hums to the tune of the song Be Our Guest.
It is one of the very few attractions where WDI collaborated directed with Walt Disney Animation Studios as it did with Fantasmic!
The entire production of Mickey's PhilharMagic was created totally on computer, representing the first time the featured classic Disney characters were completely modeled and animated by computer.
Animator Nik Ranieri, who brought Lumiere to life for the original animated feature Beauty and the Beast, returned to render him in 3-D for Mickey's PhilharMagic. This was the final time that actor Jerry Orbach reprised his role as Lumiere before his death in 2004.
Animator Glen Keane, who animated Ariel in The Little Mermaid, also returned to animate her for this film. It was his first time doing computer animation.
Songs featured in the show include Be Our Guest, I Just Can't Wait to Be King, Part of Your World, A Whole New World, You Can Fly!, and instrumental versions of Sorcerer's Apprentice and the Mickey Mouse Club March.
Mickey's PhilharMagic was the seventh 3D film presented at WDW following previous films including Captain EO, Honey, I Shrunk the Audience, Magic Journeys, Muppetvision 3D, It's Tough to be a Bug and Working for Peanuts.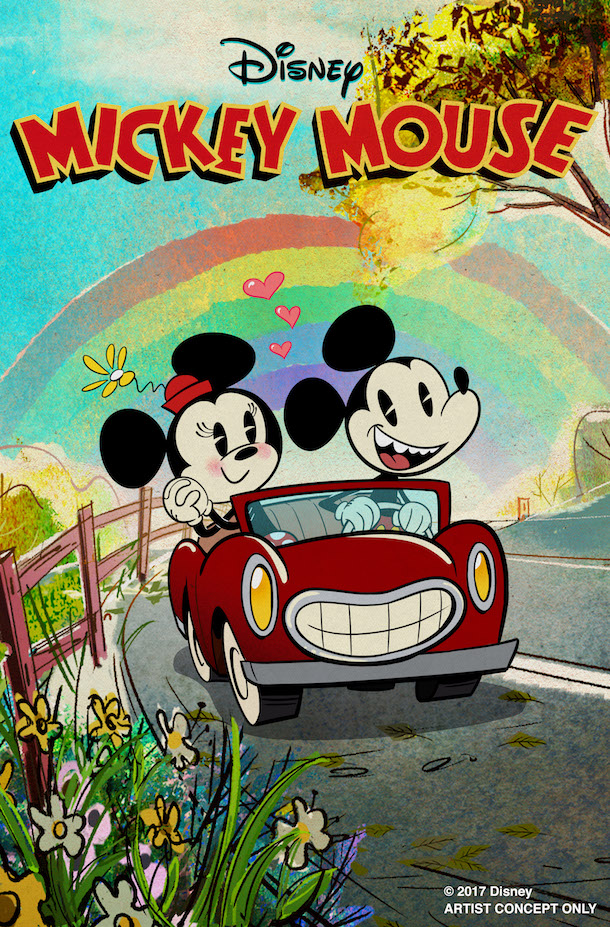 The newest Mickey Mouse theme park attraction will be opening at the Disney's Hollywood Studios in 2019: Mickey and Minnie's Runaway Railway, which will be in the same location that housed The Great Movie Ride for almost three decades.
The attraction will be strongly based on the new Mickey cartoon design and its more raucous attitude. Imagineer Kevin Rafferty said teams are inventing new technologies that turn the flat world of a colorful cartoon short into a "dimensional display of amazingness" in a process Disney is referring to as "2 ½ D." As opposed to 3D, no special glasses will be required, thus cutting down on operating and maintenance costs. Rafferty added, "This is not going to be a small attraction; it's going to be game-changing."
Guests will enter the Chinese Theater for a premiere of a new Mickey Mouse cartoon short with a new song. In the pre-show, guests will see Mickey and Minnie getting ready for a picnic. As they drive out to the location, they pass alongside a train whose engineer is none other than Goofy.
In Mickey and Minnie's Runaway Railway, guests will see Mickey and Minnie as full-sized audio-animatronics figures in their car driving alongside the train. (A maquette of the classic duo in the car can be seen at the preview of the attraction currently at Walt Disney Presents.) The new attraction will have roughly 10 audio-animatronics figures.
In the attraction, guests will find themselves in the middle of a stampede, followed by a trip to a carnival that ends in being caught up in a twister. The whirling wind drops everyone into a tropical locale with a large screen and water effects (since the train cars are teetering near the edge of a waterfall). Those cars flush through a drainage pipe into a big city where there is a dance studio run by an audio-animatronics Daisy Duck who even gets the cars to dance. Somehow all of this leads to an alleyway with a large factory where Mickey and Minnie must save the guests from a giant furnace before arriving in the park for a picnic where an audio-animatronics Pluto greets the guests. The guests go out through a movie screen to get to the final exit.
The attraction puts the guests on that train as they enter the cartoon itself into a "wacky and unpredictable world." To capture that animation experience, the partners at Disney Television Animation have been supplying assistance. Imagineering is working with the same creative team at Disney Television Animation (Paul Rudish, Joseph Holt and composer Christopher Willis) that's responsible for the new award-winning Mickey Mouse cartoons appearing on the Disney Channel since 2013. Chris Diamantopoulos — not Bret Iwan — supplies the voice of Mickey in the coming attraction. The producer wanted more of an "edge" to the voice to capture the spirit of the 1930s Mickey design.
So, as you can see, Walt's famous mouse feels quite at home at Walt Disney World. His presence continues to be felt throughout the entire resort.
Happy 90th, Mickey!
============
RELATED LINKS
============
Mickey's 90th Celebrations at Disney Parks Worldwide
Vera Bradley Announces Special Print for Mickey's 90th
Mickey's 90th Anniversary Coffee Blend by Joffrey's
Mickey Mouse's Official Birthday Portrait
Mickey Mouse Club Merchandise in Honor of Mickey's 90th Anniversary
Other features from the Walt Disney World Chronicles series by Jim Korkis can be found in the AllEars® Archives.
= = = = = = = = = = = = =
ABOUT THE AUTHOR
= = = = = = = = = = = = =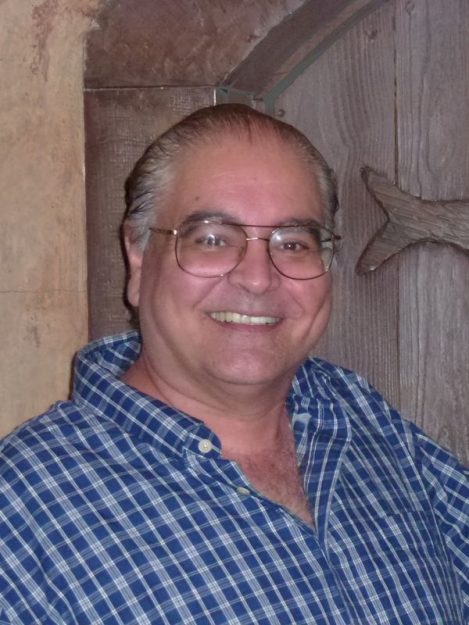 Disney Historian and regular AllEars® Columnist Jim Korkis has written hundreds of articles about all things Disney for more than three decades. As a former Walt Disney World cast member, Korkis has used his skills and historical knowledge with Disney Entertainment, Imagineering, Disney Design Group, Yellow Shoes Marketing, Disney Cruise Line, Disney Feature Animation Florida, Disney Institute, WDW Travel Company, Disney Vacation Club and many other departments.
He is the author of several books, including Secret Stories of Disneyland, available in both paperback and Kindle versions.