September 2013 Walt Disney World Bits and Bites
Feature Article
This article appeared in the August 27, 2013 Issue #727 of ALL EARS® (ISSN: 1533-0753)
Editor's Note: This story/information was accurate when it was published. Please be sure to confirm all current rates, information and other details before planning your trip.
= = = = = = = = = = = = = = = = =


STEP BACK IN TIME
= = = = = = = = = = = = = = = = =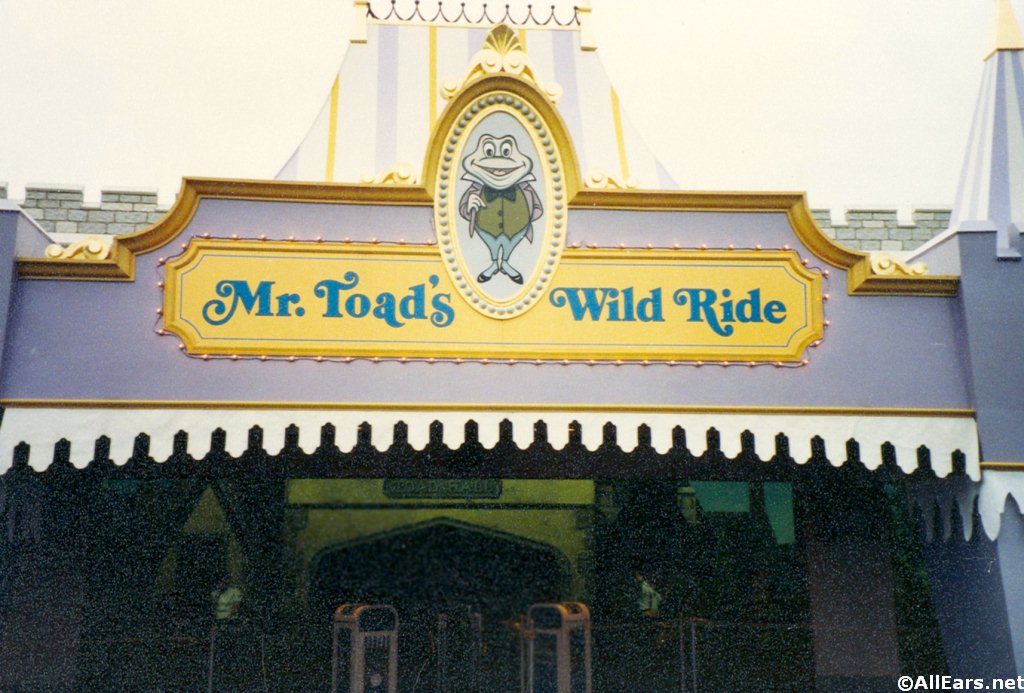 by Keith Gluck, AllEars.Net Guest Blogger
Each month, we rummage around in our archives for this featurette, which indulges in a bit of nostalgia, taking you back in history for a glimpse of Walt Disney World and The Walt Disney Company through the ages. This month, we take a look at Mr. Toad's Wild Ride, which closed 15 years ago this September to make way for The Many Adventures of Winnie the Pooh in Walt Disney World's Magic Kingdom. (The Disneyland version of this attraction is still operating.)
During early planning for Walt Disney World, Chief Operations Officer of WED Enterprises Richard Irvine tapped Imagineer (and future Disney Legend) Rolly Crump to spearhead all of the Fantasyland attractions.
Thrilled with the assignment, Rolly immediately began formulating ways to improve upon the existing dark rides from Disneyland. One of the rides Disney decided to carry over was Mr. Toad's Wild Ride, which was extremely popular in Anaheim. In fact it was so popular, Vice President of Operations Dick Nunis advised Rolly that they should build two identical Toad rides, one right next to the other. Rolly did not share his vision. "I thought that was a dumb idea," Rolly said. "I told him to let me think about it for a while, and I'd come up with something better." And come up with something better, he did.
Rolly designed a two-track ride system that was housed in the same show building, giving riders two noticeably different ride experiences. On track one, passengers traveled through Toad Hall's library, over a farm, through Town Square, in and out of jail, past a shootout between cops and weasels, down the wrong way of a railroad tunnel, and ultimately, to Hell.
Track two also started riders out in Toad Hall, but through the Trophy Room instead of the library. The journey continued through a gypsy camp, Town Square, Winky's Tavern, the countryside at night, and their own Hell, also by way of the wrong way of a railroad tunnel.
The design was brilliant. Rolly even had the two tracks nearly intersect at points, giving the illusion of an impending head-on collision. Not only did having a second track double ride capacity, but the motorcars were modified in the '90s to hold four passengers compared to Disneyland's two.
The ride was a huge hit, and a perennial guest-favorite from Opening Day…
To read the rest of Keith Gluck's piece on Mr. Toad's Wild Ride, visit the AllEars.Net Guest Blog at
http://land.allears.net/blogs/guestblog/2013/08/fifteen_years_ago_next_month.html
RELATED LINKS:
Disneyland's Mr. Toad's Wild Ride:
http://allears.net/dlr/tp/dl/toad.htm
= = = = = = = = = = = = = = = = =


HIDDEN MICKEYS ALERT
= = = = = = = = = = = = = = = = =
Steve Barrett, author of the Hidden Mickeys books and webmaster of www.HiddenMickeyGuy.com, encourages you to have fun finding the following images in the Magic Kingdom at Walt Disney World.
1. Just inside the building along the entrance queue of "Buzz Lightyear's Space Ranger Spin," the second poster on the right wall is called "Planets of the Galactic Alliance." At the right lower corner of this poster, a purple planet ("Planet Z") has three craters that form a sideways classic Mickey with "ears" to the left. (Thanks to Sharon Machuga and Mei Li, and Tyler Glynn.)
http://allears.net/btp/images/hidden-mickey-408.jpg
2. In Adventureland, a window display about pirates inside the Tortuga Tavern restaurant has three candles stuck in a bowl that form a classic Hidden Mickey. (Thanks to Todd Carballo, Bonnie Smith, Chuck Lionberger, and Octavio Perez.)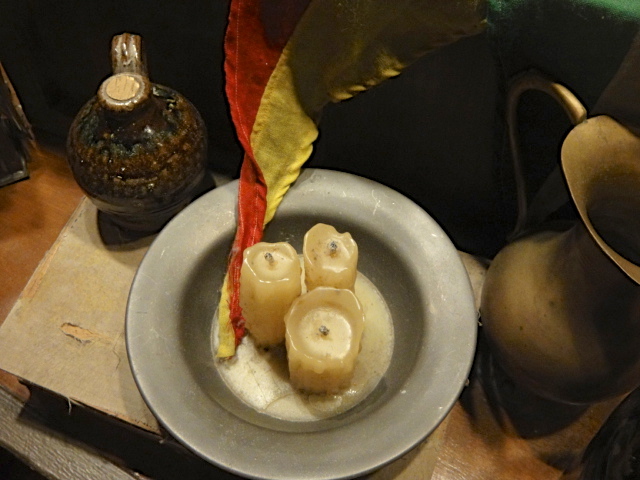 http://allears.net/btp/images/hidden-mickey-409.jpg
3. On Main Street, U.S.A., a small classic Hidden Mickey is on the middle back of the overhanging entrance sign to Tony's Town Square Restaurant. Look up as you exit the restaurant. (Thanks to Denise Morelli.)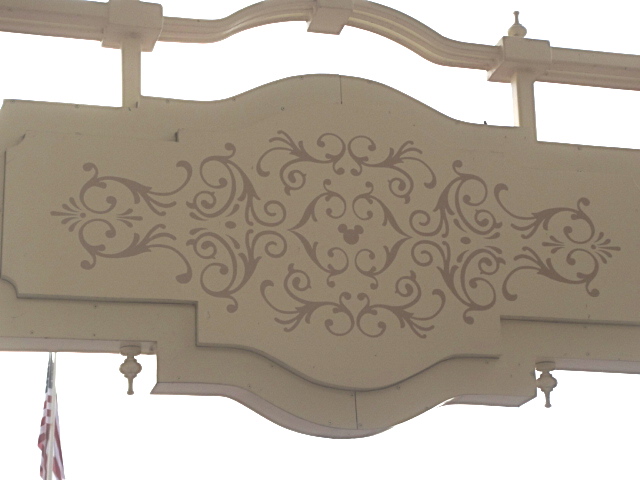 http://allears.net/btp/images/hidden-mickey-410.jpg
=-=-=-=-=-=-=-=-=-=-=-=-=-=-=-=
You can find a selection of past Hidden Mickey Alerts here:
http://allears.net/btp/hiddenm2.htm
And check out our Searching Disney with Steve blog:
http://land.allears.net/blogs/stevebarrett/
= = = = = = = = = = = = = = = = = =

RATE & REVIEW SPOTLIGHT
= = = = = = = = = = = = = = = = = =
Compiled by Deb Koma, Editor
With the first 2013 Mickey's Not So Scary Halloween Party less than a month away, we've been getting lots of questions from readers as to whether this after-hours Magic Kingdom event is worth the money. We thought we'd share highlights from the comments readers left us in our Rate and Review section about last year's parties to help you decide whether MNSSHP is for you:
Recommended by 84 percent of AllEars.Net reviewers.
Overall rating of this experience: 7.4 (out of 10)
— "The only reason I can't give this a 10 is because it took us 15 minutes to get from the restrooms near City Hall to the lockers due to the absolute FLUX of people entering the park at 7 p.m. on the dot. The parade, fireworks and trick or treating were just FANTASTIC and we had a WONDERFUL time!"
— "We visited at the end of September and found that apart from the awful weather conditions, the crowd levels were unacceptable. Being in a wheelchair I felt very compromised and not at all safe. We had done this originally back in 2000, when the crowds were far more acceptable and the evening had been far more enjoyable… For the amount of money the tickets cost we felt that the evening was not value for money… I will not be rushing back to do another 'party' at Magic Kingdom."
— "Loved the party! It was crowded, but we still walked right on almost every ride we wanted to. New Fantasyland was opened just for the party…. almost worth the price of admission right there! No waits for the new rides/experiences! Parade route was crowded, despite attending the later parade. Tried to get dinner at Casey's hot dogs… terrible service and crowds! Trick or treating was fun and guest services traded our nut allergy bag and our daughter received some awesome allergy-friendly choices! This was one of our favorite things we did on our vacation!"
— "My wife and I went to MNSSHP on October 16. We had an excellent time. It was crowded entering Main Street, but once we were in the park the crowds were fine. Showed up 10 minutes before the first parade and got a front row spot in Frontierland. Rode our favorite rides with no lines. Had a Dole Whip and saw the fireworks from the bridge over Tomorrowland. It was a great night. Would definitely do it again. Next time we might even bring the kids with us."
— "Overall, the experience was nice; my daughter and I were down for a father-daughter getaway. We have done Christmas and Pirate and Princess, so we thought this was a good way to round out the experiences. I agree with previous reviews that being a hard ticket event, they should limit the number so the event is more enjoyable; little wait for rides; neat to see people dressed up in costumes; really enjoyed Boo to You parade. I would recommend doing this once to experience Disney magic."
— "We had dressed up as a family and it really got us into the spirit of things. It was fun seeing that lots of other people were in costume as well. Lines for rides were quite short when we arrived and just got shorter as the evening wore on. Near closing our kids (7 and 10) were riding Dumbo multiple times without getting off. Big Thunder Mountain Railroad and Splash Mountain were walk-ons. The Boo to You parade was great — a must-see. Dancing ghosts from the Haunted Mansion, gravediggers, and of course the Headless Horseman… We also loved HalloWishes, a nice Halloween take on the fireworks. The lines were long for trick-or-treating but they moved quickly. Both our kids had no trouble filling their bags up. There were crowds but they didn't interfere with us having a great time. We were glad that we went to MNSSHP at least once. However for the extra cost, we are not sure if we would do it again."
— "We attended the Not So Scary Halloween Party on October 18. It was extremely crowded. We couldn't get on rides or get near the characters. It's a good concept, but the crowd is just too large to allow enjoyment of the event."
To read more about Mickey's Not So Scary Halloween Party, or to share your experiences from the 2013 parties, visit:
http://land.allears.net/reviewpost/showproduct.php?product=222&title=mickey-s-not-so-scary-halloween-party-magic-kingdom&cat=65
= = = = = = = = = = = = = = = = =


MONTHLY REMIND-EARS
= = = = = = = = = = = = = = = = =
EVENTS
Magic Kingdom
Mickey's Not So Scary Halloween Party: 2013 Dates — September 10, 13, 17, 20, 24, 27, 29; October 3, 4, 6, 10, 11, 14, 17, 18, 20, 22, 24, 25, 27, 29, 31; November 1. Tickets went on sale on May 1. For prices and details:
http://www.allears.net/tp/mk/mnssh.htm
Read what's new at this year's parties in Kristin Ford's recent blog:
http://land.allears.net/blogs/kristin-ford/2013/08/_typically_mickeys_notsoscary.html
The 31st Night of Joy, the annual Christian music event staged at the Magic Kingdom, will be held September 6-7, 2013. The complete line-up for this year is:
— Friday, September 6: Mercy Me, Steven Curtis Chapman & Michael W. Smith, Skillet, Mandisa, Matthew West, Audio Adrenaline, Moriah Peters, We As Human, City Harbor
— Saturday, September 7: TobyMac, Francesca Batistelli, Newsboys, Britt Nicole, Group 1 Crew, Building 429, For King and Country, Jamie Grace
Prices are $58.58 for one night; $105.44 for a two-night ticket. Prices include tax and are for both child and adult tickets.
http://allears.net/tp/mk/noj.htm
"Unleash the Villains" is an upcoming Limited Time Magic offering set for Friday the 13th, September 13, 2013, from 8 p.m. to 1 a.m. at Disney's Hollywood Studios. Well-known Disney Villains will fill the park for special meet-and-greets, a dance party, and more. Additional details to be announced soon.
The 2013 Epcot International Food and Wine Festival will be taking place from September 27 – November 10, 2013. Several new events have been added, including a Hibachi experience, a Parisian breakfast and one featuring the food and beverages of Scotland. For a preview of this year's festival:
http://land.allears.net/blogs/kristin-ford/2013/08/preview_of_2013_epcot_internat_1.html
Eat to the Beat Concerts will be performed at the America Gardens Theatre nightly at 5:30, 6:45 and 8 p.m. New acts coming this year include the Go-Go's, Edwin McCain, The Manhattan Transfer, Wilson Phillips, Spin Doctors and Christopher Cross. There are also many returning favorites, including Big Bad Voodoo Daddy and Boyz II Men. Slated for September:
September 27-29: Starship starring Mickey Thomas
September 30-October 1: Go-Go's
The 13 Reflections of Evil Trading Event will be held September 13 – 15, 2013 at Epcot. The event will feature Villains-inspired merchandise including pins, Vinylmation, art and collectibles, and more. Read more about this event in Carol Cruise's Guest Blog:
http://land.allears.net/blogs/guestblog/2013/08/ready_getting_ready_for_the_an.html
September 7: International Manatee Day at The Seas with Nemo & Friends.
September 5: International Vulture Awareness Day
September 26: Elephant Day
Coronado Springs Resort
August 30 – September 2 (Labor Day Weekend): Dream Cars Weekend. The Mustang Club of America Grand National 2013 show will be held that same weekend at the Walt Disney World Speedway. Collector and specialty cars of all generations will be on display at the resort; more than 800 Mustangs and Fords are also expected. The weekend will also feature the Dream Builders Marketplace in Coronado Springs exhibition hall, where you can meet Dream Builders, see their custom creations and shop for the latest in automotive accessories and apparel. The event is free for spectators, though parking fees may apply. Other related event tickets are sold separately. For more about Dream Cars Weekend, visit http://www.dreamcarsweekend.com/
Downtown Disney
-=-=-=-=-=-=-=-=-=-
Don't forget to check our Events page for current updates: http://allears.net/pl/events.htm
-=-=-=-=-=-=-=-=-=-=-=-=-=-=-=-=-=-=-
REHABS AND CLOSINGS
Magic Kingdom
Fantasyland Expansion continues with the opening of Princess Fairytale Hall in 2013 and the debut of a new Disney "mountain" in the form of the Seven Dwarfs Mine Train in 2014.
Peter Pan's Flight in Fantasyland in the Magic Kingdom will be closed September 30 through November 13 for refurbishment.
Jungle Cruise will be closed now through September 30 for refurbishment.
Walt Disney World Railroad will be closed September 30 through November 20 for refurbishment.
Epcot
The Fountain View closed in March 2013 and is scheduled to reopen September 4 as a Starbucks location. The cast member costumes there will be designed to match the park's futuristic theme. The Starbucks location will offer the full complement of Starbucks signature beverages, artisan breakfast sandwiches and a wide selection of baked goods, including muffins, scones and specialty treats.
http://land.allears.net/blogs/dnews/2012/11/starbucks_locations_at_magic_k.html
Spice Road Table, a new waterfront eatery, will be open by year-end at the Morocco Pavilion in Epcot's World Showcase. The new restaurant will have indoor and outdoor seating, and will feature small plates and refreshments inspired by the cuisine of the Mediterranean. More enhancements to the pavilion and news on Spice Road Table will be released as menus are finalized.
Disney's Hollywood Studios
Muppet*Vision 3D will be closed through September 2 for refurbishment.
The Honey, I Shrunk the Kids Playground will be closed for refurbishment September 3 – November 19.
All-Star Sports Resort
The End Zone Food Court at Disney's All-Star Sports Resort will be closed for refurbishment until December 20, 2013. During this time, made-to-order food will not be available. Grab-and-go food items (cold sandwiches, cereal, etc.) will be available in a temporary location — the Game Point Arcade. (Arcade games will not be available during this refurbishment.) Motor coach transportation to the other All-Star Resorts will be available throughout the day during this period, and two motor coaches will run during mealtimes. You will be able to board motor coaches from the porte-cochere outside the All-Star Sports lobby. Coaches will travel to the porte-cocheres at both All-Star Music and All-Star Movies. This transportation will also be available if you'd like to enjoy the Note'able Games and Reel Fun arcades at the other All-Star resorts.
Contemporary Resort
California Grill, which has been undergoing a major makeover, is set to reopen on September 9. Reservations are now being taken for the re-imagined restaurant. The restaurant's new look is, according to the Disney Parks Blog, "mid-century modern California, with warm oranges and yellow hues reminiscent of the 1950s." The new menu features seasonal ingredients and a lighter touch, as well as an expanded sushi bar and an omakase menu — 12 courses of seafood, all chef's choice. Outdoors, the restaurant now has an additional deck on its southwest side for fireworks viewing to go along with the one on the northwest side. The restaurant opens daily at 5 p.m. For reservations, visit www.disneyworld.com/dine, or call 407-WDW-DINE (3463).
The 14th floor rooms and suites of the Contemporary Resort are closed for refurbishment. Some renovations planned for these suites include: a hard and soft goods refurbishment (things like bedspreads, linens, furnishings, etc.); improvements to the concierge lounge that will capitalize on the sweeping views of Cinderella Castle, nightly fireworks and the Seven Seas Lagoon or Bay Lake; enhancements to the corridors and elevator foyer. The new room design and in-room amenities will be reflective of high-end suites at all deluxe Disney Resorts. The health and wellness concept that was mentioned last year will not be included on that floor or within the suites; however, most of the design concepts previously shown for these suites will be incorporated. The refurbishment is expected to last through late summer 2013 (dates are subject to change).
Downtown Disney
Downtown Disney is undergoing a multi-year transformation into Disney Springs, which will treat guests to more shopping, dining and entertainment amid open-air promenades, springs and waterfront charm. Disney Springs will feature an eclectic and contemporary mix from Disney and other noteworthy brands, from boutique shops to unique flagship anchor stores. Disney Springs will double the number of shops, restaurants and other venues for guests to explore, resulting in more than 150 establishments. Drawing inspiration from Florida's waterfront towns and natural beauty, Disney Springs will include four outdoor neighborhoods connected by a flowing spring and vibrant lakefront. In addition to a new gateway with a signature water tower and grand entry, the destination will feature:
— The Town Center, which offers a mix of shopping and dining along a promenade.
— A commercial district called The Landing, with inspired dining and waterfront views.
— The family-friendly Marketplace that will continue to delight guests of all ages by combining new experiences, such as an over-the-water pedestrian causeway, along with classic Disney favorites, including an expanded World of Disney store.
— A West Side that provides an exuberant atmosphere with lively entertainment, along with a series of new elevated spaces that provide both shade and an overlook to the activity below.
The project will create an estimated 1,200 construction jobs and nearly 4,000 operational roles. New areas will open in phases. Disney Springs is expected to be complete in 2016.
http://land.allears.net/blogs/dnews/2013/03/disney_unveils_vision_for_disn_1.html
As part of the Disney Springs expansion, Downtown Disney parking lots H-K (near West Side locations such as AMC Theatres and House of Blues) closed July 22 to make room for a parking garage expected to open in late 2014. To compensate for the closed areas, "overflow" parking areas have been designated and will be open most Fridays, Saturdays and Sundays, as well as holidays, special events and other busy days throughout the next few years of the expansion project. Overflow lots include those at Team Disney, Casting and SunTrust. Signage along Buena Vista Drive will direct guests to parking areas. Shuttles will operate from 5 p.m. to 3 a.m. on days that overflow parking is open to transport guests between Team Disney and Downtown Disney West Side near Cirque du Soleil. If you have reservations at a Downtown Disney location, be sure to allow ample time for parking under these new conditions.
See our video of the Disney Springs model, as revealed at the D23 Expo: http://youtu.be/e61b4h2CZfw
The Osprey Ridge golf course, its pro shop and the Sand Trap restaurant are now closed. When Osprey Ridge reopens next year, it will be under Four Seasons ownership. To date, there is no indication whether play will be limited to Four Seasons Orlando guests and Golden Oak residents, or if Walt Disney World guests and/or the general public will have access. This closure leaves Walt Disney World with three 18-hole courses, Palm, Magnolia and Lake Buena Vista, as well as the Oak Trail 9-hole course. For more info on golfing at Walt Disney World: http://www.wdwgolf.com/
The Palm golf course is closed for a major rehab through November 16. The work will include a redesign by Arnold Palmer Course Design. For more details visit:
http://www.wdwgolf.com/2013/05/23/palm-course-to-close-june-10-2013-for-renovations-by-arnold-palmer-course-design/
-=-=-=-=-=-=-=-=-=-
A complete list of rehabs can be found here: http://allears.net/tp/rehabs.htm
= = = = = = = = = = = = = = = = =


MAGICAL MOMENTS
= = = = = = = = = = = = = = = = =
Joann B.: Years ago when we travelled to Walt Disney World, our daughter, who is now 32, left her teddy bear (we called him One-eyed Ted because he was so worn and loved and missing an eye) under the covers in her bed. Well, of course it was laundry day and off he went. We called the front desk and told them of our plight, never expecting to see him again. Later that day when we returned to the room there was a Dalmatian puppy waiting for her with a note of apology. How very kind of Mickey and the Gang. Not enough magic for you? Well, the next day who should appear but TED, along with a note explaining his Magical Mystery Tour of the Disney laundry facility. We laughed and laughed. To this day she doesn't travel without Ted, even though he's had his eye replaced with a shiny button and he is so threadbare you can see his stuffing though his fur. Thanks for the memories, Mickey! Can't wait to see you November!
Lucinda: Our family enjoyed a wonderful post-Disney Cruise visit to Walt Disney World this past May. Our first day at the parks happened to be my Dad's 76th birthday. Our first stop was at City Hall for a birthday button. As expected, Dad received a lot of birthday wishes throughout the day and met several "birthday buddies." As our day was winding down with dinner at Columbia Harbor House, a cast member stopped by our table and noticed Dad's button. She wished him a happy birthday and chatted a bit. She was in her 60s, so I think she felt a connection with my parents. After visiting a bit she left, but returned shortly with a piece of chocolate cake and "I'm Celebrating" buttons for the whole family, reminding us that a birthday is a celebration for all of us! She was so sweet. Her small act of kindness added a special touch of magic to a very special day!
Mindy Lowder: My husband and I took our two sons to Disney World in May 2013. It was my first trip, too! My older son, who is 7, LOVES Indiana Jones. On the day we went to Hollywood Studios, he of course wore his Indiana Jones costume. He loved that all of the cast members greeted him with, "Hi, Dr. Jones", "Hey Indy!", etc. He felt like a movie star! But his day turned even better when one of the cast members at the Indiana Jones stunt show asked if he would like to introduce the next show. He was so happy and did a great job. After the show, Indy came and talked to him, let him look at props from the set, and answered all kinds of questions. Then, Indy asked my son if he had a pair of Indiana Jones gloves. When my son said no, Indy said "Well, you do now." He took off the gloves he had worn during the show and gave them to my son! He could not believe it! What a wonderful Disney moment!
-=-=-=-=-=-=-=-=-=-=-=-=-=-=-=-=-=-=-=-=-
We just bet you have a story to tell about an unforgettable moment during your Disney vacation! Please send your favorite memory for inclusion in a future AllEars® to: allearsnet@yahoo.com
Thank you all for sharing!
-o-o-o-o-o-o-o-o-o-o-o-
Editor's Note: This story/information was accurate when it was published. Please be sure to confirm all current rates, information and other details before planning your trip.