When to Go
Where to Stay
Ticket Information
Transportation
"Mini-mizing" Costs
Helpful Hints
Tips
For Families
For Guests without Children
ADD/ADHD
Autistic Spectrum
Disorders (ASD)
Dietary Needs
Vegetarian/Vegan
Epilepsy
Hearing
Medical Needs
Mobility
Motion Sensitivity
Service Animals
Size Concerns:
Visual Impairments
For International Visitors
Florida Residents
Other Resources
Mother's Day at Walt Disney World

Looking for ways to celebrate with your mother this Mother's Day, May 13, 2018, while at Walt Disney World? Here are some ideas:
DINING AROUND THE WORLD
For reservations, call (407) WDW-DINE or (407) 939-3463, or visit DisneyWorld.com
DISNEY SPRINGS
-- Maria & Enzo's Ristorante – Mother's Day brunch from 10:30 a.m. to 3 p.m., featuring mascarpone French toast, poached hen egg and quinoa kale salad and hand-carved NY strip steak. The regular lunch menu will also be served. Reservations available at Maria & Enzo's.com.

-- Enzo's Hideaway – Prix Fixe menu of Italian specialties including ahi tuna crudo, ricotta gnocchi, pasta frutti di mare and trio of homemade gelatos. The restaurant will also serve regular menu items. Mom will receive a complimentary glass of Prosecco when dining that day.

-- House of Blues Restaurant & Bar – Mother's Day Gospel Brunch, includes an all-you-care-to-enjoy buffet and live entertainment. Choose between the 10:30 a.m. or 1:00 p.m. seating based on availability.

-- Paddlefish – A special dish only for Mother's Day brunch – lobster ravioli with tarragon cream sauce. The regular Sunday brunch will also be available.

-- Raglan Road Irish Pub & Restaurant – Rollicking Raglan Brunch, May 12 and May 13, 2018, from 10 a.m. to 3 p.m. The menu will include traditional Irish favorites, and live entertainment will be featured from noon to 4:00 p.m. Advance reservations are strongly recommended.

-- STK Orlando – Mother's Day weekend brunch buffet, served Saturday and Sunday from 11 a.m. to 3 p.m. The buffet will include an omelet station, smoked salmon platter and an assortment of desserts including tres leches cakes, churros and cotton candy.
RESORTS
-- Pop Century Resort's Everything POP Shopping and Dining - Mother's Day Brunch buffet served from 10 a.m. to 2 p.m. Starters include fresh fruit, cereal, assorted pastries and muffins, and bagels with cured salmon, diced red onion, cream cheese, and capers. For the main event, you'll enjoy options such as Made-to-Order Omelets, Buttermilk Pancakes with strawberry compote, Carved Ham with orange blossom honey, Carved Roast Turkey with traditional stuffing and cranberry relish, Bacon Vinaigrette Potatoes, House-Made Corn Bread and more. And for dessert, you can try the Peach Cobbler, Strawberry Shortcake, or other assorted mini-desserts.
-- Contemporary Resort's The Wave... of American Flavors - Mother's Day Brunch buffet from 7:30 a.m. to 2 p.m. Menu items: Harvest Salad, Asian Noodle Salad, Israeli Couscous Salad with grilled vegetables tossed in lemon vinaigrette, fresh fruit, Smoked Salmon with traditional accompaniments, Citrus-Poached Shrimp, assorted pastries, and cheese and charcuterie. Entrees from the kitchen include dishes such as Eggs Benedict, Sweet Potato Pancakes, Herb Roasted Chicken, Egg White Frittata. Kids can also enjoy Mickey Waffles, Chocolate Chip Pancakes, eggs, bacon and sausage, and even Crispy Chicken Tenders with fries.
-- Yacht Club Resort's Ale & Compass Restaurant - Mother's Day Brunch from 7:30 a.m. to 2 p.m. Menu items: savory flatbreads, fresh fruit, yogurt parfaits, breads and spreads, smoked salmon, and house-baked pastries, Blueberry-Bacon Pancakes, Salted Caramel French Toast, Eggs Benedict, Steak and Eggs, Pasta Primavera, Lobster Roll, or Fish and Chips. On the kids' menu, find Mickey Waffles, Pancakes, Ham and Egg Sandwiches, Grilled Chicken, Ravioli, and Cheeseburgers. Guests over the age of 21 can also enjoy specialty raspberry, strawberry, pineapple, or cranberry mimosas as well as a Bloody Mary Flight.
-- BoardWalk's Flying Fish - Mother's Day prix fixe menu with optional wine pairings from 3:30 to 9:30 p.m. Menu items: Ahi Tuna with caper, blue lavender, and black Cyprus salt paired with Kim Crawford Spitfire Sauvignon Blanc, Filet Mignon with wild Floridian shrimp and crab, served with delta asparagus, Idaho potato, and hollandaise and paired with Penner-Ash Pinot Noir. For the finale, the Spring Garden Fruit Tart with brulee custard, bush berries, orange chiffon, and strawberry rhubarb sorbet paired with Veuve Clicquot Rose. In addition, this experience includes complimentary roses as well as a photographer who will provide photos at the end of the meal, free of charge.
-- Saratoga Springs Resort & Spa's Turf Club Bar and Grill - Mother's Day Brunch from 10 a.m. to 2 p.m. Menu: choice of Steel Cut Oatmeal, Greek Yogurt Parfait, Peppered Smoked Salmon, or Berry Salad; Croque-Madame Black Forest Ham and Gruyére Cheese, Slow Roasted Ranchers Reserve Prime Rib, Gourmet Blend Burger with Crispy Pork Belly, Saratoga Springs Eggs Benedict with Manhattan Steak Medallion, or S'mores Style Buttermilk Waffles with marshmallow and chocolate. Dessert: Mother's Day Medley of Sweet Temptations. Specialty adult beverages available include an Island Grove Blueberry Moscato, Tropical Mimosas with Passion Orange Guava Juice, and the Turf Club Bloody Mary.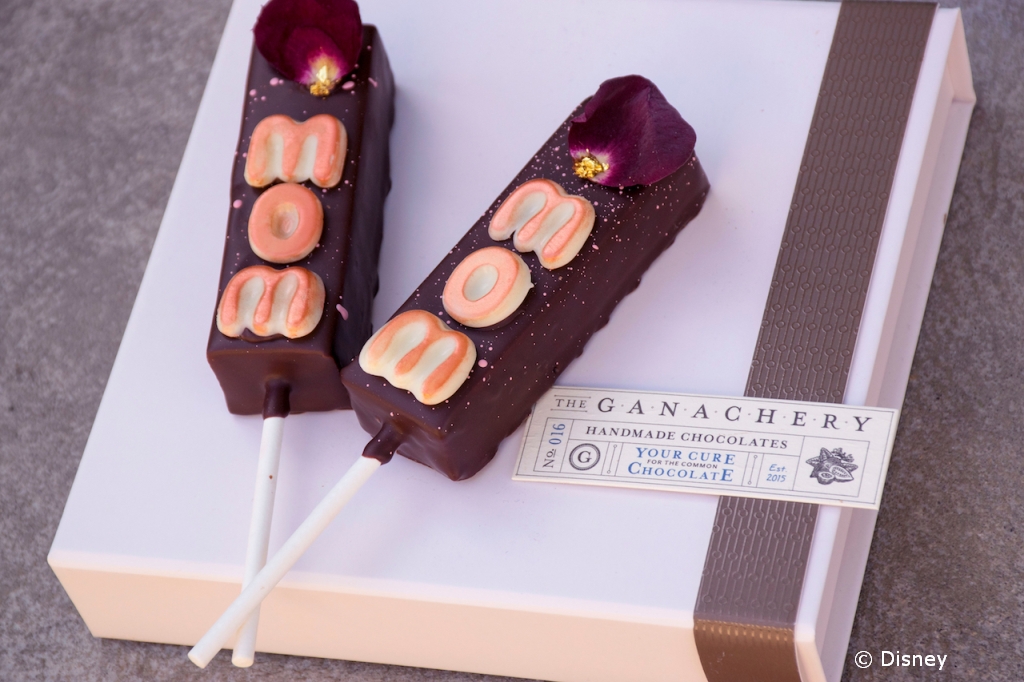 SPECIAL TREATS
-- Epcot's Sunshine Seasons has a raspberry mousse and lemon cake and topped with a delicate Swiss buttercream rose and fondant pearls, available on Mother's Day only.
-- At Epcot's Fountain View there's a vanilla Mother's Day Cupcake with raspberry white chocolate mousse and pink icing from May 11 to 13.
-- Disney's Animal Kingdom's Creature Comforts and Isle of Java have a vanilla Mother's Day Cupcake filled with white chocolate raspberry mousse and topped with buttercream flowers.
-- The Ganachery at Disney Springs – Themed offerings include a glass of Rosa Regale paired with a gourmet ganache square or a Mother's Day ganache lollipop. The Ganachery also has a Mom Pop with dark chocolate-covered raspberry ganache.

-- Frontera Cocina at Disney Springs – Moms can stop by for a relaxing glass of wine (on the house!), beautiful flowers and an afternoon of smooth Spanish guitar. Perfect for a much needed R&R. (Complimentary glass of wine must be accompanied by full-priced entree. Limit one glass of wine per entrée).

-- Sprinkles at Disney Springs – The brand behind the most sought-after, gourmet cupcakes will offer a special Mom Box filled with the most popular cupcake flavors! This special box is only available from May 11 to May 13, 2018.
-- Amorette's Patisserie at Disney Springs - Exclusively on Mother's Day, this pastry shop will offer cute cakes themed after Disney mothers – Mrs. Potts, Moana's grandmother, and Coco's mother and grandmother. Sugar cookies and millennial pink macaroons with pink filling will also be on the menu. You can also send Mom a special message with a Mother's Day Chocolate Letter, topped with chocolate-covered strawberries and mini-macarons.
-- All-Star Music's Intermission Food Court and All-Star Movies' World Premiere Food Court will be offering a Tropical Éclair on Mother's Day only. This éclair is filled with mango and pineapple tropical cream and chocolate ganache and is topped with fondant rose buds.
-- All-Star Movies Resort World Premiere Food Court, Art of Animation's Landscape of Flavors, and Saratoga Springs Resort & Spa's Artist's Palette - These resorts will have a Mother's Day Cookie Flower Pot Activity Kit available for purchase on May 11 and 12. The kit will include a flower pot filled with chocolate cake, chocolate ganache, and cookie crumbles, customizable flower cookies, and jelly candy worms. There will also be a special Mother's Day Activity at each of the locations listed during which families can come together and decorate their flower pots with a pastry chef. See below for activity dates and times:
All-Star Movies Resort, World Premiere Food Court: 2-4 p.m.
Art of Animation Resort, Landscape of Flavors: 1-1:30 p.m.
Saratoga Springs Resort & Spa, The Artist's Palette: 1-2 p.m.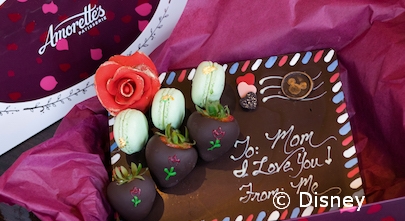 SHOPPING SPECIALS AT DISNEY SPRINGS
-- Alex and Ani – Mom-themed pieces and gift-sets will be available, including birth-month crystals and "initials" charms. Mom is sure to find something to make her feel extra special. (Only from April 18, 2018 to May 13, 2018.)

-- Coach – From May 4 – May 13, 2018, the upscale boutique will offer 30% off during a special Mother's Day event (with select exclusions).

-- PANDORA Jewelry – Guests can shop for beautiful collections of rings, earrings, necklaces and signature charms or create their own at a mother-daughter bracelet-building station that is exclusive to this location. From May 1 to May 13, 2018, moms will receive a complimentary gift with purchase.

-- Sugarboo & Co. – On May 12, 2018, the quirky boutique will offer a fun morning macramé class for mom, with coffee and shopping. Talk about the perfect combo!

-- Ever After Jewelry Co. & Accessories – The ultimate destination for the latest fashion accessories and jewelry from Disney Parks has the perfect gift for mom – a PANDORA Jewelry mom charm! And on May 30, 2018, the one-stop styling location will release a special Pandora Spring charm.
If you have comments or tips to share with others about Mother's Day at Walt Disney World, please send us a line.