Having Serious Fun at Toy Story Land
by Debra Martin Koma
AllEars® Editor
Feature Article
This article appeared in the July 3, 2018 Issue #980 of ALL EARS® (ISSN: 1533-0753)
Editor's Note: This story/information was accurate when it was published. Please be sure to confirm all current rates, information and other details before planning your trip.
*** SPOILERS SPOILERS SPOILERS! ***
If you want to be surprised by the new Toy Story Land, read no further! Scroll past this feature and start reading further down!
As a Disney fan, there's nothing more exciting than when one of the Disney theme parks unveils something NEW — a new show, a new theme park attraction, or, even better, an entire new theme park land. Well, that happened this past weekend, when Walt Disney World opened Toy Story Land at Disney's Hollywood Studios. Based on the Disney-Pixar films, the new area features many of the characters we've grown familiar with over the past 20-plus years — Woody the cowboy sheriff, Buzz Lightyear the spaceman, Jessie the yodeling cowgirl, Rex the neurotic dinosaur, and lots of others.
The 11-acre land, whose development was announced at the 2015 D23 Expo, has just two new attractions, along with a refreshed 10-year-old Toy Story Mania, but it packs a lot of fun into that space. Here are my thoughts after spending several days exploring the new area.
TOY STORY LAND OVERALL: The premise behind the land is that you, the guest, have shrunk and are wandering around the backyard play area of Andy (the boy from the Toy Story films). The attractions are games that he's put together himself from various toys and playthings.
And so you enter the land, welcomed by a giant-sized Woody, and guess what? He talks! Yes, he actually invites you into this fantastical world under a canopy of multicolored lights, surrounded by enormous Tinker Toys, K'nex and building blocks. In the distance you see Jessie, and Rex perched precariously atop a Jenga tower. Slinky Dog whizzes along bright red roller coaster rails. There's an explosion of primary colors and so much to look at you don't know where to turn first.
The land as a whole is so well done, and Disney's famous attention to detail is on full display. If you look down, you'll see the shadows of Andy's footprints in the concrete. The building blocks over the entrance to restrooms actually spell out the word RESTROOMS. That sort of thing. I'll leave you to discover all the little things yourself, and believe me, it'll take you a while to do it.
But, as much as I dislike being critical, I do have a couple criticisms . This land has little to no shade and gets very HOT. Like Animal Kingdom hot. And these past few days were beastly. In addition to no shade, there is no area with air conditioning. Well, except for the restrooms. Or you can grab a few blasts of cold air if you stick your head in the window of Woody's Lunch Box while you're ordering. (Yeah, I might have done that.) So be prepared, take your water bottle, sunscreen and hat with you!
Along with no shade, the area has very little shelter, so if it pours down, as it did several times this past weekend, you're going to get wet. (Of course, if you've been broiling in the sun, that may not be such a bad thing.) There are no shops or restaurant lobbies to duck in and even though the attraction queues are somewhat under cover, that doesn't help if you're simply walking around when the rains come. Maybe this is a nitpicky thing, but speaking as someone who was both baked and soaked the last few days, I thought you ought to know what to expect.
SLINKY DOG DASH: Back to the positives. I love coasters, so I was really looking forward to this new attraction — besides, who doesn't love Slinky Dog? He's so dang cute! The ride did not disappoint. Originally billed as a family-friendly coaster, I was a bit surprised by how fast and thrilling Slinky Dog Dash really is. I mean, you definitely feel exhilarated as you drop from some fairly high peaks, and that rolling up-and-down set of humps at the end is very cool. You hear Slinky talking to you with his down-home twang during the ride — in fact, he warns you to "Hang on!" as the coaster backs up a bit before launching into the final section of the ride. And if you listen carefully — it's hard over all the other noise in the queue — you can hear his springs go "sproingggg!" as he takes off. The final stroke of genius, for me at least, is the squeaky penguin Wheezy, singing "You've Got a Friend in Me," at the end of the ride. You can't miss him — he's crooning away on your right just before you exit the coaster. This coaster has a height restriction of 38 inches and I can see why — it's not for the youngest children. But those who appreciate thrill rides will love this.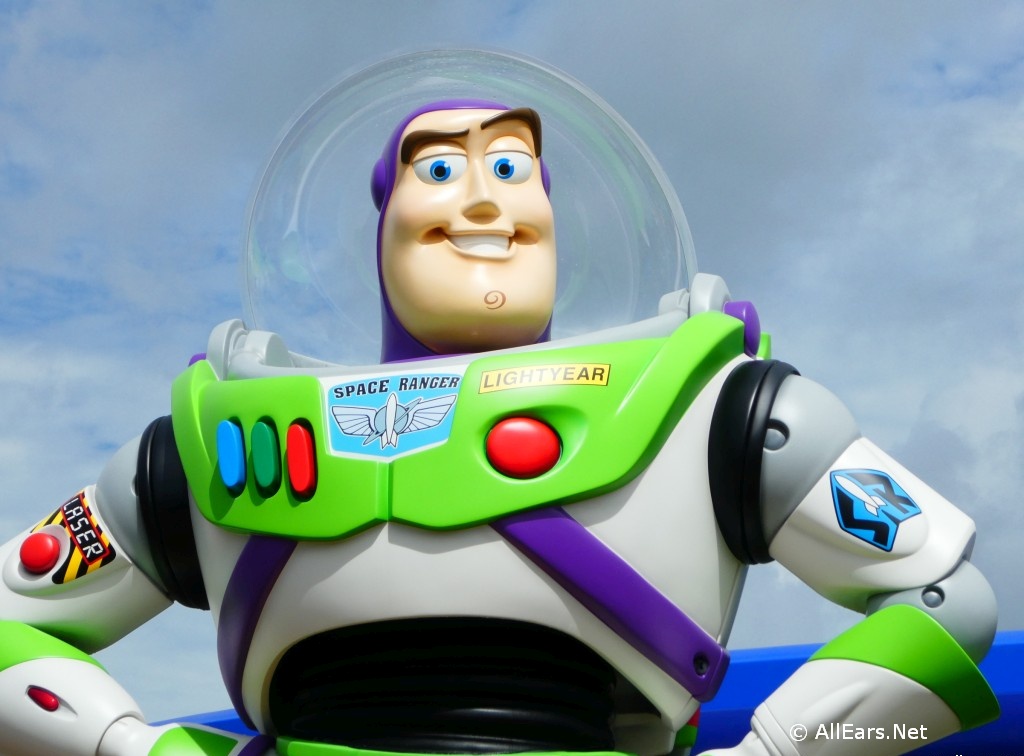 ALIEN SWIRLING SAUCERS: For anyone who's been to Disney California Adventure and ridden Mater's Junkyard Jamboree, you already know what Alien Swirling Saucers is all about. It's sort of like the Mad Tea Party, only in this version your spinning saucer is driven by one of the Little Green Men from the Toy Story Films. The music to accompany the short ride was sort of like Randy Newman meets the Electric Light Parade — imagine You've Got a Friend in Me done in the style of Baroque Hoedown. Anyhow, I loved it, loved the giant Buzz Lightyear that greeted me at the ride's entrance, and loved being made so dizzy I could barely stand when it was time to get out of my vehicle. Despite being fairly tame, this attraction has a 32-inch height restriction, and signs specifically state that children may not ride on your lap.
TOY STORY MANIA: The opening of Toy Story Land necessitated the relocation of the extremely popular Toy Story Mania's entrance. Now you enter through what's meant to be a giant-sized game box, with cardboard cut-outs of the familiar Toy Story gang — Jessie, Rex, Hamm, etc. Once inside, the queue hasn't really changed, with the notable exception of the return of one Mr. Potato Head! Boy, did I miss that snarky spud, barking out his jokes to guests waiting in the long lines. So glad he's back. The ride itself is still the same fun-filled, manic round of arcade games, but the exit is also different than it was originally. This exit brings you back into Toy Story Land, walking along a path dotted with Green Army Men and other toys in various strategic poses.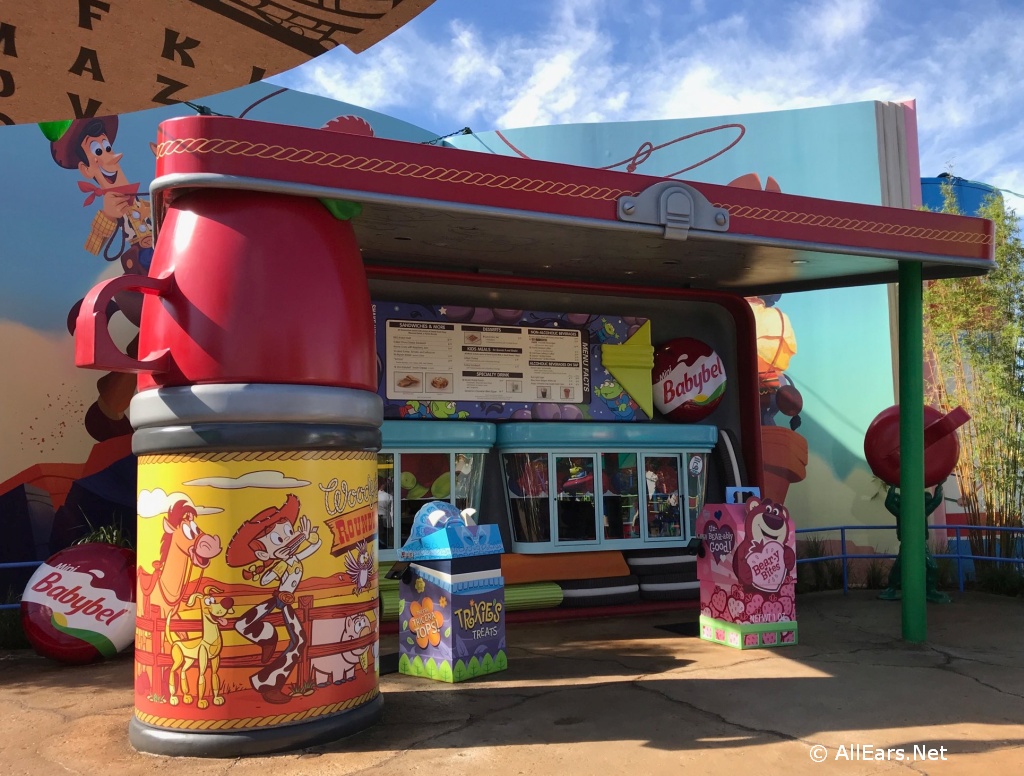 WOODY'S LUNCH BOX: Built to resemble an old-style metal lunchbox tilted on its side, with a Thermos propping open the lid as the roof, this counter service restaurant has a fairly limited menu and NO indoor seating. They serve a few items for breakfast, until about 10:30 a.m., then switch over to an assortment of sandwiches for lunch. At breakfast, they have the S'more French Toast Breakfast Sandwich, marshmallow and chocolate ganache stuffed in grilled custard soaked brioche, encrusted with graham cracker crumbs for $7.99. Just reading that makes my teeth sing. They also have a turkey breakfast sandwich, a yogurt parfait and breakfast bowl that features scrambled eggs, sausage and gravy and plenty of tater tots — er, potato barrels. It was very filling, but tasty for $8.49. At lunch they have a variety of sandwiches and an item I'm sorry I didn't get to try — Totchos, which are potato barrels coated with beef and bean chili, shredded cheese and queso with tomatoes and corn chips, sour cream and a sprinkle of green onions ($8.99).
For those with dietary concerns, note that most of the lunchtime sandwiches can be made with gluten-free bread, so you have a number of options. For breakfast however, the choices are more limited — you can have the breakfast bowl without the gravy, or you can have the yogurt parfait without the granola — they'll give you a side of chocolate chips, if you'd like. For those with nut allergies, you'll know to avoid the Chocolate Hazelnut Lunchbox Tart, but beware of the seemingly innocent Raspberry Lunchbox Tart — it contains coconut oil, which also may have traces of tree nuts. And vegetarians take note: the Totchos can be made with vegetarian chili. It's a good idea to ask to speak to a manager when you arrive at the restaurant — they were very willing to answer questions and seemed ready to accommodate you whatever your need might be.
And here's a tip for Woody's Lunch Box — you can use the Mobile Order function on the My Disney Experience app to save waiting in a long line!
ENTERTAINMENT: There are regular meet-and-greets with Woody and Jessie near the new toy box entrance to Toy Story Mania, and with Buzz over by Alien Swirling Saucers. In addition, the hilarious Green Army Patrol roves the land, interacting with all the new "toys" they discover. (Note that they have both male and female troops now, so no longer call themselves Green Army Men.) Supplementing the entertainment is the newly formed Green Army Drum Corps, who march through the land and perform several times a day. I had several fun encounters with the Patrol, and saw a number of children getting rounded up for a game of "Sarge Says." It's a really cute idea — special kudos to the actors who don those green outfits in the hot weather and still maintain such a quick sense of humor.
FINAL THOUGHTS: Despite the brutal heat and torrential downpours, I really enjoyed my time at Toy Story Land. I was lucky enough to score FastPass+ for the three attractions, so didn't experience the four-hour-plus waits the opening weekend crowds had to endure. Although I will say I overheard several children, and adults, say that they felt the coaster in particular was worth the wait. I'm not so sure about that, but I will say that I am ready to go back and "Play Big" (as the land's slogan commands) again… and soon!
============
RELATED LINKS
============
PHOTOS: Toy Story Land Opening Weekend
VIDEO: Slinky Dog Dash Coaster POV with Deb Wills
VIDEO: Behind the Scenes of Toy Story Land with Pixar's Roger Gould
VIDEO: Meet the Green Army Patrol with Show Director Tom Vazzana
-o-o-o-o-o-o-o-o-o-o-o-
Editor's Note: This story/information was accurate when it was published. Please be sure to confirm all current rates, information and other details before planning your trip.