Restaurant Info
Restaurants
At-a-Glance
Dinner Shows
Special Dining Events
Dining Discounts
TASTES OF THE *WORLD*
From a Kid's Point of View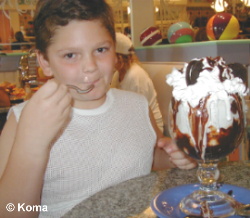 Hi! I'm Alex.
I started this page when I was 8 -- now I'm 12! --
and I have visited Walt Disney World more than a dozen times.
One of the things my family loves to do at Walt Disney World
is try new restaurants. Here are some of my favorites
and what I like about them.
MAGIC KINGDOM
CASEY'S CORNER, 2/04
Casey's Corner is an old-fashioned baseball restaurant on Main Street in the Magic Kingdom. The food isn't fancy, but good for a side restaurant. The atmosphere is very well-done with a room with Mickey Mouse cartoons playing, baseball player statues and a piano out in front. My favorite meal is their hot dogs. It's a kid's kind of restaurant -- altogether Casey's Corner is a great place to eat and I make sure we stop here at least once each trip!
CINDERELLA'S ROYAL TABLE
This is a royal restaurant in Cinderella's Castle in the Magic Kingdom. In the main hall, Cinderella is usually there to greet kids. Then you go up the stairs and pass by suits of armor and finally reach the restaurant. There is a big window on the wall overlooking the Magic Kingdom. Their food is very good and I adore their macaroni and cheese. The castle is a great kid's place, where they treat you like a prince or princess -- trust me, the castle is very good.
DISNEY MGM-STUDIOS
BACKLOT EXPRESS, 2/04
The Backlot Express is a fast-food, Hollywood sort of place, with props from movies and things you'd find on a movie set, like the bike from the movie ET, or a ride vehicle from the movie Roger Rabbit. Their hot dogs and French fries are great! The Backlot Express is a nice place, not just because of the atmosphere, but because it is a handy place to eat before or after you've ridden Star Tours, which is right next door. This is another spot I always visit at least once during a WDW trip.
HOLLYWOOD & VINE, 2/03
I finally got my wish to try Hollywood & Vine for dinner, and am I glad I did! The dinner buffet was good for kids, with lots of variety and good fresh fruit -- the mac & cheese especially was excellent! The best part of all was the "make your own" sundae bar -- I loaded up on mini-M&Ms, and the multi-colored chips (my mom says they're called nonpareils).
MAMA MELROSE
Mama Melrose's is a fancy Hollywood-like Italian restaurant with autographed pictures of stars on the walls. The food there is OK, but not great. I have had the buttered pasta with bread, but I have never tried their desserts. The atmosphere there is well-done, too, with nice music playing in the background. It's not a really fun place for kids, even though they give you crayons and a menu to color, but my parents really liked it.
PRIME TIME CAFE
The Prime Time Cafe is a great place for kids! It's probably my favorite restaurant at Disney World. It's infested with televisions showing old TV shows. The servers are playful and call you names likes Skippy. They make sure you eat all your meal and keep your elbows off the table. One time, I saw a waiter make a teenager stand up and sing in front of everyone! It's like being at Grandma's! The atmosphere and the food are very good. I think the Prime Time Cafe is the best!
EPCOT
BIERGARTEN --1/03
Germany pavilion - The atmosphere here was great -- the performers were so much fun, playing bells, a singing saw, and alpenhorns. It was fun watching the grown-ups do the chicken dance and try to yodel, too. But the food... well, it didn't seem to have that much for kids like me. No hot dogs, no macaroni and cheese. And do NOT try the spaetzle -- it looks like macaroni but it tastes BAD! The chicken schnitzel was OK, but they need a better kids' buffet. The desserts, though were excellent -- try the almond raspberry cookie thing! I'd say if you go to the Biergarten, go for the entertainment, not the food.
CORAL REEF RESTAURANT -- Living Seas
I thought the Coral Reef Restaurant was superb. The atmosphere is great and is geared to both kids and parents. There is a *big* aquarium that takes up one whole wall! I loved how you could see all the fish while you're eating. Sometimes, divers come down to feed the fish and say "hi!" There's even a shark that swims by and a giant tortoise. And have no fear that you won't be able to see! The aquarium is so big you can see it from everywhere in the restaurant. I personally admired the excellent food and simple desserts -- Hey kids! The hot dogs here are great! But the big reason to eat here is the aquarium. All in all, the Coral Reef Restaurant is one of my favorites.
GARDEN GRILL - The Land
The Garden Grill is a wonderful place for kids! It is a nutritious restaurant and it is also very kid-friendly. It's good because Mickey, Chip and Dale, dressed in farmer clothes, greet you as you're eating. At lunch, while the grown-ups ate chicken and catfish, they brought me a kids' platter with macaroni and cheese, French fries and other stuff. For dessert, they brought me "worms and dirt", which is gummi worms in a cup with chocolate pudding and crushed up Oreo cookies. Another cool thing about the Garden Grill is that it passes through the Land ride as you eat. Yep,the Garden Grill is tops!
LE CELLIER - Canada pavilion
Le Cellier is a very fancy Canadian and French restaurant. The food was very good, and we had a very nice server, but it was not exactly a kids' place. One thing I liked about Le Cellier was that when they give you the pretzel bread and the other breads, they tell you about their history. Trust me, Le Cellier is pretty nice, but it's more for grown-ups than for kids.
THE RESORTS

ARTIST POINT - Wilderness Lodge - 2/04
I wasn't sure if this restaurant would be too fancy for me, but I thought it was great. I had the baked salmon, which was excellently cooked, with just enough seasoning. It came with glazed carrots that were crisp and perfectly sweet, and smashed potatoes that were creamy with a good amount of butter. The bread was crusty and warm, and my raspberry smoothie was creamy, fresh and fruity -- I'd give it an A+! My overall verdict: perfection! I would rate this restaurant 5 stars *****!
BEACHES AND CREAM - Beach Club
This place is great for lunch! They make the best grilled cheese sandwiches! It's a fun place, and I spent a lot of time deciding what to play on the juke box. But the best part of Beaches and Cream is the desserts! They are humongous! Not to mention extremely delicious! My parents thought it was expensive ice cream, but believe me, it was worth every penny! I LOVE BEACHES AND CREAM!
FLYING FISH CAFE - BoardWalk, 1/03
Even though this looks like a grown-up restaurant, they really treat kids well here, too. I like the atmosphere and the way the place is decorated -- check out the flying fish lights overhead and the posts covered with fish scales! The other thing I like is that the servers talk to me like I'm a grown-up, not a kid, and they gave me a little hand-held toy, shaped like an octopus, that was like a mini-pinball game to keep. The food here is really delicious, and there's more for kids than just hot dogs and hamburgers. I was going to have the steak, but since it's a seafood restaurant, my parents thought I should try the fish and chips. I ate every bite -- it tasted like real fresh fish, like my dad and I catch when we go fishing at the shore. The desserts looked good here, too, but we skipped them so that we could go next door to have ice cream at Seashore Sweets'. It was a good decision!
KONA CAFE - Polynesian Resort
The Kona Cafe is a small, quiet and open cafe. When you walk in, the first thing you see is a big chocolate dragon and a white chocolate fairy on a big dessert bar. The food here was pretty good, but not stupendous -- I had the grilled cheese with French fries. The desserts, on the other hand, were big and delicious! The dessert I had was two scoops of ice cream, a waffle cone, a chocolate Mickey and rock candy on top, and spun sugar and M&M shaped candies on the bottom. All in all, the Kona Cafe was excellent.

'OHANA - Polynesian Resort - 2/04
Who likes a good buffet? Everyone. But who likes having to get up and wait in line for your food? No one. At 'Ohana,you don't have to move a muscle to get great food, wonderful views and a charming atmosphere. Before you're seated, you get to relax in the Tambu Lounge where you can have a drink and hang out before dinner. It's a great prelude to 'Ohana. When you're seated, you're given a nice and warm basket of pineapple-coconut bread. It was delicious and held off the hunger until the appetizers come. The appetizers included tantalizing dishes like wontons and fried rice. It all came with exotic sauces to dip them in. After a little while, waiters come around with skewers of steak, shrimp, pork and turkey. It was all delicious and there more than enough to go around. It was all wrapped up by 'Ohana's signature dessert: fresh pineapple dipped in warm caramel. Scrumptious doesn't begin to describe it! Besides stuffing our faces with the wonderful food, my family and I got a wonderful view of the castle and the tropical pool. It was marvelous. 'Ohana's atmosphere is cool, with all the tikis and the Hawaiian feel, but at around 6 o'clock games start up (they have kids' activities and singing then) and you can't really appreciate it fully anymore. Apart from that, 'Ohana was wonderful.
WHISPERING CANYON CAFE - Wilderness Lodge
The Whispering Canyon Cafe is a jolly and merry cafe for kids. The food's quality is good, good, good! One of the desserts they serve here is "worms and dirt", which is gummi worms in a cup of chocolate pudding with crush Oreos. The waiters there are very nice and playful. One time I was there, one of the waiters tied a family's napkins around their faces to hide their bad breath! Also, when I was there, they pulled out stick horses and let all the kids ride around on them while everybody else waved their napkins in the air. My mom took me to Whispering Canyon Cafe for my birthday last year, and all of the servers sang to me! Yes, the Whispering Canyon Cafe is the greatest place for kids!
---
Alex's Fine Dining Reviews
Alex's "Kidding Around at the 2004 Food & Wine Festival" Review